DIY Vine & Flower Dimensional Artwork
Yesterday I made some artwork for the condo bedroom.  (By the way, if you're wondering why I'm "wasting time" making artwork for a place I'm about to sell, I'll try to explain at the end of this post.)  I wasn't actually planning on turning this into a blog post, but when I posted a picture of it on Facebook yesterday, several people asked for me to share how I made it.  So I shall!  🙂
Unfortunately, since I wasn't planning on turning this into a post, I didn't bother to take step-by-step pics of this artwork being created, but it's really rather simple, so I think I can just explain it.  But first, here's what I made.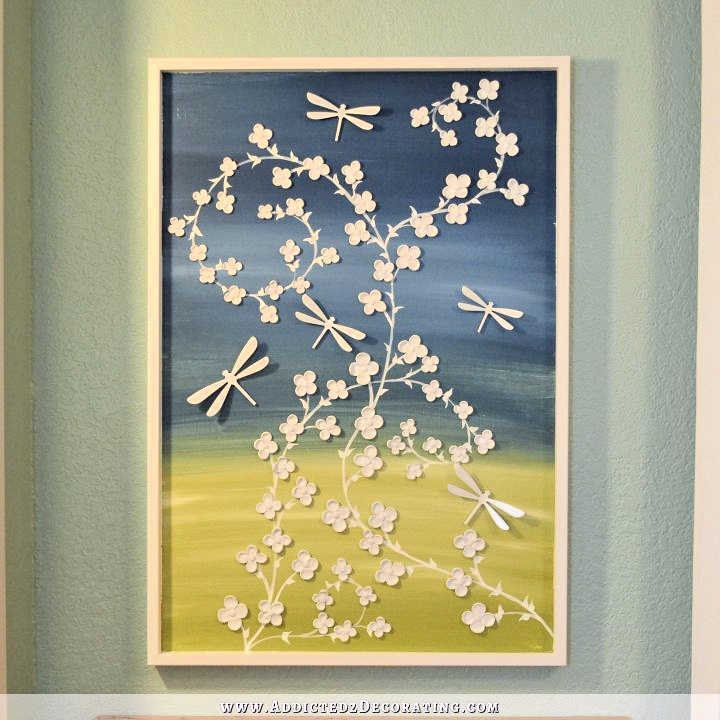 It's such a colorful and happy piece of artwork!  I absolutely love how it turned out, and I love it in the room.  Quite honestly, as I was making it, I didn't even expect to like the end result much.  It was just a fun little project that I enjoyed making, but I thought I would be kind of meh about the end result.  But I wasn't at all!  As soon as I got it into the room, added the white frame, hung it on the wall, and stood back to look at it in place, it just made me smile and made my heart happy.
So here's how I made it…
Materials & Supplies:
1/2-inch MDF
white acrylic paint
green acrylic paint (I used Behr Grape Leaves)
blue acrylic paint (I used Behr Superior Blue)
white polymer clay (I used Sculpy clay)
hot glue stick
Umbra Wallflutters dragonflies (optional – you can easily create some dragonflies out of polymer clay)
1″ x 2″ lumber (for the frame)
wood glue (this is the best kind)
1.5″ 16-gauge nails
Tools:
The "canvas" is just a scrap piece of 1/2-inch MDF that I primed and painted solid white.  Once it was dry, I used some green Behr paint (Grape Leaves) and some blue Behr paint (Superior Blue) and a 2-inch Purdy paint brush to paint the MDF.  I used a brush dipped in water so that the paint would flow very quickly and easily, and then I added random dollops of white craft paint and brushed back and forth to blend it into the green and blue paint, but I didn't blend too much.  I wanted a variation of color.
And to be clear, I did the green first, adding the white paint, and then I squeezed the excess green out of my Purdy paint brush, and moved on to the blue section, kind of blending the blue and green together where they met.
If you've been here a while, you might recognize the flowers.  Those are made out of polymer clay, and I originally made them for this artwork that I made quite some time ago.
That was fun to make, but it was never really a favorite of mine, and I never got around to hanging it anywhere at the condo.  So I scraped the flowers off and reused them.
Here's a quick step-by-step of how to make the flowers out of polymer clay: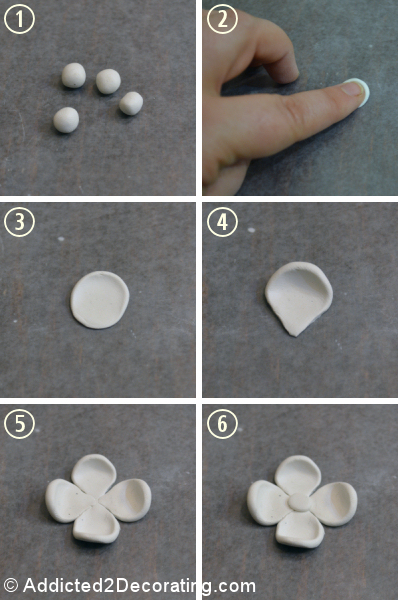 You can read more details here.
To make the vines and leaves, I drew the vines lightly with a pencil first, and then went back over them with a small round craft paint brush and white craft paint.  Then I just randomly painted the leaves all over the vines.  Then I attached the flowers with a hot glue gun.
The dragonflies are some that I've had for many years.  I started out with a 20-pack of these Umbra Wallflutters, but over the years I lost or broke all but these five.  So I spray painted them white and hot glued those on as well.  I used them just because I had them and would have thrown them away otherwise.  But something like that could easily be created using polymer clay rather than spending $15 on a package of Wallflutters.
And finally, after the artwork was finished, I cut four pieces of 1″ x 2″ MDF boards, mitered on the corners, and then glued and nailed them around the edges of the 1/2-inch MDF "canvas."  Then I gave the frame a fresh coat of white paint, and it was done!  🙂
Now I know some of you are wondering, "Why the heck is she wasting time making artwork and building bookcases for the condo when she's about to sell it?!"  And I know this because people have asked me.  So I'll try to explain.  🙂
Some of these projects that I'm doing, like this artwork and building the bookshelf, really aren't about the condo at all.  In other words, these aren't projects that I'm doing so that I can check them off of a "Things To Do" checklist that I think absolutely need to be finished for staging and selling the condo.
These projects are for me.  And by that, I don't necessarily mean that they'll eventually end up in my house, or that I'll hang onto them and keep them and treasure them forever and ever, amen.  In fact, I probably won't.  I don't really see a need for a small bookshelf at the house, and this artwork certainly isn't right for my house.
What I mean by "these projects are for me" is that these are my creative outlet, and as a creative person who thrives on creating, I need these projects in my life.  I can't always be about the serious stuff, like installing baseboards, scraping wallpaper, painting walls, painting ceilings, painting doors, grouting floors, etc., which is all of the "serious" work that I've been doing at the condo lately.  I do enjoy that stuff, but if that's all I'm doing seven days a week, twelve months a year, I'll go crazy.  I need creative outlets.
So yesterday, on a cold and dreary Sunday, I was tired and in need of a restful, relaxing day.  I had no plans to do any kind of actual "work" at all, neither at the condo, nor at the house.  I simply wanted and needed rest.  And my favorite way to rest is to do something creative that requires little to no physical exertion at all.  So I decided that I wanted to paint some artwork.  Well, right now, I don't have one single room at the house that is anywhere near ready for a piece of DIY artwork, so I did something for the condo bedroom.
The bookshelf that I made the other day was similar.  Although it wasn't the product of my needing rest, it was the product of my desperate need for a creative activity.  I went to the condo knowing that I had a real "to do" list of actual work that absolutely had to get done — projects that I really didn't want to do, and didn't look forward to doing them at all.  So after a couple of hours of work, and really just wanting to pack up and go home, I made a deal with myself that if I would get my work done to a certain point, then I would reward myself with a fun, creative project at the end of the day.  That fun, creative project was the bookshelf.
I know that all of that probably sounds very strange to non-creative people, or left-brained analytical people, or even to some creative people whose brains are wired completely differently than mine.  But this is how my brain is wired.  Projects aren't always about the end product, and how useful or practical they will be.  Projects are very often about the process, which I enjoy tremendously.  Very often, it's the very act of creating something that helps me to unwind, rest, relax, and get re-energized.  I need that in my life, even if the end product winds up in the trash…or in this case, in a condo that I hope to sell very soon.
Can any of you creatives relate with me?  🙂
UPDATE: Click here to see the full before and after of this small condo small budget bedroom makeover.
Addicted 2 Decorating is where I share my DIY and decorating journey as I remodel and decorate the 1948 fixer upper that my husband, Matt, and I bought in 2013. Matt has M.S. and is unable to do physical work, so I do the majority of the work on the house by myself. You can learn more about me here.