Last Updated on February 11, 2017 by Kristi Linauer
I finally got the condo bedroom completely finished yesterday!  This room needed the most work of any room in the condo, so it's such a relief to have it finished.  It might even be my favorite room in the condo!
The closets that I built were the most expensive thing in the room, but I think the added storage is so important in a condo this small.  The two closets cost around $340 to build from scratch.  Oh, how I wish I had finished them when we still lived there so that we could have actually used them!
I looked high and low for an actual "before" picture of this room, but I don't think I took any pictures of the bedrooms when we moved into the condo.  They were both just boring, empty boxes — old dingy carpet, textured walls with glossy white paint, white metal mini blinds, and popcorn ceilings with old white ceiling fans.  I don't think I took a picture until we had been there a while, and I had already removed the carpet and painted the concrete floors (which didn't hold up at all, by the way).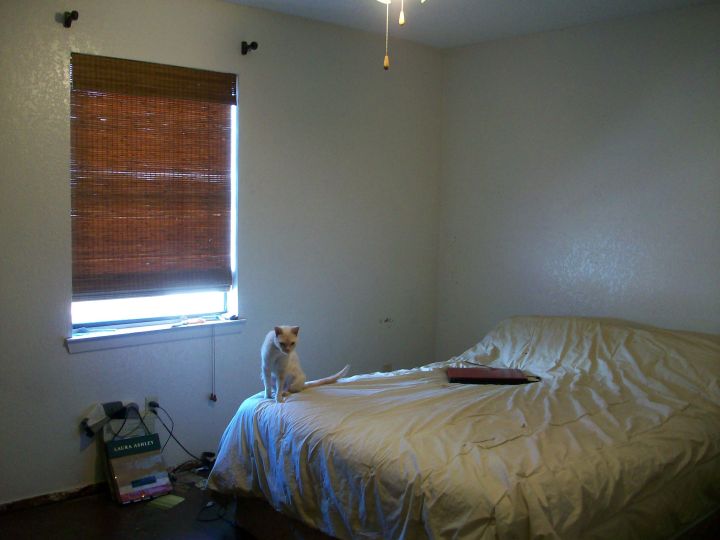 Awwww…our sweet kitty Powder.  We had to say goodbye to her about 3 months ago.  We miss her.  🙁
Anyway, when I finally did start working on the room, and I built the first version of the bedside closets, I made them a few inches wider than they are now.  You can see how close the side of the closet is to the headboard.  That's the same headboard that's in the room now.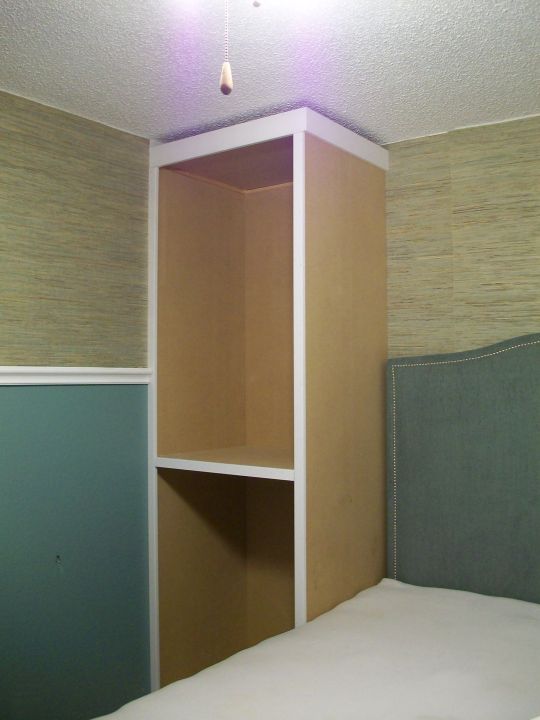 Now that the closets are narrower, there's much more "breathing room" between them — enough room for a shelf on each side of the bed.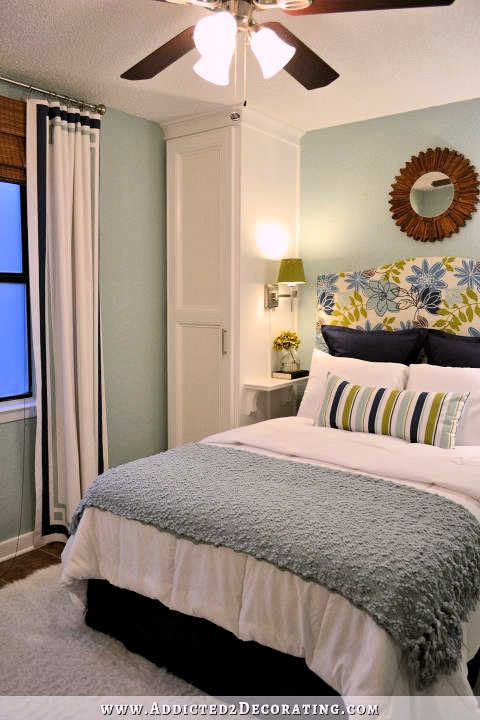 Here's another view of the headboard between the old closets.  So close!
And here's the same headboard (with different fabric) now.  It definitely looks better this way.
I reused so many things in this room that I already had on hand, which obviously helped me to save quite a bit of money.
The headboard is one that I originally made the headboard in 2010, but took about 45 minutes to wrap it with a new layer of batting and fabric to give it a brand new look.  That cost me about $25.
I made the little shelves by the bed out of scrap plywood and trim, and the corbels holding the shelves up are the ones that I originally purchased for my kitchen remodel at the house that got rained on and warped.  I cut them down much smaller (also cutting off the warped sides and making them 90-degree angles again) with my miter saw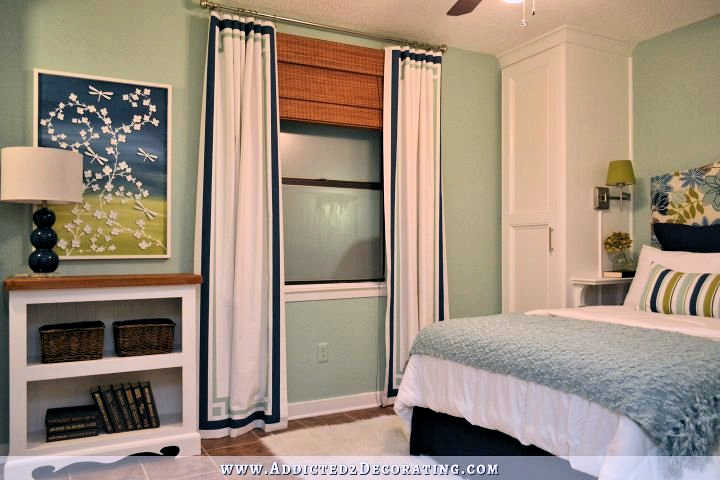 The vine and flower artwork was made out of scrap MDF and polymer clay flowers that I recycled from an old project that I made back in 2012.
The bookshelf was made completely out of scrap MDF and lumber, so that didn't cost me a single penny out of pocket.
The lamp was $32 at Marshall's, and I already had the baskets and books on hand.
The original closet got a makeover back in 2010, when I removed the hanging storage and added drawer and shelf storage.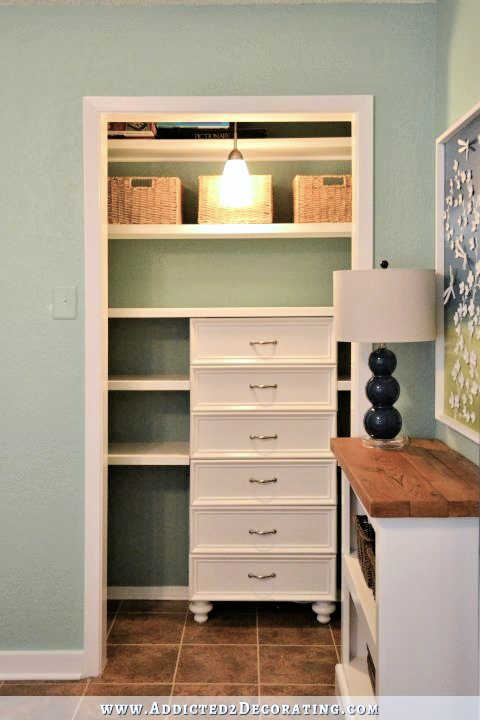 The curtains are very inexpensive drapery lining that I bought during a 50% off sale at JoAnn Fabrics.  I used regular Behr paint (which is actually 100% acrylic) to paint the design on the fabric. I already had the rod, brackets, and clip rings from the original closet makeover in 2010, so I just reused those.  And the woven shade is from Home Depot, and it's been on that window for years.  I did move it up (it's now mounted outside the window instead of inside) to make the window look larger.  So in all, I only spent $30 to dress up the window with new curtain panels this time around.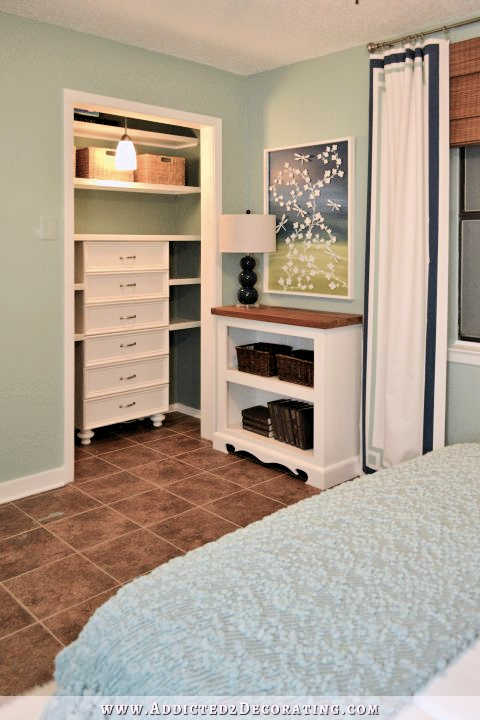 The wood shim sunburst mirror above the headboard is one that I made back in 2011.  I just gave it a quick coat of stain to freshen it up, and it didn't cost me a penny since I had the stain on hand.
The swing arm sconces are from Home Depot, and I bought them back when I built the first closets.  I wanted to use them in the room, but the shades were yellowed like old shades get from years of incandescent light bulb heat.  So I painted them (both the inside and the outside) to give them a fresh look and put new lower watt bulbs in them.  I already had the paint on hand, so that didn't cost anything.  I did purchase a package of cord covers to give the sconce cords a cleaner look.  Those were about $10 for a package of three, and I only needed two of them.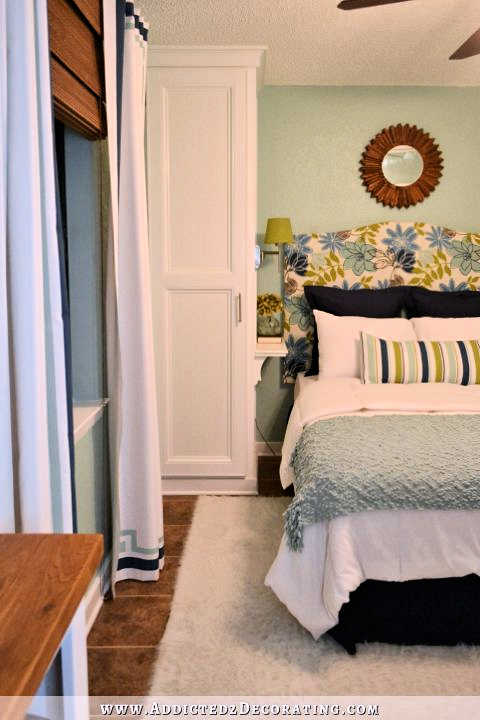 The throw at the end of the bed is from Marshall's, and it was $19.  It wasn't with all of the other throws.  In fact, I went there specifically to find a colorful throw for this room, and gave up.  Then as I was headed out of the store, I walked past the gift section (I guess that's what you'd call it), and this throw was there, packaged in a gift box with a big bow around it.  It was the perfect color, and much cheaper than the throws in the bedding/home section!
The rug is one that I made by taking an old indoor/outdoor rug (one that I had had for a couple of years now, but had never used) and covering it with faux fur from JoAnn Fabrics.  That cost me about $50.  And by the way, for those of you who were wondering, I did vacuum it yesterday and it worked out just fine.  I didn't have any issues with vacuuming it except the vacuum flattened the fur and I had to fluff it up again with the broom.
The navy blue bedskirt is from WalMart, and was $16.  It's literally the cheapest piece of junk I've ever wasted money on.  It pains me because bedskirts are so easy to make, and you can get a quality bedskirt for very little money and just a little bit of a time investment by making it yourself.  But I didn't want to take the time to make one, and I didn't want to spend more money that I had to.  So I got exactly what I paid for.  Ugh.  The decking is so cheap that as I was ironing the bedskirt, I accidentally hit the decking with the iron in two areas, and the decking melted immediately on contact with the iron.
I made the navy blue shams out of some cotton twill that I found at JoAnn Fabrics for 50% off.  So the 2.5 yards that I needed cost me about $12.50.  Shams are quick and easy to make, taking about 45 minutes from start to finish per sham.  The pillow inserts were old polyfill inserts that I've had for years.  They were flat and lumpy, so I opened them up, fluffed up the polyfill, and sewed them back up.  They looked good as new!
The white pillows are just standard pillow cases that came with the sheet set that I got for $30 at Marshall's.  I didn't have any extra pillows that I could use, so I just picked up some cheap ones for about $8 each at WalMart.
The striped pillow  is leftover blackout lining that I had in my scrap fabric pile.  I painted the stripes with paint that I had on hand, and used a pillow insert that I had on hand.
The comforter is the cheapest solid white one I could find at WalMart, and it was $25.  At least it didn't melt when I ran the steam iron over it to get all of the wrinkles out!
I didn't add any decorations to the other two walls.  If we were living there, I would probably add a full-length mirror to the wall to the left of the closet.  But we're not.  So I won't. 🙂
The bedroom door leads out to the hallway.  If you walk out straight ahead, you'll be in the hallway-turned-laundry-room.  To the left is the hallway bathroom.  To the right is the other bedroom, which is actually, officially the master bedroom.
It's so nice having this room finished!!  I kind of had to start from scratch, because there was very little done in here, and what was done (i.e., the closets) needed to be done over.  So I had to:
paint the ceiling
remove wallpaper and chair rail
patch and paint the walls (wall color is Marina Isle by Behr)
remove old closets and build new ones
install baseboards and shoe moulding, and paint all of the trim
install trim around the door
paint the door
replace some floor tiles, and grout the floor
I'm sure there are a couple of things I'm forgetting, but they're done now!
In total, I ended up spending about $740 on this room.  That includes the items needed to finish the actual room, plus the decorative items that I added for staging the room.  About $475 of that total cost was on the actual room — materials to build the closets, wall paint, ceiling paint, trim paint, baseboards, shoe moulding, grout, caulk, etc.   The decorative items that I added to stage the room — bedding, curtains, rug, etc. — came to about $265.  I think it was money well spent because I really love how this room turned out!
Click on the thumbnails below to see the various DIY projects that went into this bedroom makeover.
Addicted 2 Decorating is where I share my DIY and decorating journey as I remodel and decorate the 1948 fixer upper that my husband, Matt, and I bought in 2013. Matt has M.S. and is unable to do physical work, so I do the majority of the work on the house by myself. You can learn more about me here.
I hope you'll join me on my DIY and decorating journey! If you want to follow my projects and progress, you can subscribe below and have each new post delivered to your email inbox. That way you'll never miss a thing!