Bathroom Makeover Day 3 – How To Make Cabinet Doors (Without Using Special Tools)
Last night I did something that I've wanted to do for quite a long time.  I figured out how to make cabinet doors without using any kind of special tools!
Now don't get me wrong.  These do require tools.  But they only require standard tools that most DIYers would already have, like a circular saw, a miter saw, and a brad nailer (a nail gun that shoots small 18-gauge finishing nails).  However, they don't require any of the specialty tools (or skills) that generally only the pros, the cabinet makers, and the long-time, almost-pro hobbyists have, like joiners, routers, etc.
I didn't get my doors and drawer fronts completely finished (because I'm incredibly math-challenged), but here's how one of my finished doors turned out…
It's a vast improvement over the original doors, don't you think?
My original plan was to just add some pretty trim to the existing doors and drawers, and then paint everything.  That definitely would have improved the doors, but there are two reasons I decided not to go that direction.
The existing doors and drawers have these weird beveled edges that bevel towards the cabinet.  I guess those bevels were created in lieu of having handles and knobs.  The beveled edges almost act as a "pull".  Quite simply, I hate the way it looks.
The existing doors and drawers are 3/4″ thick, so adding trim to the fronts would make even thicker…so thick, in fact, that the door fronts would extend past the edge of the countertop.  There's just something not right about that.
So I decided to just make brand new cabinet doors from scratch.  But since I'm limited in both tools and knowledge, I had to make do with my basic tools and general DIY knowledge.  And I'm actually really pleased with the outcome!  Here's how I made my cabinet doors…
I started out by using my circular saw to cut pieces of 1/2″ plywood to the finished size of my doors and drawers, minus 1/4″.  So my biggest door needed to be around 19 3/4″ wide by 19 3/4″ high, and I cut the plywood to 19 1/2″ by 19 1/2″.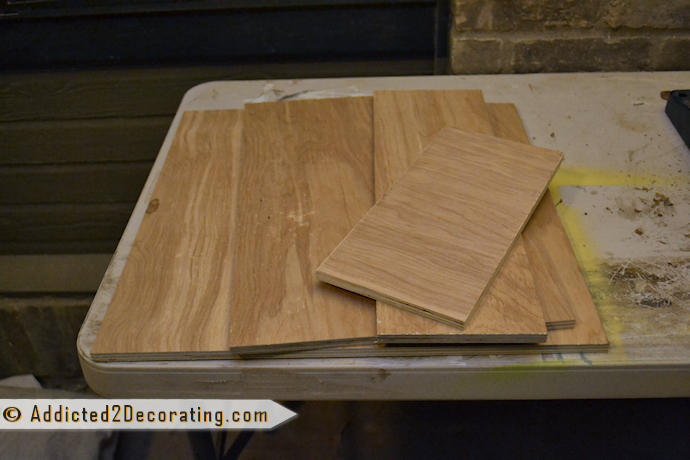 Next, I used my miter saw to cut pieces of cabinet trim to frame the pieces of plywood.  The trim I used came from Home Depot, and it's sold in the area where you buy it by the piece, not by the linear foot.
Then I attached the trim using wood glue and my brad nailer with 3/4″ brads.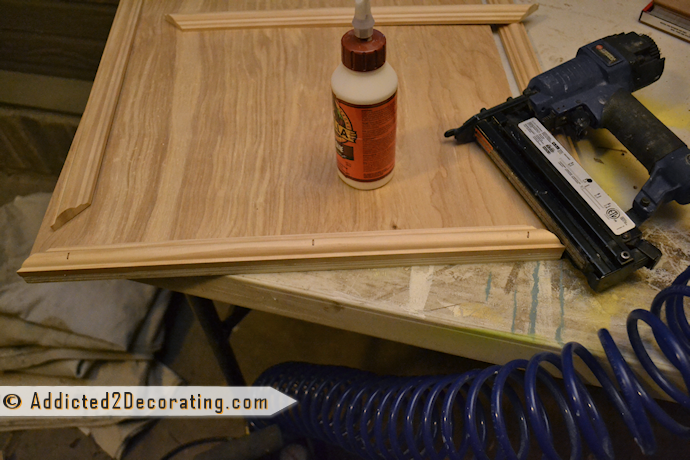 That did a great job at dressing up the front, but obviously I had to do something to cover up the edges since you can see where the plywood edge meets the trim.
So next I took this really small trim (I have no idea what this is for, but it's incredibly cheap, and rounded on both edges), and cut pieces to cover the edges of the door.
I mitered the corners, and attached it to the edges of the door with wood glue and my brad nailer with the 3/4″ finishing nails.
See how nicely it disguises the edge?
And the last step is to add wood filler to the nail holes and the tiny spaces between the front trim and the edge trim.  Once everything was sanded down, the two pieces of trim actually looked like one continuous piece of trim.
And the thickness turned out perfectly!  The thickness of the new door is only slightly more than the thickness of the old door.
Now I just need to head back to Home Depot today and get more trim.  Gah!  I hate it when I don't get enough supplies to finish my project!!  If I had purchased enough, I could have easily finished making these doors and drawer fronts yesterday.  They're so simple and fairly quick to make.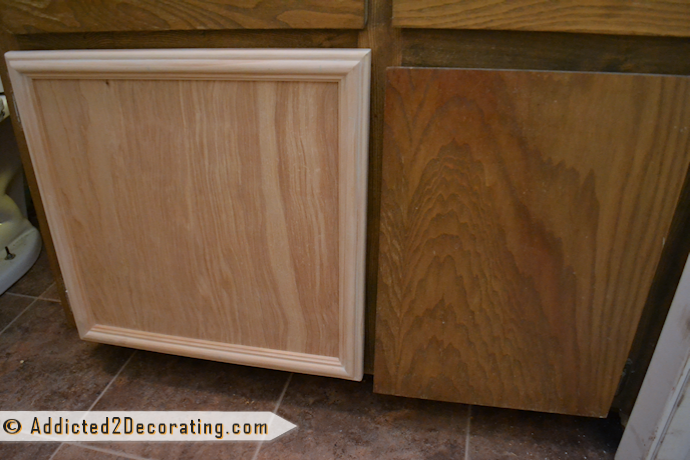 So, that's where I'll leave you today.  🙂  Once again, you'll have to use your goggles to imagine how this will look once all of the doors and drawer fronts are added, and it's all prettied up with paint and pretty handles.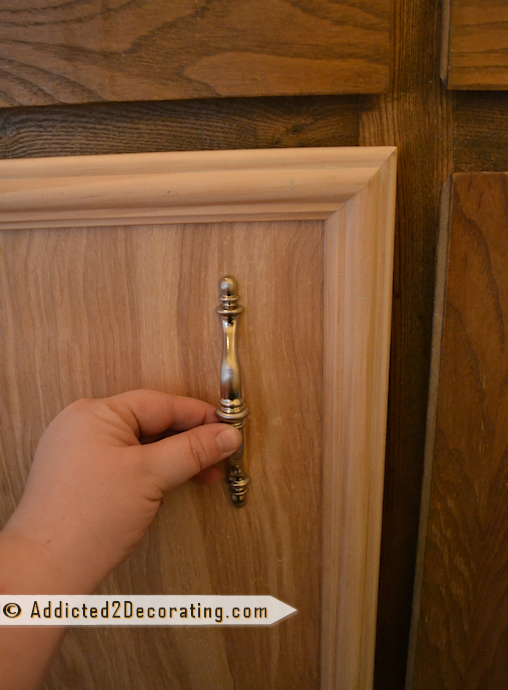 Speaking of cabinet hardware….
I generally use knobs on doors, and pulls on drawers.  But this time, I've decided to use these pretty pulls on both the doors and the drawers.  Is that strange?  Have you ever used pulls on doors?  I know I've seen it before, but I don't know if it's a normal thing.  What do you think?
UPDATE:  I finally finished all of the door and drawer fronts, and thought I'd add a picture for you to see.  It's still not painted.  Hopefully I'll get to that soon!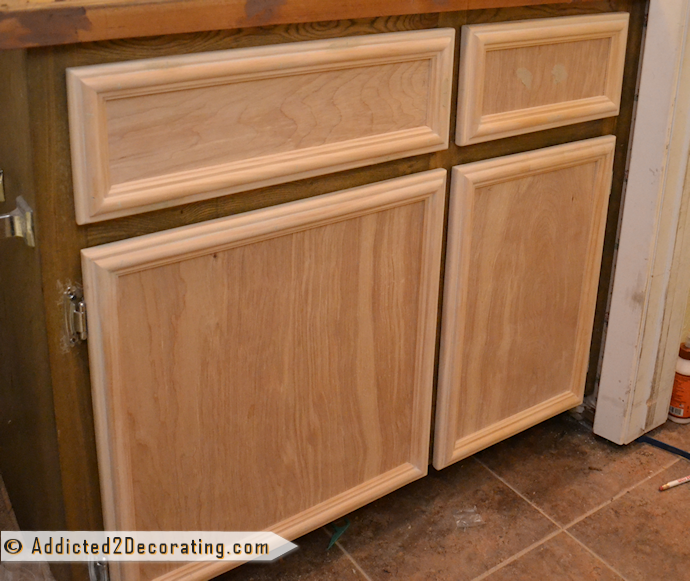 Addicted 2 Decorating is where I share my DIY and decorating journey as I remodel and decorate the 1948 fixer upper that my husband, Matt, and I bought in 2013. Matt has M.S. and is unable to do physical work, so I do the majority of the work on the house by myself. You can learn more about me here.