Dimensional Artwork — Polymer Clay Flowers On Weathered Wood
Have you tried polymer clay? I'm here to tell you that the stuff is addictive! I bought my very first package last week, and then proceeded to make just under 100 flowers for this artwork that I've wanted to make for well over a year now.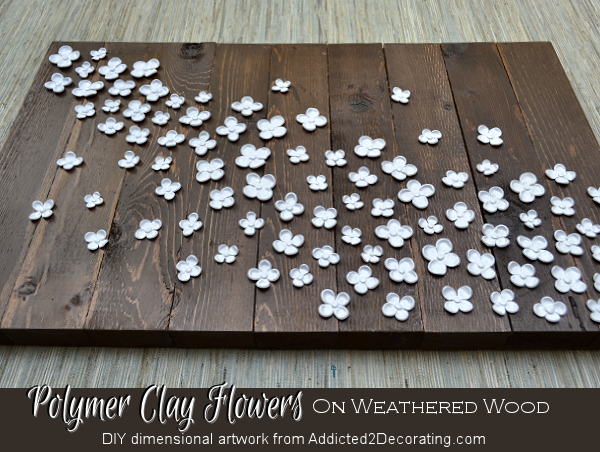 The best thing about this artwork is that it cost me less than $10.  It's true!  Then only thing I had to purchase was the polymer clay, which I believe was $8.99.  (It would have cost less if I had taken a coupon with me!)  I had everything else on hand already…spray paint, scrap wood, hot glue, etc.
There's nothing difficult about this project…although making almost 100 flowers does take some time. (I timed myself, and found that one flower took 2 minutes 18 seconds.) The good thing is that because the flower design is quite simple, you could easily recruit older children to help make the flowers! 🙂
Want to make your own? Here's are the details:
Tools & Supplies:
8 0z. package of polymer clay,
White spray paint,
Scrap wood (pallets, fence boards, etc.),
Wood glue,
Wood screws,
Drill with screwdriver bit,
Stain,
Polyurethane,
Rag,
Paint brush,
Hot glue gun and glue sticks.
Instructions:
First, use the polymer clay to make all of the flowers.  I used an entire 8 oz. package, and ended up with just under 100 flowers in three different sizes.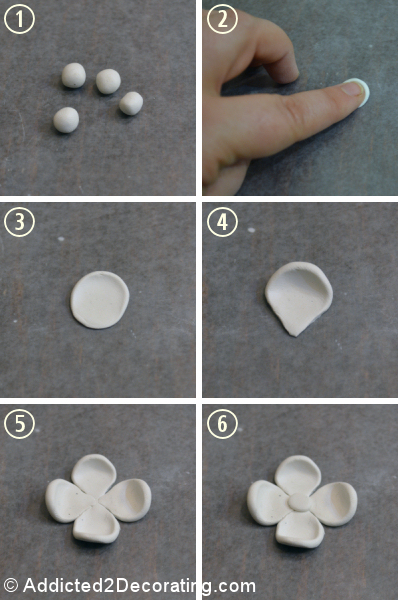 To make the flowers:
Start out with three balls of clay that are about the size of peas.
Flatten the ball of clay so that the clay forms a ridge around the top and sides of your finger.
Use your finger to gently even out any harsh edges.
Form the bottom of the circle of clay into a point, and gently lift up on the rounded edge to create a curved petal.
Repeat this three more times, and then place four petals with the points together.
Drop a small ball of clay onto the center and flatten slightly.
Then bake the clay flowers according to the instructions on the package.
After the flowers are baked and have completely cooled, use a spray paint in your choice of color.  This is optional, of course, since polymer clay comes in a variety of colors.  However, I wanted mine to be a brilliant white, and as you can see below, the white polymer clay had a bit of an off-white color to it.
If you want more of a varied color effect, you could also use acrylic paints to paint each flower. (The work of artist Michael Baxley demonstrates just how beautiful hand painted flowers with slight color variations can be. Although his are porcelain, and I would highly doubt that there's a drop of hot glue anywhere on his beautiful artwork.) 😀
While the flowers are drying, prepare the wood "canvas".  I used scrap pieces of 2″ x 4″ cedar (left over from my elevated garden beds), and I cut them into pieces that were 20 inches long.  My "canvas" ended up being 20″ high by about 33″ wide.
Glue the wood pieces together using wood glue (don't use too much or it'll run down and get on the front side of your "canvas", which will affect how the wood takes stain).  If you have a framing square, use it to be sure that the pieces are lined up straight.  Then use thinner scraps of wood and wood glue to hold the pieces together.  To make the piece really secure, follow up with wood screws, screwing them through the thin horizontal wood pieces into the main wood pieces.
Note:  If you have a Kreg jig, use that instead and you'll end up with a much sturdier "canvas".
After the glue has dried, give the front of the "canvas" a quick sanding, and then stain and polyurethane the wood.  Once that's dry, you're ready to arrange and glue the flowers.
And when you're done, you've got a beautiful piece of dimensional artwork!
I really like the juxtaposition of the shiny white flowers against the rustic stained wood.
This will eventually go in my bedroom over my bed, so it might be a while before you see in in place.  🙂
When I make something like this, one of the most asked questions is how to hang it.  Any time I'm hanging something heavy on the wall, I use a French cleat.
You can find these at Home Depot and Lowe's.  They're metal, they come with their own level, and they're rated by the number of pounds they'll hold.  I use these to hang anything from heavy framed mirrors to even heavier upholstered headboards.  They're absolutely the best way to hang heavy items!
UPDATE: I ended up using these flowers on a different piece of artwork. Click here to see how it turned out…
And click here to check out the small condo small budget bedroom makeover where this artwork was used…
Addicted 2 Decorating is where I share my DIY and decorating journey as I remodel and decorate the 1948 fixer upper that my husband, Matt, and I bought in 2013. Matt has M.S. and is unable to do physical work, so I do the majority of the work on the house by myself. You can learn more about me here.