A Few Previews – Custom-Made Baskets, Wallpaper Sample, Colorful Floral Shower Curtain, and More
Well, the week has only just begun, and yet I'm having one of those weeks. You know the kind. Those weeks where you feel very busy, and yet nothing gets done. Those weeks where you face one road block after another.
For the last two days, I've been trying to turn this pile of fabric…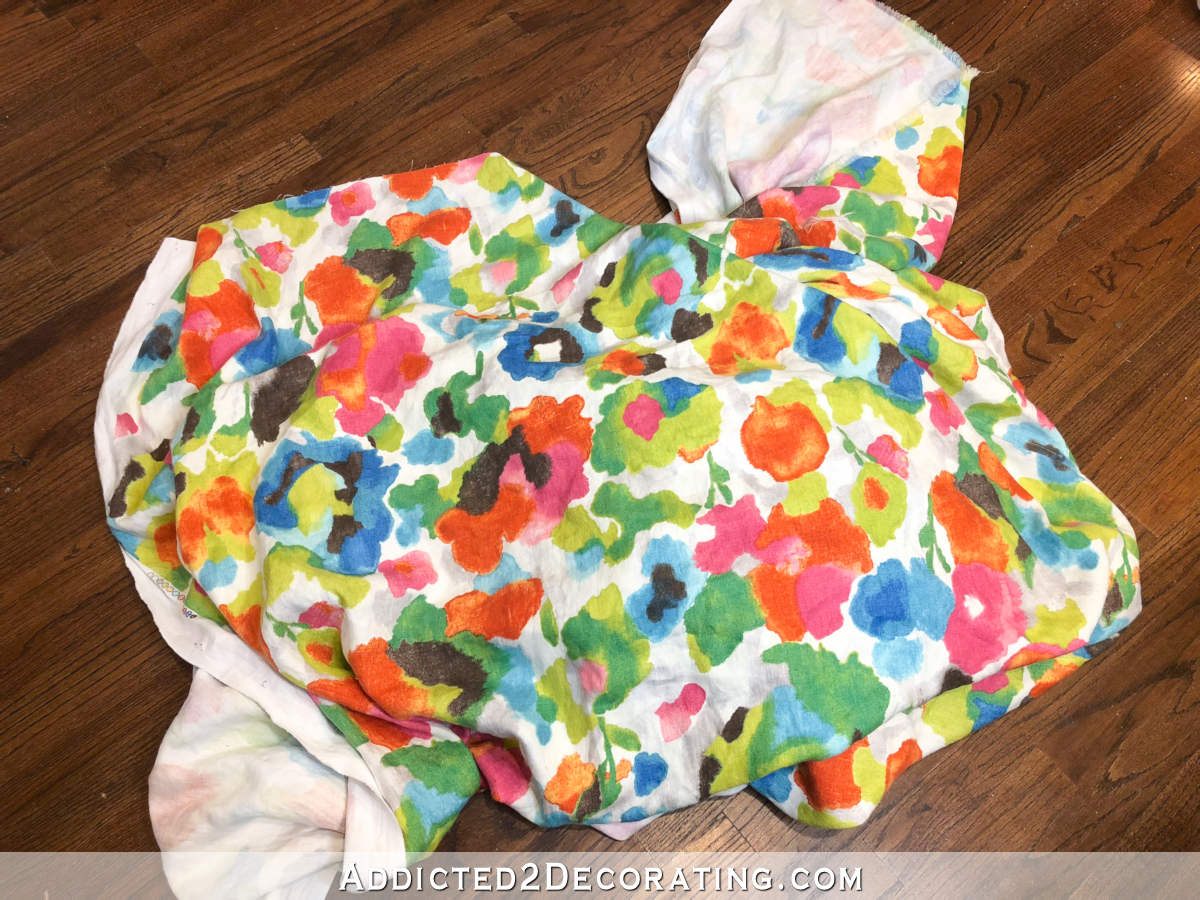 …into my new shower curtain for the hallway bathroom. It should have been a simple, one-day project, and yet I'm on the third day and it lingers on. I've had problem after problem with my sewing machine — bobbin not working right, broken needles, and then finally the machine just refusing to work at all. I have no idea what the issue is, but I finally borrowed my mom's machine last night, and I'll be taking mine in to be serviced. Hopefully today, I can finally make some headway on this.
But if you'll remember, that's the fabric that I purchased in 2016 during my failed attempt to turn my living room into a dining room. The other day when I was itching to add some color to my blah bathroom (my blahthroom, as Matt would say 😀 ), I remembered this fabric, so I went digging through the big box with all of my extra fabrics to find it. And fortunately, I had just enough for a shower curtain!
So over the last two days, as I took breaks from my infuriating sewing project, I decided to play with some resin. I've had this idea of making a series of nine framed resin petries to hang together on one wall, but I didn't have a place for them. But now that I'm making some changes in the bathroom, and my original artwork that I used in there doesn't look right anymore, I figured this was my opportunity. It's a blank wall that's the perfect size for nine 12-inch-square frames.
So after I get my shower curtain finished, I'll be making frames for these colorful cuties…
Moving on to the studio, do you remember that wallpaper I designed and shared with you a few days ago?
Well, my sample that I ordered from Spoonflower arrived yesterday, and I ABSOLUTELY LOVE IT!
Y'all, the colors are so bright and vivid, and the paper itself is a great quality. Now I'm chomping at the bit to get that room drywalled so I can order this wallpaper and get it installed! I shared a bit more in my Instagram stories yesterday evening, so if you hurry, you can see more details before my story disappears.
Now moving on to kitchen news, do y'all remember how I want to remove the dishwasher from my kitchen and replace it with pull-out baskets? I'm envisioning something like this…
Well, after looking at all the stores locally, and all the stores online (yes, ALL of them 😀 ), I still couldn't find any baskets that were the exact size I needed to fit the space where my dishwasher currently lives.
So I started searching for custom-made baskets online, and I came across a place called Amish Baskets that will make baskets for you in any size you need. So back at the beginning of December, I placed an order for three custom-made baskets, and they arrived a couple of days ago.
Y'all, they are PERFECT! And they're so beautiful and sturdy and well-made.
I can't remember the size that I ordered, but I needed them to be almost square. I think they're something like 19″ x 20″. But I was able to specify the width, length and height, and they made them perfectly to my specifications.
Evidently there are three Amish families who make the baskets, and one of their non-Amish neighbors takes the orders, maintains the website, does the shipping, etc. But they send you an email when your order goes into production, and they tell you the name of the family making your order. And then your baskets are signed on the bottom by that family.
I just love them! They're definitely not cheap. My three large baskets came to $220, so they were just over $73 each. That's more than I would generally pay for a basket, but considering these are custom made to my exact specifications, and they're each beautifully hand made, I think they are worth the price.
Now I just hope that I can do these beautiful baskets justice and make some equally beautiful frames to go around them to turn them into pull-out drawers.
And finally, I've decided that starting this month, I'm going to give away a free downloadable piece of artwork on the last Saturday of each month to everyone who subscribes to my blog. Subscribing is a great way to stay in the loop and never miss out on a post or project. (As you know, if you rely on Facebook to stay informed, they may go weeks without showing you my posts, so you'll miss out.)
Anyway, these free downloadable digital files can be used pretty much any way you want to use it, as long as it's for personal use only. You can have it printed and framed to put on your wall. You can have it printed on some notecards. You can use it as wallpaper on your phone. You can print it and frame it and give it as a gift. However you personally choose to use it is up to you! (Just so long as you don't use it for commercial purposes.)
So this month's free downloadable artwork will be one of the paintings that I did for my breakfast room. And I'll always try to provide a digital file that's large enough that you can have it printed fairly large, if you so choose.
So if you don't want to miss out on the free monthly artwork, just enter your name and email address in the bright pink form at the end of this post. If you're already subscribed (i.e., you get my new posts to your email inbox), there's nothing you need to do.
Helpful sources and products:
Did you miss the post about how I designed my own wallpaper? You can see it here…
Want to see how to make resin petries? They're mesmerizing to look at, and the process of making them is fun! See that here…
Spoonflower – This is where I uploaded my custom wallpaper designed and ordered a sample.
Amish Baskets – This is where I ordered my custom-sized, handmade baskets, and they're beautiful!
---
---
Update:
My bathroom makeover is finished! Want to see the entire project from start to finish? You can find every single post about the bathroom makeover right here…
Or you can skip to the end and see how it turned out. Here's a peek of the finished bathroom…
You can see more pictures on the before and after post right here…
Addicted 2 Decorating is where I share my DIY and decorating journey as I remodel and decorate the 1948 fixer upper that my husband, Matt, and I bought in 2013. Matt has M.S. and is unable to do physical work, so I do the majority of the work on the house by myself. You can learn more about me here.