DIY Fireplace Part 4 – The Finished Brick Fire Box And Mosaic Tile Surround
I'm starting to feel like building this fireplace is the never ending project.  But I'm at least starting to see a light at the end of this tunnel.  Here's how it looked Wednesday night when I finished sanding the "bricks."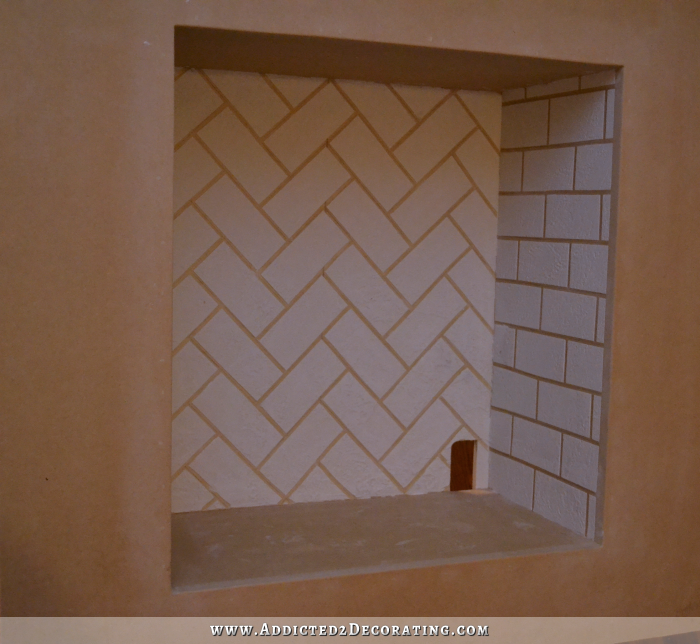 And here's how it looks right now.
If you've missed the previous posts about this project, you can them here:  Part 1 (construction of the main structure), Part 2 (construction of the fire box insert), and Part 3 (adding faux bricks made with joint compound).
Here's what I got accomplished yesterday:
Painted the fire box and surround black,
Attached the fire box inset to the rest of the fireplace structure by nailing it from the back into the frame made of 1″ x 2″ lumber that surrounds the largest opening in the main structure,
Sponged the bricks with two other colors to give them some subtle color variation, and
Installed the mosaic tiles around the outside of the fire box inset.
It's definitely starting to look more and more like my inspiration fireplace, right?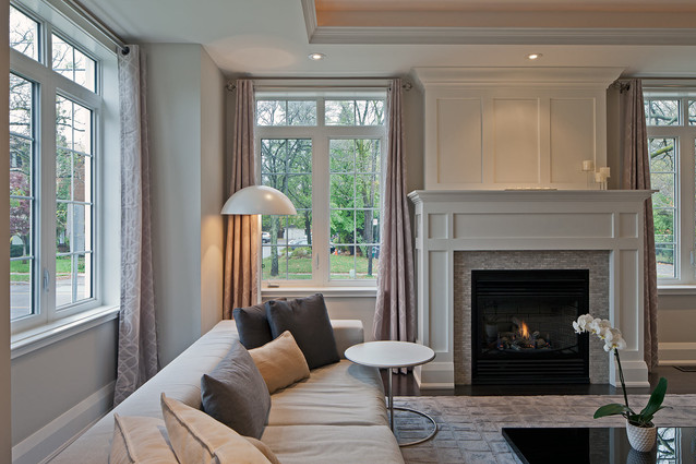 So let me back up and show you the details of how it got from the freshly sanded drywall compound "bricks" that I showed you yesterday, to the point where it is currently.
First, I took the fire box inset outside and filled the nail holes wood filler and sanded everything smooth.  Then I gave it a coat of primer (oil-based Zinsser Cover Stain), and then two coats of paint (Behr Black Suede in an eggshell finish).
When everything was dry I brought it inside, and attached the fire box insert to the main structure of the fireplace.  It had to be inserted from the back of the main structure, and then nailed into place using 1.5-inch 16 gauge finishing nails in my nail gun.  And then, of course, I added the electric insert because I was anxious to see what it looked like.  😀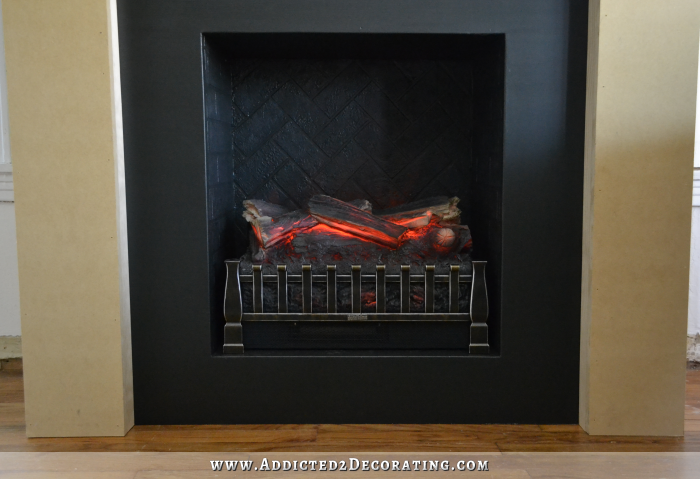 Then I cut my mosaic tiles for the surround.  I found these tiles at Home Depot, and they were $9.99 for a square foot.  I ended up using five of them.
FYI, the tile saw that I have is the absolute cheapest saw that I could find at Home Depot a few years back.  It's a bit difficult to work with (you definitely get what you pay for), but it gets the job done, and has seen me through several projects, including the backsplash in the kitchen condo, John & Alice's bathroom makeover, and now this project, with a few smaller projects along the way.
Home Depot no longer has the one I have, but it would be comparable to this $89 tile saw.  If you've only got a couple of small jobs to do, I'd recommend it.  If you're tackling a whole house remodel and hope to do quite a bit of tiling, I'd spring for something a little better.
Because this was such a small area to tile, I decided to use this Simple Mat to adhere the tiles to the fireplace.  The package was about $20 and comes with 9 sheets.  I think I used four sheets.
I just placed my cut tiles onto the sheet, marked where I needed to cut, and then used a pair of scissors to cut the sticky sheets.
Then I peeled off the white paper from the back, and placed the sticky sheets onto the fireplace where I wanted the tiles.
Then I peeled off the plastic from the front, and stuck my tiles onto the sticky sheets, and pressed firmly so that they were really secure.
At that point, I was pretty pleased with how things were coming along, but I was a bit disappointed that my "bricks" were kind of getting lost.  I didn't want them to be front and center, and compete with the tiles for attention.  But I did want them to show up in a subtle way.
So using a small sea sponge from Michael's (I bought them in a package with about four or five small sea sponges), I sponged two lighter colors of paint onto the bricks.  I used Evening Hush and Dark Ash, both from Behr.  And then I used a small craft paint brush to go back over my mortar lines in the original Black Suede color that I had used just to give some definition.  It was just the subtle definition I was hoping for.
And yes, I kept my "fire" going the entire time I was working because I'm a bit obsessed with it.  😀  But here's what it looks like with the electric insert turned off.
It's getting there!  I still have to grout the tile, and then I have some small trim that I'll add around the inside edges of the tile just to give it a clean, finished look and hide the cut edges of the tiles.  And then I can finally start adding trim, primer, and paint to the main structure of the fireplace.  And finally…I'll build a mantel.
Several of you have asked if I'll add a hearth just to make it look more like a wood burning fireplace, and I do think I'll add one.  I think it'll be just the finishing touch that this fireplace needs.  I'm just not sure if I'll use the small mosaic tile or find a coordinating larger tile.  What do you think?
I'm determined to finish this fireplace this weekend!!!
Addicted 2 Decorating is where I share my DIY and decorating journey as I remodel and decorate the 1948 fixer upper that my husband, Matt, and I bought in 2013. Matt has M.S. and is unable to do physical work, so I do the majority of the work on the house by myself. You can learn more about me here.