Y'all, we've officially reached that time of this season when I just can't feel motivated to do anything. This attitude generally hits me at the end of December with the cold weather, the abundance of cheesy holiday rom-coms to watch, and that end-of-the-year wind down and week off. But I managed to get through December, and even most of January, without feeling that way. But now it has hit me hard.
It's totally based on the weather. I'm just not a winter kind of person. Even when we don't have cold weather (which we really haven't had much of this year), there's almost always something about winter that zaps my energy and motivation. This year, it's the gray skies and rain. My goodness, I feel like I'm back in Oregon, and I just don't function well when I have to go days at a time with rain and no sun.
Anyway, I've tried to take advantage of any warm-ish and sunny (or non-rainy and overcast) day we've had lately to get my exterior windows finished up. The trim needed to be caulked and painted on the five new windows. In addition, the recently-installed stone in two areas needed to be primed and painted.
Yesterday morning, I was so sure that by the end of the day, I'd be able to finish up the painting, get everything cleaned up, and have shiny new pictures of the front exterior of our house (with the five new finished windows) to show you today. It was a gorgeous, warm, sunny day, and I did my best! But unfortunately, I didn't get finished. And now it doesn't look like we'll see the sun again for over a week. There's nothing but rain and clouds in the forecast, which is so depressing.
But anyway, I thought I'd go ahead and show y'all the part that I'm the most excited about, and which I did actually manage to get finished.
First, let me remind you of what this side of the house looked like after the stone and siding were painted about three years ago, but before the new windows were installed. These original windows were old, no longer opened (and some no longer closed all the way), and had very unattractive storm windows on them. And the front middle bedroom (the one by the front porch) had a window unit air conditioner in it that I was afraid to remove because I wasn't so sure that the window would actually close.
So when I redesigned the bedrooms and removed the original closet from that center bedroom, I decided to build some new closets. Since that side window with the air conditioner was in the way of my planned closets, I had it removed and covered over with drywall inside. That left this big hole in the stone on the outside…
Fortunately, I had stone on hand that could be used to fill in that hole. When we bought the house, the side exterior wall of the living room had stone on it…
I thought that was so strange. There was siding on the front porch, siding on what is now the front of the breakfast room, and siding on the eave of that side wall. But then there was this random wall of stone. So I had that removed…
…and replace with siding when we had all of the new siding put on the house…
So that stone has been piled in the back yard all this time. I just had a feeling that I'd need it for something, so I never got rid of it. And I sure am glad I kept it! I don't think we would have been able to find any new Austin stone to match the older style of this stone.
I was so nervous about having this filled in, because I was sure that it would be obvious that there used to be a window there. But the guys who did the stone work did a fantastic job on it. And they were so fast! I think it only took them half a day to fill in this area, plus the area under the new master bathroom window. That area needed to be filled in because I had the original window replaced with a shorter window.
Here's how it looked when they finished the stone work that day…
I was very excited about how that looked! They did such a great job at lacing the new and old stone together so that no obvious rectangle where the window used to be could be seen.
I had to wait a few days to let the mortar dry really well, and then when we had breaks in the rain, I pressure washed it, and primed it. So finally, a couple of days ago, I was able to get it painted. Here's how it looks now…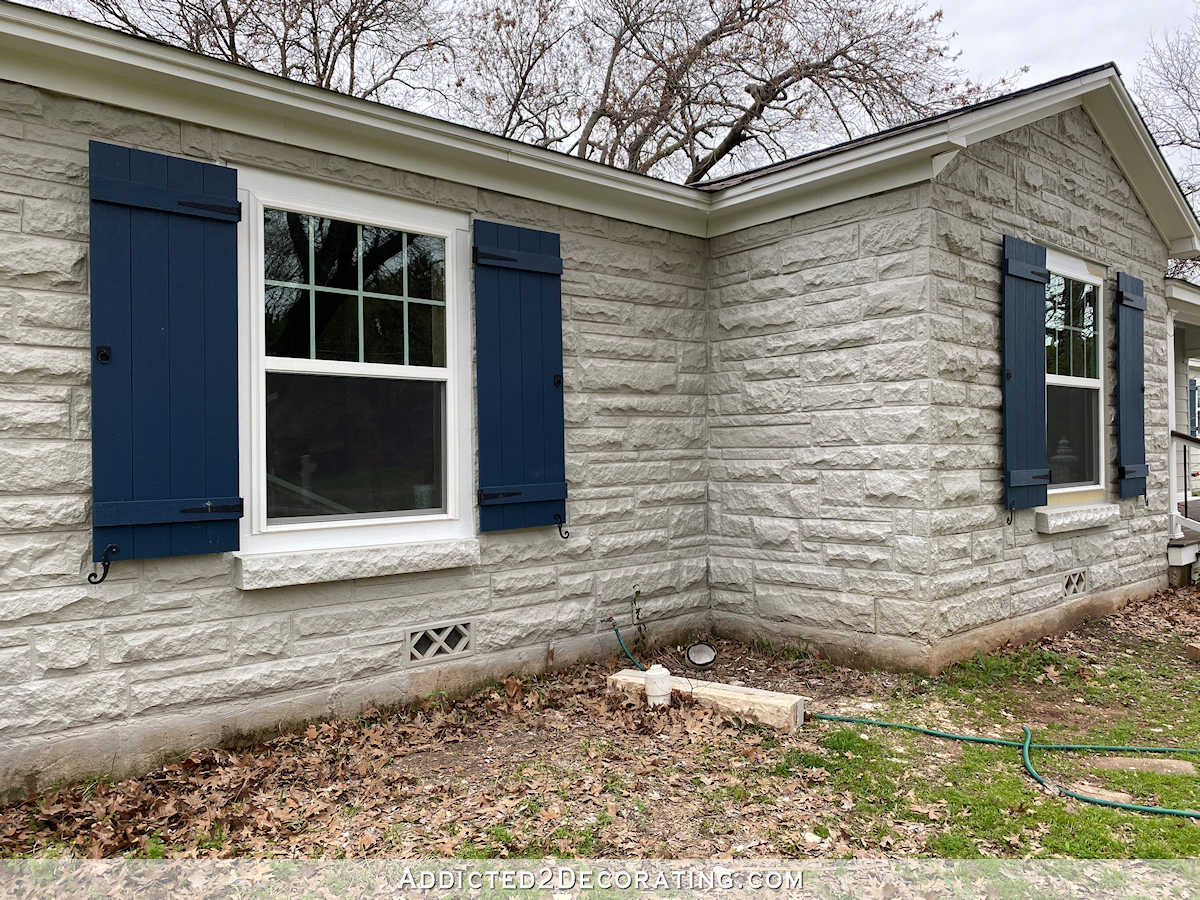 Doesn't that look so good?! I mean good, as in, I really don't think anyone would be able to tell that there was ever a window there. I'm so thrilled with how that turned out.
So again, it went from this…
…to this…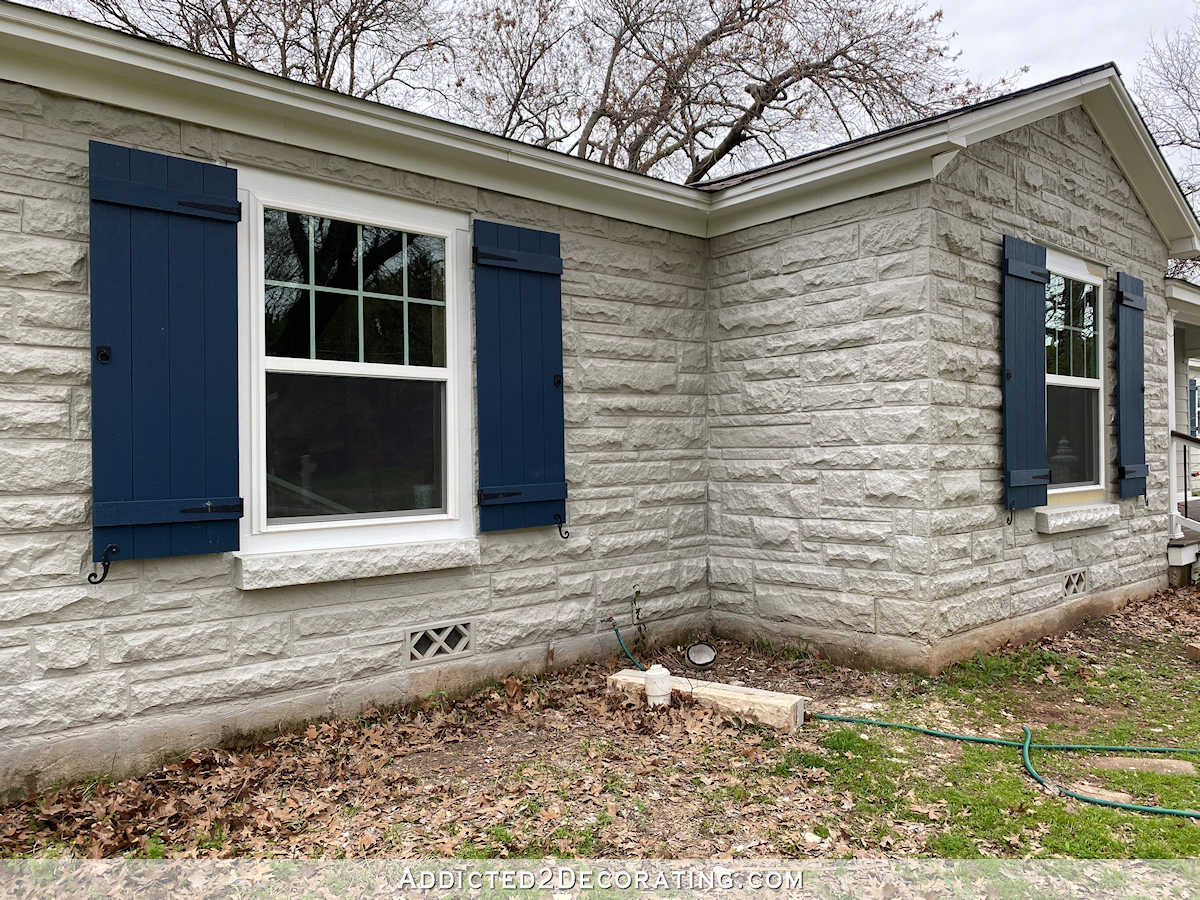 Oh, and the side window on the far left of that "before" picture went from this…
…to this…
They did a great job on that area, too. I don't think anyone would be able to tell that the original window in that spot was about two feet taller than the current window.
So that's the current state of things on the front and side exterior of the house. Who knows when I'll be able to finish it and get new exterior pictures. I was sure hoping that I could get it all done yesterday, but I just ran out of time. That's another thing that I find so depressing about this time of year — the fact that the sun goes down so early. It's so discouraging to me when I have to pack up a project at 6:00pm because I ran out of daylight. Oh, how I love those long, sunny, warm days of summer! I guess they'll be here soon enough. In the meantime, I'll take advantage of every sunny, rain-free day we have to make more progress out here, but it looks like my next opportunity is still several days away.
Addicted 2 Decorating is where I share my DIY and decorating journey as I remodel and decorate the 1948 fixer upper that my husband, Matt, and I bought in 2013. Matt has M.S. and is unable to do physical work, so I do the majority of the work on the house by myself. You can learn more about me here.
I hope you'll join me on my DIY and decorating journey! If you want to follow my projects and progress, you can subscribe below and have each new post delivered to your email inbox. That way you'll never miss a thing!