Last Updated on January 14, 2019 by Kristi Linauer
I'm up for painting just about anything — wood, brick, concrete, new, vintage, antique. It doesn't matter to me. There's nothing so precious or sacred that I won't put paint on it. I'm a wood-worshiper and antique-lover's worst nightmare. I'd buy a 150-year-old Victorian house and paint all of the stained oak wood trim, walls, staircase railing, etc., bright white in a heartbeat, without reservation and without apology.
Painted brick houses have been increasing in popularity over the last decade (probably longer), and these days it's no big deal at all to paint brick. And it's certainly the easiest and cheapest option when your house has outdated brick.
Stone seems to be a different thing, though. For some reason, people (including myself) seem to have reservations about painting stone. If y'all remember, I considered painting my house (the vinyl siding and the stone) yellow a while back. I held off on that because I decided to turn my attention to more permanent projects on this house that will last rather than temporary fixes that would take time and money and eventually have to be redone. Plus, the idea of painting the stone a non-neutral color kind of gave me pause.
But now we're back on the topic. To paint or not to paint? There was a lot of talk yesterday about sandblasting the stone to get back to the original color, so I was curious to know exactly what color was hiding under the current coating. (Austin stone ranges in color from bright white to various shades of light browns and taupes.) I got a hammer and chipped away at one of the stones, and it turns out that mine is pretty bright white. You can see it here…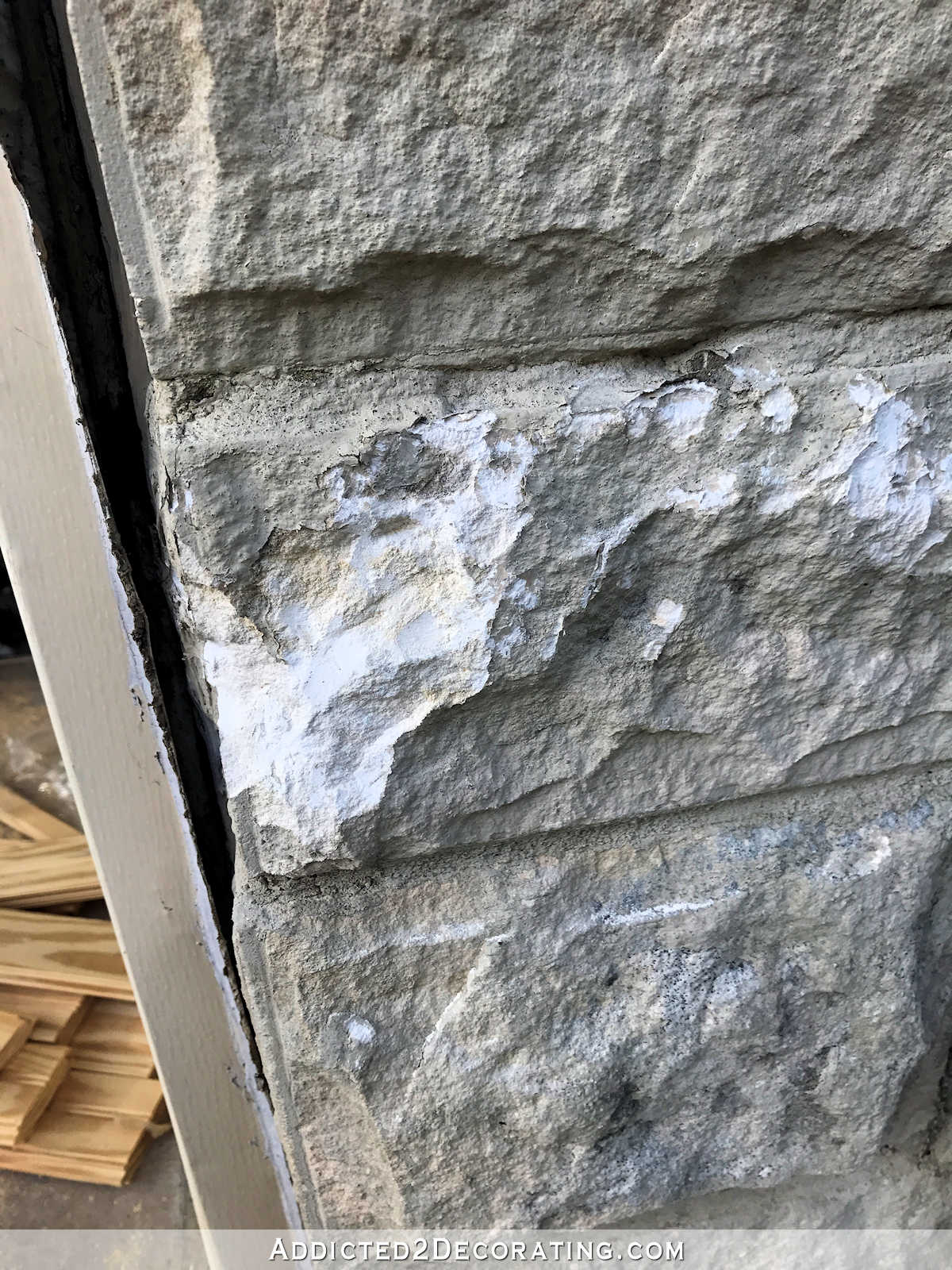 Seeing that actually got me excited about the stone. Sandblasting would definitely breathe some new life into the now-dull stone. But in the event that sandblasting is too cost-prohibitive (I don't know that I'd DIY it since I'd be worried about breaking windows and such), I was still curious about painting the stone. So I did what I always do — headed to Pinterest and Houzz to see what I could find.
I have yet to find any stone houses painted an actual color (no yellow, no blue…yet), but it turns out that painting stone, while not so common as painting brick, isn't all that unheard of. In fact, I'd bet that we've all seen a painted stone house and thought nothing of it.
I've read about several ways to paint/brighten up the stone on a house, including just regular exterior latex paint, whitewashing, limewashing, mortar washing, and more.
Some of them have a thinner coating of white so that some of the darker original color shows through just a bit, but my favorites are actually the ones that look more opaque. And that's a good thing since it can be easily achieved with just a coat or two of regular ole paint.
I just love how clean and bright they look. And I'd feel perfectly fine pairing the brighter, whiter stone with an actual color (i.e., not a neutral) on the siding. I think it could look very light, bright and cheerful, which is exactly what I want for the exterior of my house. (I don't want loud and garish, just light and bright with a bit of color.)
So within the last 24 hours, I've gone from pretty much hating the stone on my house to being kinda, sorta, somewhat excited about it. And after today, I might be very excited about it. After reading through all of the comments on yesterday's post, one suggestion really struck me and got me excited. That suggestion was to remove the stone on the side of the living room — this side with the combo of siding and stone…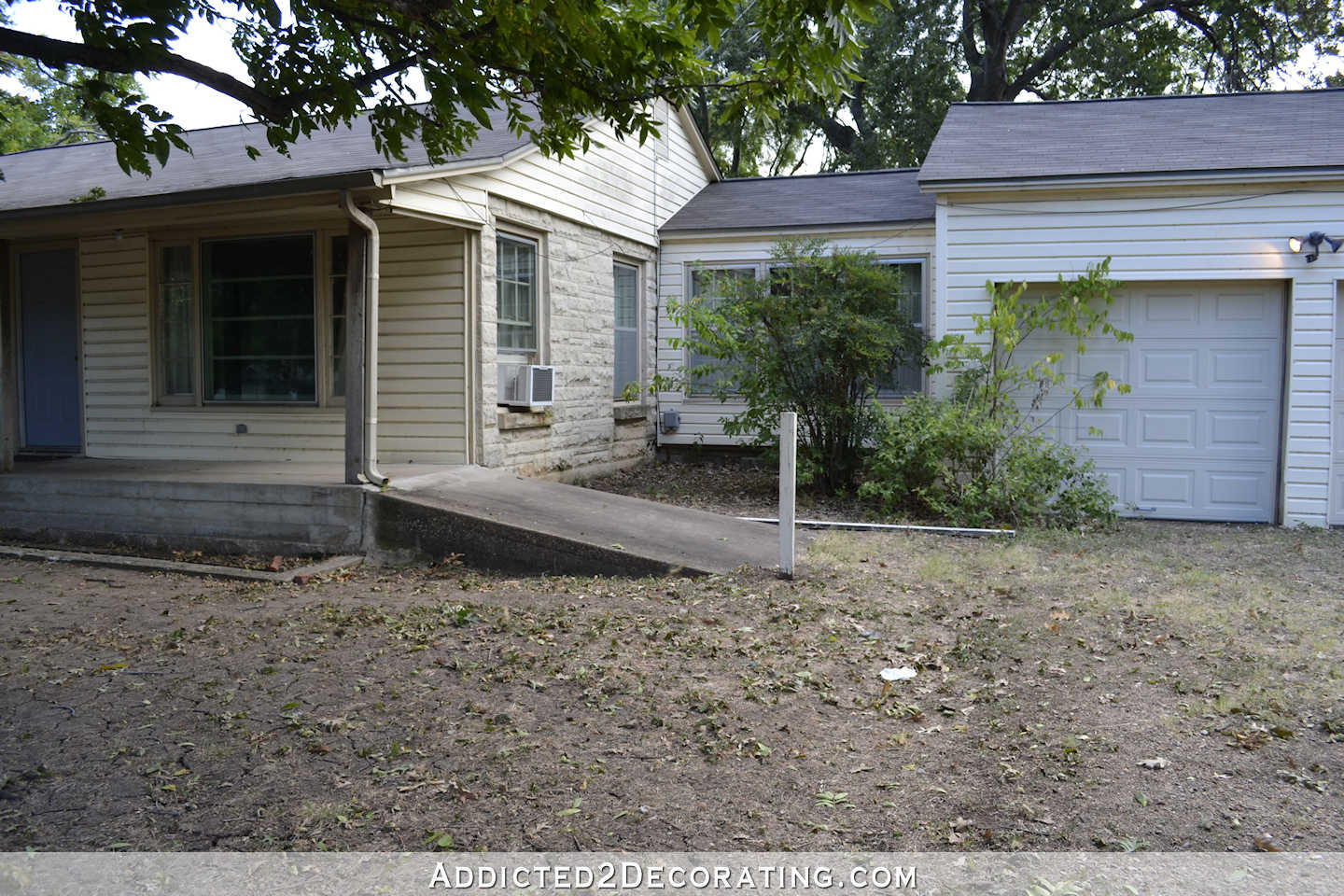 …and apply that stone to the front of the breakfast room. I LOVE that idea! Not only would it eliminate that weird side with the siding/stone combo that makes no sense to me and really isn't visible from the front of the house, but it would bring some visible stone to the right side of the house. And since it's a very small area, I have hopes that even if it does require an additional concrete footing, it won't be ridiculously expensive. And then I could also keep with the idea of wrapping the porch column bases with stone and adding a raised stone flower bed to the front of the studio for more balance.
This idea makes me really excited, so I'm hoping and praying that it's not too cost prohibitive. I have an appointment with a stone mason late this afternoon to see if this idea will even work, and I'm really hoping for good news. I'm hoping he'll also have some good info and possibly some cost estimates on the sandblasting vs. painting issue that will help me make a decision. So I'll let y'all know!
And I'd still like to find an example (or two or three) of painted stone houses that aren't a neutral. I haven't found a single one yet. Have any of you seen one? I'm just so curious to see how it looks.