FAQ: "How Does Matt Handle Your DIY Projects?"
I'm working on the fridge/range wall in the kitchen, and the progress has been kind of slow and boring (definitely not picture and blog post worthy, especially since it's basically a repeat of everything I did on the wall of cabinets). I'll show you the finished product, of course. But in the meantime, I thought I'd spend a post answering one of the most frequently asked questions I get from readers.
I'm actually asked the question in several different ways, but the basic question is about Matt and how he handles my DIY projects…
"How does Matt feel about your DIY projects?"
"Is Matt really okay when you start doing things like knocking down walls? My husband would freak out if I did that!"
"How does Matt feel about you painting the kitchen cabinets green?"
"Does Matt have any say at all in how you decorate the house?"
As an aside, for those of you who are new around here, Matt is my husband (which you probably already gathered).  The reason he doesn't help me with projects around the house is because he has M.S., diagnosed two years after we got married, and he is in a wheelchair.  So while he would love to physically help me with the heavy lifting and such, he's just not able to.  So I do about 95% of my projects by myself, and for the rest, I call in help from family members and (only when absolutely necessary) from professionals.
Anyway, I've gotten questions about Matt as pertains to my DIY projects on an infrequent basis over the years, but I've noticed that the questions have become more frequent ever since I started the kitchen remodel in the house, and especially since the day I knocked out the wall between the kitchen and the breakfast room and my brother and I installed the load bearing header.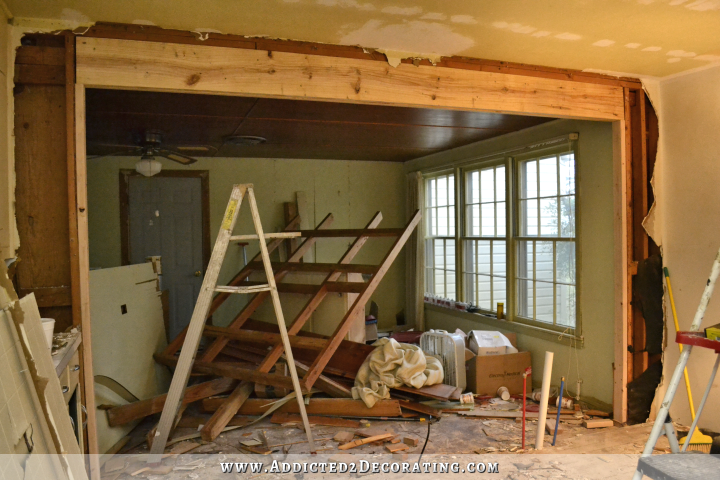 And all throughout this kitchen remodel, I have people ask me pretty regularly about Matt and how me feels about my projects.
The bottom line is that Matt is okay with my DIY projects, he doesn't freak out when I start big projects like knocking down walls, he's perfectly okay with me using just about any color I want to use in the house, and he gives as little input as possible on the decorating and design of the house.
On My Projects In General
In general, Matt loves my projects, and he's so proud of the things I do around the house.  He constantly tells me how amazed he is that I'm able to do the projects I do, and he's amazed that I have the confidence to just jump in with both feet and try things that I've never done before.  On several occasions after I've finished a big project, he's said, "I just don't understand how you knew you could do that.  You've never done that before, right?"  He loves to brag about me to other people and show off the pictures of the things that I've done.  He's my biggest cheerleader and my biggest fan.
Now that doesn't mean that he likes everything I do.  He hated the original painted floor in the kitchen.
But then again, so did I, and so did many of you.  😀
When he doesn't like something that I do, he's never mean about it, and he never just comes right out and tells me he doesn't like it.  I generally have to dig that information out of him.  He doesn't want to stifle my creativity, and if it's something that I like but he doesn't like, he's perfectly fine living with it just to make me happy.  Such an awesome guy.  🙂
On My Big Projects
I know that many of you were so shocked that Matt would allow me to knock out a wall and install a load bearing header when I've never done anything like that before.  And then many of you have been equally as shocked as you've seen me tear my kitchen apart, down to the studs, ceiling joists, and subfloor, all while my husband is seemingly totally okay with everything.  And he is okay with it, but here's the deal…
Matt and I have been married almost 12 years (in September), and I've been doing DIY projects and decorating our home ever since we lived in our very first apartment right after we got married.  When we moved into our first house several months after we got married (a builder-grade house that we had built in Albany, Oregon), that house was like my playground.  I decorated, painted, did some tiling projects, and put down wood parquet flooring by myself in the bonus room above the garage, built a desk, did some landscaping projects, and helped build a privacy fence.  But overall, my projects then were pretty tame.  And basic.  But Matt told me from the very beginning that the house was mine to decorate as I wanted.
Over the years, I've grown in my DIY abilities as I've learned new skills, acquired new tools, and challenged myself to tackle projects with ever-increasing levels of difficulty.  (This kitchen remodel is obviously my biggest challenge to date.)  But Matt has been there every step of the way, and has watched me tackle these projects, and has seen the level of skill and planning and detail that I bring to my projects.
If, after moving into our very first house almost 12 years ago, I had approached Matt and said, "I think I want to knock down this wall and create a big opening here," his answer would have been, "No.  Absolutely not!"  But now, after 12 years of watching me work and seeing the outcome of my efforts, he's gained confidence in me as I've gained confidence in myself.
Now that doesn't mean he's just totally hands off and completely unconcerned.  When I told him that I wanted to knock down the wall in the kitchen and install a header myself instead of hiring it out, he was okay with it, but he asked a lot of questions.  What are the step-by-step details of the process, and what, if anything, could go wrong?  If something went wrong, what exactly would that look like?  Would the ceiling collapse?  How was I going to prevent that from happening?  Can a contractor come over and look at it just to be sure you're doing it right?  If we do need to call in a contractor "just in case," about how much would that cost?
Those are reasonable questions, and reasonable concerns.  But at this point, after 12 years of living with my DIYing, I really don't think that he would ever say, "No.  Absolutely not!" to any project that I felt confident I could tackle myself.
On my color choices
Admittedly, there are many (most?) husbands who would never stand for green kitchen cabinets.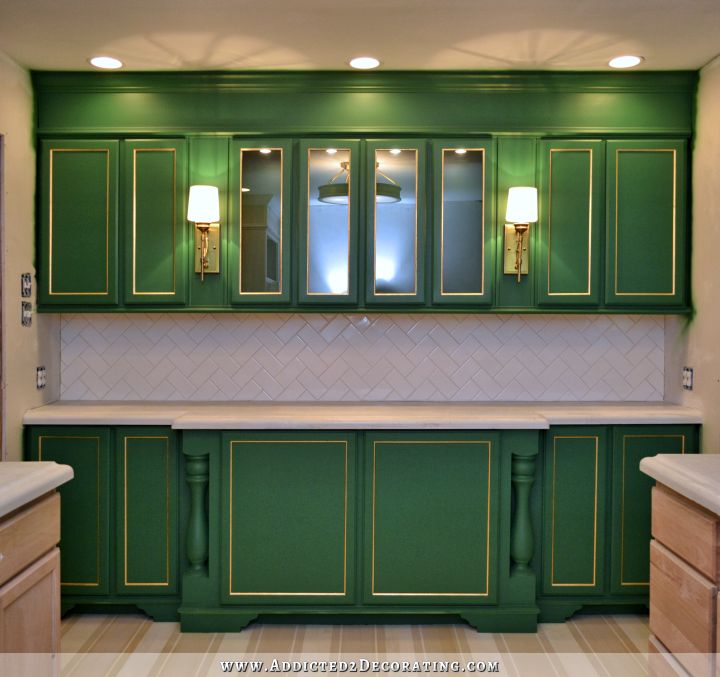 Or teal kitchen cabinets…
Matt has always been okay with my love of color, and he was introduced to that right out of the starting gate when I painted the interior of our first house with about 26 different colors.
Now, looking back, it was awful.  My taste was very unrefined at the time, and very much influenced by Trading Spaces.  Ugh.  But I certainly had fun with color, and Matt was right there alongside me helping me paint every room with any color I wanted.  From Day 1, he wanted me to have full reign over the colors and decor of the house, and I took full advantage of that!  😀
We do have one standing rule, and since he rarely asks me for anything when it comes to decorating, I gladly live by this rule.  He has asked that I never use an abundance of pink in the house.  Now if I wanted to do my office in nothing but pink, he would be okay with that.  But as far as the main areas of the house, or our bedroom, he's asked that I avoid using it as a main color in those rooms.  If I wanted a vase of pink flowers in the living room, he's okay with that.  But if I wanted to paint the walls pink, or hang pink curtains…not so much.  I'm happy to oblige.
On giving decorating input
As I've said, ever since our first apartment, and then our first house, Matt has always said that our home is mine to do with as I want when it comes to decorating.  For many years, he wanted as little to do with it as possible, and getting him to share an opinion was like pulling teeth.  He really didn't care, and just wanted me to do what I wanted to do.
Now, he'll give input if I ask him, and quite honestly he gets pretty excited when I think he has a good idea.  But even when he gives his input, he would never hold me to it, or force his idea on me.  He just gives his input and then leaves it to me to make my own decision.  He really likes my decorating, and has said that he even wants me to design and decorate his game room eventually.  He'll give me general ideas of what he wants, and then he wants to see what I'll do with those ideas.
The funny thing is that after 12 years of listening to me talk about decorating, he's picked up on a lot of the lingo.  Just the other day, he was talking about some of my projects, and prattling on about "herringbone" this and "harlequin" that.  Then he stopped mid-sentence, turned and looked at me with this blank look on his face, and said, "Why do I know these things?!  Can I have my manhood back?"  😀
So the bottom line is that he views the house as mine to do with as I want.  He doesn't ever try to stop me from doing a project, although on the big stuff he might ask lots of questions before I get started.  And he'll give his input if I press him for it, but he would never hold me to it.
I'm very blessed.  🙂
Addicted 2 Decorating is where I share my DIY and decorating journey as I remodel and decorate the 1948 fixer upper that my husband, Matt, and I bought in 2013. Matt has M.S. and is unable to do physical work, so I do the majority of the work on the house by myself. You can learn more about me here.