Last Updated on December 24, 2015 by Kristi Linauer
I told y'all that I'd win the war, right?  Well, behold…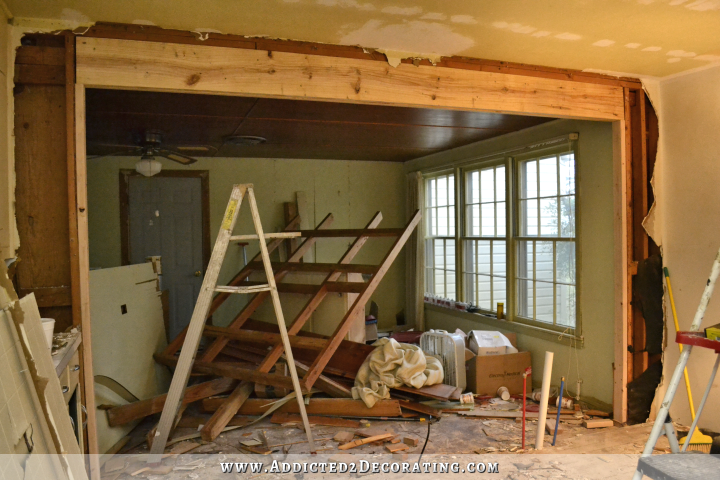 It's such a terrible mess in there right now, but you know what?  Right now, all I see is that gorgeous huge opening between the kitchen and the breakfast room.  And it's one of the most beautiful things I've ever seen, because let me tell you, it was hard earned.
(Sorry, but these are going to be more early morning pictures taken on a gloomy, overcast day.  And I currently have no light in the kitchen since one of the wires we removed from this wall was the on/off switch for the kitchen light and the breakfast room light.  It'll eventually be moved to another wall.)
Just for reference, this is the wall that was removed…
And you'll notice that I also changed the names of the original dining room (now the music room) and the original den (now the breakfast room) on the floor plan.  I'm going to stick with these names from here on out to avoid confusion.  🙂
Anyway, I want to share with y'all some details of the wall removal and installation of the load bearing header, but let me make one thing very clear…
THIS IS NOT A TUTORIAL!!!
I'm not kidding, okay?  Do not, under any circumstances, read through this post and think that you are adequately prepared to remove a load bearing wall in your house.  Each house is different, and the type of header, temporary bracing, etc., you'll need will be determined by your specific roof construction type, where the wall is located, and how much load the specific wall is carrying (in other words, not all load bearing walls are created equally).  Got it?  Even if you want to take this on as a DIY project (and I do recommend that part if you're an experienced DIYer, because you'll save a bundle of cash and it's not that hard), you will still want to consult with a licensed professional who can tell you what kind of bracing you'll need before the wall is removed, how large your header needs to be, whether or not your area requires a building permit for this type of thing, and so on.
So after my brother Rod and I wrestled with and wrangled electrical wires for a few hours on Tuesday, the wall looked like this…
The first thing I needed to do was get that one stubborn electrical wire pushed back up into the attic.  I accomplished that quite easily with a dowel rod (my brother's brilliant suggestion!) and a hammer.  Once the wires were in the attic, I was ready to tackle the framing.
I started by removing the remaining top 10 inches or so of paneling from the breakfast room side of the wall.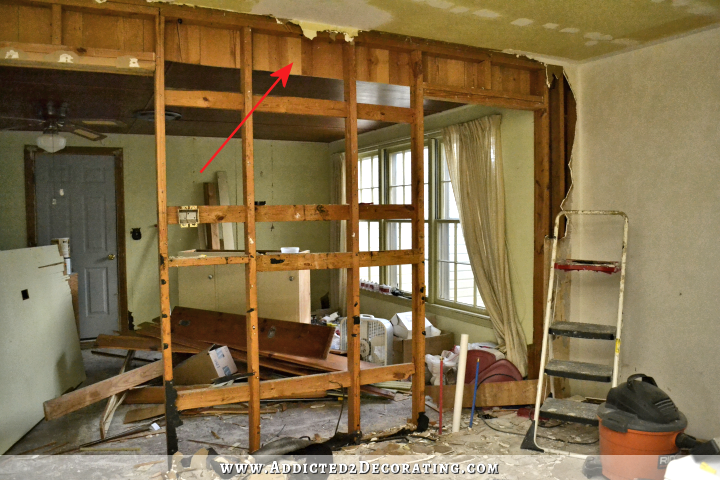 These needed to go because they were nailed with big huge nails into the framing that would be removed.  So as long as those paneling boards remained nailed into the framing, it was virtually impossible to remove the framing.
Now this step wasn't as easy as it sounds.  The ceiling in the breakfast room is lower than a standard ceiling (it's probably about 4 or 5 inches shorter), and since this room was added later, the ceiling covers the top of the paneling boards.  Meaning that they couldn't just be easily pried off of the wall.  Nope, I had to use my Dremel Multi Max and cut all of the boards along the top of the ceiling on the breakfast room side of the wall, and I had to remove them along the entire 11-foot span.
Oh my gosh, that was the most frustrating part of this whole project!!!  It took probably two hours total just to do that part, and the whole time I was holding that tool above my head with it going full power.  That wood was some of the hardest wood I've ever tried to cut, especially when I would hit a knot.
Let's just say that that part of the process also included a few tears, some not-so-ladylike yelling at the wall, and one full-on temper tantrum with items being hurled across the room.
😀
But once I got them removed, it was pretty much smooth sailing…except that my arms were so tired and shaky that I wasn't even sure I could continue.  But I forced myself to press on.
The next order of business was to use that same Dremel Multi Max with a carbide blade and cut along the areas where the framing would be removed.  A carbide blade was necessary because I was cutting through some massive, very thick nails.  So I basically cut along the dotted line shown here…
For the record, most people would be able to use a reciprocating saw on a project like this, which would be much faster.  But because of my uneven ceilings, I couldn't use that type of tool.  I needed something with a much smaller, more controllable blade.
With the framing free, I left it in place and started building my header.
Headers are constructed using 2-inch lumber (either 2 x 8, 2 x 10, or 2 x 12, depending on the size you need) or something called LVL (laminated veneer lumber).  LVL's are much more expensive, and my understanding is that they're much stronger, so they're used in applications where the beam will be carrying a very heavy load.
Fortunately, I could just use regular lumber for mine.  So a header built with regular lumber consists of 2 pieces of 2-inch lumber cut to the width of the header size you need, with a 1/2-inch spacer in between.  The spacer is something like plywood, so it's like making a plywood sandwich.  Bottom layer is the 2-inch lumber, on top of that place construction adhesive the length of the board (I used quite a bit of construction adhesive!), then on top of that place the spacer (e.g., 1/2-inch plywood), then more construction adhesive, and then the second piece of 2-inch lumber.
With everything stacked and glued, it all has to be nailed together.  And because I don't have a nail gun that shoots framing nails, I had to do it the old fashioned way.  🙂  And the kicker is that it has to be nailed from both sides.  So I drove in about 20 nails on one side, flipped it over, and drove in another 20 or so nails.
The last thing I had to do was measure and cut my jack studs.  These are the studs (2 x 4's) that actually hold up and support the header beam.
With everything ready to go, I called my brother to come over and help me get it all in place.  While I was waiting, I went ahead and installed one of the jack studs.  (This will make more sense in a second.)
When he got to the house, he did have to wait for me to finish cutting a couple of nails with the Dremel Multi Max, and then we were ready to go.  We brought the huge beam inside, pushed the old framing out of the way, lifted one end of the header onto the jack stud that I had already installed, lifted the other end of the header, and put the second jack stud in place under the other end of the header.
Let me just say for the record that this is absolutely not a one-person job.  There's no way in heck I could have done this without my brother's help.  And for a second there, I was honestly wondering if just the two of us were going to be able to handle it just because my arms were already so tired and shaky.  But we managed, and it actually went very smoothly.  It was definitely hard work because that beam was so long and heavy, but the process itself was quite simple.
So just for clarity, here is the anatomy of a load-bearing beam…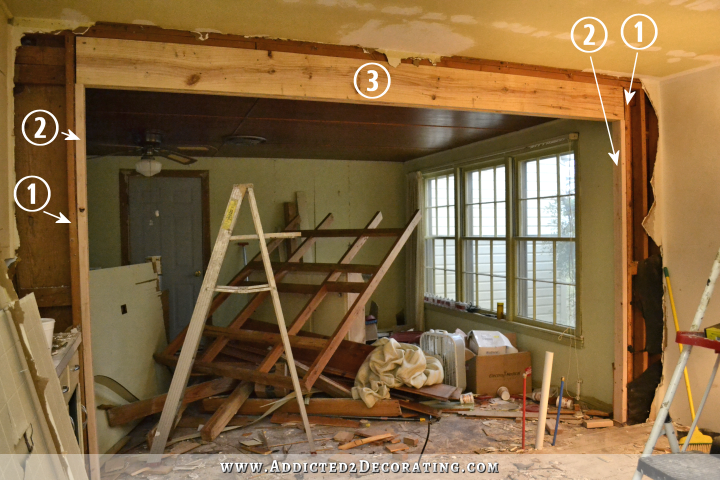 1.  King studs — These are the original studs of the house, and they go all the way from the floor to the framing at the ceiling.
2.  Jack studs — These are new studs that go from the floor to just under the header beam.  They get nailed to the king studs and actually provide the support for holding up the header beam.
3.  Header beam — Depending on the size and strength needed, the header beam is either made of two pieces of 2-inch lumber with a 1/2-inch spacer in between, or it's made from two LVL's.  The header beam rests right on top of the jack studs.
FYI — I'll be adding two more jack studs today.  But those studs are the ones that will actually form the rough framing of the opening, so I'll need to determine exact placement, and whether or not spacers will be needed between the second jack studs ad the original ones I installed yesterday.  I had hoped to get that done last night but I was so exhausted after my brother left, and I still had to go to Home Depot and buy cabinets, bring them home, and unload them!  I didn't get that finished until 11:45, and I was so tired I wanted to just sit down and cry.  🙂
But that's it!  I'm so stinkin' excited about how this looks now.  I can hardly wait to get in there today and clean out all of the construction debris and start getting into the final planning of my kitchen.  Now that I can see this wall opened up, I feel like most of the details are falling into place in my mind.  So exciting!!!
Addicted 2 Decorating is where I share my DIY and decorating journey as I remodel and decorate the 1948 fixer upper that my husband, Matt, and I bought in 2013. Matt has M.S. and is unable to do physical work, so I do the majority of the work on the house by myself. You can learn more about me here.
I hope you'll join me on my DIY and decorating journey! If you want to follow my projects and progress, you can subscribe below and have each new post delivered to your email inbox. That way you'll never miss a thing!