My Cabinet Drawer And Gold Leafing Design Decision
Thank you so much for all of your input on my cabinet drawer and gold leafing question!  I read every single one of your 225+ comments and suggestions (on yesterday's post and on Facebook), and really gave them some thought.  And then my mom and brother came over just to look at it in person with me and consider some of your suggestions that really stood out to me and see if we could narrow those down into one final plan that would work with the wall of cabinets as well as suit my own taste and vision for my kitchen.
All three of us agreed immediately that leaving the gold leaf off of the peninsula and fridge/range wall completely, and having it just on the wall of cabinets, was not an option.  All of the cabinets in the entire kitchen need to look consistent.  We all also agreed that leaving gold leaf off of the drawers altogether and just leafing the doors wouldn't work simply because of the asymmetry of the peninsula with nothing but drawers on the left side.  And one more thing we all agreed on was that the striking thing about the Diaz kitchen that has inspired my cabinet design was the repetition of the brass rectangle detail on every single door and drawer in the kitchen.  So that ruled out any kind of corner gold leaf detail, or design just under the handles on the cabinets.  It's the repetition of rectangles specifically that I like, and I needed to figure out how to do that in my kitchen without it turning out looking like some kind of craft project afterthought.
Here's what we came up with (and several of you were thinking along these same lines as well).  All of the top shallow drawers on both the peninsula as well as the fridge/range wall will be left as is.  They'll just be painted and have (awesome and stunningly gorgeous!!) hardware added, but no gold leafing.  But I'll completely remake the four big drawers.
I'll cut out the center portion leaving an outer frame that looks like rails and stiles, and then add a center recessed panel and small 1/4-inch quarter round around the perimeter of the recessed panel.  It'll look something like this, but hopefully much better in real life than my Photoshop hack (i.e., all of the rails and styles will actually be a uniform size on the real thing)…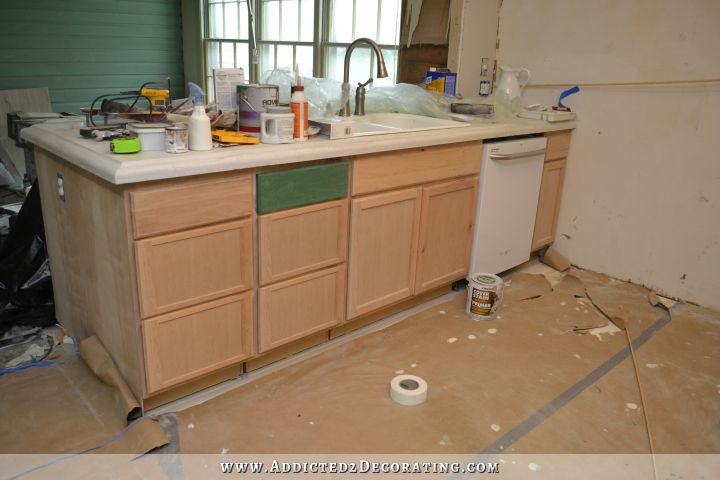 That will add balance to the whole thing, as well as give some "relief" from the gold leaf design on the top row of drawers.  So everything under the line on both sides of the kitchen will have the same look, and everything above the line will look uniform all the way around.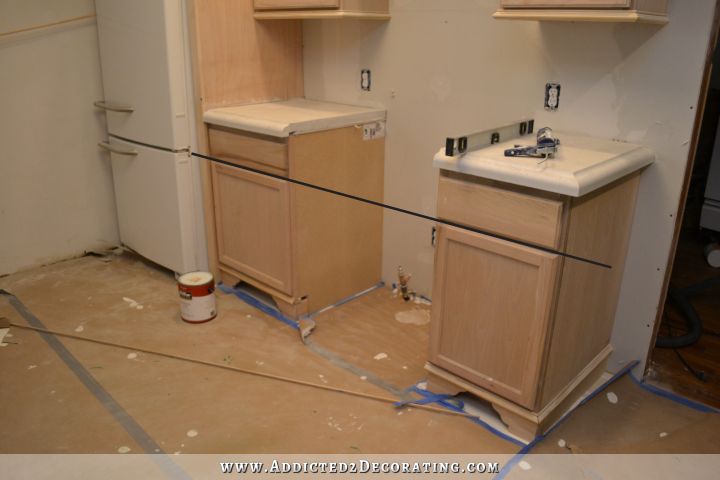 I like this idea because it won't look like an afterthought (like adding trim might), and it won't look like a DIY hack.  This design is actually a very common design in many kitchens, where the top shallow drawers have a different design than the big drawers in the kitchen.  Here's an example of this idea…
Traditional Kitchen by New Holland Cabinets & Cabinetry Quality Custom Cabinetry, Inc
I really love this idea. I'll get my symmetry (kind of) and more importantly, the design will feel balanced. Plus, all of the cabinets in the whole kitchen will look cohesive. Phew! Now I can move on. 🙂
Addicted 2 Decorating is where I share my DIY and decorating journey as I remodel and decorate the 1948 fixer upper that my husband, Matt, and I bought in 2013. Matt has M.S. and is unable to do physical work, so I do the majority of the work on the house by myself. You can learn more about me here.