Friday Randomness — Shutters, a Proper Introduction, and a PSA
Good morning, all! First, let me say a big "thank you" for your sweet comment about my house, my voice ( 😀 that was unexpected!) and my very first video house tour in yesterday's post. It was fun to do, so if I can get better and faster with the video editing process, I'd love to include more videos in the future.
So now that you've gotten the up close and personal view of the front and side exterior of my house, you can help me with a decision about shutters. I have a total of five windows that I want to put shutters on — the two front windows and one side window on the studio…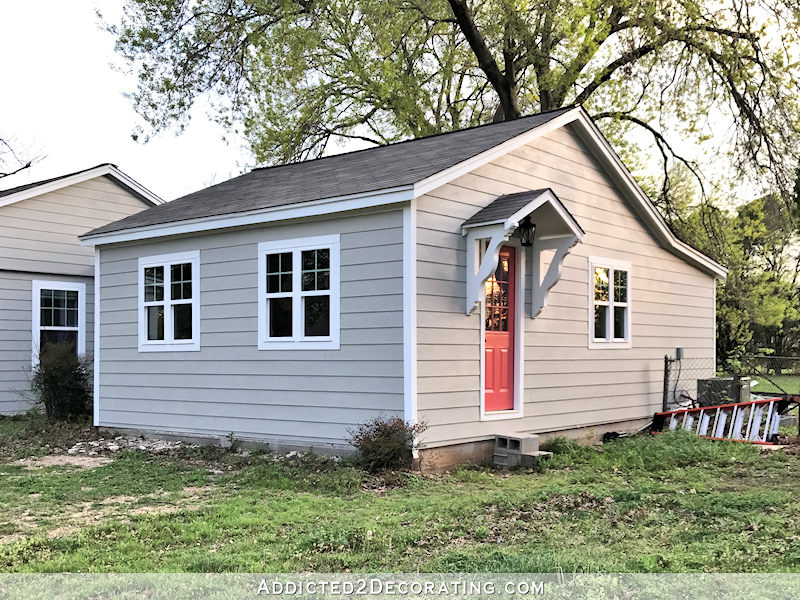 …and then the two front-facing windows on the other side of the house…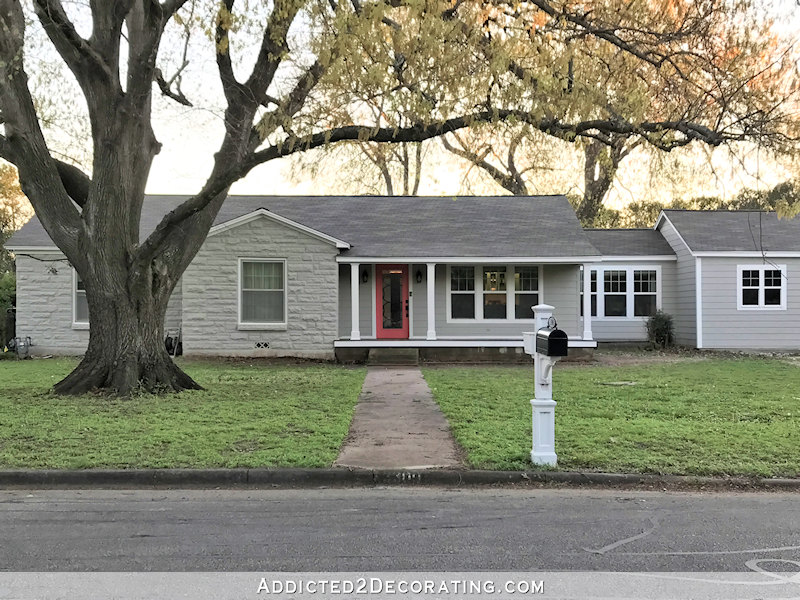 I did a little mock up of shutters on the studio a while back…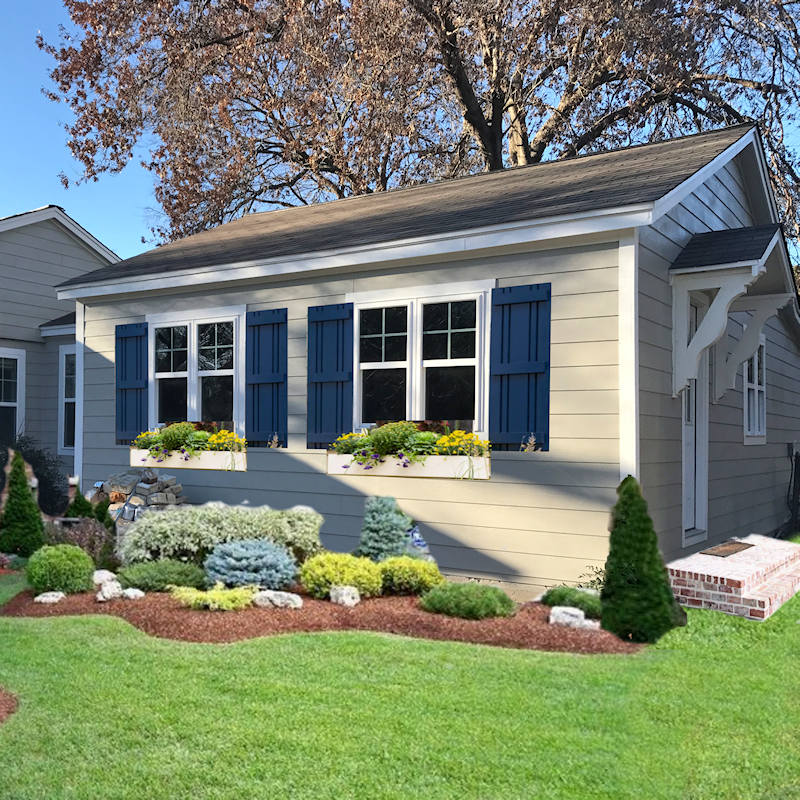 …but at that time, there was basically no progress on the front porch. So now that the porch has a wood floor and white columns, and the portico has its new pretty brackets in place, I'm really at a loss about what style shutters will go with the elements I currently have in place. And I have a feeling I may be overthinking it a bit, but I can't seem to get past my overthinking.
The shutters I did on the mock up above are very simple in style. They're basically board and batten shutters using two widths of lumbers instead of using all of the same width, which is the standard board and batten style. Most board and batten shutters look more like this with the uniform widths of lumber used, and they can be stained or painted…
via The Space Between
Board and batten shutters are the go-to for DIYers because they're so simple to make. They're basically lengths of lumber glued and screwed/nailed together. It doesn't get much easier than that, but they can give your house beautiful curb appeal. There are probably hundreds of tutorials on Pinterest for making these, some with slight variations in details. In fact, I tried searching for DIY shutters in a style other than board and batten, and they're pretty hard to come by.
If navy blue board and batten shutters will work on my house, that would be great news for me. I could get those suckers made in a day, spend another day painting them, and be done in two days. Easy peasy. But with the traditional elements I've added (especially the style of my front porch columns), I just can't make up my mind if board and batten will work, or if I need to go with something a little more traditional in style. I searched "traditional shutters" on Houzz, and that brought up mostly louvered shutters (which I do NOT want) and panel (both raised and recessed panel) shutters. I could go with one of those. Something like this would be nice…
But that would also take more time to make. Heck, I'm not even sure how to go about making something like that. I'll have to give it some thought.
So what do you think? Can navy blue board and batten shutters (either in the varying widths like the mock up, or in uniform widths like the other picture) work on my house with the traditional elements? Or does my house require a more traditional style of shutters?
Anyway, switching gears a bit, I wanted to give a proper introduction to our newest family member. You caught a glimpse of him in yesterday's video house tour, but this is Cooper.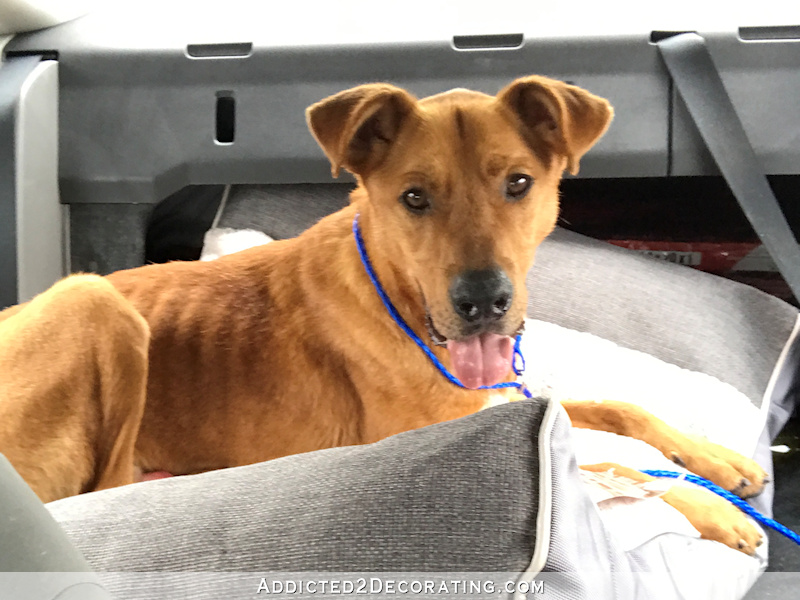 His name was Connor, but I just couldn't make that work for a dog name. Cooper seemed to fit him more. We're told that he's four years old (although I now doubt that — he acts way more puppy-like than a four-year-old), and that he's a German Shepherd/Labrador Retriever mix. And clearly, he has the cutest ears ever. 😀
Tuesday marked exactly one month since our sweet Boo Bear died, so I headed to the Humane Society to look at the dogs and see if one of them felt like a good fit. I had already been up there several times, and just didn't feel a connection with any of the dogs (probably because I didn't want to yet — I just wasn't ready). And I personally feel like that's important, since having a dog is a big committment, and they become a family member. The fit needs to be good.
I had seen Cooper during those previous visits, but I passed him by because he wouldn't come close when I called him or looked at him. He just stayed in the small outdoor area of his kennel and paced back and forth, nonstop, the entire time. He didn't seem social or friendly at all, so I moved on.
But then on Tuesday, I looked at the Humane Society Facebook page to look at any new intakes, and there was Cooper (then named Connor) on their list of 10 longest residents, and one of their "urgent/in danger" dogs. He had been there since December 25th without being adopted. Then his behavior made more sense to me. Clearly being locked up in a kennel for so long was driving him crazy. So I went and visited with him outside of his kennel, and he acted like a different dog. His nervous energy went away, he was friendly and curious, and he calmed down quite a bit. But as soon as he went back into his kennel, he started pacing again.
The guy told me that that's all he does when he's in his kennel. He paces all day long, every single day, and as a result, he had lost weight since he had been there. Well, that broke my heart, so I decided he was the one. He desperately needed out of that kennel, and he needed the safety and security of a forever home so that he would calm down, relax, release that anxious energy, and gain some weight back. Because right now, the poor boy's ribs, spine, and hip bones are showing way too much.
It took about 24 hours for a lot of that anxious/excited energy to disappear, and his first night here was a very restless one. But after about 24 hours, he finally relaxed to the point of lying down in his bed and going to sleep. I loved seeing that.
And the past two nights have been peaceful. He's still a bit of a handful. It's clear that he's had no training or discipline in his life, so he's a jumper and he knows no commands (although he now knows "lay down," so he's a smart boy and a fast learner). But I can already tell he's going to make a great addition. And he shows no aggression towards Peeve, which is good. He's curious, but he's also a little afraid of her, which is just as it should be. 😀
Anyway, I want to end with this little public service announcement. Please, I beg of you, if you have room in your home and in your heart, please take a trip this week to your local shelter and see if there's a dog (or cat) you could bring home and make a part of your family. I really wish that more people were aware of the number of dogs in those shelters who need homes. I know it's nice to go to a fancy breeder and spend hundreds or thousands of dollars on a fancy pure-breed puppy with papers and all, but these shelter pups need homes. And I think there's something about rescuing a dog who has spent time in a small kennel in a very loud shelter that makes them even more loyal and more loving pets. They understand what you've done for them and will be forever grateful.
And for the love of all that is good and furry, please spay and neuter your animals. We never got Boo neutered, and in hindsight (especially after visiting the shelter so much lately), I feel really bad about that. As far as I know, Boo never had any offspring, but I can't be sure. He did escape the yard a few times during his lifetime, and I have no idea what he did between his escape and when we found him each time. But the stray dog situation is out of control in most areas, and these poor animals are losing their lives because humans aren't being responsible pet owners. Visit a shelter, adopt a pet, spay and neuter, save lives. The end. <3
Addicted 2 Decorating is where I share my DIY and decorating journey as I remodel and decorate the 1948 fixer upper that my husband, Matt, and I bought in 2013. Matt has M.S. and is unable to do physical work, so I do the majority of the work on the house by myself. You can learn more about me here.