March Progress & April Goals (Readers' Choice — Exterior Projects or Pantry?)
I didn't quite make it through my list of goals for March (I feel like I say that at the beginning of each new month 😀 ), but I must say that I'm pretty darn pleased with the progress I did make because the things I finished were rather big projects. And I knew that my list for March was a little overly ambitious, so I'm not disappointed for not finishing it.
So here's what I did get done…
First, I made a piece of artwork to go above my fireplace mantel. It's made out of about 800 wood tasting spoons. You can click here to see the full process for how I made it.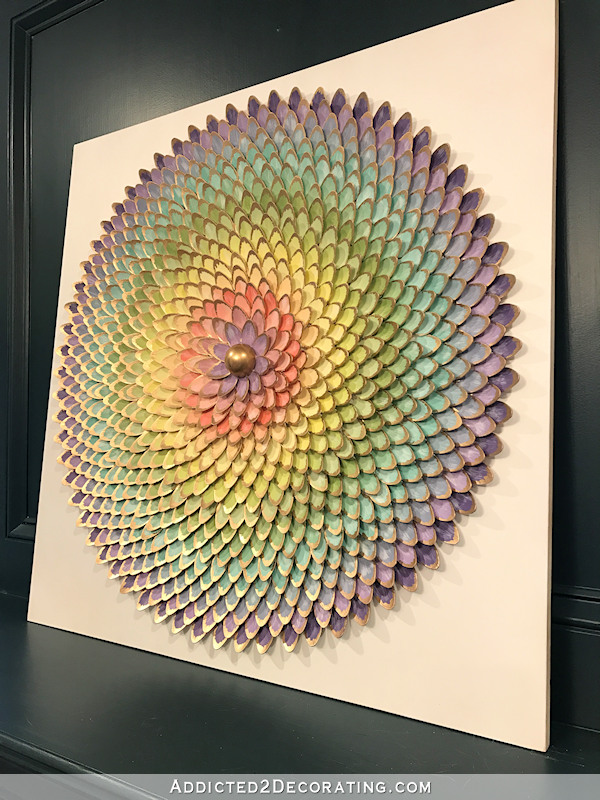 And then just a few days ago, I made a shadow box frame for the artwork. You can click here to see how I made the frame, and also read what I'd do differently next time.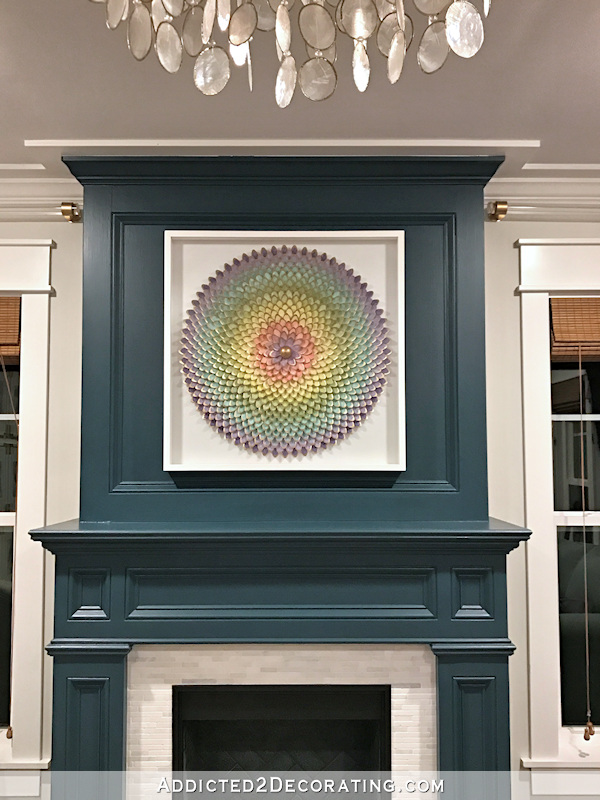 So those two projects weren't exactly the big projects I was talking about. But the porch floor sure was one of them! My porch used to be old, unlevel, ugly concrete, and now I've covered that original concrete porch with a cedar wood porch floor.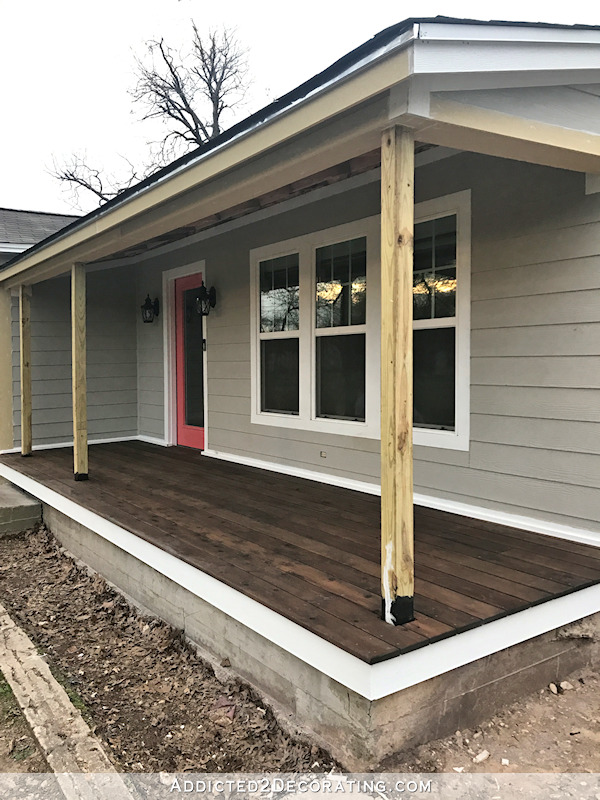 And with the porch floor done, I could finally turn the front porch posts into pretty columns by wrapping them in wood and trim.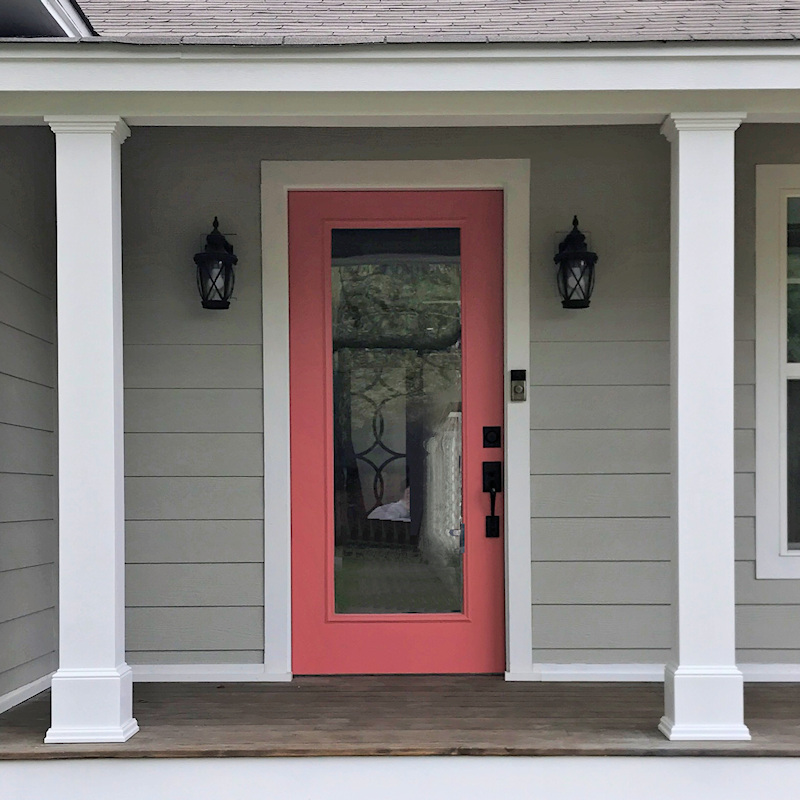 I feel like those two projects totally transformed the front of my house, and I've only just begun on the exterior projects! 🙂 You can click here to check out the most recent "before" and "progress" pictures that I posted of the front exterior of the house.
And finally, I finished the portico over the side door of the studio.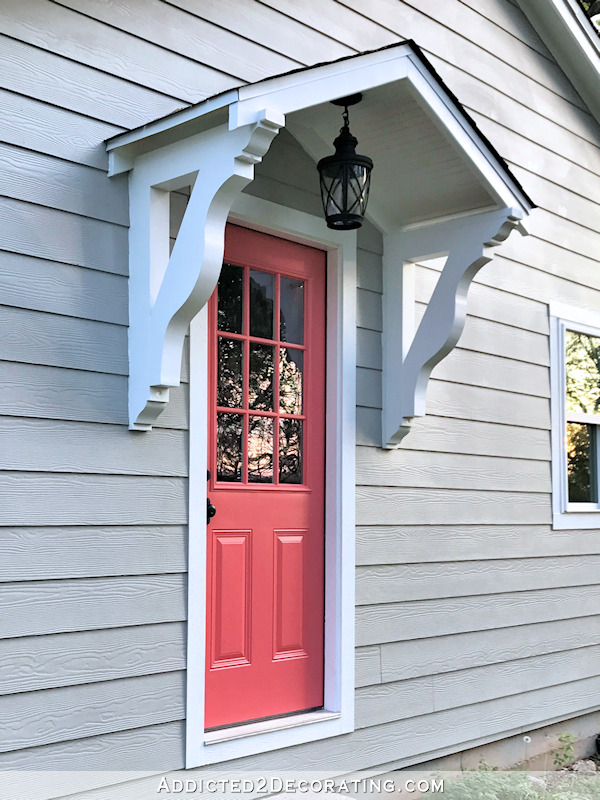 It was a big month for the exterior of my house, and I love finally seeing progress out there after almost totally ignoring it and focusing exclusively on interior stuff during our first 3.5 years in this house.
So what's in store for this month? Well, there are a couple of non-negotiable items. First, I really want to get my living room draperies finished. I'm tired of looking at lengths of fabric draped over curtain rods…
I've was putting it off for a while because I no longer have a big dining table to sew on, and I don't yet have my big workroom table (or a studio to put it in), so I was thinking I'd once again have to work on the floor. And I really wasn't looking forward to punishing my back and knees like that.
Then one of you (and I wish I could remember who you are or where you commented so that I could give you a proper "thank you"!!) suggested that I just use sawhorses and a piece of plywood covered in felt. So yesterday, I transformed my breakfast room into a temporary drapery workroom with a big 4′ x 8′ makeshift felt-covered table.
Yep, that'll work just fine for now.
And then I need to do the electrical work in the studio (or find someone to do it for me). I've had a bit of a challenge getting an electrician out here to give me a quote, and Matt is getting kind of impatient about the lack of studio progress, so I need to make sure that happens this month so that the drywall can finally be installed.
But after the draperies are finished and the electrical work is taken care of (whether I do it myself or hire it out), the direction in which I head is up to you. I'd love for you to tell if me you'd like me to (1) continue with the front exterior of the house, or (2) start working on the pantry.
If I work on the front exterior, the two biggest projects I have in mind are the shutters and window boxes, which will look something like this…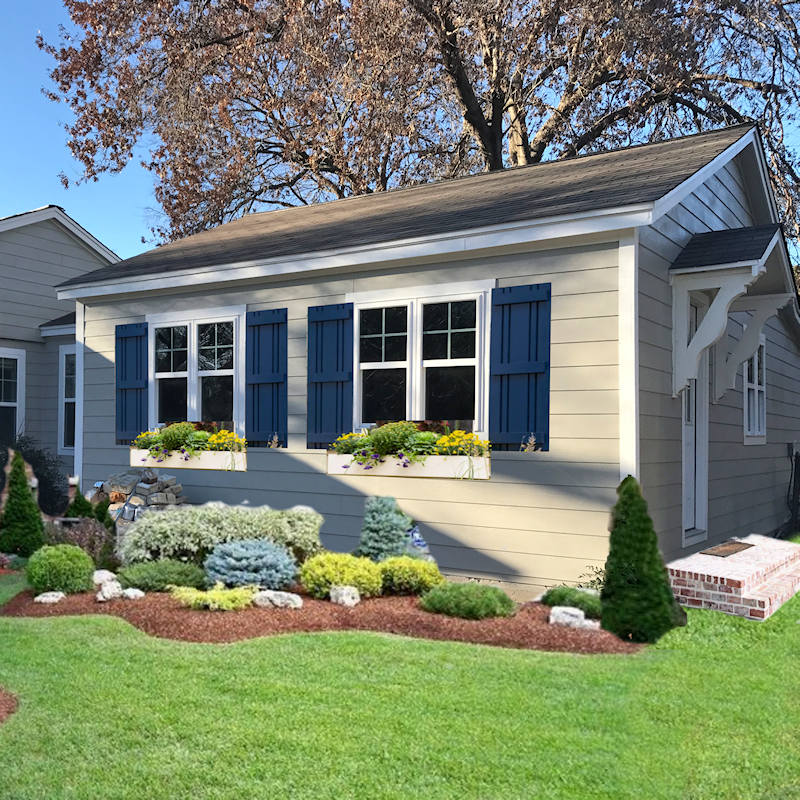 I doubt that I'll have time to get to any landscaping, but if I have time left over at the end of the month, I'd like to start on the front porch and studio door steps and hand rails. Those cinder block "steps" that I have at the studio door aren't exactly safe. And now that the front porch is higher than it used to be, that final step up to the porch is just under 10 inches, which is way higher than a step should be.
The other option is that I can hold off on the exterior projects for now, and head back inside and finally get started on my pantry. Right now it's just a 7-foot x 12-foot empty box, but I hope to transform it into something like this, minus the ladder…
So which shall it be? Exterior projects (shutters, window boxes, and starting on the porch and studio door steps)? Or the pantry?
---
---
Update:
My pantry is finished! Want to see the entire project from start to finish? You can find every single post about the pantry build right here…
Or you can skip to the end and see how it turned out. Here's a peek of the finished pantry…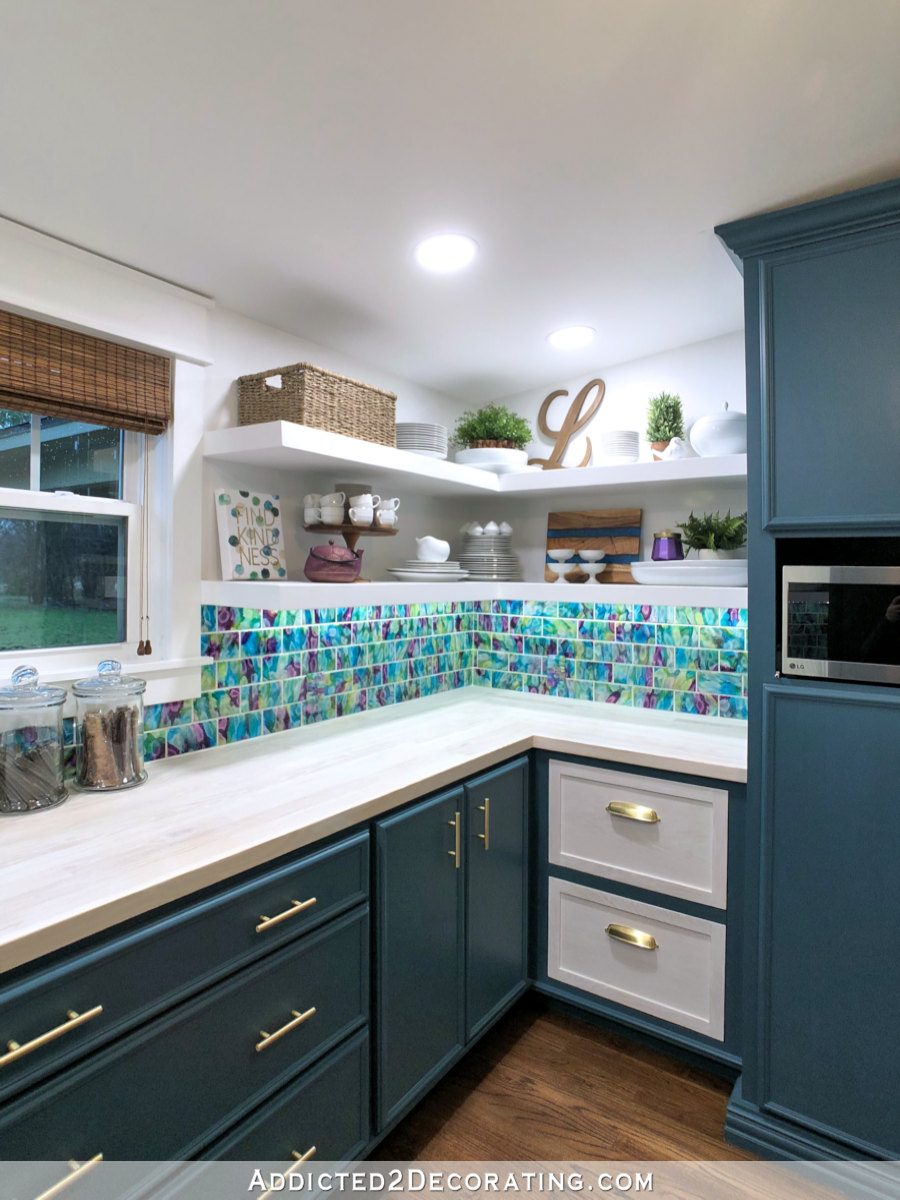 You can see more pictures on the before and after post right here…
Addicted 2 Decorating is where I share my DIY and decorating journey as I remodel and decorate the 1948 fixer upper that my husband, Matt, and I bought in 2013. Matt has M.S. and is unable to do physical work, so I do the majority of the work on the house by myself. You can learn more about me here.