My Curb Appeal Plans: Beautiful Mailboxes, Mailbox Posts, and Mailbox Landscaping
The weather here in central Texas has been so beautiful lately, and it looks like it will continue to be beautiful (with the exception of a day here and there), so I've had outdoor projects on the mind.
Our house is desperately lacking in curb appeal, and there are so many things I can't wait to tackle this spring and summer…and in the years to come.  If you'll remember, this is how it looked when we bought it last August.
Not much has changed, other than the fact that I cut down those big boxwoods and we got our trees trimmed.
The goal is for it to look something like this…
Of course, once again, the boxwood is gone.  (That's the only exterior picture I had to work with at the time), and I didn't go to the trouble of adding landscaping to the picture above.  But as far as the colors, I think that's where I'm headed.
I'm not quite ready to tackle exterior painting or making shutters just yet, but yesterday I just wanted to do something outside..  So I thought, "Well, I can fix up the mailbox!  That should be easy!"
Right now, our mailbox leaves a lot to be desired.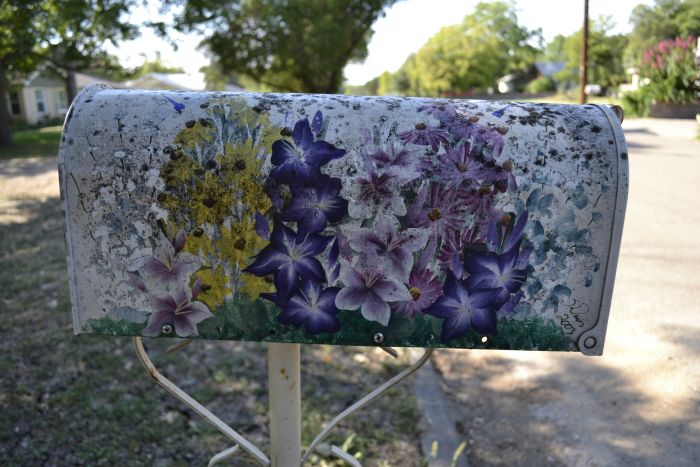 I know this was someone's masterpiece at one time, but now it's faded and covered in rust spots.  Plus, it's not really my style.
Anyway, I honest to goodness thought that I could have this mailbox removed, and a bright, shiny new mailbox and mail post installed (and possibly made from scratch) by the end of the day yesterday.  (Have we discussed my Wonder Woman Syndrome before?  I seriously have the most unrealistic expectations sometimes…well, most of the time.)
So I hopped online to search for ideas, thinking  could some up with a plan, head to Home Depot to get all of the materials, and get this project knocked out in a few hours.
And then I got lost in an online world of pretty mailboxes, mailbox posts, mailbox landscaping, and so many decisions and options that I never knew existed over a mailbox.
The first mailbox post that I found and absolutely had a fit over was this one from Grandin Road.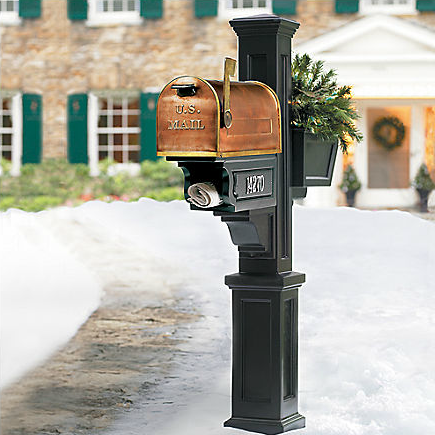 Oh my gosh, that copper mailbox!  I must have it!
Of course, that whole thing, with the mailbox post and the copper mailbox, would set me back $468, plus the flowers for the little planter.  I think y'all know me well enough to know that's not gonna happen — not for a mailbox.  Plus, I really don't need that slot for the newspaper.
But I thought maybe I could find a similar (and much cheaper) mailbox post, and then paint my current mailbox with copper paint, much like Diana did at Our Vintage Home Love.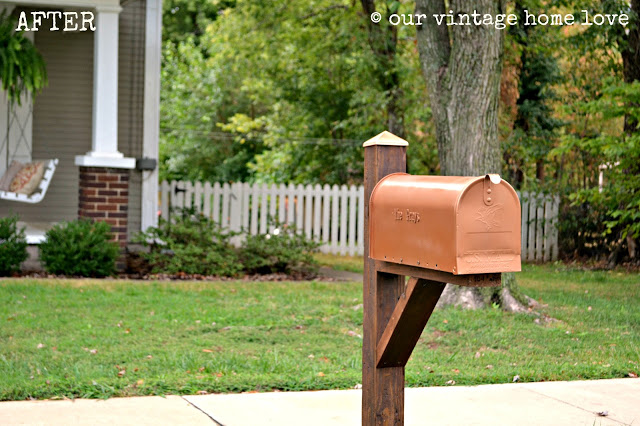 So with my spray painting plans in place, I set out to find a cheaper mailbox post.  I found one at Lowe's for just under $80.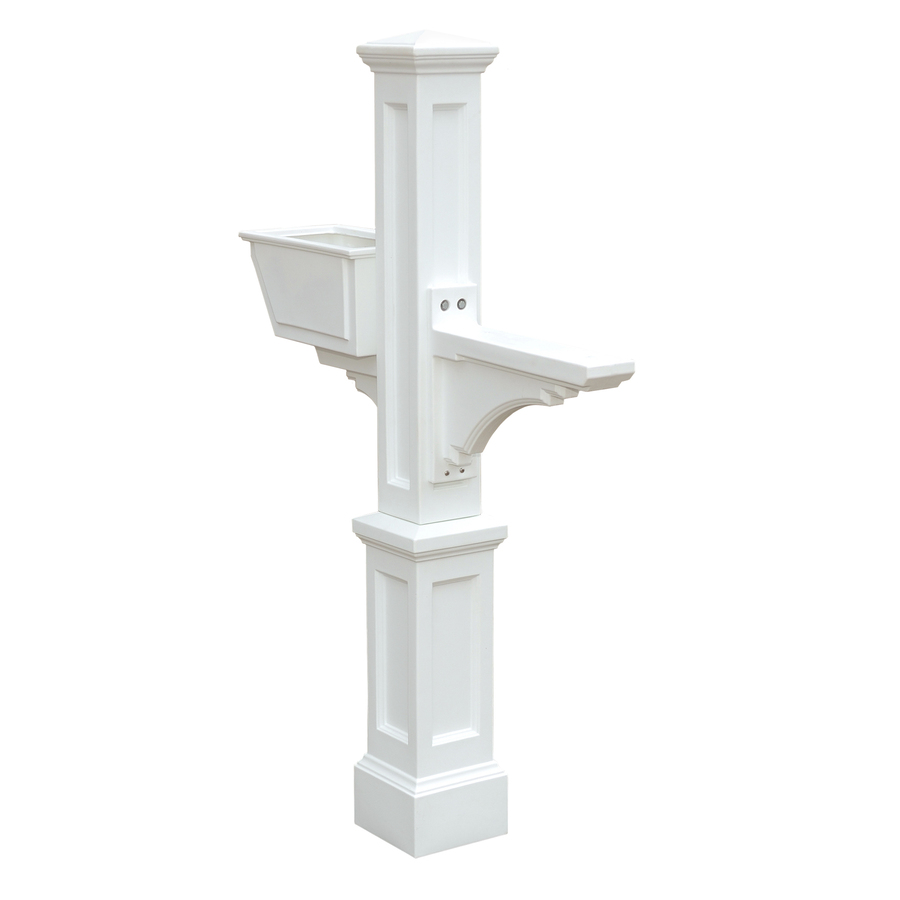 I was so excited!  So I got in my car and headed to Lowe's, convinced that I'd have a beautiful mailbox post and copper mailbox by the end of the day.
Ummm…no.  The box was big, but the whole thing weighed probably around 7 or 8 pounds.  I knew from the online description that it was made of plastic, but I just hadn't expected it to be quite so lightweight.  And when you love things made of wood as much as I do, it's just difficult to settle for plastic.
Plus, I could just imagine my lightweight plastic mailbox post ending up like this one, melting like an ice cube in the boiling hot Texas heat this summer.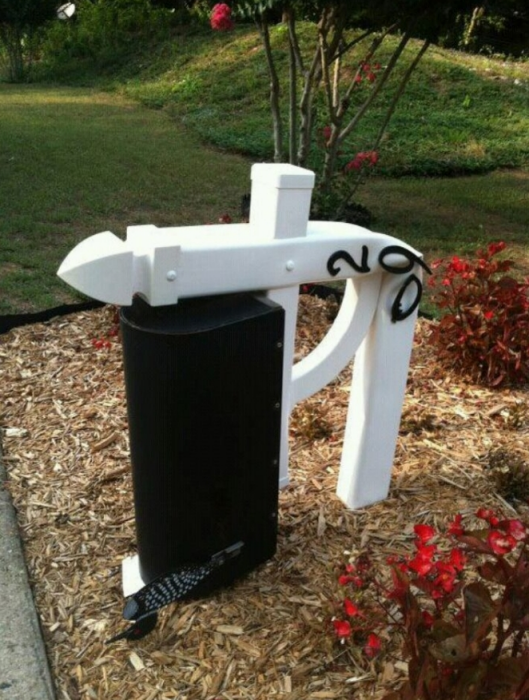 So I'm back to square one, but at least I know a bit better what I want.
a copper mailbox (even if it is just spray painted),
a mailbox post made of wood and not plastic,
an area (other than right on the mailbox) for house numbers to be displayed in a prominent and pretty way, and
a flower planter.
Something like this, with a flower planter added to it, would be perfect.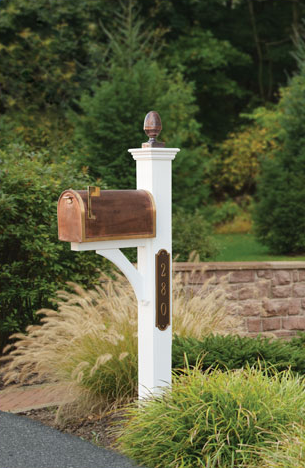 And I also think everything about this mailbox and post, with its beautiful landscaping, is incredibly charming. And if I had this much landscaping around the mailbox post, I wouldn't really need a separate flower box on the post.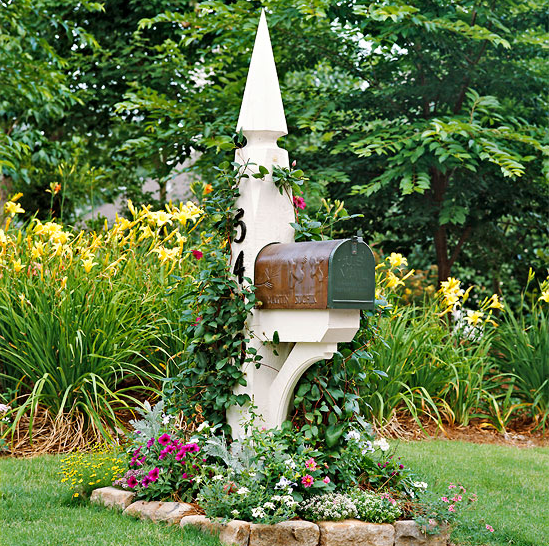 Although having the numbers on the mailbox post kind of defeats the purpose if they're covered up with vines. 🙂 But it's still very pretty.
So I'll be building my own mailbox post. I considered buying one of the cheap, basic ones made of 4 x 4 lumber that they have at Lowe's for about $20, and then just adding all of the pretty stuff to it. But I think I'll just build mine completely from scratch. I found these plans from This Old House, so I might start with that, and then make my own modifications.
I'm so anxious to get the front of my house and the yard looking pretty!
Addicted 2 Decorating is where I share my DIY and decorating journey as I remodel and decorate the 1948 fixer upper that my husband, Matt, and I bought in 2013. Matt has M.S. and is unable to do physical work, so I do the majority of the work on the house by myself. You can learn more about me here.