Last Updated on January 14, 2019 by Kristi Linauer
The siding guys made really good progress on the studio siding yesterday, and I just wanted to stand outside all day so that I could watch, stare, and dream. It has been so fun for me to watch this…
…be transformed into this…
My once ugly garage is slowly being transformed into this cute little cottage all on its own, and I stand out there staring at it, just dreaming about paint colors, shutters, window boxes and flower beds.
And then I look a few feet to the left only to be awakened from my beautiful daydream and see that my new, cute little cottage is still attached to a house that looks like it hasn't been touched in at least a decade, covered in a mishmash of stone and vinyl siding, both in desperate need of a good pressure washing that would only make it cleaner but certainly not prettier.
I'm convinced that this ugly duckling of an exterior can and will look beautiful and charming one day, but in my dreaming and planning, I always get hung up on the stone. Ugh…that stone!! And yes, it's real, and it's about five inches thick and sits directly on the concrete footing around the perimeter of the house.
Every time I mention to someone that I want the stone taken off of my house, they look at me like I've sprouted a second head from my shoulders. "You don't like the stone?!" they always ask. I think for most people, removing stone from a house is just as bad as painting wood is for most men. It's just unheard of. It's stone. You don't remove stone.
It's not that I don't like Austin stone. I do. In fact, if I were to choose a favorite stone, I'd choose Austin stone. My issue is the bizarrely unbalanced way in which the stone was applied to this house. The best pictures I have to demonstrate this were taken right after we moved in, but let me show you what I'm talking about.
The left end of the house is completely covered in stone, as is the left side of the front of the house. I've pressure washed it since then to remove all of that dark brown (looks black) dirt, so it looks a little better now.
But then on the front porch, we have vinyl siding. Since this picture, I've installed a new front door and new living room windows, but everything else pretty much looks the same.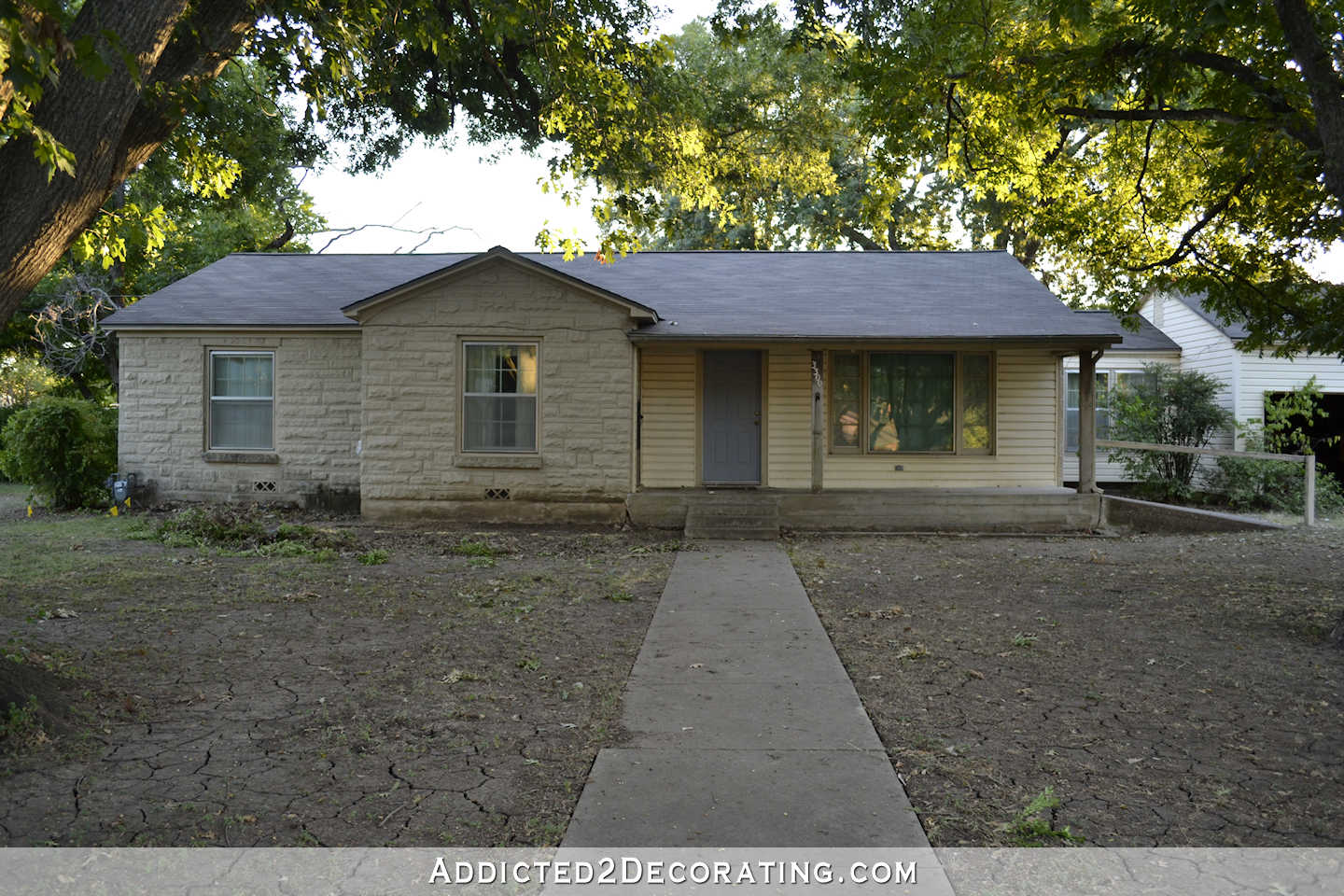 And then around side of the living room, there's stone and siding on that one wall. Again, we have new windows now (and no widow A/C unit…yay!), but the stone and siding remain.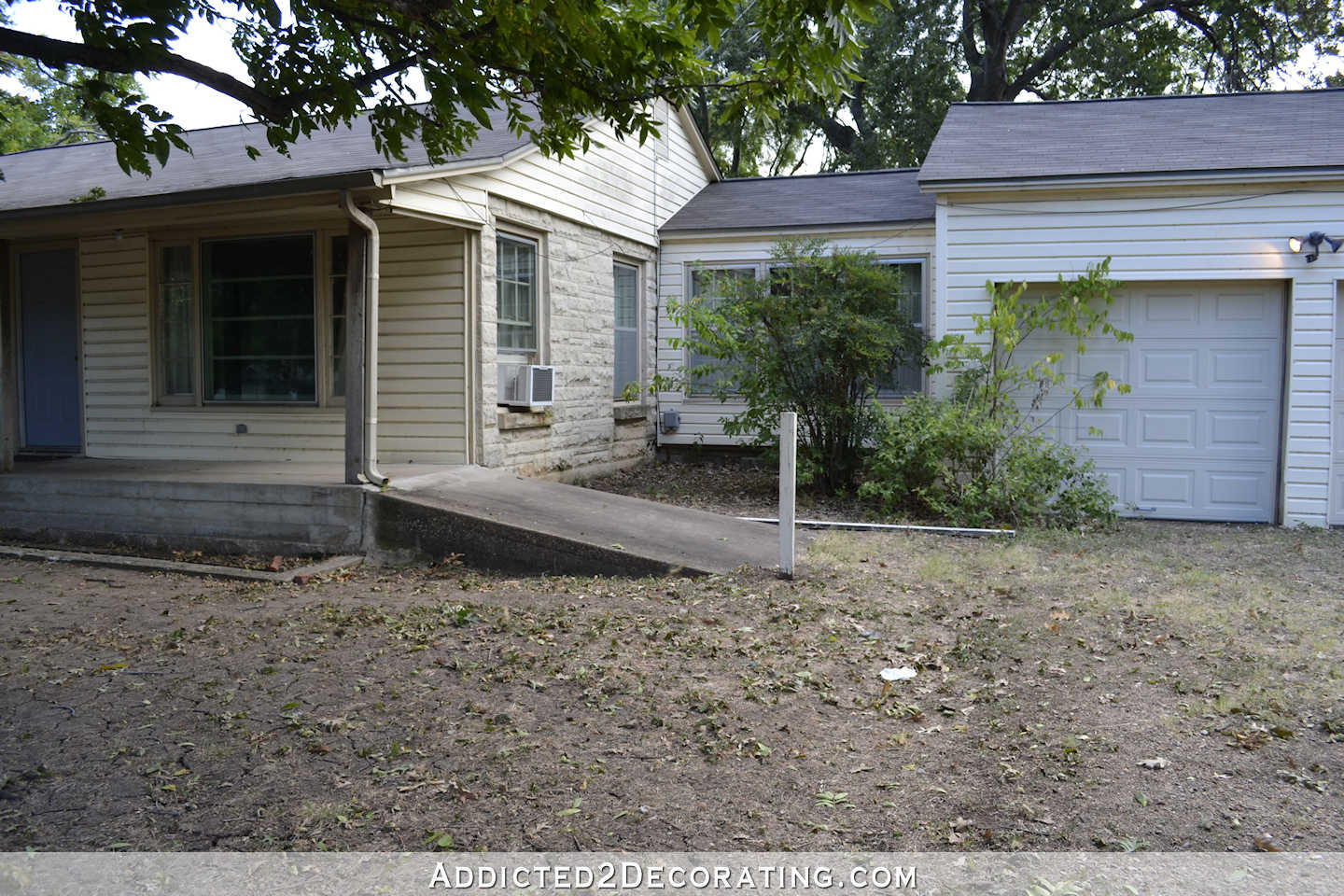 And then the front of the breakfast room and the garage-turned-studio are currently being re-sided with new HardiePlank siding, and both rooms have new windows now.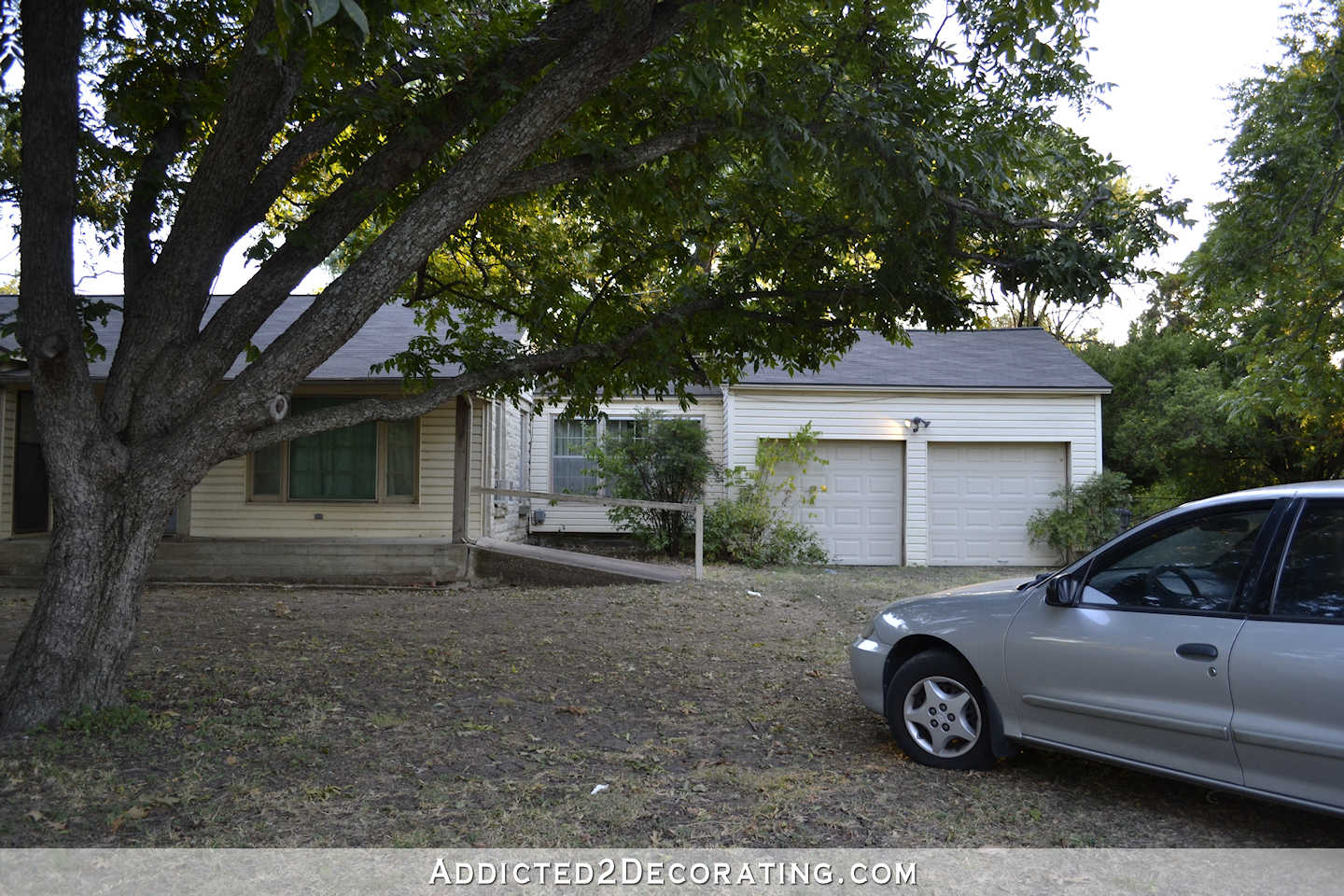 So you can see what I mean about the mix of stone and siding. Basically, there is no mix, and that's my issue with it. Almost all of the stone is on the left, and all of the siding is on the right, with the exception of part of the side wall of the living room.
Basically, my house looks like it might capsize from all of the weight on the left side. I've thought about removing all of it and just doing all siding, but I just think that will create an issue with that concrete footing that the stone sits on right now. And adding stone to the actual facade of the house on the right isn't really an option because then I'd have to actually pour a new concrete footing, and I'm just not going to do that. Plus, the studio is almost finished, and the front of the breakfast room will also be finished this week. I don't want to throw a wrench in that plan now.
To be clear, I do still plan on extending the front porch and having the roof reframed so that I have a double gable look like this…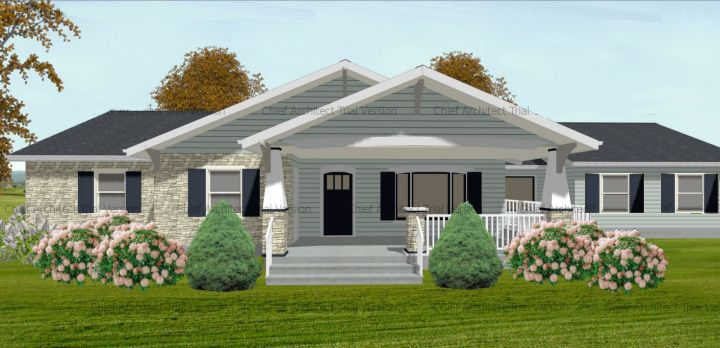 But that's still a whole lot of stone on that side of the house.
So I asked the siding guys yesterday if they could remove the stone just off of the top portion and leave it on the bottom part and then add siding above the stone, and they said they could certainly do something like that. And then I could use the leftover stone to wrap the porch columns. This is a very quick and not-so-pretty mock up, but you get the idea. And this is definitely NOT the color I'm considering for the siding. I literally just copied the unpainted siding from the front of the studio and pasted it right onto this picture, and that's the color it looked.
On the double gable design, it might look more like this, with the stone on the bottom and the siding on the top on the very left portion of the house…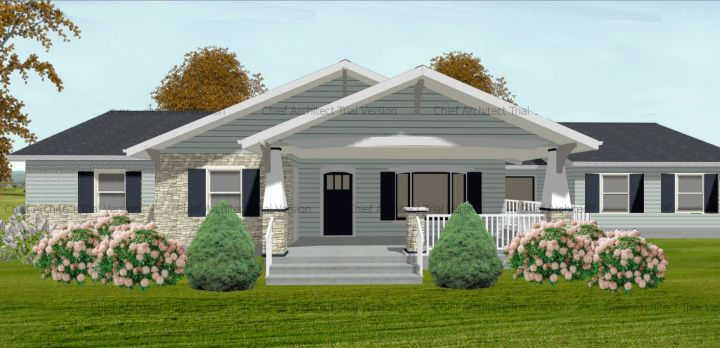 But I'd also wrap that around the left end of the house, as well as that side of the living room that currently has the stone and vinyl siding mix.
And then with the leftover stone, I could add a raised flower bed at the front of the studio. I don't want to add any stone to the actual facade of the house, but a raised flower bed made with the Austin stone would give it a bit more balance, I think.
So as of now, I think that's the vision I'm aiming for. The main things I have to work around are:
(1) Leaving the stone on top of the concrete footing,
(2) Not adding any new stone to the facade of the house since that would require new concrete footings,
(3) Balancing out the siding so that when I paint the siding, the color will be distributed all around the sides and front of the house, and not just from the front porch and to the right.
I think I've accomplished those things with my plan, but if you have an idea of how to improve upon that plan, I'd love to hear it! I will happily admit that exterior design is not my strength. 🙂
The one thing that keeps me from jumping in with both feet on this plan is that for some reason, I have it in my mind that if I have Austin stone on my house, the siding needs to be a neutral color. Why does it seem like that to me? Do you agree, or do you think I could get away with painting my house a color even with the Austin stone on it?
I'm not planning on some wild and crazy color, but all of the exterior siding inspiration pictures I seem to be drawn to lately are some version of this…
via At Home Arkansas
Can that house color work with Austin stone?
And just an FYI, the Austin stone on my house has been painted. I didn't do it, but what you see is not its natural color. So my options are either (1) having it sandblasted to get back to the original color, or (2) painting it again, in which case I'd use a slightly brighter white/cream/taupe/greige color than the antique white look that's on there now.
I just don't want to be forced into having a neutral house. I have nothing against neutral houses, just like I have nothing against neutral interiors. I just don't think it's me. So if I have to sacrifice a pretty color on the exterior of my house because of that Austin stone, I'll find a way to get rid of it. All of it.
Addicted 2 Decorating is where I share my DIY and decorating journey as I remodel and decorate the 1948 fixer upper that my husband, Matt, and I bought in 2013. Matt has M.S. and is unable to do physical work, so I do the majority of the work on the house by myself. You can learn more about me here.
I hope you'll join me on my DIY and decorating journey! If you want to follow my projects and progress, you can subscribe below and have each new post delivered to your email inbox. That way you'll never miss a thing!