Guest Bedroom Progress & Plans
Well, now that we have all of that dishwasher nonsense behind us 😀 , we can move on to more pressing matters, like our guest bedroom. If you've been following me on Instagram stories, you already know that I've made a bit of progress on the built-in closets that are going on either side of the window. For those of you who haven't been following along behind the scenes, let me get you caught up.
This is where the closet project stands as of this morning…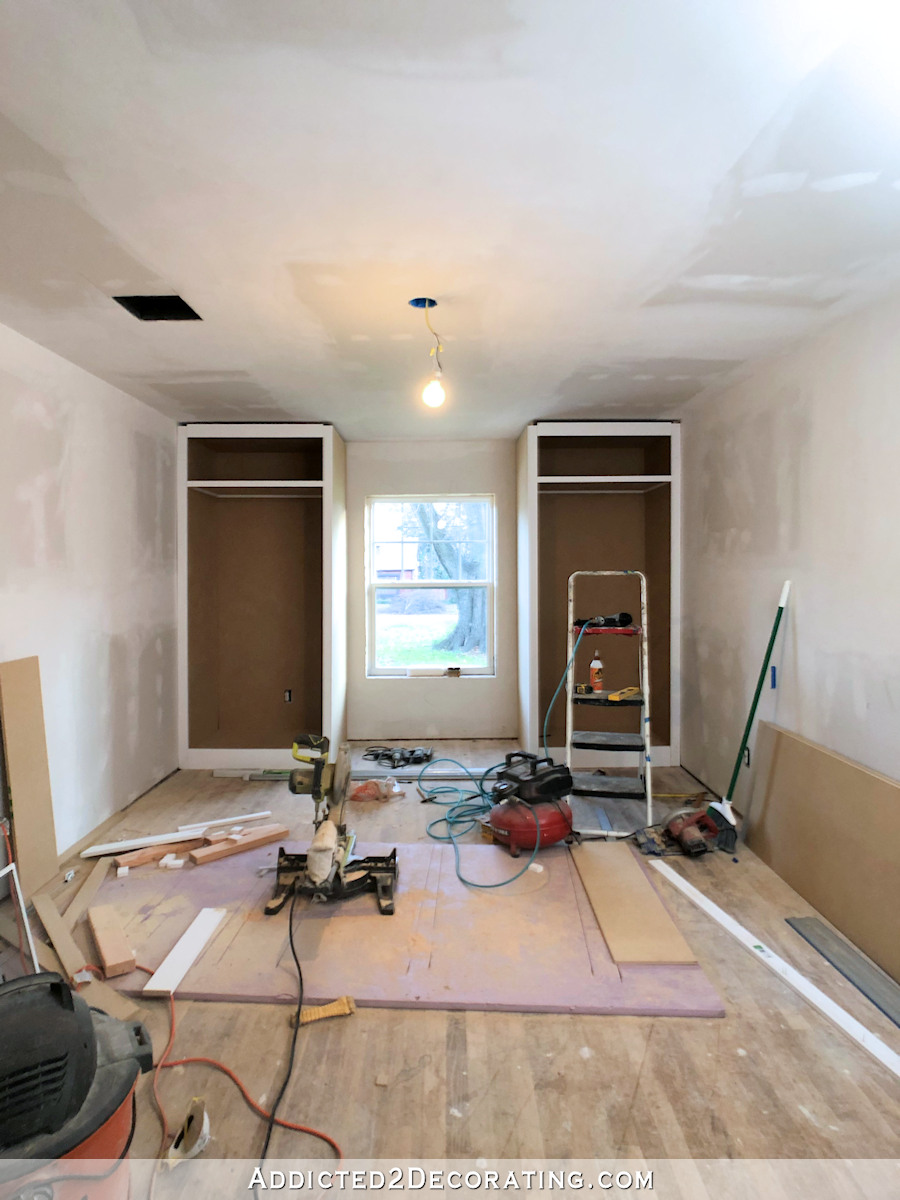 The plan is that the closet on the left will have two hanging bars inside. The closet on the right will also have two hanging bars, but it will be partitioned in a way that part of the upper bar will allow for full-height storage for long items that would hang past the lower bar. But I'll get to more of that later.
The more pressing issue is the doors. I couldn't decide what type of doors to put on the closets — standard swinging doors or sliding barn door-style doors. If I used standard swinging doors, each closet would have two doors, split in the middle, and installed on hinges. You know…like standard cabinet doors.
The one issue with that style is that is that this room is pretty small, and so a door swing would limit the size of a nightstand that I could put on the right wall where the bed will go.
The other option — sliding barn door-style doors — would free up the space needed for swinging doors. If I go with sliding doors, each closet would only have one large door (probably designed to look like double doors) that would slide towards the window and window seat area to open the closet, and then slide back.
And just to be clear, when I say "barn doors", I'm not talking about the style of the door. I'm simply referring to the fact that they'd slide open like barn doors, but the style of the doors would actually be more traditional. My music room doors are hung on literal barn door hardware (not even the pretty kind, but the utilitarian kind that is actually used on barns to hang doors), but I don't think anyone would see those doors and think "barn doors," right?
Anyway, I put it to a vote, and the sliding door idea won out. In the beginning, it was a landslide victory for the sliding doors, but as time went on, it kind of evened out a bit more. But the sliding door idea still won.
The main question was what I would do about the track for the sliding doors. Would I actually be okay with having a track visible on the ceiling above the window seat?
Well, of course not. 😀 So figuring out how to deal with the track (and actually finding a track that would work) was what was holding me back from jumping in with both feet with this plan.
But after spending about an hour at Home Depot last night, wandering around and considering different options, I finally came up with a plan. So this sliding door design is 100% the direction I'm heading. I like it far better than the swinging door option. And people shared other options that I hadn't considered — curtains, other door designs, etc. But I just keep coming back to this sliding door plan. It's simple, and now I know exactly how I'm going to do it, so I'm going for it.
Basically, I will build a header out of 1″ x 6″ lumber (maybe ripped down a bit smaller if needed) that will be attached right at the ceiling, and long the top of that header will be the crown molding that continues around the room. Right behind that header will sit the track for the doors. So the track will be hidden from sight, and there will be one continuous piece of crown molding from the top left corner of the left closet, going all the way across (uninterrupted) to the top right corner of the right closet. I think this will work perfectly!
I really love this idea, and I'm excited to get to work on it. I just hope it turns out looking like the image I see in my mind. 😀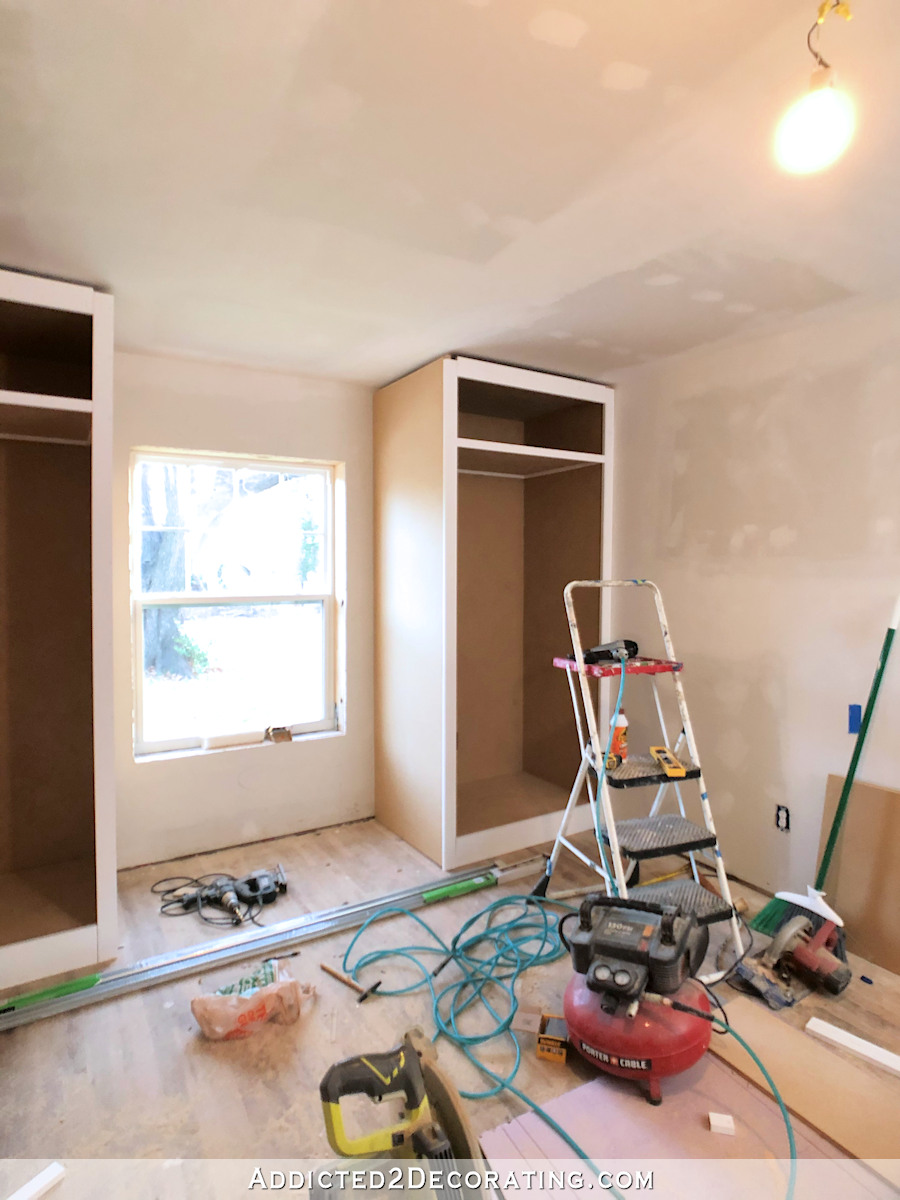 As is my standard m.o., I built the closets out of MDF (medium-density fiberboard), and trimmed the front with pre-primed finger joint boards.
The reason I use MDF instead of plywood is because I plan to paint these closets, and I much prefer the smooth finish of MDF over the wood grain finish of plywood for painted surfaces. If I were planning on staining or clear coating the closets for a natural wood finish, plywood would have been my preference. But you'll notice that I almost always build with MDF because I almost always prefer a painted surface. It's just an added bonus that MDF is cheaper than plywood. 🙂
As far as the rest of the room goes, I'm incredibly excited about my plans. You're going to see some influences from past (long gone) projects come back in this room.
First, I'm going to do picture frame molding on the walls. I finally have a room with two uninterrupted walls (i.e. no doors, no windows) that are opposite each other, so picture frame molding will work perfectly in here. Here's the general layout of the room…
To help you get your bearings, I was standing in the hallway, just outside the doorway to this room, to take the picture. And this is the room I'm working on…
(Side note: That floor plan is our long term goal. The master bedroom, laundry room, and family room will be part of a big addition we have planned for the future. Those areas don't actually exist right now. 😀 )
I plan to paint the entire room — walls, ceiling, baseboards, crown molding, closets, window trim, door trim — the same color. I really hope it turns out like I see it in my mind!! Right now, the color I'm leaning towards is Behr Rain Washed.
On the headboard wall, I'm going to design and use a wallpaper inspired by this wallpaper from Laura Park Design.
I would use that wallpaper, but the colors aren't exactly what I want. But I can use that as inspiration to create my own in colors that will work perfectly for what I envision.
I'll also be making a diamond-tufted headboard, and I can't wait to tackle that project! I've made at least two before, but never for our house. So I'm excited to make one and actually get to keep it. 😀
I want this room to be happy and colorful, so that's the direction I'm heading.
If you want to follow along behind the scenes, come follow me on Instagram! And speaking of behind the scenes, this coming Saturday is the big master bathroom demolition day. My mom, sister, bonus sister, and hopefully my brother will be here helping me demolish that room down to ceiling joists, studs, and floor joists. And we plan to keep y'all up to date with the progress both in Instagram stories as well as Facebook Live. So if you're not following my Facebook page, but don't want to miss our demolition day progress, you can find my Facebook page right here.
Addicted 2 Decorating is where I share my DIY and decorating journey as I remodel and decorate the 1948 fixer upper that my husband, Matt, and I bought in 2013. Matt has M.S. and is unable to do physical work, so I do the majority of the work on the house by myself. You can learn more about me here.