I'm almost finished building the guest bedroom closets! I have one minor adjustment to make, and then more trim to add, but I'll show you the progress to date. The last time I showed you the closet progress, they looked like this…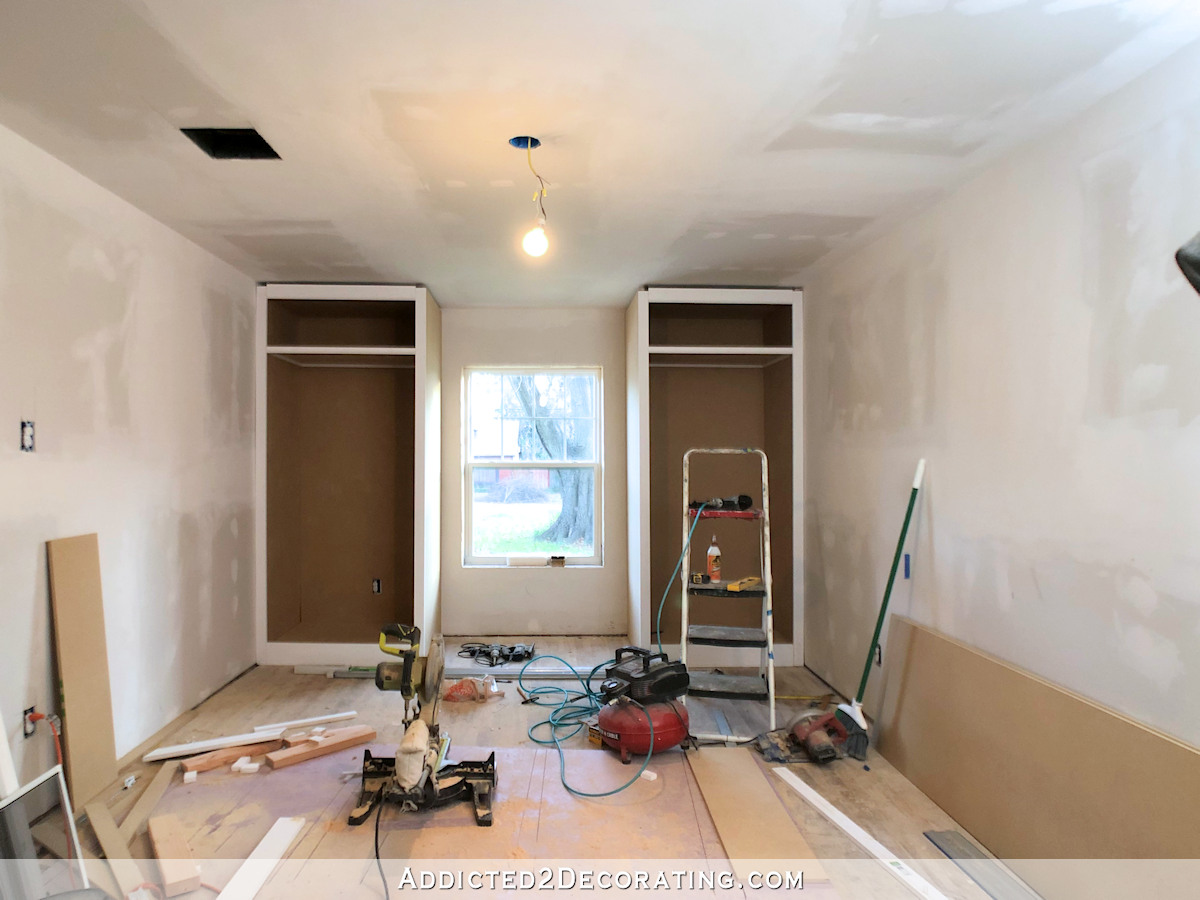 And after my work day yesterday, they now look like this…
Of course, the crown molding at the top will continue around the room, but I just didn't have time to put the rest of it up yesterday.
Anyway, not to shabby, right? Now I know some of you might be thinking, "But Kristi, you said you were going to use sliding doors!"
Yep, that's what I said. And that's what I did.
I just didn't want these doors to look so huge, so I made them so that they are single doors that appear to be double doors. But each closet just has one single sliding door on it.
Now from the picture above, you've probably spotted the adjustment I'll have to make. I didn't realize initially that I'd have to use such a large header piece to cover up the closet door roller hardware. I ended up having to use a 1″ x 8″ board and move it down about 3.5 inches from the ceiling to cover that hardware, which ended up making the top shelf ridiculously short. So I'll be taking out those top shelves on each side and rearranging the interior of the closets a bit. But that's no big deal.
I didn't take pictures of the individual steps to build the actual closet boxes because I used the exact same process that I used to build the bedside closets in the condo bedroom. If you want to see that step-by-step process, you can check out that project here…
The big difference on these closets is obviously the style of doors that I used. For the condo closets, I used regular hinged doors. So figuring out how to install sliding doors was a bit of a challenge, but I finally figured it out.
I used these bypass closet door tracks, but I didn't need the bypass feature, so I ended up just hanging both doors on one track. I also had to use two tracks to span the entire width, which required cutting one of the tracks to make it fit. It was easy to cut on my miter saw.
I had to build something to attach the track to so I started out by removing the top trim pieces on each closet, adding 2″ x 4″ reinforcements behind there, and then reattaching the top trim pieces. This gave me something to attach a long 2″ x 4″ spanning the entire width and attached directly to the front of the closets. I attached this using my framing nail gun.
That was a good start, and was certainly strong enough to hold a closet door track and two closet doors. But a 2″ x 4″ board is only 1.5″ thick, and the closet door track is 2″ wide. So I needed to add more thickness to hold the track. I simply cut a 1″ x 4″ board and attached it directly to the 2″ x 4″.
This gave me a total thickness of 2.25″ (2″ x 4″ lumber is actually 1.5″ thick, and 1″ x 4″ lumber is actually 3/4″ thick), which was sufficient for me to attach the 2″-wide track to the bottom edges of those boards.
I forgot to get a picture after attaching the closet door track and before attaching the front 1″ x 8″ header piece, so here's a look from the back side after I had attached the 1″ x 8″ header piece…
But just note that I did not attach that front 1″ x 8″ header piece until after the doors were made and hung. It wouldn't be impossible to hang the doors after the header piece is installed, but it sure would make things more challenging and frustrating. And I doubt that that would be a one-person job.
And speaking of the doors, I just used 3/4″ sanded plywood for those, cut to a width that was the width of the closet opening plus two inches (for one inch overlap on each side). And then I used iron-on edge banding to cover the plywood edges and give them a beautiful finished look.
Edge banding takes a bit of effort. I mean, you can't just iron it on and call it good, because it won't look good. In order to get it looking really nice, you have to be willing to do quite a bit of sanding. Sanding makes all the difference in the world! But once it's sanded, it looks amazing.
Once the edge banding was on, I used my circular saw to cut a groove right down the middle of the plywood to create the look of two separate doors. I made sure not to cut more than 1/4 inch into the plywood.
It looked a little rough at first, but after using a piece of 150-grit sandpaper and carefully sanding the top edges of the cut line, it smoothed everything out and gave it that same softened appearance that the sanded edge banding had on the outer edges.
Then I simply attached the rollers to the top of the door according to the directions in the hardware package, and hung the door on the track. You can see the rollers on the track here…
…but again, I hung the doors before I installed that front header piece. So the process was pretty easy, although it would have been much easier had I had a second pair of hands to help me line up the rollers with the track. But I managed.
After the doors were hung, I used a scrap piece of 1″ x 2″ lumber as a guide to mark the doors for trim placement.
I used a trim from Home Depot that's simply called cabinet door trim. This comes in three sizes (at least it does here at the Home Depot in Waco), and I used the medium size. They come in 8-foot pieces, so this trim isn't sold by the linear foot.
I attached these trim pieces with wood glue and 5/8″ 18-gauge nails.
Once the trim was installed, I added a track at the bottom of each door.
I created this track out of two metal pieces that I found in the hardware section of Home Depot (generally by the nails and screws). I don't know what these are called or what they're actually intended for, but if I find the name/product number, I'll update this. But each piece has an "L" profile. So I used two for each door, adhering them together in such a way that the "L" profile was turned into a "U" profile. Then I adhered them to the bottom of the closet, giving just enough space so that the door moved freely in the track.
With the build of the closet doors finished, I turned my attention to finishing up the back side of the track area. Obviously, I didn't want to leave a 2″ x 4″ exposed on the window seat side of the track. So I first cut and nailed a 1″ x 6″ piece of lumber to the 2″ x 4″. And then I installed crown molding all around to finish off the ceiling in that little area.
So that's the progress so far! I still need to build the window seat and get the trim on that window, as well as the rest of the crown molding in the room. I also want to add picture frame molding on the walls in this bedroom.
Once all of that trim is installed, I'm going to get this floor stained and sealed. Once it has had enough time to cure, I will be able to install the baseboards, which will wrap around the bottom of the closets (and window seat). So the rough-looking areas at the bottom of each closet will be all trimmed out before all is said and done.
So it's coming along! But there's still quite a bit to do.
Addicted 2 Decorating is where I share my DIY and decorating journey as I remodel and decorate the 1948 fixer upper that my husband, Matt, and I bought in 2013. Matt has M.S. and is unable to do physical work, so I do the majority of the work on the house by myself. You can learn more about me here.
I hope you'll join me on my DIY and decorating journey! If you want to follow my projects and progress, you can subscribe below and have each new post delivered to your email inbox. That way you'll never miss a thing!