Random Guest Bedroom Updates: Amazon Inconvenience, Mattress Comparisons, and a New Dresser
*This post contains affiliate links.
Have you ever received the wrong item from Amazon? I have twice now. One time I ordered something small and inconsequential and received barbecue sauce instead. But this time….well, this time I ordered a queen size mattress — the kind that comes stuffed into a box that seems like there's no way it could possibly hold a mattress, and then you cut the plastic away and the mattress expands to five times the size of the box over the next few hours — and they sent me the wrong one.
Our current mattress is old, and it was time for a new one. I've been shopping locally for one, and it seemed like the choices were (1) buy some no-brand questionable mattress for dirt cheap, or (2) buy a brand name mattress that costs about $2000 or more.
I didn't like those options that I was finding locally, so I decided that I would go to Amazon and buy the 12-inch queen size mattress with the highest customer rating that had at least 200 ratings. That "at least 200 ratings" criterion was totally arbitrary, but I just figured that 200 was a sufficient number of ratings. If something has a great rating based on 30 customer ratings that's not quite as impressive.
So with those criteria, that led me to the Sweetnight 12-Inch Queen Size Pillow Top Gel Memory Foam Mattress. I was so excited when the UPS guy delivered it, and I immediately brought it in, unpacked it, and watched it expand. But it only expanded to 9 inches. And it looked nothing like the picture I remembered seeing on the Amazon listing that showed a removable mattress cover. And it came with two lumpy pillows, which I didn't remember being mentioned in the listing.
I got my laptop, looked up my order, and sure enough. They had sent me a Nectar mattress, and I ordered a Sweetnight mattress.
I actually considered keeping this mattress just to save myself from the headache of having to return an unboxed queen size mattress. But after giving it several hours (all afternoon and evening) to expand, I knew there was no way I was keeping this thing. It was so squishy that I could punch my hand down into the mattress and literally feel the boards of the bed frame under the mattress. Just look at this…
It's so squishy that my hand completely disappears into the mattress. When I lay down on it to test it out, getting up from the mattress was like trying to get off of an air mattress that had lost half of its air overnight as I slept.
I thought maybe that was because it takes a couple of days to really fluff up to its final size, and maybe I just didn't give it enough time. But reading the reviews of the mattress the Amazon listing made me realize that that probably wasn't the case. The recent reviews have quite a few 1-star and 2-star reviews from some pretty unhappy customers. And even though it was listed as a 12-inch mattress, this one never plumped up past 9 inches.
Interestingly, many people said that they had previously purchased a Nectar mattress directly from the company, and it was great. But many of them said that the Amazon Nectar mattress was awful by comparison. I've never purchased a Nectar directly from the company, but I can attest to the fact that this Nectar from Amazon is, indeed, an awful mattress. So I guess if you've heard great things about Nectar and want to give it a try, it's probably better to order directly from the company website rather than take your chances with Amazon.
So I called and told Amazon that they had sent me the wrong product, and the lady got the correct mattress shipped out immediately.
This one is fantastic. But, as you can see, I've got a bit of a problem with it 😀 …
Yeah. This mattress isn't 60″ x 80″. It's at least a couple of inches bigger in both directions, so it doesn't fit into my bed frame. That problem can be remedied. I'll just need to raise the support inside up about three or four inches to make it a true platform bed, but it's just more work than I had planned. I've already had to add new legs to the bed (which still need to be stained), and now I have more work to do to make it accommodate the new mattress.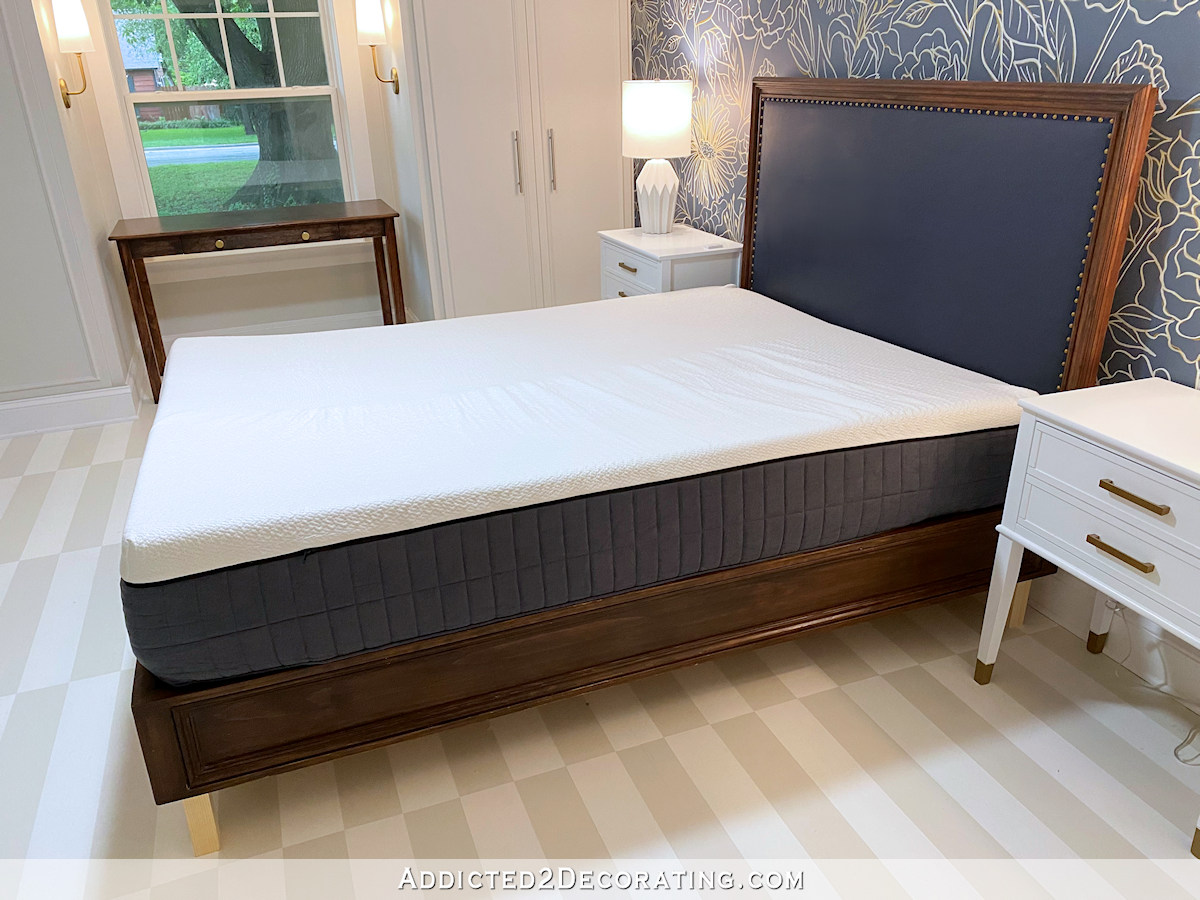 I will say that I think this mattress is fantastic. It has that squishy soft memory foam topper on it, while providing firm support underneath, so I don't feel like I'm on a deflated air mattress. We still haven't slept a full night on it, but I'll admit that I've gone in there a couple of times now during the day and relaxed on for a while. If you're looking for a new mattress, you might consider this one if you like a memory foam-topped mattress with firm support underneath. And from what I've seen locally, the price is really good.
Of course, I'll be quite honest. If it doesn't work out for you, returning a mattress to Amazon has proven to be a bit of a headache. I'm sure they'll make it right, but right now I have that Nectar mattress clogging up my entryway. They've already sent the UPS guy to pick it up, but when he saw that it was unboxed, he said he couldn't take it. And of course, there's no way to get that mattress back into the box it came in. So I need to call Amazon back and see exactly what they're going to do. I certainly don't want to be responsible for wrapping/boxing up a queen size mattress for shipping.
In other news, I purchased a dresser for the room!
I had planned on building one because I had searched high and low, and couldn't find anything that was close to what I wanted at the right price. So I figured that building one would be my only option, but to be quite honest, I was really dreading it.
I wanted a nine-drawer configuration (just because I like the look of the three drawers on the top row), and I also wanted it to be at least as wide as the bed (60 inches). But I also wanted it to be taller than an average dresser, and that's where I was having a problem finding exactly what I wanted.
Matt often lies in bed and watches TV, and I've noticed that with a regular-height dresser/buffet with the TV over it, he has to really has to prop his head up pretty far (with three pillows) to see the TV while lying down. Although he's not the type to complain about things like that, it just doesn't look comfortable at all, and I'm sure it causes some neck strain. So for the bedroom, I wanted a dresser at least 40 inches tall so that the TV above it would be much higher than what we have in the breakfast room.
Well, I just so happened to find one at a local furniture store! This furniture store (called Home Shack for you locals) has really learned how to thrive in the era of COVID. They post all of their items on Facebook, and if you see something you like, you just respond with "SOLD" and your email address, and they send you an online invoice. You pay online, and that way when you show up, they have your item wrapped and ready to go, they load it up for you, and it takes about five minutes before your on your way home with your new item.
So I was looking through their newly posted items, and there it was! Nine drawers! 64 inches wide! 42 inches tall! And it was 20% off! It was perfect!
Well, it's perfect except for the color. 😀 I know it's a new piece of furniture, and it's perfectly fine in its current state. And I know some people (most people?) will think I'm crazy for messing with a perfectly fine new piece of furniture. But I'm absolutely going to paint it.
I do think it's pretty in its current state, but I have an aversion to decorating with matching sets of furniture, and there's absolutely no way I can have a room full of stained wood furniture. I mean, even the bed and the writing desk is more stained wood than I usually have in a room, but I think it will be fine once I have the accessories and more color added to the room. But this huge stained wood dresser is just way too much.
I'm not 100% decided on a color, but I figure that my three options are (1) white, (2) the blue from the mural wall, or (3) the golden yellow that I'll be using as an accent color.
The white seems boring to me, especially since that wall is already all neutral with the Classic Gray wall color and white trim. The golden yellow would be pretty, but I think it would compete for attention with the mural wall, and the big golden yellow dresser would probably win that battle. So the blue from the mural wall seems like the best option to me. It would bring the blue (obviously the main color in the room) over to that side of the room, and it would add color without competing with the mural wall. Then I could add colorful things on top of and above it.
So while I saved myself probably four or five days of work by not having to build a dresser from scratch, I'll still have a day or two of work with painting this one. But I love painting furniture, so I'm actually looking forward to this project.
Addicted 2 Decorating is where I share my DIY and decorating journey as I remodel and decorate the 1948 fixer upper that my husband, Matt, and I bought in 2013. Matt has M.S. and is unable to do physical work, so I do the majority of the work on the house by myself. You can learn more about me here.