Here's What I've Been Up To This Week…
Hey there! I actually hadn't planned on being away for most of the week, but here we are on Friday, and this is my first post of the week. 😀
I've just had a hard time getting things done around here lately, so I had nothing blogworthy to share. I haven't felt like working on my house, or doing any projects (not even any fun, artsy projects), which is unusual for me, especially when I have a few projects that are so close to being finished. My piano just needs two more coats of polyurethane with a bit of sanding in between, and then it's done. My hallways cabinets need some trim and a couple of coats of polyurethane on the inside and they'll be done (again). My hallways doors just need a couple of coats of paint and some door knobs, and then that's finished. The hallway walls need to be primed and painted, which is super easy stuff.
You get the point. A handful of halfway finished projects, but zero motivation.
Generally when I get that way, it's because I'm either in pain (my pinched nerve issue, which hasn't been a problem in several weeks now) or it's because on some level, whether consciously or subconsciously, I'm not happy with the way something is turning out, and that sucks the excitement out of it for me.
So I decided to gather up my paint and fabric samples and head to JoAnn Fabric and look for fabric that complements my drapery fabric that I can use for the chairs I want to reupholster for the living room. Remember my drapery fabric? The only picture that I have of the one finished drapery panel is with the green walls, which I no longer have.
I also need fabric for the chairs that will go in the music room. I figured that shopping for fabric would get my creative juices flowing again, and my motivation would magically reappear.
But I just couldn't find anything that I liked. Nothing at all. I felt stuck, which made me frustrated.
I finally decided to come home and search online for a living room rug that would complement my drapery fabric. But after a couple of hours of searching, I had nothing. Nada. Zero. Zilch. I felt like my drapery fabric was really limiting me, and keeping me in a green/blue/teal rut that I couldn't get out of.
Then I decided to put all of that out of my head, and just look for a rug, any rug, that would work with my kitchen. I wanted something that would complement my teal kitchen, but also allow me to pull in some purple as well as some warm colors like coral, orange, yellow, etc. And I didn't want neutral. I've been stuck in neutral rug zone for way too long, so I wanted to break out of that and get something with some color.
The first rug that I found that I really liked was this green and white geometric Dash and Albert rug…
I really loved the "room" pictures that I found like this one…
…where that rug is mixed with pinks and yellows and oranges. But that rug scares me a bit. In all of the straight-on product views, the green looks so bold and kind of harsh. But in the room settings, it looks so much softer. But it's an indoor/outdoor rug, and most of the pictures of it are outside in bright sunlight, so naturally it looks lighter in color outdoors. The lighter green, as it look in the photo just above, would work with my kitchen cabinets. The darker, harsher green won't work at all.
So I kept looking. I found so many possibilities, but none of them really went beyond the, "Hmmm…well, I guess that would work," degree of excitement. And I really wanted to hold out for some that made me go, "Oh wow! I love that!"
After about an hour, I finally gave up and decided to take a Facebook break. As I was scrolling through Facebook, I naturally saw ads all over with the very rugs from the very online stores I had just been looking at (which I find totally creepy, by the way). But then there was an ad with one rug that I didn't remember seeing. And it gave me that, "Oh wow, I love it!" feeling. It was this Safavieh Bristol Purple/Grey area rug from Overstock…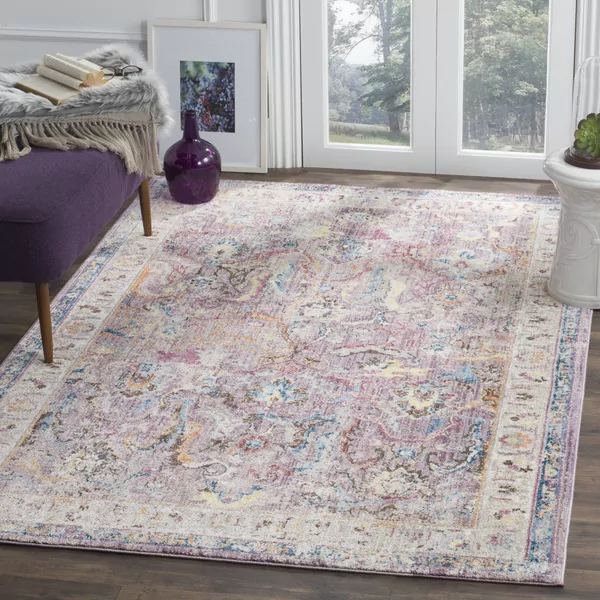 The main colors, as you can see, are a light purple and gray, but if you look closer, you can see that there are all kind of colors in there, like turquoise, teal, yellow, orange, etc.
So I decided to take the two rugs that I had found and that I really like (which are sooo vastly different from each other in style and color), and put each of them into my photo editing program and just start building a room around each one.
The green and white rug left me stumped. I couldn't get past the rug and the drapery fabric (a solid teal linen).
That green was just all wrong. Had it been a softer, more muted green, I would have had an easier time working with it. But that bold, in-your-face green just isn't right for my house.
But the other rug? Well, it was so easy to work with! I started out with the teal drapery fabric, and then added an orangish coral accent chair and a neutral sofa.
I won't actually be buying new chairs. I'll be reupholstering two chairs that I already have, but I just wanted to test out the color. That orangish coral color is a bit too strong, but it's the Larkin swivel chair from Ballard Designs, which is one of the few places online that I know of where you can change the fabric on the furniture and it actually changes the picture to show you what it'll look like. So my choices were limited, and that particular color isn't really exactly what I'd choose. And then the neutral sofa is this Kaylynn Sofa from Birch Lane. If I go neutral on the sofa, I'll just reupholster my sofa with the neutral fabric I already have.
But the one thing I was lamenting about that rug is that it doesn't have any green in it. Not even a little bit. But I decided to try a green sofa with it anyway, and oh my goodness, just look at the life it breathes into this "room"…
So now I think I want a green sofa! 😀
I went ahead and ordered the rug, and I'm just hoping and praying that the colors in the actual rug are true to the colors on my computer screen. I'll be so disappointed if those colors aren't accurate and end up not working out. Once the rug gets here, and I verify that the colors will work, I can make a final decision on the rest.
Another thing that I realized during the last few days is that the paint color I chose for my hallway doors was just not quite right. It was just way too blue, and way too bright. So I ended up digging through my stash of paint, finding all of the green samples that I had purchased lately, and adding them to the blue paint to make it more teal. And then I added some black to darken it up a bit. I like the new color so much better. You can see the left door painted with the new darker, richer teal, and the right door painted with the original blue color. The door on the right just has one coat of paint on it, so it would be just a bit darker with two coats, but you can still tell the difference in color between the two doors.
The new color is darker, which I originally thought I didn't want, but I was wrong. 🙂 I love the darker, richer color, and in person, it's unmistakably teal/blue and doesn't look black.
So I feel like I'm back on track, and I'm excited about the direction I'm heading in the living room. That plan for my living room also made my decisions for the music room come together quite easily, but I'll save those for another day. As long as the rug ends up being the right colors, I'll be set. 🙂 And don't worry. The living room drapery fabric won't be wasted. While it was presenting roadblocks for me in the living room, I think it'll be the perfect jumping off point for the guest bedroom. And that room also had three windows, so I have the exact yardage needed for that room. It all works out perfectly.
Addicted 2 Decorating is where I share my DIY and decorating journey as I remodel and decorate the 1948 fixer upper that my husband, Matt, and I bought in 2013. Matt has M.S. and is unable to do physical work, so I do the majority of the work on the house by myself. You can learn more about me here.