Hallway Closet…It's Outta There!
My goal this week is to get the floors finished.  Cleaned.  Sanded.  Cleaned.  Sealed.  Done.
It sounds easy enough, but I actually have no idea if that's an attainable goal since I've never refinished floors before.  I'm going to try my hardest, though!
So since I wanted the hallway closet outta there, it needed to be done before I refinish the floors.
Here's the closet I'm talking about on the right.  Through the doorway in the middle is the living room.  The closet on the left is original to the house.
When I arrived at the house yesterday, here's what the closet looked like.  If you'll remember, I had already ripped off some of the polystyrene ceiling tiles, and of course, the carpet was gone.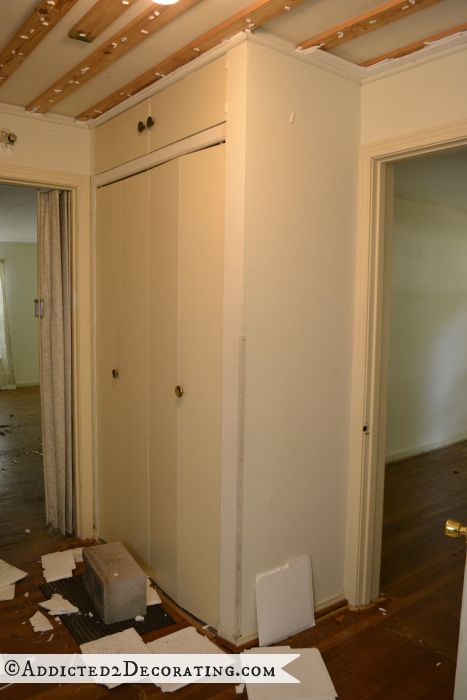 I know at least a few of you will think I'm crazy for getting rid of storage, but this closet wasn't original to the house, and it was obvious that it wasn't original.  Plus, it wasn't really built properly, and even with lots of trim, it still wouldn't have really looked good.  You can see what I'm talking about here…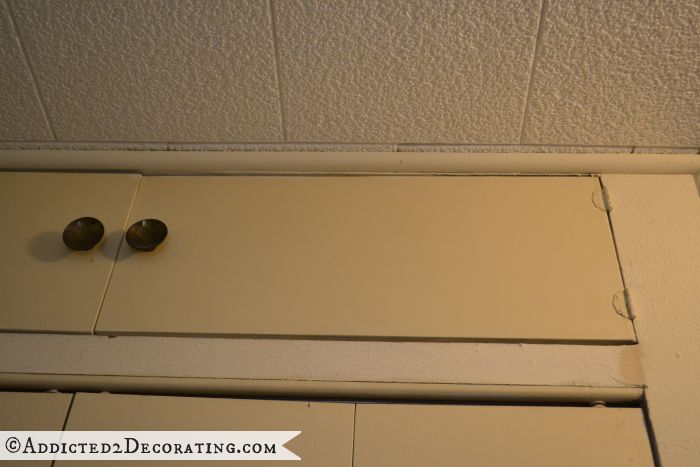 Not to mention the fact that this closet made the hallway feel really closed in.
When I told my mom of my plans to remove this closet, I was sure she would think I was crazy.
Let me explain that my mom is my voice of reason at times.  When I commented about how sad I thought it was that the pretty original windows were covered by not-so-pretty storm windows, she said:
"Kristi, before you go removing stuff like that, you really need to consider your electricity bill.  Those may not be pretty, but they'll save you money."
I listened.  The storm windows are still there.
When I was sharing all of my plans for the house one day, she said:
"Kristi, you need to be sure that you don't get in here and just start ripping everything out.  You really need to think through your projects, and take them one at a time, one room at a time."
I listened.  Well…for the most part.  Because believe me, if I didn't constantly hear her voice in my head repeating that to me, I probably would have ripped out half the kitchen by now, as well as a good portion of the hallway bathroom.  But I'm trying to exercise some self-control.
So a few days ago, I said, "Mom, I've made a decision, and you're gonna think I'm crazy."
She said (genuinely concerned), "Oh no!  What crazy thing have you decided to do this time?"
I said, "I'm gonna tear out the closet in the hallway."
I was fully expecting her to be surprised…and concerned…and to tell me that I was, in fact, being crazy.  And to list all of the reasons that I should keep the closet.  And to stress how I'd regret it if I got rid of the extra storage.  After all, I was sure that a reasonable and rational person would naturally say to keep the extra storage!
Instead, she said, "Oh, you mean the big closet in the hallway with the bi-fold doors?  Oh yeah.  I definitely think that needs to go.  I don't think you're crazy at all."
So it was decided.  The closet would be gone, and I'm not crazy (at least when it comes to the closet).  🙂
I started by removing the bi-fold doors.
And then (my favorite part), I just started whacking at the drywall with a hammer.  Talk about a great stress reliever!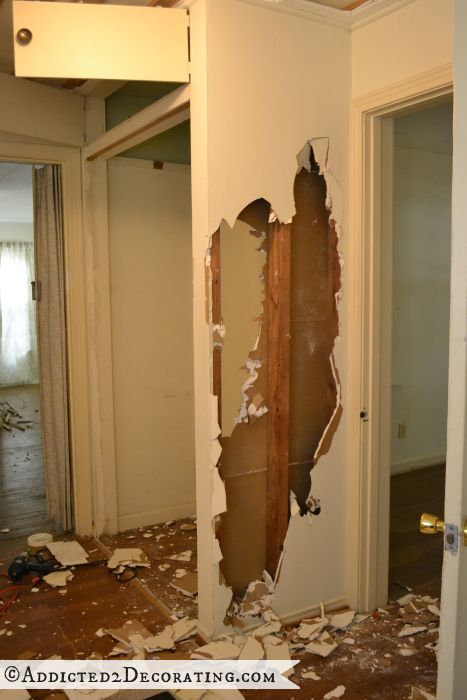 With the drywall all off, I could then remove the studs.  That was easier said than done, especially since I didn't have any kind of sledge hammer or a circular saw with me.  I whacked the center 2 x 4 about 50 times as hard as I could with a hammer, and it only budged about one-and-a-half inches.
But I wasn't about to give up!  A few more whacks with all of my might, and it finally gave way.    The other two were just as difficult, but I just thought about the great exercise I was getting, and hit them as many times as needed to remove them.
Then I just had the ones on the ceiling, and the one on the far wall to remove.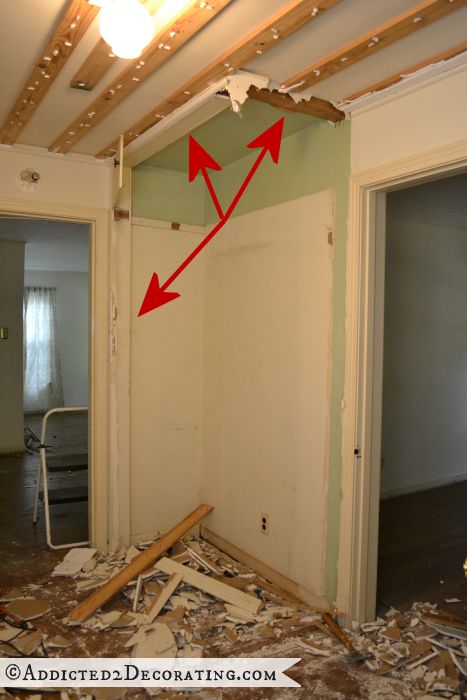 And of course, I forgot to take my Shop Vac, so I couldn't get everything really clean.  But once I got most of the big pieces of debris cleared away, I was able to step back and admire my work.  It wasn't pretty, but it felt like a huge accomplishment!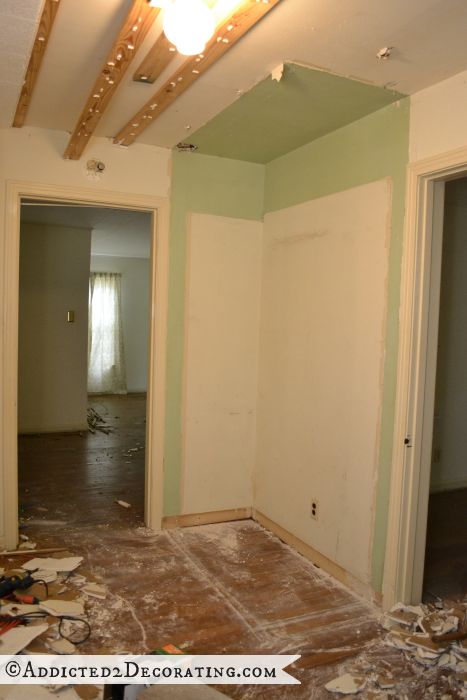 And wow!  Did it ever open up that hallway!  It feels so spacious now!  (And how do you like that seafoam green paint I uncovered?)  🙂
And here's the view looking back the other way (standing in the doorway that leads from the living room area to the hallway).  The bedroom door on the left used to be completely obscured by the closet.  Now you can actually see it as you enter the hallway.  (And is it weird that that one bedroom door opens out into the hallway?  I can't figure out why it's like that, while the other three doors open into the rooms.)
I have quite a bit more drywall and other stuff to clean up, and I obviously have some patching that I'll eventually need to do on the walls and ceiling.  But for now my goal has been accomplished.  The closet has been removed, and everything has been removed from the floor (closet framing, bi-fold door tracks, carpet tack strips, quarter round, and baseboards) so that I can sand and refinish the floor in the hallway.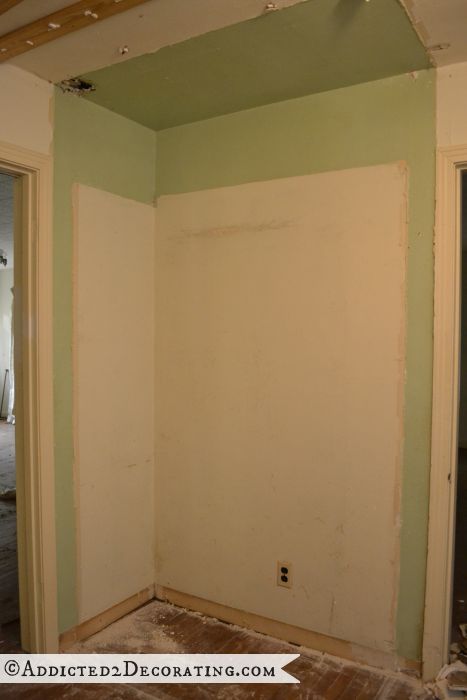 Nope, I don't think I'll be missing that closet at all.  🙂
And here's a quick side-by-side of what it looked like before and what it looks like now…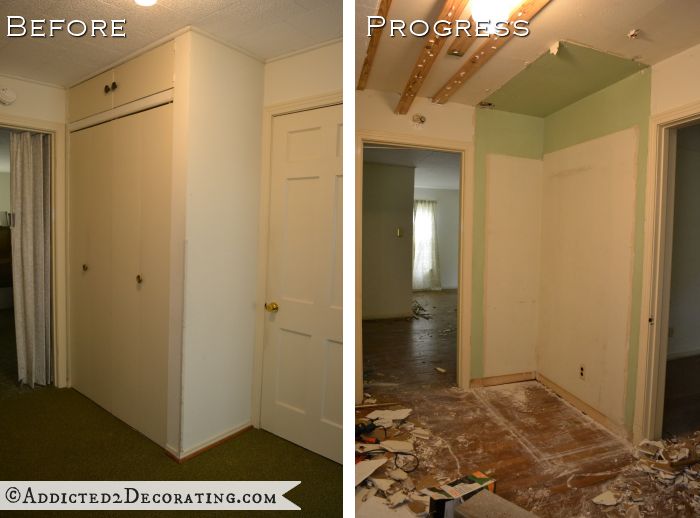 Now it's time to get busy cleaning all of the floors (and removing the rest of the carpet tack strips, quarter round, and baseboards) so that I can rent that sander and get started on the refinishing.  This should be fun!
Addicted 2 Decorating is where I share my DIY and decorating journey as I remodel and decorate the 1948 fixer upper that my husband, Matt, and I bought in 2013. Matt has M.S. and is unable to do physical work, so I do the majority of the work on the house by myself. You can learn more about me here.