Closer To The Finish Line – Hallway Doors Trimmed Out
It's hard to imagine a project going slower than my hallway project. I look at what I've accomplished in the amount of time it's taken me (I started on September 11th) and can't help but ask, "What the heck is taking so long?!" 😀
I know some of you are going to say I'm being too hard on myself. I'm really not. I promise. l'm not beating myself up over the fact that I've been working on a hallway for a month-and-a-half. I'm just genuinely surprised. I expected the whole thing to take maybe two weeks.
But anyway, I crossed a huge hurdle yesterday. All of the doors are trimmed. And wow, what a difference it makes in this hallway. At the end of last week, they were still looking like this…
And now they look like this…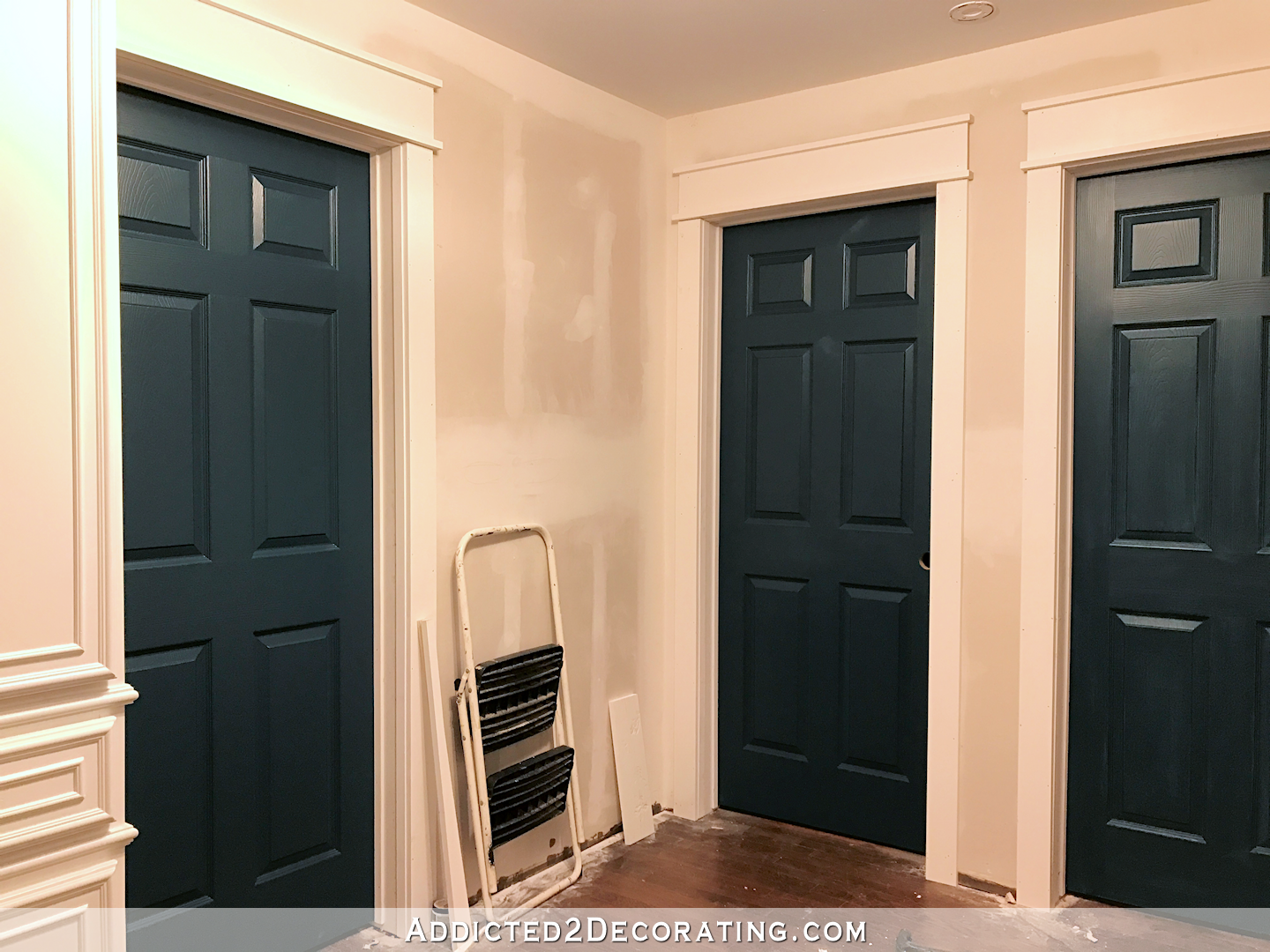 Our bedroom door (far right) still needs one more coat of paint on it, and I got some drywall dust on the guest bedroom door (center), but at least the trim is installed! It's still far from finished, though. The trim still needs wood filler, sanding, caulk, primer (just in spots) and painting. But even unfinished, it still looks way better than it did with the original doors and trim…
I generally don't paint doors before I get all of the trim installed, but I did things backwards this time because of the wall paint treatment I had planned to do. Remember that blended ombre design that I shared here? I had planned to do that until about two days ago, and I thought it would be so much easier to do before the trim was installed. And I wanted my doors painted before starting on the walls so that I could be sure the wall colors were turning out right and complemented the door color.
But a couple of days ago, I finally decided to abandon that idea for the walls. It just seemed a bit grand for a hallway. I think I'd like it better in a bedroom, so I might bring that idea out again after we build our new master bedroom, or I might be on to some other grand idea by then. 😀
I shared the step-by-step details of my door trim back in this post during my 2014 kitchen remodel.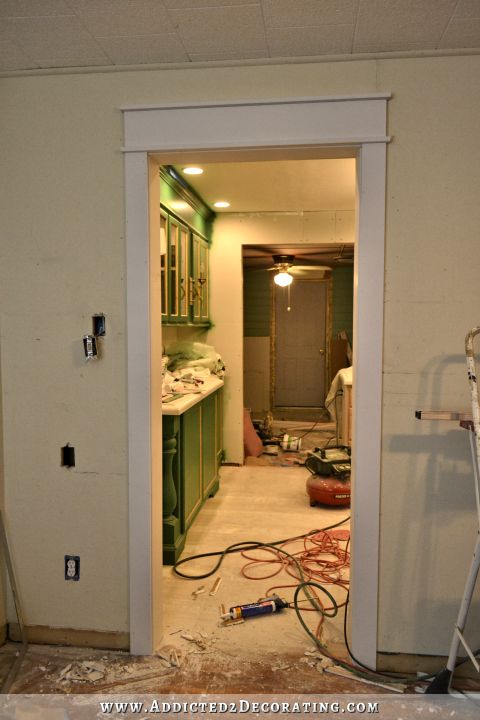 Wow, that seems like a lifetime ago! Look at that kitchen with the painted floor. And the music room in the foreground with the polystyrene tiles still on the ceiling. And the untouched breakfast room. Pictures like that make me realize just how far this house has come!
Anyway, you can click on the picture above or the link just above that to see the details of my door trim. I love this trim because it looks fancy without looking too grand for an old ranch-style house like mine. Plus, it's super simple to install since it's all straight cuts. There are no mitered cuts at all.
I did have a bit of a challenge on my hallway doors, though. I made the mistake of purchasing prehung doors for the three bedroom doors. The problem is that the jambs on in-stock prehung doors are the perfect width for walls with 2″ x 4″ studs and 1/2″ drywall on each side. But my walls are 2″ x 4″ studs, 3/4″ shiplap on each side, and then 3/8″ drywall on top of the shiplap on both sides. So my walls are something like 1.5″ thicker than standard walls.
I figured I could install the doors, and then extend the jambs by cutting strips of 1″ boards and attaching them to the edges of the jambs to make them wider. But then I ran into the problem of not being able to make them flush with each other. So my philosophy is that if you can't make something perfect, make it imperfect enough so that it looks intentional, like you meant for it to be part of the design. So I offset the extension by 1/8″ and then attached the casing to the edge of the jamb extension.
I can't say that I love how it looks, but in the whole scheme of things, when everything is caulked and painted and the hallway is finished, I don't think people are going to hone in on that detail.
But if it bothers me too much, I'll have them redone by pros when we do our addition since that addition will include one of the doors (our current master bedroom) being removed completely and that doorway walled off, and I'm thinking that the entire wall with the current master bedroom and guest bedroom doors will have to be moved back about a foot anyway to accommodate the new hallway that will wrap around the side and the back of the current hallway bathroom. This floor plan isn't exactly right and needs some updating, but I'm including it so you can visualize the new hallway I'm talking about…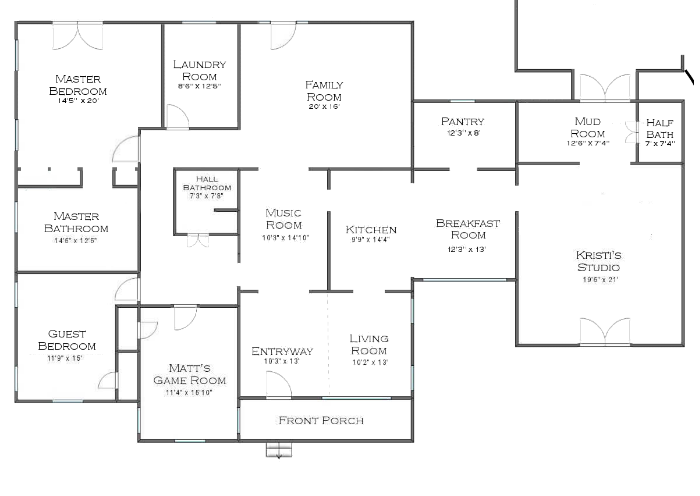 So at that time, I'll probably not only correct my mistake of using prehung doors with the wrong size jambs, but I'll probably also upgrade to solid core doors. I bought hollow core prehung doors for these bedrooms because that's what we had in the condo and it never bothered me. But this house had solid wood doors, and I've gotten used to those heavy doors since moving to this house. I replaced the original doors because I couldn't find doors to match, and I needed (and will need) additional doors for the hallway bathroom and the addition, but replacing them with hollow core doors was a mistake. It's a mistake that I'm okay living with for now, but I do eventually want them replaced with solid core doors.
But for now, I press on. I don't know when we'll be able to do the addition, so for now, I just want to get the current hallway finished and presentable. And it's getting there! I hope to get the rest of the trim installed today (baseboards, base cap, shoe moulding and crown), and then maybe tomorrow I can get started on the wood filling, sanding, and caulking. I'm really hoping to have a finished hallway by next week.
Addicted 2 Decorating is where I share my DIY and decorating journey as I remodel and decorate the 1948 fixer upper that my husband, Matt, and I bought in 2013. Matt has M.S. and is unable to do physical work, so I do the majority of the work on the house by myself. You can learn more about me here.