Custom Watercolor Artwork For My Hallway (Without Any Actual Watercolor)
Remember how I originally intended to use the bird illustration gallery wall in the hallway, but then loved it so much I put it in the living room instead? Well, that left me in need of a brand new idea for the hallway. I searched on Pinterest for inspiration, but couldn't really find any grand ideas that I wanted to use.
Then I decided that since it's a hallway, I wanted something more personal and meaningful to Matt and me. I'm not necessarily one of those people who likes a bunch of framed personal photos all over, but having something truly meaningful and special to us in the hallway felt just right to me. Immediately one photo in particular came to mind.
Matt and I got married in Canby, Oregon, in a picturesque little chapel surrounded by gorgeous trees, and this has always been one of my favorite pictures from that day…
So I had a grand idea. Y'all know that I absolutely love watercolor. Anything from landscapes to abstracts, if it has that watercolor painted look to it, I'll probably love it. So I decided I wanted to commission a watercolor artist to paint that picture really large (20″ x 30″) to fit inside a 24″ x 36″ frame with a mat.
Of course, finding someone who can paint such a large piece with quick turnaround is quite the challenge, but at this time of the year, it's impossible. And I'm the type of person who likes to have a grand idea and act on it immediately, so the idea of waiting three or more months for my artwork just didn't appeal to me.
Then I remembered a post I wrote almost four years ago about apps you can get for your phone that turn photographs into artwork, and one of them specifically was a watercolor app called Waterlogue. So I downloaded the app, and used it on the photo. It was a good start, but definitely not the final end result I wanted.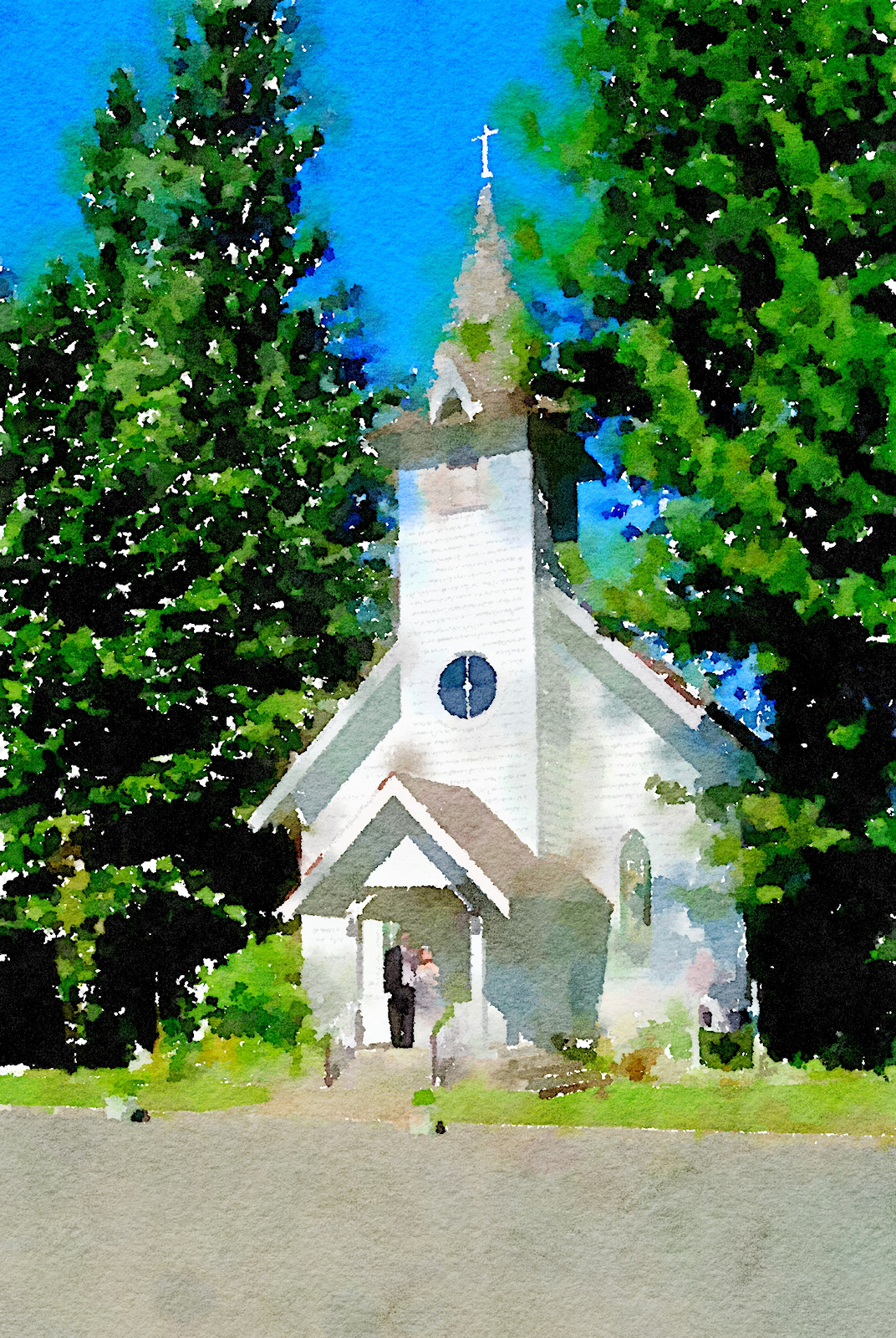 This was clearly a project that I couldn't do myself, so I called in reinforcements — my mom, the Photoshop expert. My mom is a retired professional photographer and photo restoration expert. She's the person you would go to if you found a rare picture of your great great grandmother buried in the back of your closet, then noticed that half of her face was smudged or torn and you wanted the photo restored to its original condition. My mom is a wizard with Photoshop. You'd be amazed at some of the magic she's worked on restoring old (or even not-so-old) damaged photographs.
So I sent the picture from the Waterlogue app to her and asked if she could use it as a starting point, but make it more…something. More colorful, more artistic, brighter, not quite so blotchy, and maybe a tiny bit more detailed. And she did just that. She turned the above picture that I created just using the Waterlogue app into this…
Isn't that amazing?! I have been so unbelievably excited about this. Here's the original photo and the "watercolor" side-by-side for comparison. I left the picture pretty large so you can click on it and see more detail.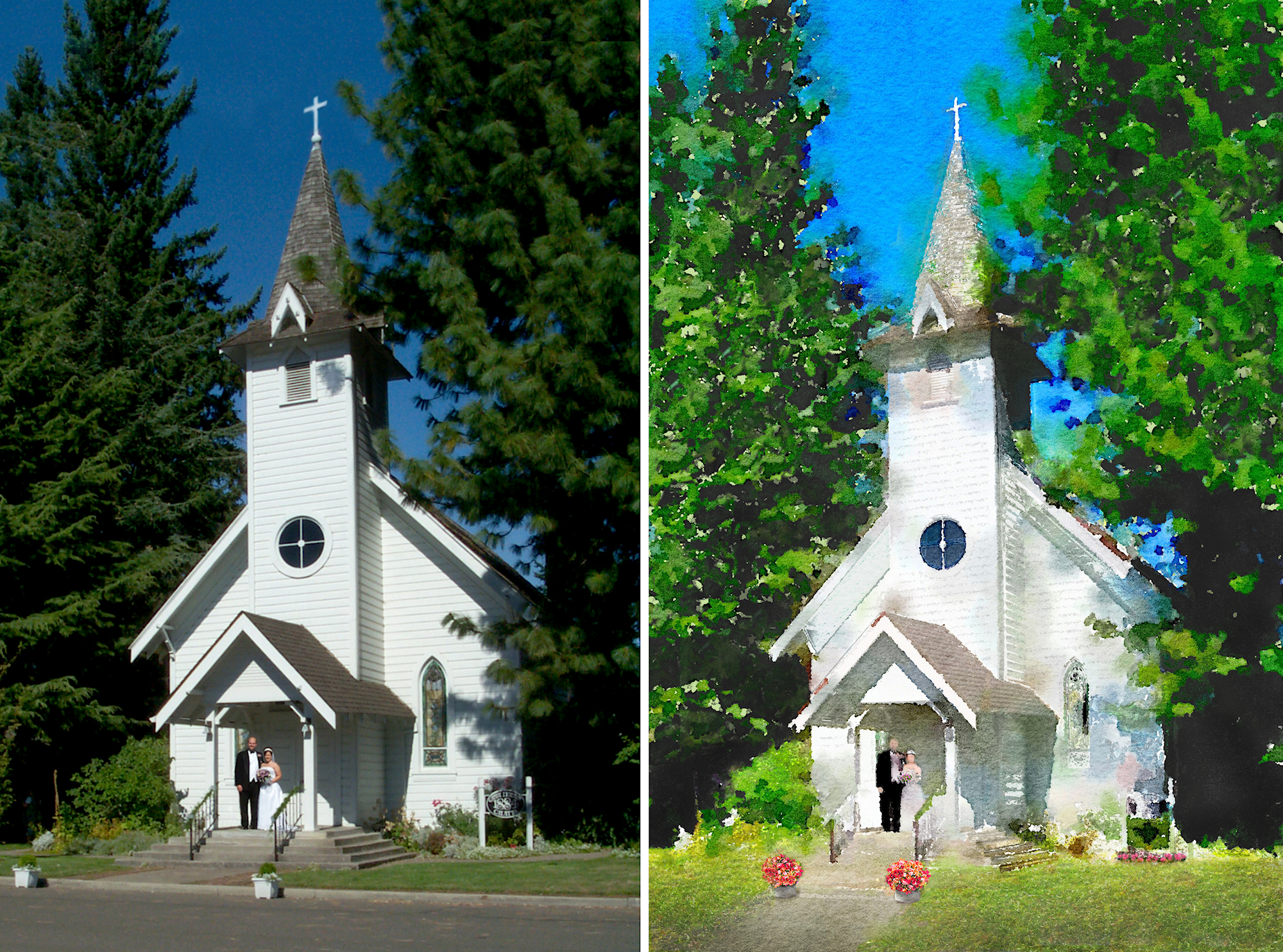 And here's a comparison of the picture just with the Waterlogue app on the left, and the changes my mom made on the right.
I didn't want this printed at WalMart like the bird illustrations. I wanted this done right, so my mom sent it off to her professional lab to have it printed and mounted. It arrived yesterday, and I was ecstatic to see just how beautiful it looks in person. I had her print it on the lowest sheen paper available, and it actually does look like a watercolor painted on watercolor paper.
I had already ordered a double mat for it (I told you I was excited and anxious! 😀 ), which I found here on Amazon. So as soon as I got the print home, I attached the mat to it and propped it on the console table in the hallway.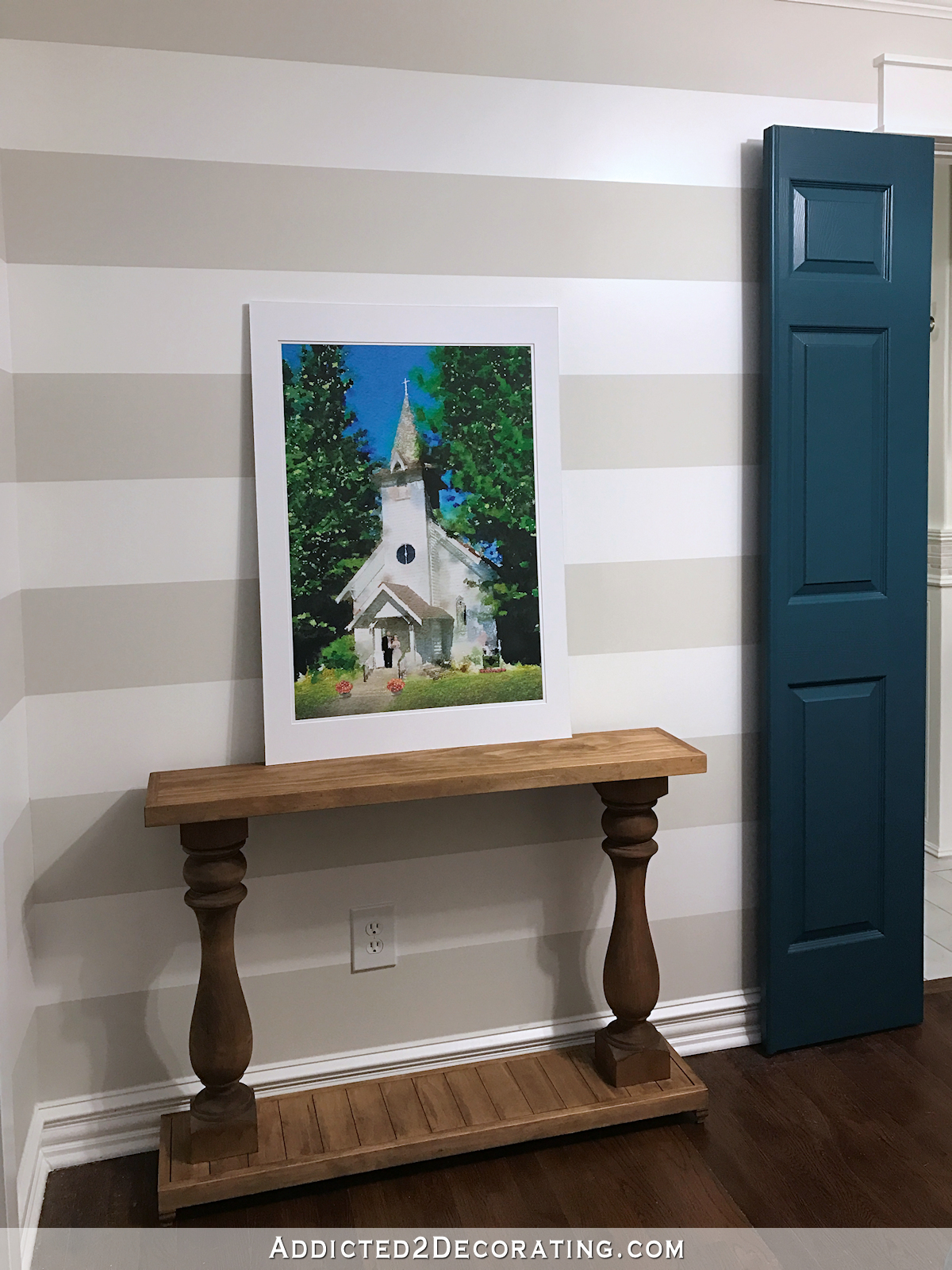 I still haven't found a frame for it. I've searched high and low, both locally and online, but I just can't find anything that's right. And I thought that seeing it in the hallway might make it clear to me what color I need to paint the console table. (I'm definitely painting it. That stain is way too countrified for my taste.) But I just can't seem to make up my mind.
This picture just might be my favorite thing in my house right now. 🙂 I want to find a frame and a console table color that will do it justice, so I don't want to rush any decisions. But at the same time, I'm so excited to see this wall all put together with that "painting" as the star.
Addicted 2 Decorating is where I share my DIY and decorating journey as I remodel and decorate the 1948 fixer upper that my husband, Matt, and I bought in 2013. Matt has M.S. and is unable to do physical work, so I do the majority of the work on the house by myself. You can learn more about me here.