Last Updated on February 26, 2019 by
I got a very late start on the kitchen yesterday, so I didn't get as far on the herringbone tile backsplash as I had hoped.  But things are moving right along!  So I thought I would take this chance to answer some questions I've been getting about tiling in general, tiling a herringbone backsplash, what kind of tile saw I have, etc.
Here is my fancy tile saw. 😀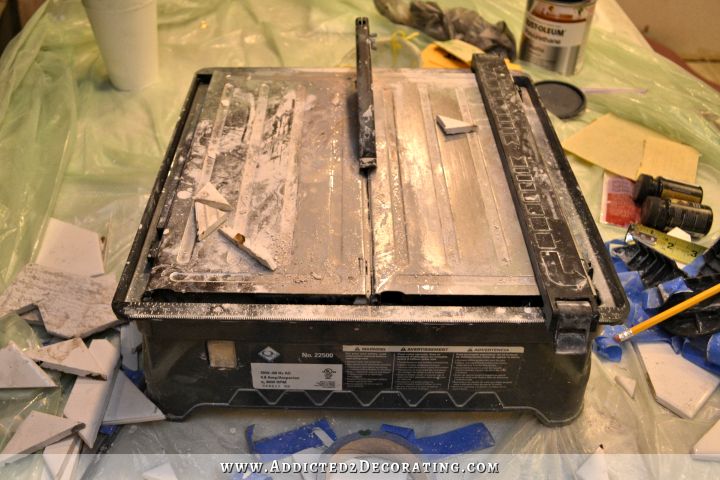 I bought it at Home Depot several years ago (before I did the tile backsplash at the condo), and I think I paid about $89 for it. Obviously it's not really fancy at all, but I've definitely gotten my money's worth out of it. It has served me well over the years.
For cutting angles, it has this miter guide that you can use to slide the tile through the blade at a certain degree. For the herringbone design that I'm doing, all of the angle cuts are 45-degree angles.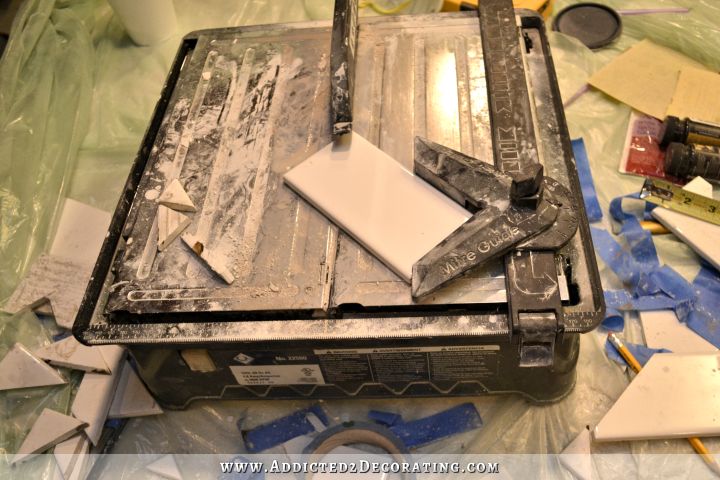 I failed to take pictures along the way during this project, but I'll do my best to explain on my already-in-progress wall. 🙂
How To Install Tile Backsplash
I started this wall by marking a level line about 1/8 inch from the top of the countertop. That space gives some expansion room for the tile, and it'll be caulked when I'm through with the grouting. Then I also measured and marked a vertical line in the middle of the range opening. (Both lines represented by the orange lines.)
I started installing with this tile outlined below, making sure that the bottom corner met the intersection of both lines. I didn't worry about whether or not it was sitting at a perfect 45-degree angle at this point. I just put the tile on the wall and guestimated at the angle for now.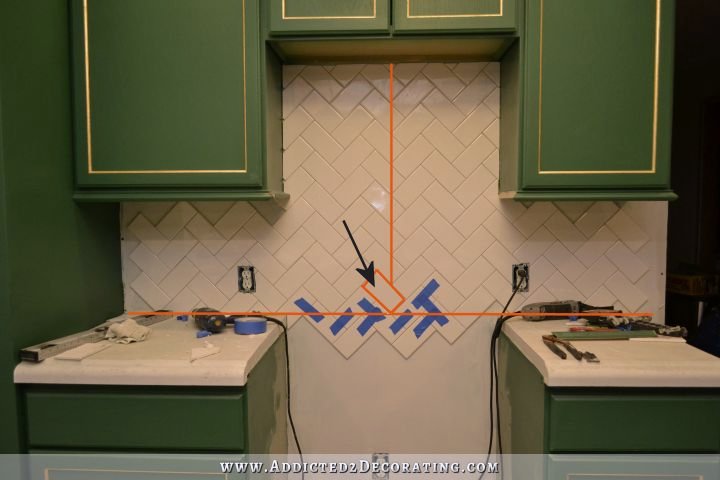 Then I added four more tiles, with a total of three tiles that touched the horizontal guide line. Again, at this point, I wasn't too concerned with them being at the perfect angle. My only concern was that all five tiles were sitting flush with each other. Then I used wide painters tape to tape all five tiles together very tightly (like you see on the tiles below the outlined tile in the photo above).
With all five tiles taped tightly together, I could then move the whole section of five tiles as if it were one solid piece, and get them perfectly lined up with the two guide lines that I had drawn. The four points that needed to be perfectly lined up are shown with arrows pointing to them in the picture below.
===
With those first five tiles now perfectly in place, I could add the rest of that first row of tiles, and then I worked out from there.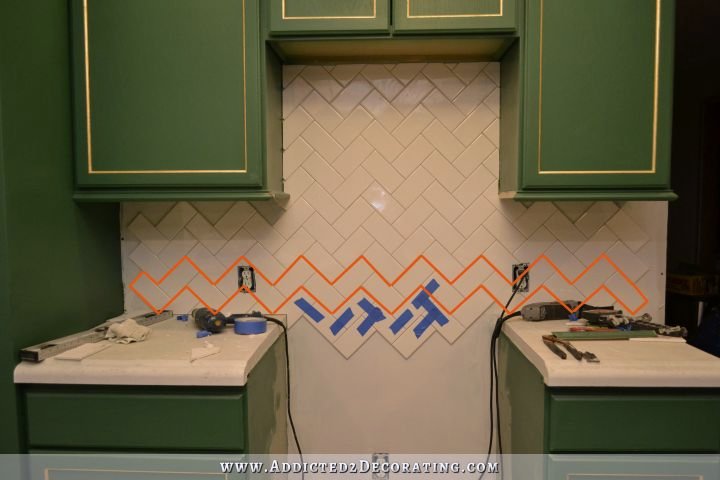 The tiles that needed to be cut look a little intimidating, but just keep in mind that all of the cuts are 45-degree angles. There's no guess work needed with the angles with this design.
So you can see here that I needed several cut pieces to go along the refrigerator enclosure.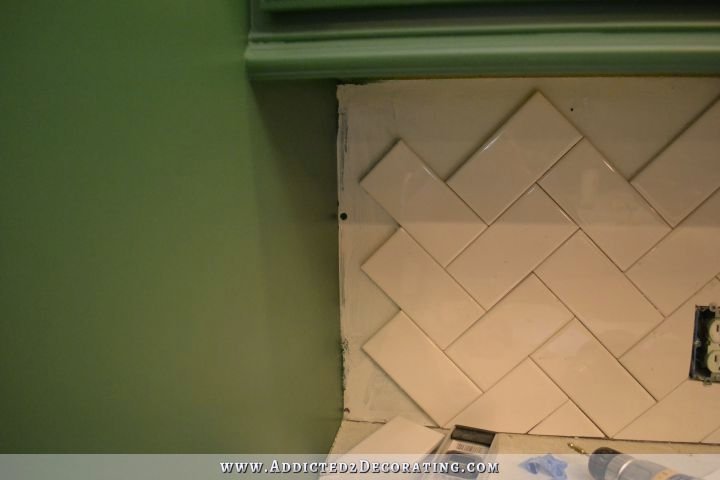 I started by determining which direction the tile needed to be placed, and then I used my tape measure to measure the longest edge. For this tile, I had a measurement of 4 5/8 inches.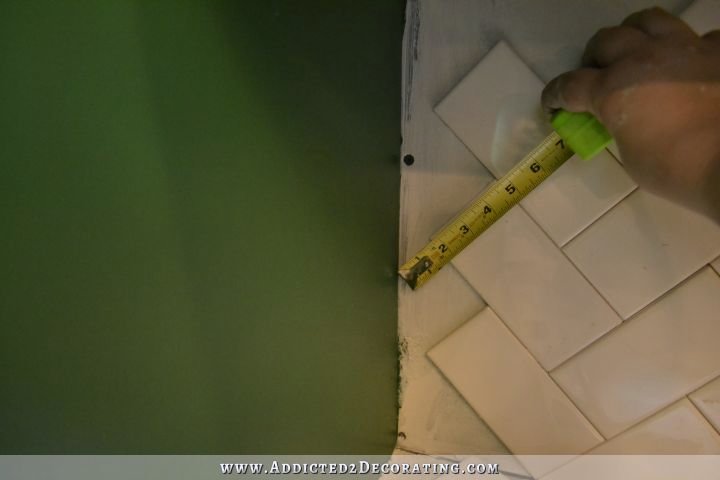 So on a tile, I measured 4 5/8 inches…
And then I placed a guide board (cut to a 45-degree angle with my miter saw) on the tile with the point at the 4 5/8-inch mark.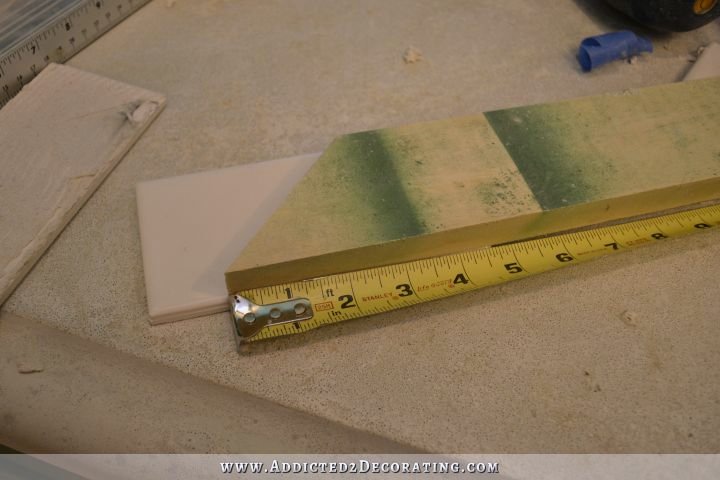 And then I used a piece of painters tape along the edge of the board to mark the cut line.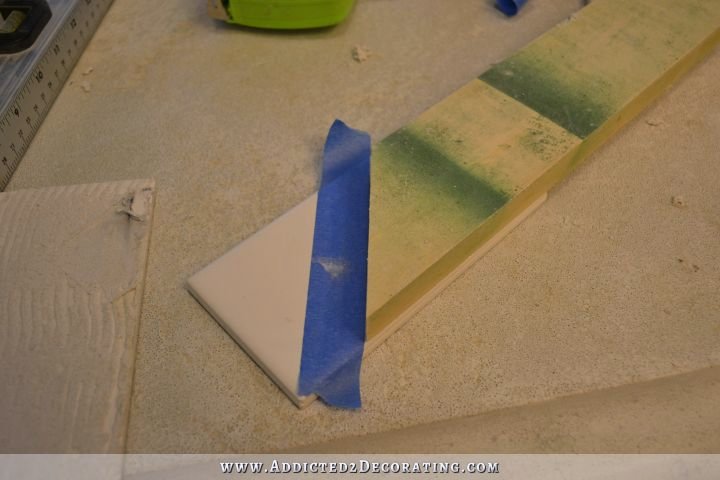 If I only need one of a certain tile, I'll just use the tape as a cutting guide while using my saw.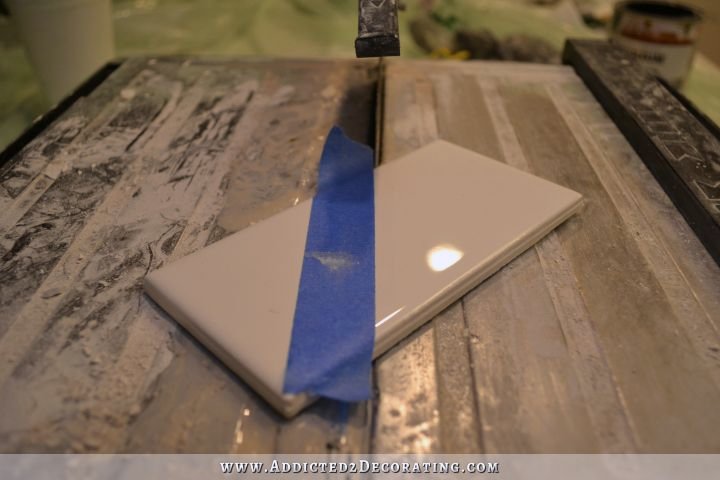 But in this particular case, I needed three of the same tile, so I set up my miter guide to make the cut. That way I didn't have to measure and tape the other tiles since the miter guide was set to the right measurement.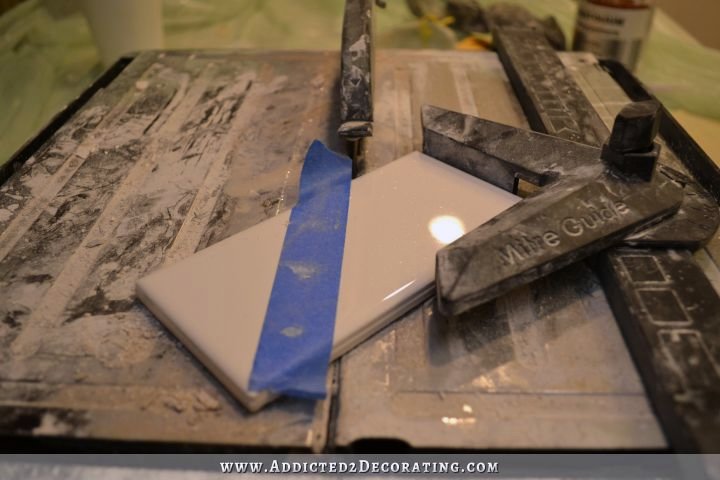 Of course, after I cut the first tile, I check for the correct fit. If it fits, I can go ahead and cut the rest. If it doesn't fit, I can make the needed adjustments, re-cut the tile, and be sure it fits before cutting the rest.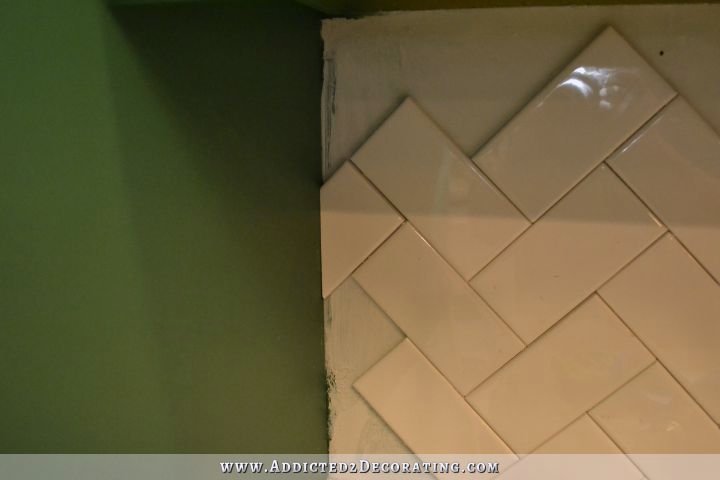 Now here you'll notice that the bottom tile has two cuts — one along the refrigerator enclosure, and one along the countertop.
While I had my saw set to cut these tiles along the countertop, I cut one for the corner as well.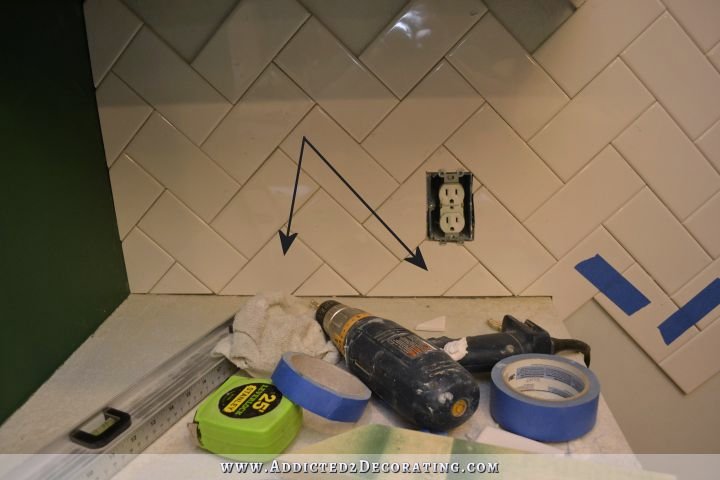 Of course, it didn't fit yet, so I set it aside for the time being. Then when I did these tiles along the refrigerator enclosure, and had the tile saw set to cut that angle, I grabbed the tile that I had set aside and cut the second angle required for that corner piece.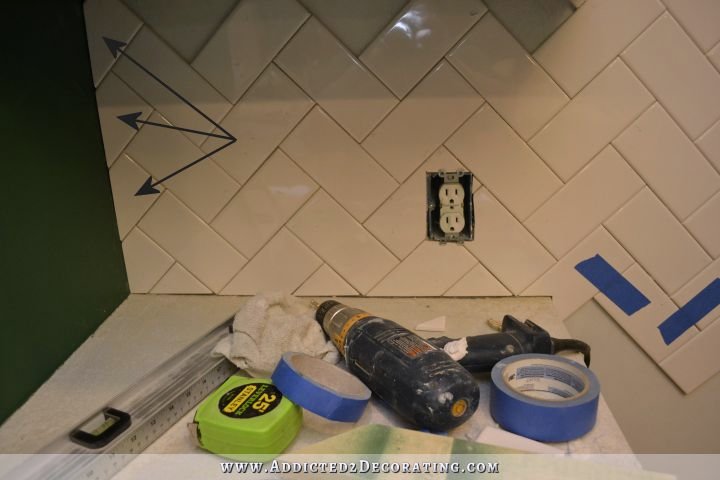 Areas like this can be a bit tricky, but again, they're all 45-degree angles, and it's really not that bad.
I started by borrowing one of the triangle pieces that I had cut for the areas that were along the countertop, and I put it into place.
Then using a long piece of painters tape, I marked the vertical cut line on the tile.
Then I placed that triangle with the tape guide on top of a full piece of tile…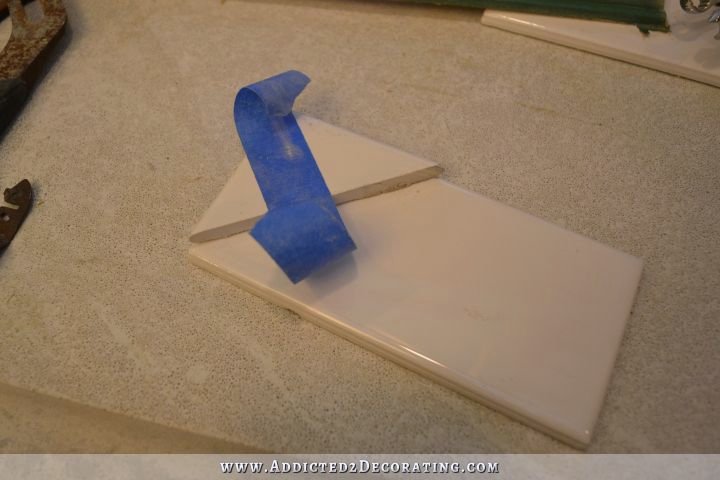 And I carefully transferred the tape to the full piece of tile, being sure to keep the same angle.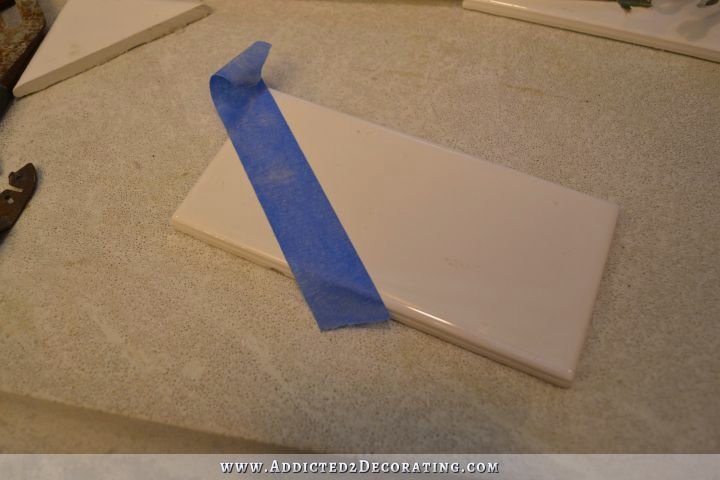 Then I placed the triangle back on the full tile, and marked the bottom with a piece of tape.
That piece of tape was on the wrong side of the cut line, so I used another piece of tape to mark the correct side of the cut line.
And then removed the first piece of tape. That gave me the area that needed to be cut away, as you can see outlined below.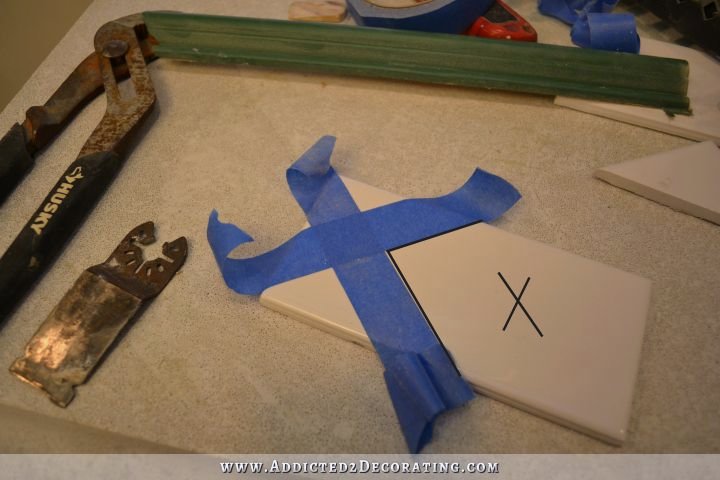 And here's my cut piece…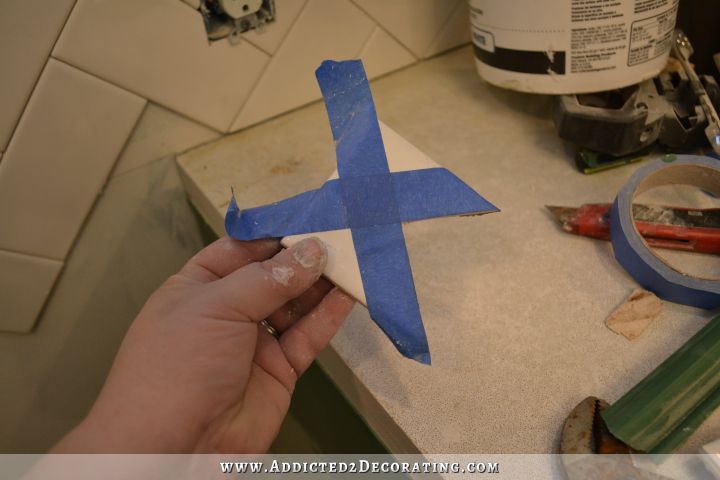 And here it is in place…
And as you can see, once the one difficult piece is in place, the rest of the tiles on that column will only require one cut to fit along the edge of the cabinet.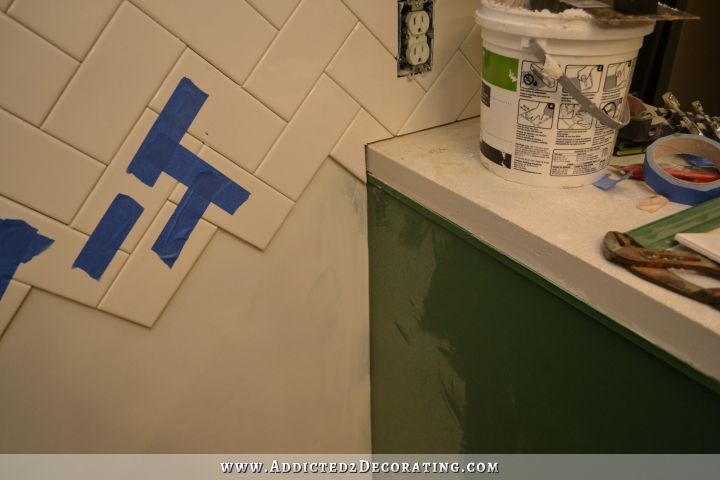 Forgive my dust. I got a bit sidetracked with the floor. 🙂
Anyway, back to tile…
Pieces like this around outlets can also be tricky.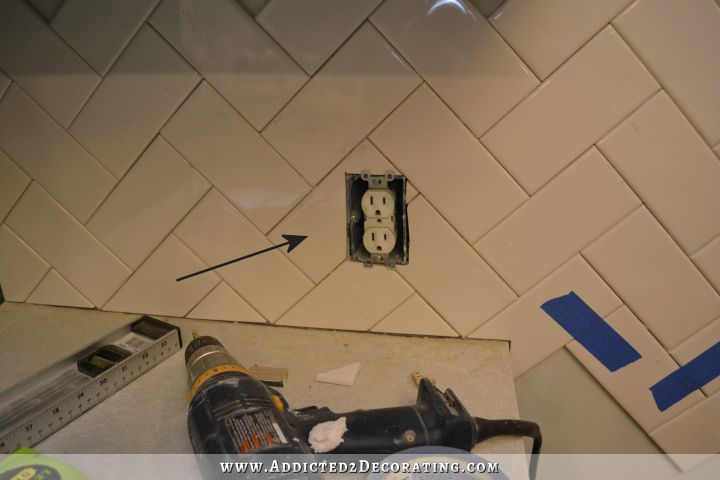 To do that one, I started by holding a tile in place as best as I could.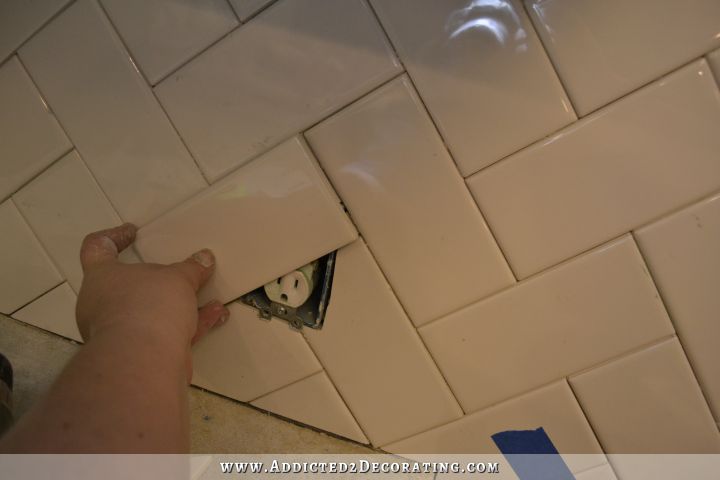 And then I used painters tape and marked the outside edges of the outlet box. I just eyeballed it as best as I could.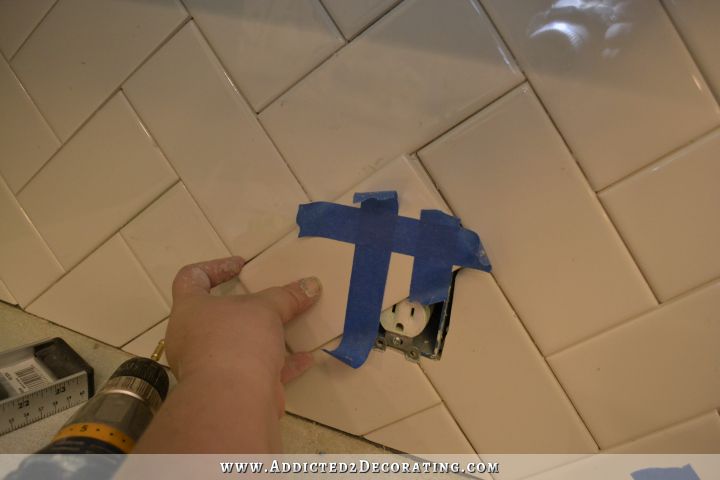 After tearing away the excess tape, I could see the shape of the outlet box, and where I needed to cut. On this particular one, I started by cutting off the tiny triangle on the corner, and then I could easily do the other two cuts.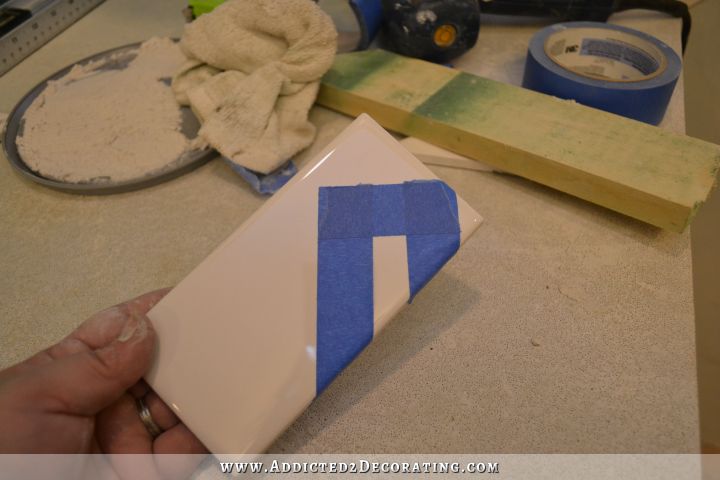 On pieces like this, I almost never get it perfectly cut on the first try. I often have to take it back to the saw a second and even a third time to shave off a little bit more so that it fits perfectly.
And here it is in place…
Now if you have an instance where you have to cut a section out of the middle of a tile like this…
You accomplish that by cutting the two outside edges, and then making a series of cuts very close to each other until all of the middle section is removed.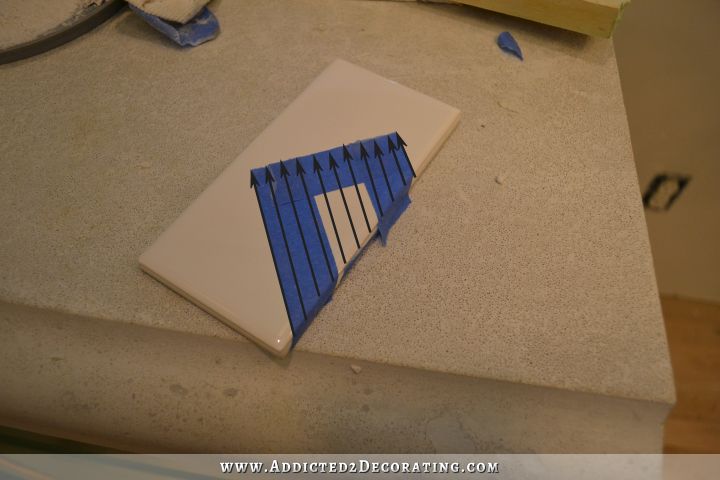 That's the same method I'm going to have to use in order to cut this piece that wraps around the ogee edge on my countertop. I'll have to make a template of the design, transfer that template to the tile somehow, and then use that method I showed you above to cut out the design.
So those are the basics on tiling a herringbone backsplash.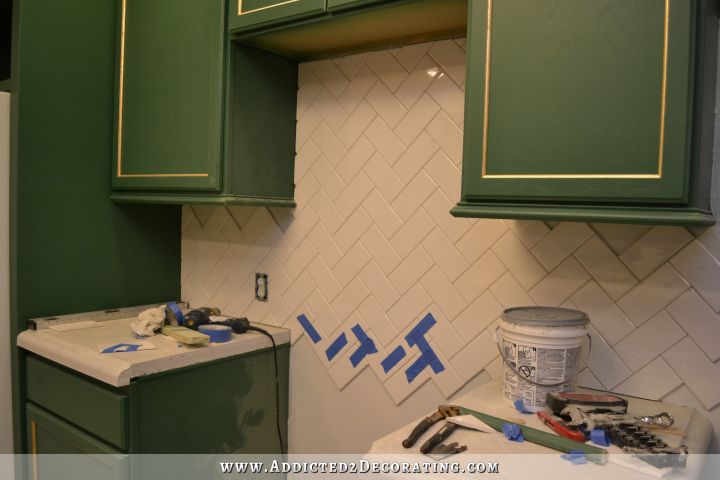 One word of advice. While my cheap tile saw really has served me well over the years, I wouldn't advise getting the absolute cheapest saw available. I'd personally love to get a new one, and while I still don't use a tile saw enough to justify spending several hundred dollars on one, I would like to have one like this.
I'll be back on Monday, and I'll definitely have this wall finished by then. 🙂
Addicted 2 Decorating is where I share my DIY and decorating journey as I remodel and decorate the 1948 fixer upper that my husband, Matt, and I bought in 2013. Matt has M.S. and is unable to do physical work, so I do the majority of the work on the house by myself. You can learn more about me here.
I hope you'll join me on my DIY and decorating journey! If you want to follow my projects and progress, you can subscribe below and have each new post delivered to your email inbox. That way you'll never miss a thing!