Last Updated on December 24, 2015 by Kristi Linauer
Fair warning…this post is going to be a bit rambling.  My thoughts and ideas are pretty scattered, but hopefully I can get them all narrowed down to one great idea for my kitchen.
I've just about given up on the idea of a back painted glass backsplash for my kitchen.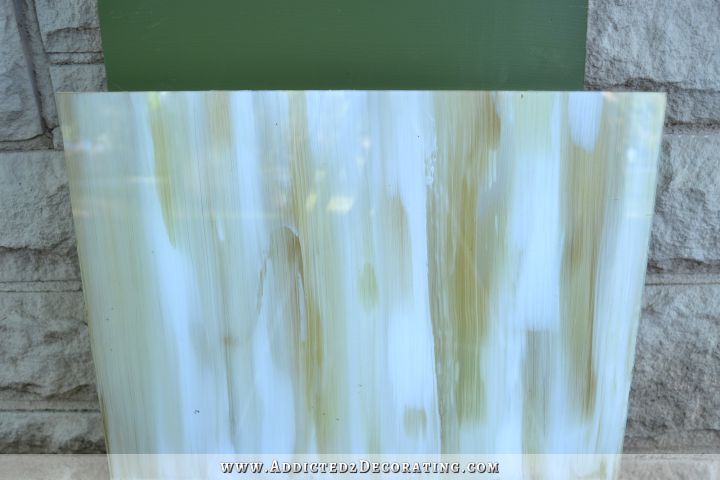 I still love the idea, and if I were satisfied with a solid color backsplash, I'd press on with the idea.  But once you move on from the solid colors to a back painted design on glass, things get a lot trickier.  I've practiced and practiced, and I just can't get it to look right.  I'll get it to where I absolutely love how it looks on back, but then flip it over and the actual part that matters — the part that can be seen through the glass — doesn't look nearly as pretty.  So I can just imagine myself wasting two months of my life trying to get an entire 10-foot length of glass just right.
I know some of you suggested painting on the wall, and then putting the glass over it, but that would give a completely different look from back painted glass.  Every bump and uneven area in the wall would show, and might even cast shadows.  There's no way that a piece of glass would sit perfectly flat against a 10-foot stretch of wall in a 65-year-old home with lots of quirks.  Texture in the paint would show through the glass.  It's just a completely different look than what I would get from back painted glass, which results in a completely and perfectly smooth look, regardless of whether or not the wall is perfectly smooth and flat behind the glass.
But somehow along the way, I've gotten it into my head that I need something soft and subtle on the backsplash that won't compete with the green cabinets.  But let's face it, this brass backsplash is bold and in your face.
Cameron Diaz's Manhattan apartment kitchen as featured in Elle Decor
And it's that bold look of not only the cabinets but also the backsplash that drew me to this kitchen in the first place.  So I've decided I need to go bold or go home.  Well, you know what I mean.
I also found another kitchen with very similar qualities on Houzz. This kitchen belongs to Iron Chef Jose Garces, and also has dark cabinets and an unlacquered brass backsplash. I also like that his kitchen gives an idea of what white countertops (mine will be white concrete) and white appliances will look like with dark cabinets, although his cabinets are black and mine will be green. And of course, his stove alone costs many times more than all of my appliances combined. 😀
Modern Kitchen
Now here's the deal. I could buy two sheets of brass, attach them to my backplashes, and call it a day. But that's not really what I want. I mean, I do like the bold look of the backsplashes in the two kitchens above, and I want that same boldness in my own kitchen, but there's just something about a solid piece of brass that doesn't quite appeal to me for my own kitchen.
(By the way, if you want to DIY yourself a brass countertop or backsplash, it's very do-able. There are many places online that sell sheet brass, and will even cut it to a custom size. Then you can find very helpful tutorials online, like this one, and adapt those to your brass countertops or backsplash. It's definitely a more advanced DIY project, but it's one that any really experienced DIYer could do.)
The issue for me is that I like pattern.  Specifically, I love herringbone.  And I just can't shake this idea that I want a herringbone backsplash.  I've been toying with the idea, but when I saw Ayisha's DIY herringbone chest, my jaw hit the floor.
That design meets so many of my "wants and needs" for my kitchen.  Of course, I think that herringbone design is outstanding.  I also love that it's wood.  Y'all know how much I love wood!  There's just something so warm and inviting about wood, and truth be told, I really miss my butcherblock countertops that I had in the condo.  So this would definitely add some of that warmth of wood into my kitchen that I've been missing.  The coloring is gorgeous.  It definitely has those brass and golden tones to the wood which I think would look beautiful with my brass sconces and main light.  The variations in the colors are gorgeous, giving it that "not too dark, not too light" look.
There's so much I love about it!!  The problem?  She used IKEA Skoghall deck tiles for this project, which of course, have been discountinued on their website, and I don't really have an IKEA close.  Sad Kristi.  🙁
So I'm kind of back to the drawing board.  I haven't given up completely.  Ayisha said that even though the Skoghall tiles aren't on the website, she found lots of them in the store near her, so it might be worth a drive to Austin or Dallas to see if they have them.
I've also toyed with some other ideas, like purchasing some brass metal leaf and creating my own "tiles" that I would then use to make a herringbone design.  I did find some brass leaf that would work.
But how do you seal metal leaf?  And if it's sealed, does it look different?  And would it be durable enough to use as a backsplash?  I'm guessing probably not, but I don't have any experience with metal leaf, so I don't know for sure.  And again, I just don't think I like the idea of metal as much as I like the idea of wood.
I also looked at all kinds of brass metal tiles.  Most of them all have such a cold, stark, and modern look to them, which I absolutely do not want in my kitchen.  I did find one that I thought had a really nice textured look to it, almost like metal leaf.
I've requested a price quote on it, and I have a feeling it's going to be quite expensive.  If it were something I absolutely loved, I might consider paying more and just considering it a splurge, although even on a splurge backsplash, I still wouldn't pay more than $20/square foot.  (I'm not opposed to splurges on something that I absolutely love.)  But honestly, I'm not sure that I like penny tile that much.  When I find a penny tile I like, it always looks so good up close, but from a distance it kind of loses its appeal.  Actually, penny tile really loses its appeal to me when I look at it from a distance.
Update:  I just got the quote for the tile above, and it's $41.45/square foot.  That's more than I would pay for even a splurge backsplash on something that I absolutely loved, so obviously that's out of the question.
So that's where I'm at on this backsplash decision.
I want the boldness of the brass backsplash, the warmth of wood, the pattern of herringbone, and I want it to be durable enough for a kitchen backsplash.  I don't want the coldness of metal, and I don't really want ceramic or porcelain tile of any kind.  It needs to coordinate flawlessly with my green cabinets and brass lighting fixtures.  It needs to be bold, without demanding so much attention that it's the star of the show.
Surely I'm not asking too much, am I?  😀
Addicted 2 Decorating is where I share my DIY and decorating journey as I remodel and decorate the 1948 fixer upper that my husband, Matt, and I bought in 2013. Matt has M.S. and is unable to do physical work, so I do the majority of the work on the house by myself. You can learn more about me here.
I hope you'll join me on my DIY and decorating journey! If you want to follow my projects and progress, you can subscribe below and have each new post delivered to your email inbox. That way you'll never miss a thing!