Last Updated on December 24, 2015 by Kristi Linauer
My weekend was all about tile.  And more tile.  And installing a vent hood, and then more tile.  And installing door facings, and then more tile.  And more tile.
So far I've gone through six boxes of 100 subway tiles, and I've still got plenty more to do.  When I left you on Friday, the backsplash behind the stove looked like this…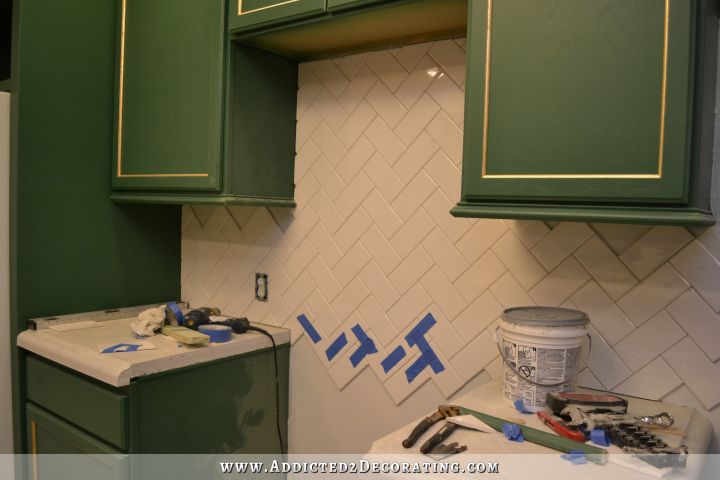 And now it looks like this…
I tiled all the way to the floor because my momma told me to.  🙂
I still haven't grouted any of the tile (except for the backsplash on the wall of cabinets, which I did several days ago), so I'm hoping to do that today and get the range moved back into place.
You can see that I also installed the range hood.  It's nothing fancy — just a simple stainless steel range hood.
And yes, the selection of stainless steel was completely intentional. 🙂
I love mixed metals in a room, and when I decided to gold leaf the cabinet doors, I did so knowing that I already had lots of stainless steel in the room (all of the handles on my dishwasher, refrigerator and range, the big knobs on my range, and my faucet), and that the two would have to live side by side.  Actually, it's three different metals that I have — stainless steel, gold leaf, and antiqued brass.  I know that look isn't for everyone, but I love it.
Also, when I was trying to decide what kind of range hood I wanted in my kitchen (since the GE Artistry appliances don't come have a matching range hood, but only have a matching above-the-stove microwave), I was very much inspired by Bailey's kitchen at Peppermint Bliss.  I loved her very simple stainless steel range hood, and I also loved how she mixed metals in her kitchen.
Via Southern Living
Of course, her simple stainless steel range hood sits above a range that I'm pretty sure costs more than my whole kitchen remodel. 😀
Anyway, I also got the entire wall opposite the wall of cabinets tiled, with the exception of the cut pieces around part of the perimeter.
And I also got quite a bit of the tiles installed around the doorway.
I did run into one problem that I'm going to have to correct.  I thought I had planned it just perfectly so that the line between the herringbone and the running bond tiles would clear the bottom trim on the upper cabinets with plenty of room to spare.  Well, I didn't.  And I also found that the cabinets on the wall of cabinets are hung just a bit higher than the other cabinets.  *Sigh*  Oh well.  You can see where the dividing line hits on the refrigerator wall cabinets.
But on the wall of cabinets, the dividing line runs right into the bottom trim on the upper cabinets.  That won't work.
So to correct that, and hopefully camouflage the fact that the cabinets are hung at slightly different heights, I'm going to remove the bottom two rows of running bond tiles, and move the dividing line up.  That means that I'll have to do that on the wall of tiles also so that everything is at the same height.  But that's just a half of a step back considering all of the steps forward I made this weekend.  No big deal.  🙂
And several of you have asked me how I was going to do the trim around the door.  What I ended up doing is adding strips of lattice (which you can see in the photo above) that are approximately the same thickness as the tiles around the door opening, and then I tiled up to that lattice.  The lattice will give me some additional area to nail the door trim to.   And fortunately, that made the width of the door facings an exact 5.5 inches, which is the width of a 1 x 6 piece of lumber.  It worked out perfectly!
I also installed a lattice strip at the bottom of the wall so that I'll have something to nail a baseboard to.
And as an aside, you can really see how bad the floor is in that picture above.  Lots of that is just dust, but see how the whole floor has yellowed?  And then there are areas that are darker and more amber in color.  That's definitely a far cry from how this floor looked right after I painted it.  It was so bright and clean looking, and now it's just yellow and dirty looking, with random darker areas.  Lesson learned for sure.
After my whirlwind weekend, my kitchen looks like a tornado went through.
Can you imagine trying to work in there?  😀
I kept telling myself that I could work so much more efficiently if I'd just take an hour or so and throw away the trash and put the tools away, but I didn't want to stop tiling.  So I just pressed forward through the mess.
But today, this will be top priority on my "to do" list.  Working in such a mess really does slow me down…obviously.
I'm pretty sure I pulled out every power tool I own, plus lots of little tools, to get things done this weekend, and I didn't put a single thing back when I finished.  Sometimes I think of how nice it would be to be able to hire someone full time for the specific purpose of following me around all day long and picking up, throwing away, and putting things away in an orderly manner when I'm done with them.  When I win the lottery, I'm gonna do that.  There's no telling how much I could get done in a day if I didn't have to spend half my time looking for tools that have gotten buried in the mess!  😀
And finally, I put three coats of Waterlox on the floor that I had sanded in the area where the range will sit.  I wanted to get that done so that when the range is in place and hooked up, it won't have to be moved again.
I had set up a fan to blow on it to speed up the drying time because Matt has been asking me for two weeks how much longer it would be until we can start cooking at home.  I told him that the range would be in place and the kitchen would be usable by the end of the weekend, but try as I might, I just couldn't get it done.  I came so close, though!  And fortunately, I'm married to one of the most gracious and understanding men in the world, so he was okay with it taking an extra day or two.  🙂
All I need to do at this point is grout that wall, move the range in, and clean up the mess, and we'll actually have a usable kitchen!
My goal is to have the kitchen completely finished in two weeks.  What do you think?  Can I do it?  I guess we'll see!  Step up and place your bets!  😀
Addicted 2 Decorating is where I share my DIY and decorating journey as I remodel and decorate the 1948 fixer upper that my husband, Matt, and I bought in 2013. Matt has M.S. and is unable to do physical work, so I do the majority of the work on the house by myself. You can learn more about me here.
I hope you'll join me on my DIY and decorating journey! If you want to follow my projects and progress, you can subscribe below and have each new post delivered to your email inbox. That way you'll never miss a thing!