Last Updated on December 24, 2015 by Kristi Linauer
First things first.  I finally have some green paint on the refrigerator wall of cabinets.  I got everything primed, and then one coat of green on the cabinets.  I'm going to do some fine sanding today (220-grit sandpaper) and then do the final coat today, and I'm hoping that I'll even be able to get the clear coat on this evening.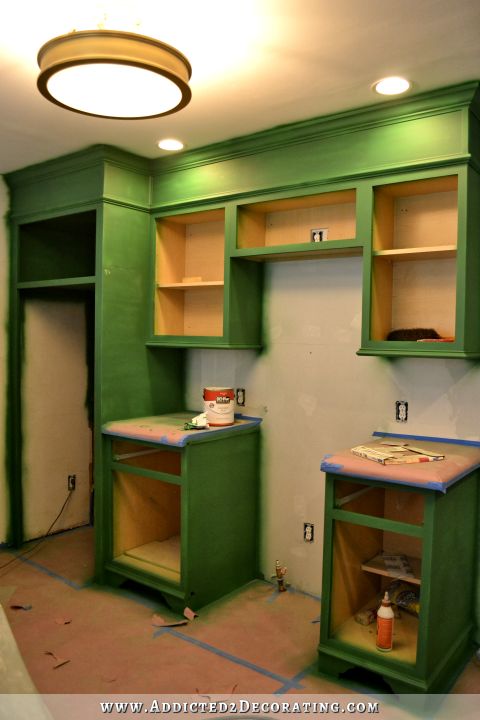 My progress has been so much slower than I had hoped because it is hotter than blazes in this kitchen, and I can hardly stand to spend more than an hour at a time in there.  As y'all know, we don't have central HVAC in our house (yet), so we're still reliant upon window unit air conditioners.  (It's Texas.  Going without is not an option, even if that means having not-so-pretty air conditioners in the windows.)
The kitchen and breakfast room don't have a dedicated air conditioner.  It's generally pretty comfortable in there when the doorway is opened up and cool air from the sunroom and living room is able to reach the kitchen.  But right now, since I'm doing so much sanding and spraying, I have the doorway covered with plastic.  And with temps outside hovering just around 100 degrees (and the heat index hovering just above 100 degrees), it gets so unbearably hot in that kitchen with absolutely no air circulation at all.  It would actually be more comfortable working outside where at least the breeze and fresh air would give some relief from the heat.
So I'm doing what I can.  I might need to just go get another A/C and install it in a breakfast room window just so that I can get work done, especially considering that the worst (August) is yet to come.
I also learned, and want to pass along, an important lesson about air compressors.  When you're not using them, it's very important to drain them and then leave the little valve on the bottom wide open so that it can "breathe" in there.
I made the mistake of leaving my air compressor turned on after the last time I used it (several days ago), and leaving everything sealed up and hooked up.  What happened is that condensation collected in the tank, and yesterday as I was spraying the cabinets, the moisture from the tank would randomly come through the hose and mix with the paint that was being sprayed, making it very runny.  You can see on the side of the refrigerator cabinets that it resulted in some large areas where the paint sagged and ran down the cabinet.  That's not from the paint sprayer.  It's from the compressor.
So lesson learned.  I'll make very sure I always drain the tank and leave the bottom valve open every time I'm finished using it from now on.
Okay, now on to my floor.  I'm sure at least a few of you are ready to grab me by the neck and shake some sense into my head just for even thinking about redoing my kitchen foor…for the third time.  But just hear me out.  🙂
So first, a refresher on what the painted floor looks like with the cabinets.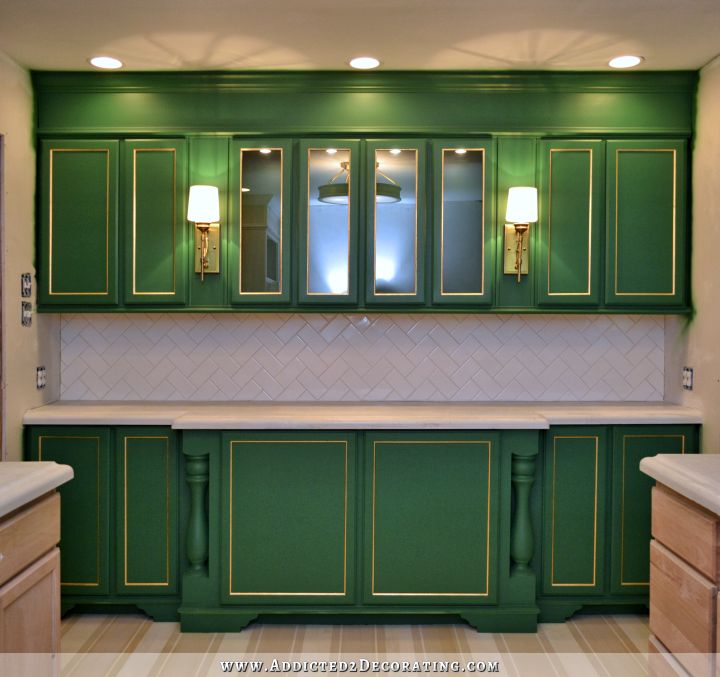 Now for my reason for redoing my floors.  Let's just say this floor has been a very hard DIY lesson learned, but it's one that I've definitely learned and I can guarantee you I'll never make this mistake again.  Here's what happened…
As you'll recall, I started out with a totally different painted floor design that had only part of the floor painted, and the other part left with exposed wood.  Then I used Waterlox (the oil-based sealer that I used on the rest of the hardwood floors in the house) to seal the entire kitchen floor.  Being an oil-based product, it has an amber color to it rather than clear. Waterlox is also a penetrating product that soaks into unfinished wood, rather than just sitting on top like polyurethane.
Well, you know the story.  The day after I did that floor, I hated it, and spent the entire day sanding it down and repainting it.
But here's where I got myself into trouble — the dreadful DIY mistake that I made.
I sanded and repainted the floor waaaaaay too soon after having used the Waterlox on my floor.  Sanding off the stuff on the surface of the wood was not enough to remove all of the Waterlox.  There was still quite a bit of Waterlox that had soaked into the wood, and although I couldn't see it because I thought I was sanding everything off, it was still there, lurking just under the surface.
So combine the fact that Waterlox had soaked into the wood with the fact that Waterlox takes 24 hours to dry, and there I was, sanding the floor down and repainting it only about 10 hours after I had put Waterlox on it, and it was just a recipe for disaster.  The floor didn't stay looking as pretty and perfect and bright and clean as it does in that picture above, because after it was painted, the still-wet Waterlox in the wood started coming to the top in places and really messing up the pristine look of the painted design.
Had I just waited a couple days to sand and repaint, everything would have been fine.  But I got in a hurry, and my hastiness resulted in a floor with overall yellowed paint colors and with really distorted, streaky ambered paint colors in some areas that look perpetually dirty.
You can kind of see what I'm talking about here, although seeing a small picture of it is quite different from seeing it in person.
Those areas are all over the floor, and it's absolutely driving me crazy.  I won't…I can't…live with my floor looking like that, reminding me each time I walk into my kitchen of my DIY mistake and how my hastiness messed up my floor and ruined 13 hours of hard work.  Every time I remove paper from another area of the floor, and see the distorted colors, I just get so disappointed.  I wish I could show you the worst places, but they're covered with paper right now since I've been spraying the cabinets.
So I am going to redo my floor, and now that I have some of my cabinets finished and can see what the painted floor looks like with the cabinets, now is my opportunity to really get it right.  If the painted floor is the right option to go with my cabinet, that's what I'll do.  But if they're not quite right, I'll consider something else.
I would seriously love your input on this.  I know so many of you said that you really loved my painted floor (version 2) after I did it.  And I love that painted floor also.   But do I love it for my kitchen?  With those cabinets?  I'm honestly not sure.  I feel undecided every time I look at it.  Would a floor just like the rest of the house work better with the cabinets?
Please share your thoughts.  I will have one more chance to get this right.  Whatever I do next will be the last time I redo my floors.  For sure.
Addicted 2 Decorating is where I share my DIY and decorating journey as I remodel and decorate the 1948 fixer upper that my husband, Matt, and I bought in 2013. Matt has M.S. and is unable to do physical work, so I do the majority of the work on the house by myself. You can learn more about me here.
I hope you'll join me on my DIY and decorating journey! If you want to follow my projects and progress, you can subscribe below and have each new post delivered to your email inbox. That way you'll never miss a thing!