Last Updated on October 6, 2017 by Kristi Linauer
So I'd like your input on two things…
Item #1
Last night, I was reading comments on yesterday's post about floor stain colors (spoiler alert: I'm going with the 50/50 mix of Dark Walnut and Special Walnut, and at the urging of a few commenters, I think I've changed my mind about opting for water-based poly instead of Waterlox this time, but we'll see), and I was also reviewing and revising my list of 2017 house goals. And I'd like your input on something.
A few people asked something like, "Kristi, why are you refinishing your floor NOW?"
Well, to me it just makes sense to do it now. Or at least I think it does. But I've never lived through a house remodel done by pros, so sometimes I'm just completely guessing at the order in which things need to be done. And then you add in my penchant for willingly and knowingly doing things out of order just because I feeeeel like working in this thing instead of that thing, and I have the potential to create a real mess of things. Heck, perhaps I already have and I'm just not self-aware enough to realize it! 😀
My thought was that all of the "remodeling" stuff is done in the entryway, living room, music room, and kitchen. In the hallway, breakfast room, and pantry, all of the really messy stuff is done (drywall, taping, mudding), and for the most part, all that's left is installing some trim (baseboards, door/window casings, crown moulding). And isn't it easier to refinish floors before installing any trim that will touch the floor, like door casings and baseboards?
Now the pantry and hallway obviously require some additional building. In the pantry, I'll be building cabinets…
Lots and lots of cabinets. And then in the hallway, I'll be building a hall tree. Isn't it easier to refinish the floor before adding cabinets? If I don't do the floor first, then that means that in the pantry, the cabinets will be sitting on raw wood. I can't quite put my finger on why I think that's a bad thing, but it just seems like the floor should be completely sealed before cabinets are placed on it. Is that not right?
And other than the pantry cabinets, hall tree, and trim in the breakfast room and pantry, the only other potentially messy thing is painting (cabinets and walls). Y'all know I don't like using drop cloths, but that doesn't mean I'm incapable of using drop cloths.
So looking back on my 2017 list of house projects to do, it looks like these are the projects I could possibly finish up before I refinish my floors…
Install new doors on the bedrooms
Finish up trim (baseboards, door/window casings, crown moulding) in the hallway, breakfast room, ,kitchen and pantry
Build the hall tree
Refinish the kitchen countertops
Build the vent hood in the kitchen
Finish the trim on the back of the peninsula (breakfast room side)
Build and install the pantry cabinets
Build the pantry countertop
Make and install the pantry doors
Install exterior door in the bedroom (I added this to the list, and it's a must before I refinish the floors)
Another thing I've considered is going ahead and sanding down the floors now, before I install more baseboards, cabinets, hall tree, new doors, and anything other new thing that a floor sander could bump into and scratch, ding, or destroy, and then putting down that thick red paper over the sanded floor while I tackle all of the projects listed above. Then when those projects are finished, I can take up the paper and do the staining and sealing last.
So please, if you've been through an extensive remodel that included either new site-finished hardwood floors or refinishing existing hardwood floors, tell me at what point you (or your contractor) tackled the actual finishing of the floor. Before cabinets were installed? After? Before trim (casings and baseboards) were installed? After? I really need this to be the last time I deal with these floors, so I want it done right. But adding a bunch of additional obstacles to have to work around while sanding doesn't really make a whole lot of sense to me.
Item #2
Give me your honest opinion about the paint color on my upper cabinets…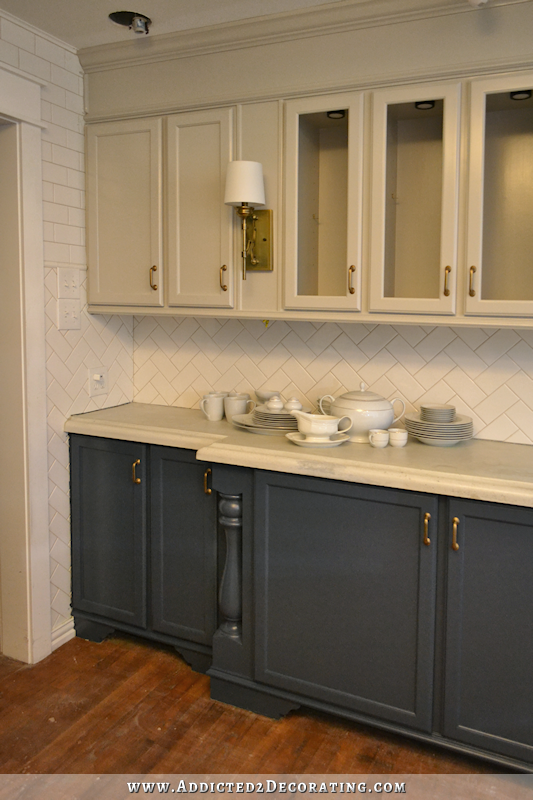 When I chose that color, I wanted to try something other than white, but I knew I was taking a gamble that might not work out. And I honestly can't figure out if it'll work out. Sometime I like it. Other times I think it looks dingy. I can't decide if it's because my countertop still looks so dingy (it'll eventually be whiter and brighter), or if I just chose the wrong color and would do better with something a big darker with more contrast with the white tile. Or perhaps two-color kitchen cabinets look great in magazines, but in reality, they're just not quite "me," and maybe no neutral color I use will work for me and I should just paint them blue.
Please give me your honest (but kindly worded) opinion on that upper cabinet color. I don't want to do any more painting in here until I know exactly what needs to be done with those upper cabinets. Do I press on with this color and trust that it'll look good once the countertops are white? Do I need more contrast with a slightly darker gray/greige color? Should I just paint them white?
Do I just need to paint them blue and forget the two-color cabinet plan?
Addicted 2 Decorating is where I share my DIY and decorating journey as I remodel and decorate the 1948 fixer upper that my husband, Matt, and I bought in 2013. Matt has M.S. and is unable to do physical work, so I do the majority of the work on the house by myself. You can learn more about me here.
I hope you'll join me on my DIY and decorating journey! If you want to follow my projects and progress, you can subscribe below and have each new post delivered to your email inbox. That way you'll never miss a thing!