Last Updated on July 11, 2016 by Kristi Linauer
Well…*sigh*. Yes, I'm redoing my dining table again. If you're keeping count, this will be #4. 😀
The issue I have with this table isn't the style. It's a farmhouse style table, and I love farmhouse tables. It's what I want for my dining room. So scrapping this table and buying a new one in a different style won't solve the problem.
My issue is the finish. If you'll remember, I made this table using the top from a table that I purchased for dirt cheap on Ebay.
And then I added a new apron and legs to basically create a whole new table. You can see that project here.
And then I sabotaged my whole project. This is where things went off the rails. I had wanted my table to look something like this…

Harvest Dining Table from Williams Sonoma
…but perhaps with a medium-toned stain on it instead of the yellowish look of that table.
Something more like this…
…but less of an ashy color and more of a warm brown.
How many times have I had a plan in my mind, but then decided to try something else instead? And how many times has that ever worked out for me? Not many. I almost always revert back to my original plan. The important question here is…when will I learn? 😀 Probably never. I'm pretty stubborn like that.
So rather than proceed with my vision, I went a different direction. I had a good reason. (I always think I have a good reason for veering off path.) My reason was that I was working with two different woods — the pine of the apron and legs, and then the mystery wood on the table top — and the chances of me being able to stain the two woods to look exactly alike were probably slim to none. So I didn't even try.
And I could kick myself for not even giving it a good try! What's the harm in trying?! The worst thing that could have happened is that it wouldn't have worked out, and I'd have to move to Plan B. But then at least I'd know for sure that Plan A wouldn't work.
But as it stands now, I have no idea of Plan A would have worked, because I didn't even try. I skipped right over Plan A, and went directly to Plan B…
…and then Plan C…
That fact is that I could have painted that base every color under the sun and it wouldn't have made me like it, because it was the table top that really disappointed me. No matter what stain I used, it turned orange.
So I moved on to a completely painted table with Plan D…
And as soon as I moved that Plan D table into the dining room on Monday after the floors were good and dry, I just knew it wouldn't work. I didn't even bother to get a good picture of it, because there just wasn't a chance.
That's just way too much white in that room, and I'm a big believer that every room needs some natural/stained wood to add warmth. Plus, the last thing that this room needs is more rectangles, so the detail on the table top wasn't working for me at all.
So without even giving it a second thought, I got out the paint stripper and other supplies, and stripped one side of the table top. But I really had no idea where to go from there. I actually really liked the bare wood, and thought I could just seal it. I tried an oil-based polyurethane, and it turned it orange. (That's been my biggest issue with this table top from the beginning. Whatever wood this is turns orange with every stain and finish I've tried, with the exception of just painting it.)
Then I tried water-based poly, since that's supposed to keep the natural color. It also turned it orange. You can see that on the bottom left corner of the table top on the photo below. Then I tried the vinegar/steel wool mixture, and it turned it an awful ashy gray color with purple undertones. This picture actually makes it look about ten times better than it looks in person.
But even if any of those had worked on the table top — the vinegar/steel wool, the oil-based poly, or the water-based poly — they wouldn't have worked the same on the pine apron and legs. So I was kind of right back where I started.
So I headed to Home Depot one last time to peruse all of the stain products, and I came home with two different products. One was Minwax Polyshades, which is evidently a surface treatment (as opposed to a penetrating stain) that is a mixture of stain and poly in one step. I tried that many years ago when it first came out, and wasn't really impressed. I remember that it dried too quickly and left all kinds of brush strokes and uneven finishes. Of course, it's possible that the formula has been greatly improved since it first came out, but I still wasn't too excited about using it.
The second thing I got was Minwax Gel Stain in the Hickory finish. I've also used gel stain a few times, but it's been many years. It's never been one of my favorite products, but since I've had no success with any penetrating stains on this table top, I had nothing to lose. And if I'm going to get this mystery wood top and the pine base to look the same, a gel stain is probably my best bet.
So I tried a small part of the top, and I think it might work! The color is actually really beautiful, and not a bit of that ugly orange in sight!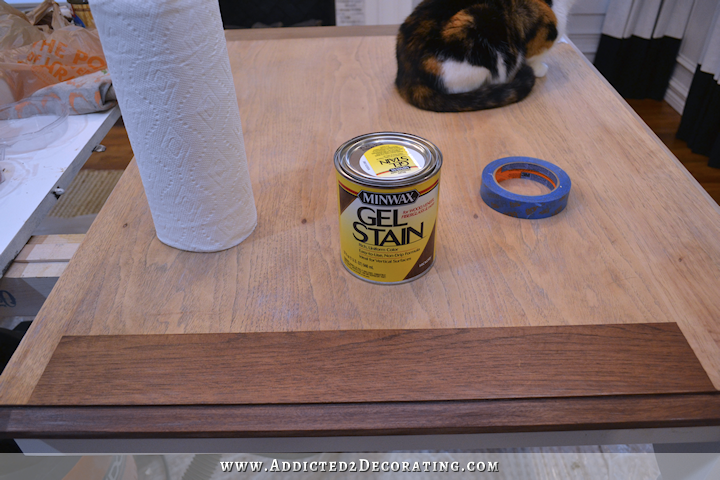 Now I'm just crossing my fingers that it will work on the pine base and make the two woods look at least almost the same.
Do any of you have experience with gel stain? What do you think? Do you think it'll work to make these two woods look uniform?
If not, it might be time for me to admit defeat, and turn this table over to a professional to get the finish I want. But I will give it this one last try. 🙂
Addicted 2 Decorating is where I share my DIY and decorating journey as I remodel and decorate the 1948 fixer upper that my husband, Matt, and I bought in 2013. Matt has M.S. and is unable to do physical work, so I do the majority of the work on the house by myself. You can learn more about me here.
I hope you'll join me on my DIY and decorating journey! If you want to follow my projects and progress, you can subscribe below and have each new post delivered to your email inbox. That way you'll never miss a thing!