…what would you want to learn?
This is a question that's been tumbling around in my head for a couple of weeks now, but I finally decided that I should just ask all of you!
Back in the summer of 2013, I wrote a post in which I mentioned that one of my dreams would be to host one- or two-day workshops, geared specifically towards women, where I teach…something. This idea is always at the back of my mind, and resurfaces every few months. But a couple of weeks ago when my mom was at the house to see the progress on the carport, we turned around to head back inside the studio. The French doors at the back were wide open, and my mom said, "Kristi! I can just envision you in there teaching workshops!"
Oh, how I would love that!! I will definitely have the room for it once the studio is done.
And if those workshops require the use of power tools, I now have the perfect outdoor space that can accommodate several people and several power tools.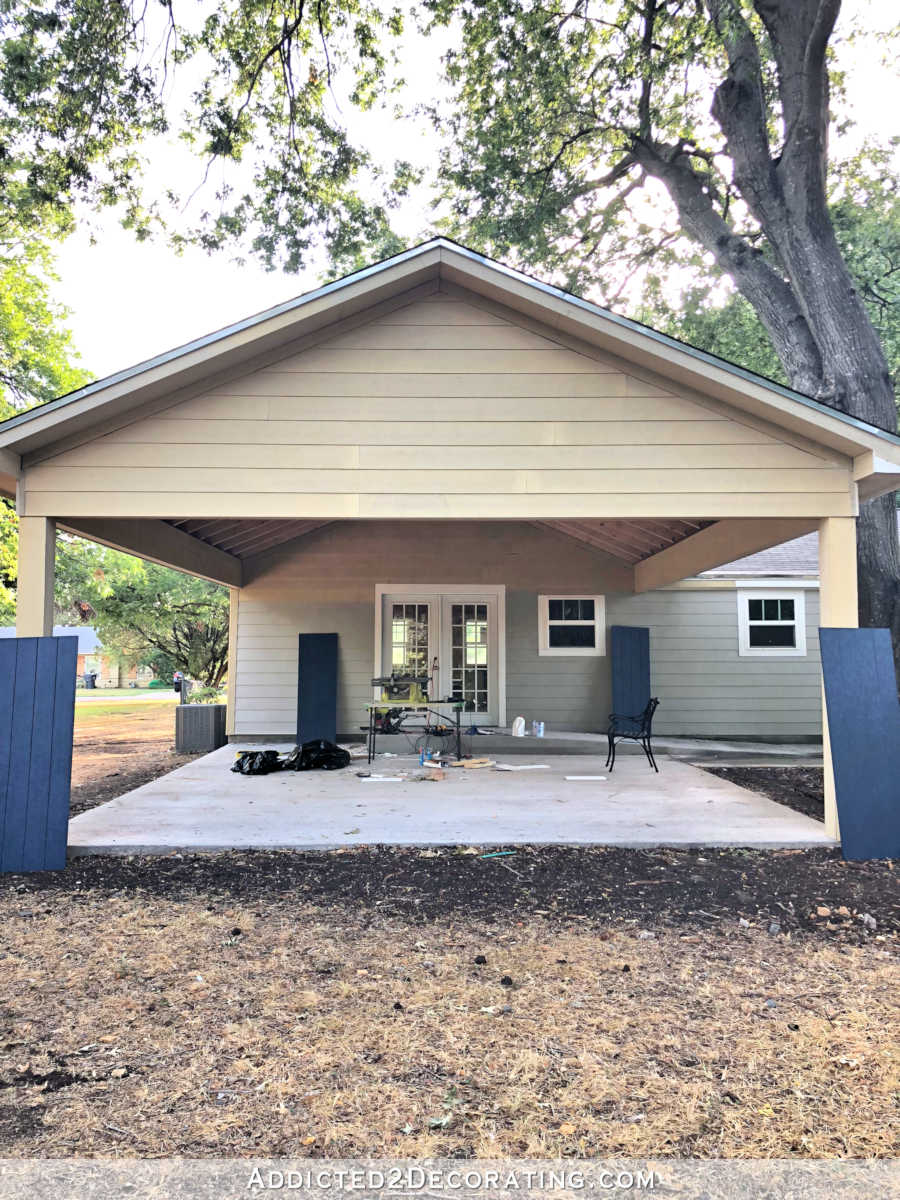 (Side note: Those shutters are now installed. You can click here to see them if you missed it.)
Ever since my mom said that, it has been at the forefront of my mind. What a dream that would be! Over my years of blogging, I've had so many people ask me if I would ever do workshops, and I've had many more mention that they wish they could just come and hang out with me and learn as I work on my projects.
This idea of hosting small groups in my home, sharing, learning, and laughing together, just makes me smile. It's a dream I've had for a while now, and it's something that I actually see as a possibility in the future.
But then I ask myself, "What the heck would I teach?"
If you've read my blog for any amount of time, you know that I love all sorts of things — building, upholstery, sewing, painting, general home improvement. So how does one go about boiling that down into an actual hands-on workshop? I honestly have no idea how to go about it. But this is definitely an idea I want to develop further, because I just think it would be so much fun! And if I can pass on things I've learned over the years to other people, and instill confidence in people to head back home and dive into those projects that they didn't think they could do, then it would be so worth it to me. And did I mention that it would be fun? 😀 I envision lots of laughter, lots of good food, and new friendships along the way.
So I thought I'd bring the question right to all of you. If you were to come to a one-day or two-day workshop taught by me at my house, what would you want to learn? This post and those of you who answer will serve as my first focus group. 😀 I look forward to seeing what y'all have to say, and I can't wait to start developing this idea further and seeing what I (or we) can come up with!
Addicted 2 Decorating is where I share my DIY and decorating journey as I remodel and decorate the 1948 fixer upper that my husband, Matt, and I bought in 2013. Matt has M.S. and is unable to do physical work, so I do the majority of the work on the house by myself. You can learn more about me here.
I hope you'll join me on my DIY and decorating journey! If you want to follow my projects and progress, you can subscribe below and have each new post delivered to your email inbox. That way you'll never miss a thing!