Last Updated on October 26, 2019 by Kristi Linauer
My brother, Rod, came over yesterday to help me out with some things around the house, as he does pretty much every Sunday afternoon. And at some point, we got to reminiscing about all of the projects we've tackled together on my house. The fact is that this house wouldn't be as transformed as it is today without my brother. Certainly other people have helped me along the way as well — my brother-in-law Bill, my sister Cathy, my father-in-law, my mom. But Rod has definitely helped me on more projects on my house than anyone else.
And that's kind of funny, because when my brother walked through the house for the first time back in 2013, before Matt and I had closed on the house, I asked him what he thought of it. His response was, "Ha! Well, I'm just glad it's you and not me."
Little did he know. 😀
Yes, little did he know at that time that he would soon be helping me take down a wall between the kitchen and breakfast room…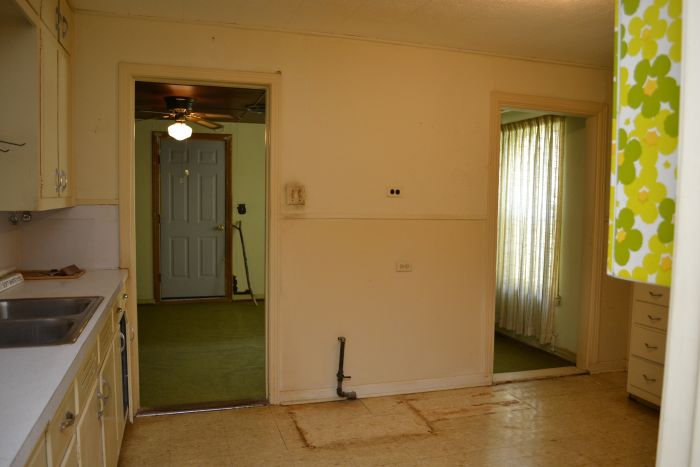 …and installing a new header.
And little did he know that soon after that, he'd be helping me pour the concrete countertops in my kitchen…
There's no way I could have mixed and lifted all of that concrete myself. Absolutely no way.
There's also no way I could have installed the plywood subfloor in the breakfast room and pantry all by myself…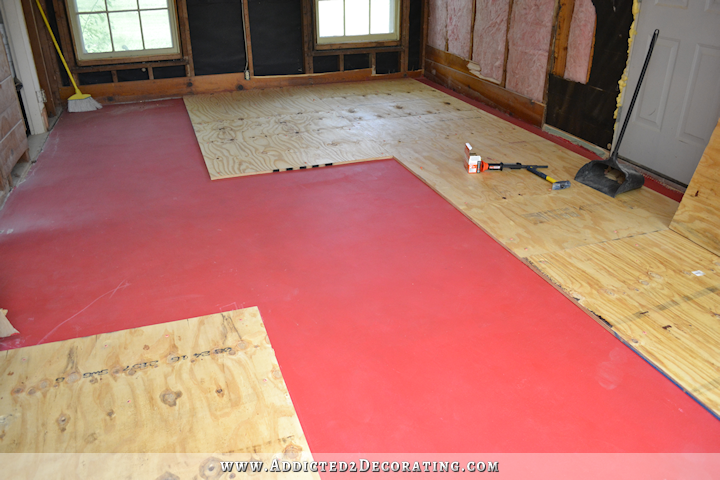 But the biggest project we tackled in the breakfast room and pantry was removing the front and back walls completely, reframing the walls, and installing new windows.
Without Rod, my front porch wouldn't look like it does today. He helped me with the most tedious, frustrating, and hardest part of that project, which was getting all of the risers cut, leveled, and screwed into place.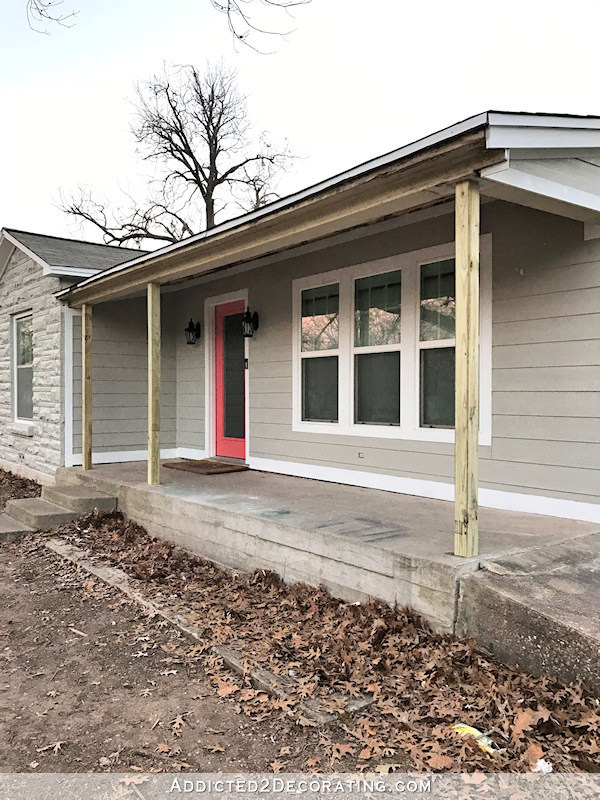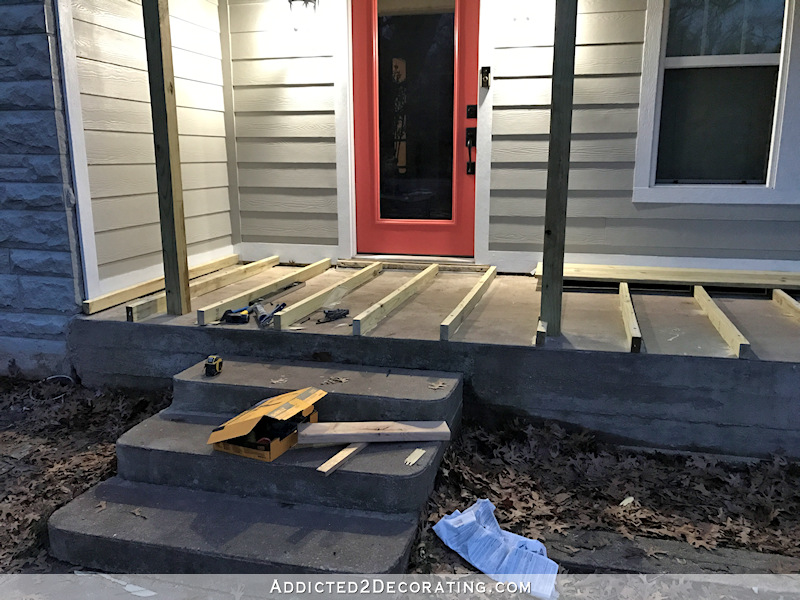 Those risers gave me something to screw the porch boards to, and allowed me to end up with a level front porch.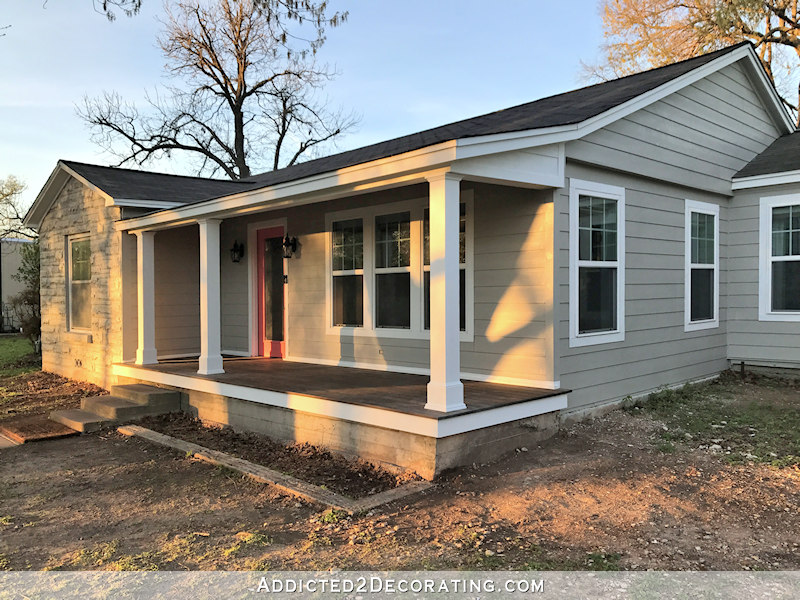 And then there's the portico…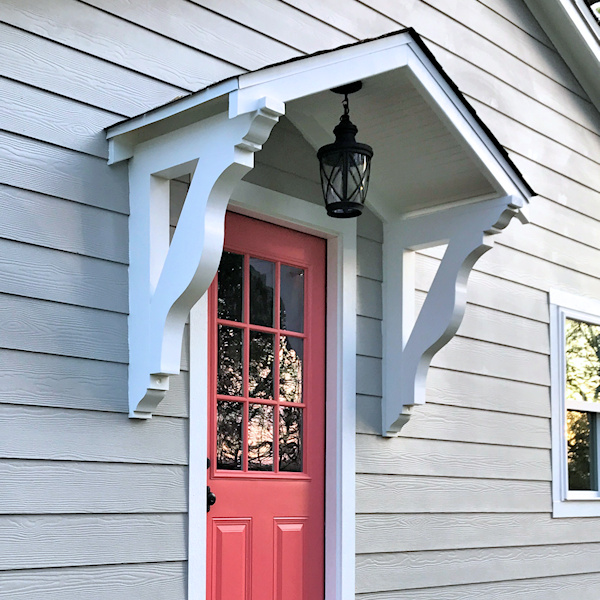 I built the basic structure on the ground, but he helped me lift it into place, then helped me remove the temporary brackets and install the very heavy decorative brackets when those arrived. And then he helped me install the decking, flashing, and shingles on the roof of the portico.
And most recently, he helped me get all of my junction boxes installed for lights and switches in the studio, and run all the new wiring for six new circuits all the way across my attic, from one end of the house to the other, so that I could actually have electricity in my studio, half bath, closet, and carport. It's still not wired yet, but what's left is the easy part. Getting all of that heavy wiring unrolled, measured, cut, and then fed from one end of the house to the other was the hard part.
And those are just the highlights. That doesn't even include the countless times he's come over to do smaller projects, like help me organize the sunroom so it'll fit all of my tools, or help me hang the exterior shutters, or help me clear out this area or that area so that work can be done, or move furniture, or do any number of other smaller projects.
The fact is that the progress on my house wouldn't be as far along as it is without his help. I'm just so thankful for all of the help he's given me over the last few years. Little did he know five years ago that my project house would, at times, become his project as well, but he has graciously lent a helping hand when I've needed it, regardless of how big or small the project is.
I think we're a pretty dynamic duo. Perhaps some house flipping should be in our future. 🙂
Addicted 2 Decorating is where I share my DIY and decorating journey as I remodel and decorate the 1948 fixer upper that my husband, Matt, and I bought in 2013. Matt has M.S. and is unable to do physical work, so I do the majority of the work on the house by myself. You can learn more about me here.
I hope you'll join me on my DIY and decorating journey! If you want to follow my projects and progress, you can subscribe below and have each new post delivered to your email inbox. That way you'll never miss a thing!