Last Updated on February 14, 2019 by Kristi Linauer
So here's the status of my breakfast room: nothing has been done.
I'm so frustrated, y'all. This is why I DIY so much myself. Because waiting around for contractors to return calls, and then have time in their schedules to come give me bids, is the most frustrating part of this whole process to me.
I told y'all about the floor leveling guy who came out and took a look at my floor. He was awesome, and full of incredibly helpful information, but couldn't help me with my floor. Fortunately, he said he knew a guy who could do the work. Awesome! He said he would have the guy get in contact with me. So I waited.
Two days later, I hadn't heard back from him, so I texted. The next day, I still hadn't heard back, so I called. There was a message on his phone saying that he was out with pneumonia. Obviously that was out of his control, so I decided to give it a few days. A week later, I texted him, and got a response immediately from someone in his office saying that he was at a doctor appointment, and they would have him call me as soon as he got out. So I waited. And…no phone call.
I called first thing yesterday morning, and someone at the office said they'd have him call me. I didn't actually hear from him, but at least someone at the office did call me back and give me the man's contact info. I called the man immediately, and he said he'd stop by late afternoon/early evening to give me an estimate. At 6:00 he still wasn't here, so I called. He said he had gotten busy somewhere else, so he'd have to reschedule. He's supposed to come this afternoon, so we'll see if that actually happens.
And this is precisely why I hate relying on other people. I want this stuff done immediately. Heck, I wanted it done two weeks ago. And yet, here I am two weeks later, still with nothing concrete nailed down, no estimate, no start date, and no idea when the floor will be level and ready for me to install the hardwood floor.
If he flakes out on me again, or tells me he can't get to it for a couple of weeks, I'll do the leveling myself. Because at this rate, it'll be November before any work is actually started on the room.
Anyway, I guess one good thing about having to wait is that it gives me a lot of time to plan. I came across this beautiful picture the other day, and I can't get it out of my head!
It actually reminds me of my music room!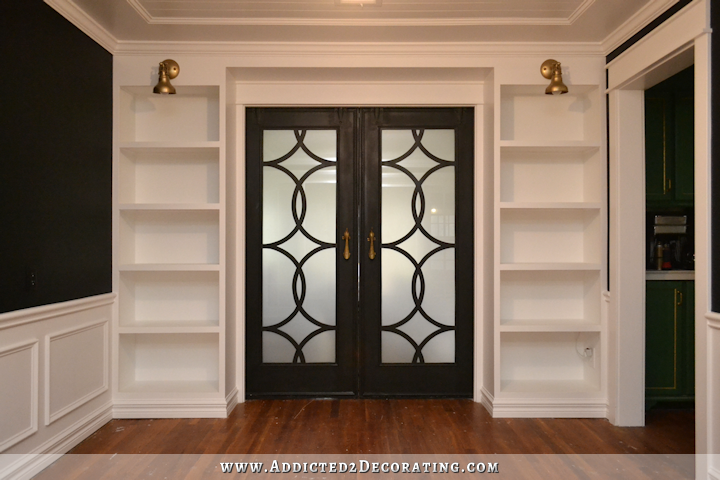 I don't think I'll have enough room in my breakfast room for shelves like that, and I can't really imagine that I'd need them. They be right in line with my wall of cabinets in the kitchen…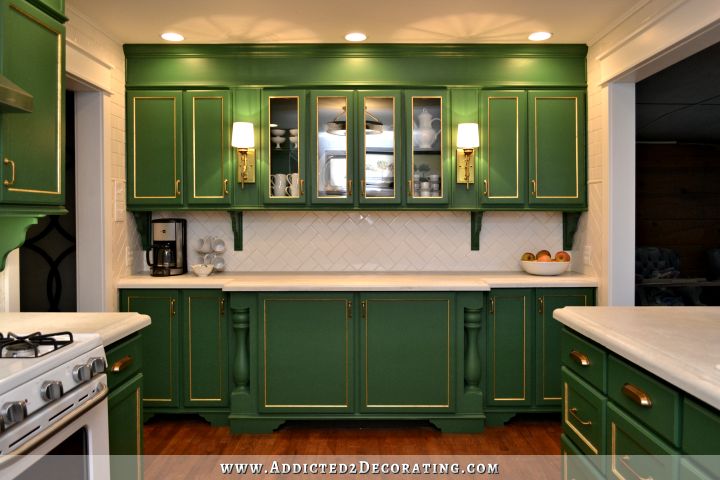 …and I think it would be too much having that wall of cabinets in the kitchen right in line with a wall of shelves in the next room.
But there are a few things I do love from that top pantry picture, and that I'll probably use on mine. I really like the look (and ease of use) of a pocket door, and the glass in the door keeps the room looking open and spacious rather than closed off and small. Here's another beautiful example, although my room is much smaller with a lower ceiling. But even so, I do like the idea of a pocket door with glass.
And while I prefer the look of the double pocket doors in the first picture (because…symmetry), I just don't know how practical that is. Even with my brain's incessant need for symmetry, I think from a practical standpoint, I'd hate myself for putting double pocket doors on my pantry, especially if they're so narrow that both doors MUST be opened in order to get through them. One large pocket door is definitely more practical.
And on the wall directly ahead through the pantry door, I also envision a pretty built-in lower cabinet with a spacious countertop and lots of electrical outlets where I can plug in and use appliances that I don't need on my kitchen countertop, like my food dehydrator. Having that tucked away in the pantry, where it can stay on for hours while not cluttering my kitchen will be great!
So in addition to quite a few electrical outlets around that countertop straight through the door, I also want a few more scattered around.
My main essential in the pantry is a full-size freezer. At one time, I wanted a large chest freezer in there, but based on the input of so many of you, I've decided to go with with a full-sized upright freezer.
When I remodeled my kitchen, to be honest I wasn't much of a cook, and didn't really see myself using my kitchen that often. Well, things have changed. I cook very often, and use my kitchen just about every single day. And what I've realized after two years of using my kitchen is that I have no need for a freezer in my kitchen. I do stock up on meat when I find a good price, and Matt likes to buy meats from U.S. Wellness Meats, so he buys large quantities when he makes purchases. But I don't need access to those things right in my kitchen on a daily basis.
What I do need is more fridge space. Matt and I eat mostly fresh foods prepared fresh every day — lots and lots and lots of veggies. Every time I get back from the store with veggies for that week, I run out of fridge space. So what I'd like to do is eventually sell my current fridge, and replace it with a full fridge (no freezer). Then I'll have my freezer separate in the pantry.
So other than those things — lots of outlets around the countertop for small appliances, and one outlet for the freezer — I can't think of anything else I'd need an outlet for. I'll go ahead and put one outlet in each wall, which seems pretty standard in any room of a house, but am I missing something important? Something that would need a special outlet (i.e., special height, special location) in a walk-in pantry?
I know people use their pantries in different ways, but I just don't want to miss something. The roof over that room is quite a bit lower than the rest of the house, so I'll need to be sure I get all of the electrical outlets I want in place before the ceiling drywall goes up. Once the drywall goes up, there won't be enough room under the eaves in the attic for a person to fit in order to add more electrical in the future if I get this wrong. I'll have one shot to get it right, and that's it.
Oh, and several of you suggested possibly using a transom window at the top of the back wall to let in a bit of light. I found a pantry that actually has one like that.
I like it! So we'll see where I land on that decision. I need to get my windows ordered ASAP, though, so I do need to make a decision soon.
Update:
My pantry is finished! Want to see the entire project from start to finish? You can find every single post about the pantry build right here…
Or you can skip to the end and see how it turned out. Here's a peek of the finished pantry…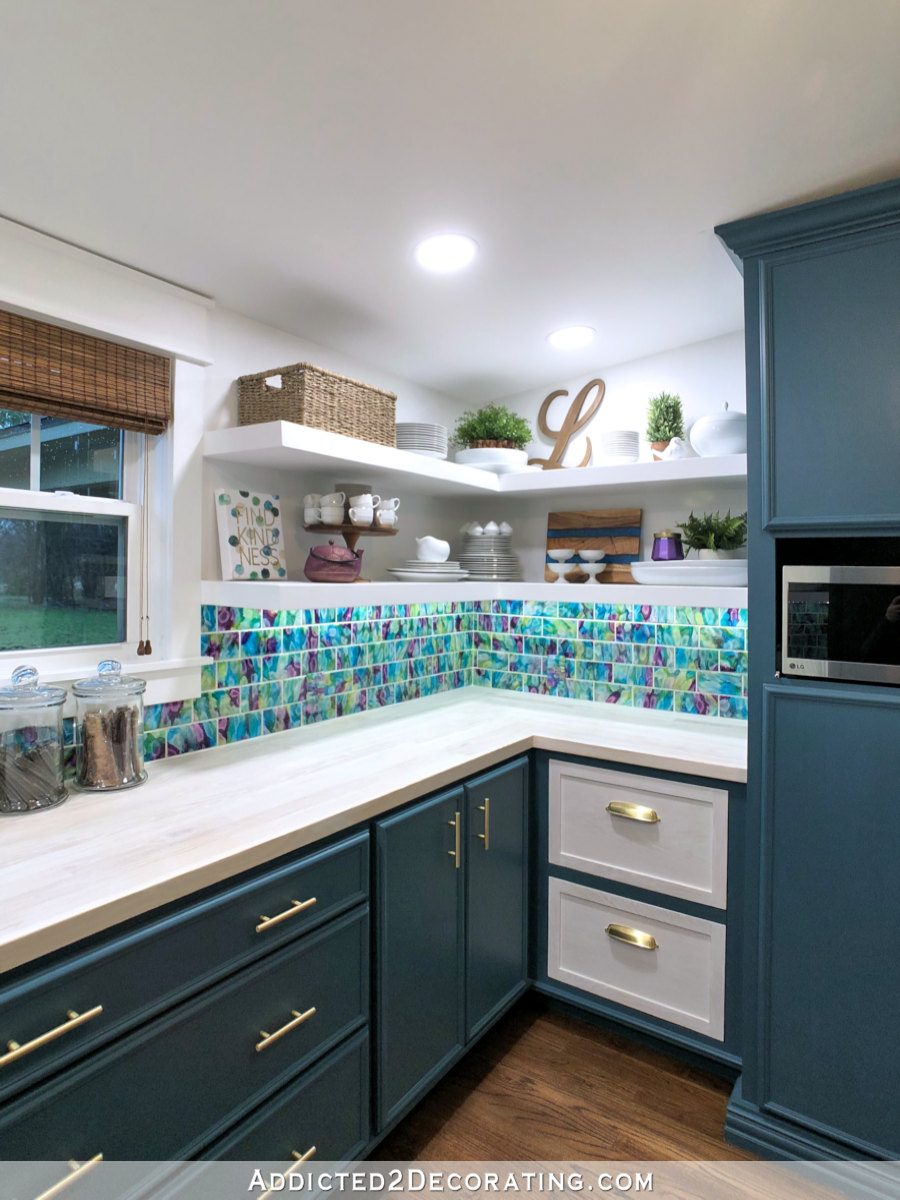 You can see more pictures on the before and after post right here…
Addicted 2 Decorating is where I share my DIY and decorating journey as I remodel and decorate the 1948 fixer upper that my husband, Matt, and I bought in 2013. Matt has M.S. and is unable to do physical work, so I do the majority of the work on the house by myself. You can learn more about me here.
I hope you'll join me on my DIY and decorating journey! If you want to follow my projects and progress, you can subscribe below and have each new post delivered to your email inbox. That way you'll never miss a thing!