The Post Where I Reveal Too Much About Myself (and a bit of kitchen progress)
My sweet husband bought me a ceiling light for the kitchen. And not just any light, but the light that I had wanted for the kitchen, but was too cheap to buy myself out of my decorating money. (I only get so much decorating money each month, and it has to stretch the whole month, so it's generally pretty hard for me to pull the trigger on buying splurge items that take up a significant amount of my decorating money.)
Anyway, here's the light that he bought me…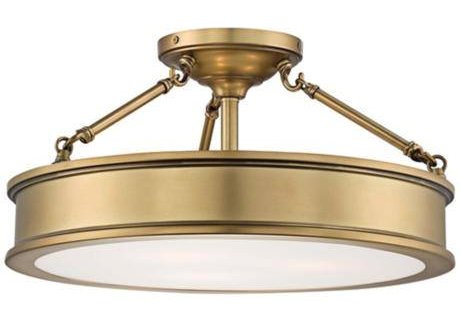 So my goal for yesterday seemed simple — remove the rest of the 1 x 4's from the kitchen ceiling that the polystyrene ceiling tiles had been attached to…
…add about 100 more drywall screws so that the damaged drywall doesn't come crashing down on my head, mud the holes and cracks…
…prime and paint the ceiling, and install my beautiful new light.
That seems reasonable, right? No. Of course not. (Remember, I suffer from Wonder Woman Syndrome, where completely unreasonable goals seem perfectly reasonable in my mind.)
Now I know what you're thinking. Kristi, why are you going to install your light now? You've just barely started on this room! Shouldn't you wait?
No. No, I shouldn't wait. 🙂
I've already shared that I do things in an order that makes absolutely no sense to anyone but me. I'm very inefficient, and very often do things in an order that makes later tasks more difficult. But I do things in the order in which I feel inspired. Since I do 95% of this work by myself, doing things as I feel inspired is pretty much the only way I can keep myself motivated to continue.
So anyway, I got the boards removed with no problem.
And then I thought I'd just give everything a quick scraping to remove all of the loose debris, quickly mud everything, set up some fans, and before too long, I'd be ready to prime and paint.
Yeah…scraping. That's when things went from bad to worse. The ceiling near the current sink wall is just a complete mess, and the more I touched it, the more drywall crumbled and fell off.
Now again, I know what you're thinking. Kristi, shouldn't you just replace the drywall?
Yes. Yes, I should. But I'm not going to. And my reasoning is simply that I don't want to.  I'll do virtually anything to avoid installing drywall.  😀
Plus, I've learned that drywall mud can work miracles, so I'm not going to let a little crumbling drywall defeat me.
But the drywall on the other end of the room looked pretty good. The only thing wrong with that side was that the drywall tape that had been used on the corners (where the wall meets the ceiling) was loose. I thought I could just attach it back to the ceiling and mud over it, but it was really thick like cardboard, and very stiff, and pretty much had a mind of its own. So I decided to remove it completely and just replace it with new tape.
And then one thing led to another, and before I knew it I had this…
I wasn't just peeling off wallpaper, but I was scraping off a whole thick layer of who knows what. It was like 10 layers of thick paint with wallpaper stuck to it, and it was all scraping off in big pieces with relative ease.
And I just couldn't help myself!! I HAD TO SCRAPE IT OFF!! I couldn't have stopped myself if I had tried.
Okay, yes. In addition to my Wonder Woman Syndrome, I also have another issue. I have this incessant need to peel things. Seriously, if you ever have a bad sunburn and your skin is peeling off, you do not want to be around me. I will peel your sunburned skin and make absolutely no apologies for it.
Have I shared too much? 😀
Seriously…I can't help myself. I remember when I was younger, I would sit with my mom as she sewed. She had a sewing "room" which was actually a closet in her painting studio, and the closet had bifold doors on it. Those doors had peeling paint (I think someone had painted latex over oil-based paint), and I could sit there for hours chatting away with my mom and picking and peeling the paint off of those doors one glorious layer at a time. (I'm still amazed that she would let me!)
I'm generally fully aware that I'm peeling, and giving into this seemingly uncontrollable and wonderfully satisfying desire to peel things. But sometimes I'm completely unaware. Like when I'm standing in the line at Subway, waiting for my sandwich to be made, completely lost in my thoughts. Then all of a sudden, I'm brought back to reality when the person asks, "Can I help you?" and I realize that the look on his face isn't necessarily asking, "Can I help you?" but rather, "Why the heck are you peeling the labels off of the glass?!" Embarrassing.
So…yeah. When I realized how easily this thick layer of paint, wallpaper, and whatever else would scrape off (and scraping is just peeling with tools), I couldn't help myself.
But as I was scraping this layer off, I uncovered something up here at the top that made me curious…
The drywall was only 1/4-inch thick. And there was something behind it. What was it? Another layer of drywall? If so, why was it covered up? Was it maybe in better condition that the one on top?
Yes, it was 10:30 at night, but I knew I couldn't rest until my curiousity was satisfied. So I did what any irrationally curious person would do. I chipped away a big hole in the drywall right in the middle of the wall! 😀
And underneath, I found slats of wood. Probably 1 x 10 slats of wood.  I knew that the interior walls along the perimeter of the house were slatted wood under the drywall (yay!  no need for wall anchors when hanging things!), but I really wasn't expecting it under the drywall on the interior walls.
You have no idea how much I wanted to rip that drywall off of that wall. The only thing that kept me from doing that was the thought of bugs, roaches (roaches are mentioned separately from bugs because they're their own special kind of evil), mice, and snakes coming through those wide gaps between the slats of wood. (Because in my mind, once it's dark outside, evidently my walls fill up with roaches, mice, and snakes, and my only protection from them is 1/4-inch of drywall.)
But daylight generally brings courage and heightened curiosity for me, so I can't guarantee that this wall will still have drywall on it by the end of the day. We'll see.
I think the point of this whole post is that I'm starting my kitchen makeover, but I have absolutely no idea what I'm doing. This should be fun.
In related news, the plumber is finally coming today to rearrange my gas lines and water lines. He was supposed to come week before last, but I got bumped. So hopefully by the end of today, there will be actual, real progress from a qualified professional.
Addicted 2 Decorating is where I share my DIY and decorating journey as I remodel and decorate the 1948 fixer upper that my husband, Matt, and I bought in 2013. Matt has M.S. and is unable to do physical work, so I do the majority of the work on the house by myself. You can learn more about me here.