Last Updated on October 25, 2019 by Kristi Linauer
Let me just warn you up front that today's post isn't my usual "everything's great and DIY is so awesome and I'm having a blast over here and getting all kinds of things done" type of post. Because frankly, I've kind of reached a breaking point. I just feel angry and resentful, and rather than diminishing over time, those feelings are festering. I need to get them out, because holding it in is unhealthy. I'm writing this not even knowing if I'm going to hit the "publish" button, or if I'm just writing it as some sort of psychological exercise, like those letters that therapists tell you to write just to get the emotions out, even if the letter ends up in the trash can rather than in the hands of the person to whom it's addressed.
This immense frustration that I feel started about two weeks ago when I shared my new FINISHED entryway…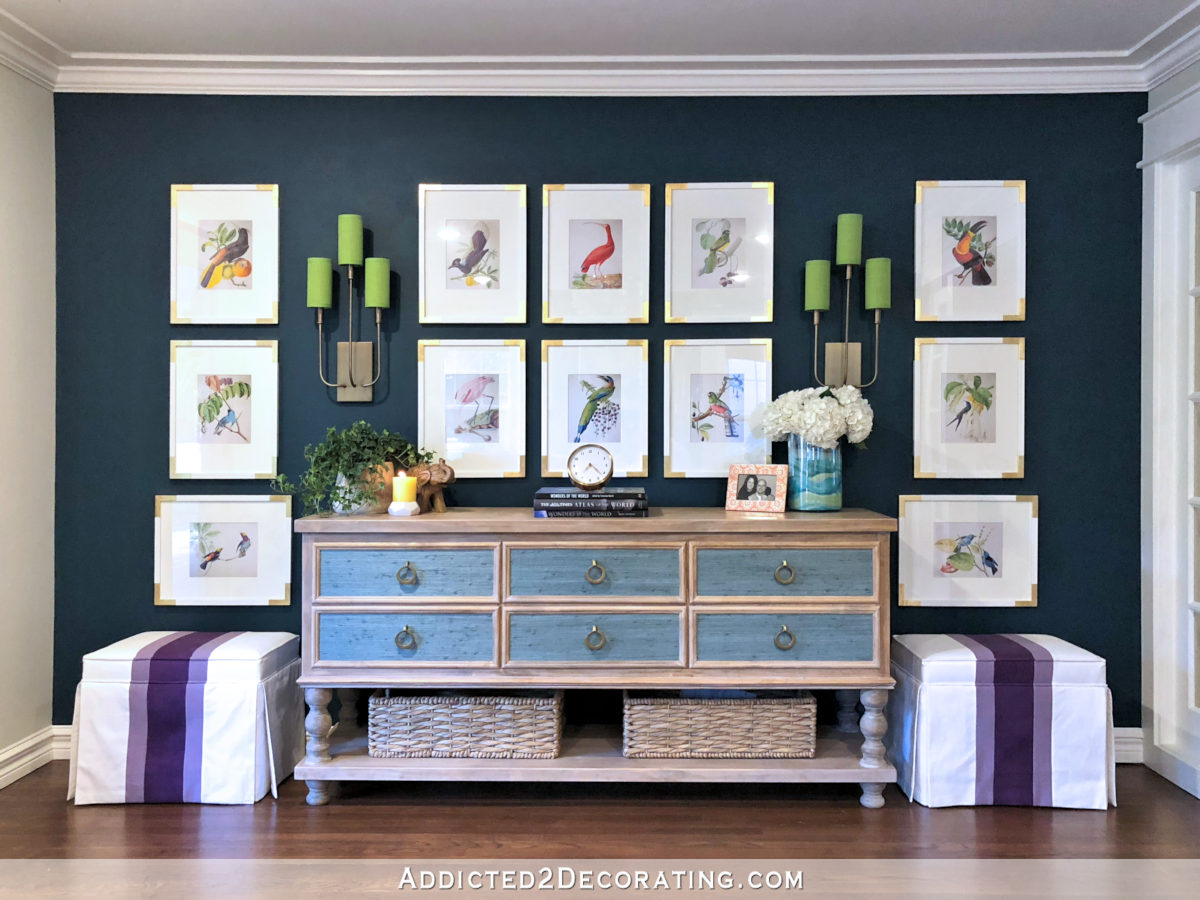 When I finished that entryway, I was thrilled. Giddy, even. It felt like a breath of fresh air to me. It felt like I finally had an area of my home that I decorated without a ton of input (or any, really) from others, and therefore it fully and completely represented me. Just me. Completely me. That small area is filled with things I love — birds, gold accents, stripes, a gallery wall, loads of color, teal, texture.
I mean, even still, two weeks later, every time I walk into my front door, I stop and stare at the entryway wall and just take it all in. I can't wait until the rest of my house feels the same way to me.
So when I posted my FINISHED entyrway — a part of MY house that completely and totally represents ME — I was shocked to see so many comments from people offering decorating advice, and ways for me to improve my entryway, and "constructive feedback" of what needs to go and what needs to stay, and how the things that stay should be redone and tweaked to make them better.
I mean….WHAT? I thought it was just me being tired and sensitive, so I just responded to a couple of those comments as nicely as I could. But when two other commenters seemed shocked, I realized that it wasn't just me.
One of them said…
Your readers can't seem to stop giving their opinions even when you didn't ask for them. "Voting" and "chosing" when you never asked for everyone to pick their favorite rendition. Giving you "ideas" and "things to consider" when you clearly stated that you considered it done and that you were thrilled with how it turned out. People, when there's a final reveal, if you don't have something nice to say, don't say anything.
Another one said…
WOW! It's crazy how people don't hesitate to tell you exactly what they think of your designs, even when their opinion is critical or negative. As someone who is very indecisive when it comes to my own decorating, I can't imagine trying to design or decorate a space with so much outside input. No wonder you are constantly second guessing things!
Quite honestly, those two comments gave me some comfort, and I realized that it wasn't just me being thin-skinned.
I honestly cannot wrap my head around this. I finished an area in MY house, said that I loved it, said that it was filled with things that I love, and that it suited ME perfectly, and then I get offered all kinds of unsolicited feedback on how to improve the design.
Improve it for whom, exactly? For me? For the homeowner who just said it's finished and she's thrilled with how it turned out?
I can't even express to you how discouraging that is to read comment after comment after comment after comment like that. And unless you're a content creator yourself, you probably will never understand exactly what that's like.
But just imagine for a second that you've just finished decorating your house to suit your personality, your taste, your style, and your needs. You invite people over to celebrate the completion of your house, and rather than celebrate with you that you've finished your home and that you love it and it suits you, they instead start doling out "decorating advice" and "constructive criticism" followed by a list of items that need to be changed or removed or improved upon.
I just cannot imagine doing that to someone else — neither in real life nor online.
I have very particular taste. In the 25+ years that I've been interested in decorating and have subscribed to magazines, had access to Pinterest, have followed tons of bloggers and Instagrammers, I could probably count on one hand the number of times I've walked into someone else's house or have seen pictures of someone else's room and thought to myself, "I could move right in here and be totally comfortable."
Seriously, probably less than five times in 25+ years. Almost every single room that I walk into in someone else's house, or every single picture that I see online, whether it's been designed by a blogger or some internationally famous interior designer, there are always elements that I would change to suit my taste if the room belonged to me.
But do you know how many times I've doled out unsolicited decorating advice to someone else? Zero. Because why should I suggest that someone else change a lamp in THEIR living room that I don't like? Am I really so self-important that I think someone else's home should suit MY taste? IT'S NOT MY HOUSE, and their decorating choices don't need to please me. If they're happy with it, that's all that matters. And if they're happy with it, then why would I even need to express to them my distaste for their lamp?
I DON'T. That's information I should just keep to myself. Expressing my distaste of their lamp in a room they've just finished decorating and are thrilled with is not productive at all. It benefits no one.
And maybe I wouldn't be so frustrated about this if I saw it happening to other bloggers and Instagrammers, but I don't. I spent about two hours last night reading comments on other bloggers' room reveals, and other Instagrammers' posts, and I don't see anything like this happening on others' blogs and Instagram accounts.
I even went to two Instagram accounts by people with very colorful and eclectic taste — Brandi at The Hectic Eclectic and Ariel at PMQ for Two. I love following both of them. And yet as much as I love color and pattern, both of them push the envelope a little beyond what I'm personally comfortable with in my own home. And yet, I find them both so incredibly inspiring, and even though there are things about every single room that they post that I would change if those rooms belonged to me, I would never consider offering either one of them unsolicited decorating advice or constructive feedback or a list of things that need to be changed in their rooms. And evidently, neither would anyone else, because I read through comments on post after post after post after post, and I didn't see a single comment from anyone with anything even resembling "constructive feedback" on how to change their rooms to make them a little more toned down so that their eyes have "a place to rest." Not a single comment.
(For the record, I could slap whoever coined that stupid term "a place for the eye to rest." Maybe your rooms need "a place for the eye to rest" because that's what your personality, taste, style, temperament, and lifestyle require, but not everyone is the same. If you want proof of that, just search the hashtag #maximalistinteriors on Instagram. Clearly those homeowners have absolutely zero need for "a place for the eye to rest." It's ridiculous to think that every single person has a need for that in their homes. And also for the record, do you know how many of the rooms under that hashtag appeal to me exactly as they are? Zero. Do you know how many of those homeowners I'd offer unsolicited decorating advice to? Zero.)
I mean, I see pictures of rooms like this all over Instagram, and yet there's not even once single comment from people like, "I don't like the settee," or "It's too busy," or "Here's some constructive feedback with a list of ways in which you can improve your room."
Are you telling me that that room is just so universally eye-pleasing so as not to warrant any type of "constructive feedback," and yet my entryway is so offensive to the eye that I require unsolicited lists of things that need to be changed even though I've said that I love it, that it's filled with things I love, that it makes me happy to see it as I walk through my front door, and that I'm thrilled with how it turned out?
I just don't get it.
And yet, I posted my entryway last night on Instagram, explaining how happy it makes me when I walk in my front door, how it's filled with things I love, and how it perfectly suits ME and my taste, and here come more critical comments. After re-reading the comments on my entryway post, these are evidently the changes I need to make…
I need to remove the ottomans.
I need to remove half of the bird pictures.
I need to remove the clock.
I need to change the color of the lamp shades because they look cheap.
I need to arrange the pictures differently.
I need to move the sconces.
I need to remove the sconces altogether.
I need to remove the books.
And on, and on, and on.
And evidently I need to make these changes based on "constructive feedback" in an area of my home that I've already declared is finished, that suits my taste perfectly, that's filled with things I love, and that I've said I'm absolutely thrilled with.
And let me set the record straight. I'm not frustrated because there are people who don't like my entryway. I TOTALLY UNDERSTAND that my decorating isn't for everyone. I like things much busier and way more colorful than most people are comfortable with. And that's perfectly fine with me.
I'm frustrated because it seems that I'm not allowed to decorate my own home in a manner that suits my taste without being handed a list of ways to improve my design and things I need to change.
Again, change for WHOM? I said it was finished. I said I was thrilled with the outcome. I wasn't looking for "constructive feedback" and lists of things that I need to change in order to improve what I had done. I don't want that any more than you would want someone walking through your newly-decorated home and pointing out everything they dislike and find wrong with your decorating choices and offering you "constructive feedback" in your home that you've said is finished and perfectly suits your taste and personality.
I can assure you that you'd feel every bit as discouraged and frustrated as I feel right now.
*Sigh* Sometimes I think the internet has ruined us. It has caused us to interact with people in ways that we would never interact with people in person. It has caused us to mislabel rudeness as being "bold" and "brave" and "honest". We have lost some of our humanity. We've forgotten that that there are actual people with actual feelings behind those monitors. We've gotten so used to doling out our opinions, generally when not even asked, because the internet has given all of us a soapbox and a false sense of self-importance. We've placed more value on "the right to express my opinion" than we have on actual human beings.
And I'm tired. At this very moment, I desperately want to walk away from this blog and all social media and never look back.
Unfortunately for me, I can't do that. But I can walk away temporarily. For my own mental health and sanity, that's exactly what I need to do.
Addicted 2 Decorating is where I share my DIY and decorating journey as I remodel and decorate the 1948 fixer upper that my husband, Matt, and I bought in 2013. Matt has M.S. and is unable to do physical work, so I do the majority of the work on the house by myself. You can learn more about me here.
I hope you'll join me on my DIY and decorating journey! If you want to follow my projects and progress, you can subscribe below and have each new post delivered to your email inbox. That way you'll never miss a thing!