The 2017 Master List of Home Goals
Happy 2017,  y'all! I had planned to return to the blog on Monday, but I just couldn't bring myself to do it. Quite honestly, my blogging break was awful. I mean, really awful. Let's just say that when you take a wheelchair-bound person with M.S. who suffers from general muscle weakness and the inability to walk on a normal day, and you throw in a severe head and chest cold for a week that completely wipes out any remaining energy and muscle strength he generally has, rendering him completely bedridden for days on end, it makes for a very miserable and sleepless week both for him and for the caretaker (that would be me!).
So the week (and the year) ended with me feeling incredibly discouraged, frustrated, depressed and exhausted. And sick. While I was acting as caretaker for my sick and bedridden husband, I was also trying to fight off a cold. Then to add to the frustration, this past weekend I tried to get back into some home-related projects, and literally everything I touched went wrong, which only added to the frustration and depression I had been feeling all week. Anyway, it was just an awful week.
So on Monday morning, I picked up my laptop, opened up my blog, and stared at a blank "add new post" page for about an hour. I typed a few sentences, then deleted them. Typed again. Deleted again. I had zero excitement about the new year, which is so not me. The beginning of a new year generally makes me giddy with excitement. But Monday, my horrible and depressed attitude was hard to hide, and I hated the idea of starting off a new year like that. So I decided to put the laptop away and stay away from the blog until I could come back with a better attitude and a brighter outlook for this new year.
The last two days have actually been very good. I've been able to work on projects and get stuff done, so it has felt like things are finally getting back to normal around here. And I worked on a fun, artistic, relaxing project yesterday (more on that tomorrow, hopefully), which was exactly what I needed to get back into the swing of things.
So after a week of absolute misery, the clouds have finally parted and I'm starting to feel hope and excitement for the new year. I'm a few days late, but better late than never. 🙂
I've been thinking about my goals for this year. They're actually pretty simple. I want to completely finish all of the rooms in the main areas of my house — entryway, living room, music room, hallway, kitchen, breakfast room, and pantry. There's just one additional project outside of my own home that I'm going to tackle.
My Niece's Bedroom:
Remember that room? My mom and I actually started working on it a year-and-a-half ago.
We made a lot of progress with a built-in daybed, trundle, bookcases, new headboard, wall mural, new draperies, pillows for the bed, and a painted dresser. By the end of the year, we just had a few things left (a couple of big projects and a few finishing details) to do to finish the room. But then last year, with my step-father getting sick and passing away, really derailed any plans to finish this room. So before I even start on my own home projects this year, my mom and I are going to finish this room together…finally. So here's what needs to be done:
Make a decorative full-length mirror.

Done!

Click here to see it.
Make a bulletin big bulletin board.

Done!

Click here to see it.
Finish installing baseboards.

Done!

Pretty up the plain, flat hollow core doors.

Done!

Click here for details.
Purchase and install sconces by the bed.

Done!

Decorate and accessorize to finish.

Done!
UPDATE: My niece's bedroom is finished! Click here to see the complete before and after post.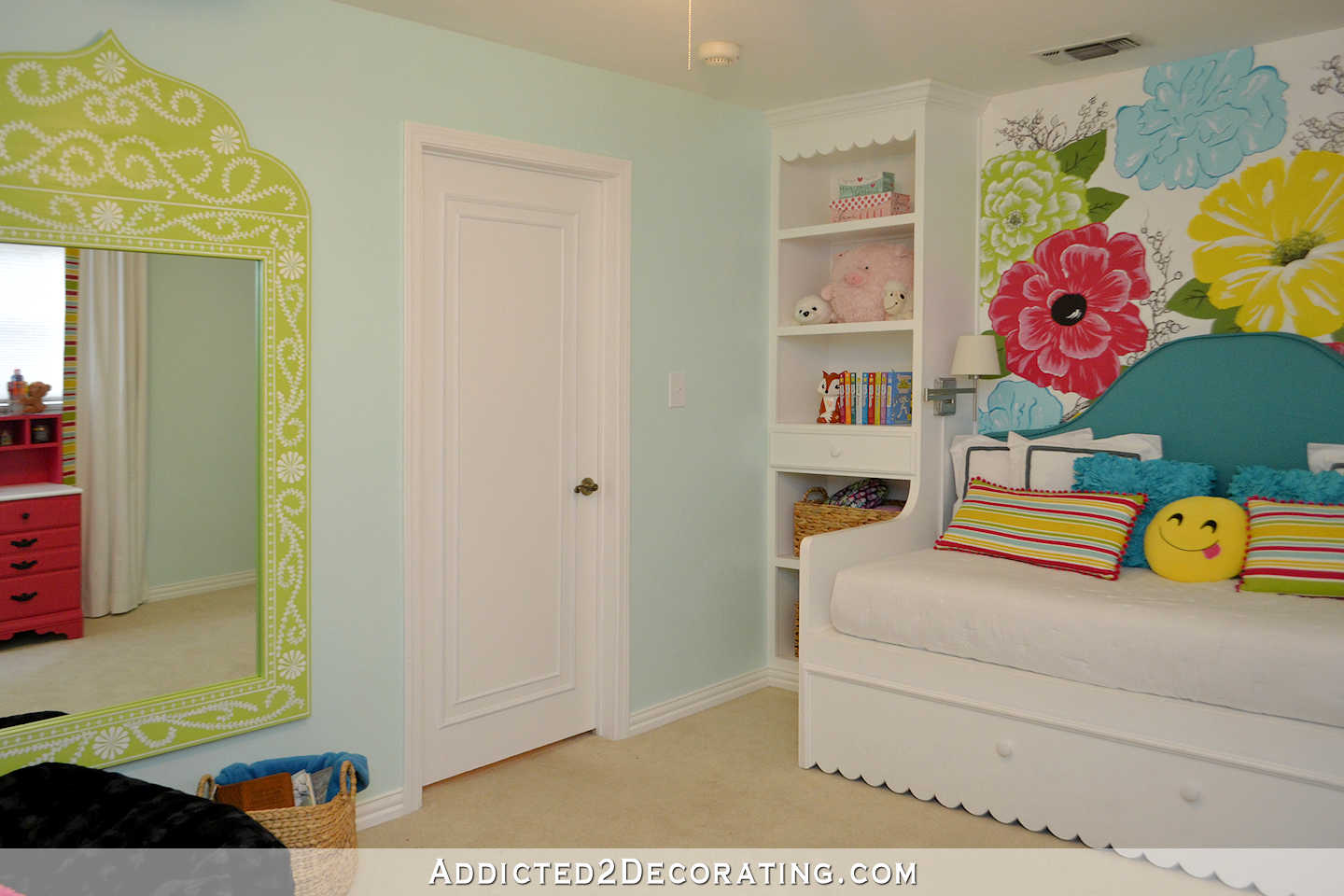 Once that's done, it's back to my house…
Whole House:
I have one project that includes all of the rooms except the bedrooms. I decided that since I have to rent the drum sander and edge sander to finish the new hardwood flooring in the pantry and breakfast room, and since I don't like how orange my hardwood floors turn when they're just finished with an oil-based clear sealer, I'm going to take the opportunity while I can (since I have virtually no furniture in those rooms right now) and refinish all of my floors. Once and for all.
Sand, stain, and polyurethane the floors in the breakfast room, pantry, kitchen, music room, living room, entryway, and hallway. Done! Click here for details.
Entryway and Living Room:
After floundering around most of last year, I finally got my bearings with this room — removal of the busy moulding, new drapery fabric, new wall color, new fireplace color, and new chandelier. I have vision for it now, but there are some pretty big projects involved in getting this room finished, like…
Music Room:
This room is so close to being finished. The big building/remodeling projects in here have been done for a year now.
Other than general decorating and accessorizing, there are only three big projects that I can think of that need to be addressed in here…
Install quarter round on baseboards and touch up baseboards

Paint the walls (the black no longer fits my plans) Done! Click here to see the stenciled walls.

Make cabinet doors to cover the bottom two shelves on the bookcases (I decided I'd like some closed storage in there.)

Refinish the piano (hopefully my smaller piano from storage)

Reupholster two blue chairs

Make or buy artwork/wall decor

Decorate and accessorize to finish
Hallway:
The hallway is small, and yet it's going to be a pretty major project. I had new drywall installed just a few weeks ago, so it's ready for me to get started. I don't even think I have a recent picture, so I'll have to take one and add it here later. But the projects needed to finish up the hallway are…
Install new doors on the bedrooms

Done! 

Install trim (door casings, crown moulding, baseboards) Done! Click here to see the trimmed out hallway.

Build cabinets

Install new light fixture

Done!

Decorate and accessorize to finish
Kitchen:
I completely changed directions last year on my kitchen, got part of it done, and then the project stalled while I was waiting for more TimberMate (wood grain filler) and got sidetracked with other projects.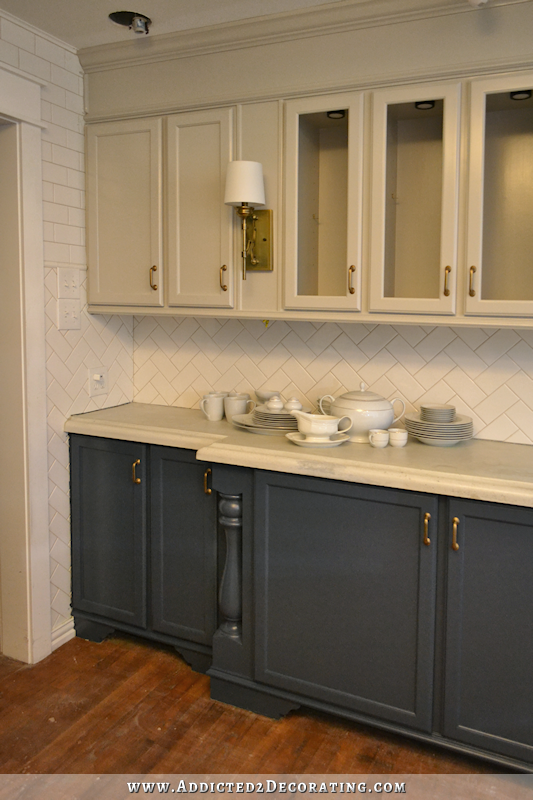 So I need to get these things done…
UPDATE! My kitchen is finished! Click here for the before and after post.
Breakfast Room:
This room was my biggest accomplishment of last year, but there's still so much to be done.
I did finally get the walls painted and the front windows trimmed out. So in addition to basic decorating and accessorizing, I still need to…
UPDATE: My breakfast room is finished! Click here to see the before and after post.
The Pantry
I'm pretty sure this will be the single biggest project of the year.
I did finally get my lighting installed last month, and that's about where the progress stopped. So to finish this out, I need to…
Trim out the window and doorway

Build, install, and finish the cabinets and shelves

Build a countertop (wood, of course)

Make and install the double glass doors Done! Click here to see them.

Make a window treatment for the window
And finally…
Master Bedroom:
I don't plan on doing any decorating in the bedroom at all, and even the door isn't for aesthetic purposes. I'd like to install it for safety purposes, but it will also come in handy for taking my dog while I'm refinishing the floors. So I need this done sooner than later.
And that's it. That's my master "to do" list for this year, and I'm really going to try my hardest to resist the urge to get sidetracked and veer off into projects that don't support my overall goal of getting the main areas of my house completely finished this year. Of course, there will be other projects added to the list as the year goes on. These are just the biggest projects that I need to do in each room. But these projects alone won't make those rooms completely finished. I'll still need some decorating, accessorizing, and smaller projects to finish out each room.
So here's to a new year, a fresh start, and clear goals. It took me a few days longer than usual, but I finally have a good feeling and a positive attitude about this year.
Addicted 2 Decorating is where I share my DIY and decorating journey as I remodel and decorate the 1948 fixer upper that my husband, Matt, and I bought in 2013. Matt has M.S. and is unable to do physical work, so I do the majority of the work on the house by myself. You can learn more about me here.