I've Paid My Drywall Dues
On Saturday, Bill finished up the last remaining bit of rewiring in my kitchen, and then Bill, Cathy and I put up the drywall on the ceiling.  Oh, what fun we had!  😀
(Bill is my brother-in-law, and Cathy is my sister, just in case you're new around here and wondering who the heck these people are.)
I don't know if you've ever hung drywall on a ceiling before, but suffice it to say that when it comes to my least favorite DIY home improvement projects, it easily ranks in the top 10.  In fact, I'm pretty confident that it would land in the top 5, right behind installing a dishwasher (something I'll never, ever do again after my last experience at the condo), removing an old toilet and disgusting old wax ring (something I'll never do again now that I know my plumber only charges $30 to install a new toilet), and basically any other kind of plumbing.  (Do you notice a theme here?  I hate plumbing.)
But then right there at #4, right behind all of that plumbing, is hanging drywall on the ceiling.  After this weekend, I've paid my dues, and now I'm done.  When the rest of the rooms need to be re-drywalled (which they will…all of them), I'm calling in the pros.  It'll be money well spent, in my opinion.
But at least the kitchen is done, and my ceiling is no longer completely open to the attic and up to the rafters.
I do still have to do all of the taping and mudding, but I don't really mind that part.
Oh, and see all of those holes for the recessed lights?  Those were cut as we went along.  And every single piece of drywall, with the exception of one very small piece in the far right corner, had at least one hole that needed to be cut out.
So we installed the first piece, and Bill cut out the hole around the recessed light.
It was perfect, and he made it look so easy.  (I had never used a Roto Zip tool before.)
He asked me if I wanted to do the next one, so I grabbed the tool, climbed up on the ladder, and gave it my best shot.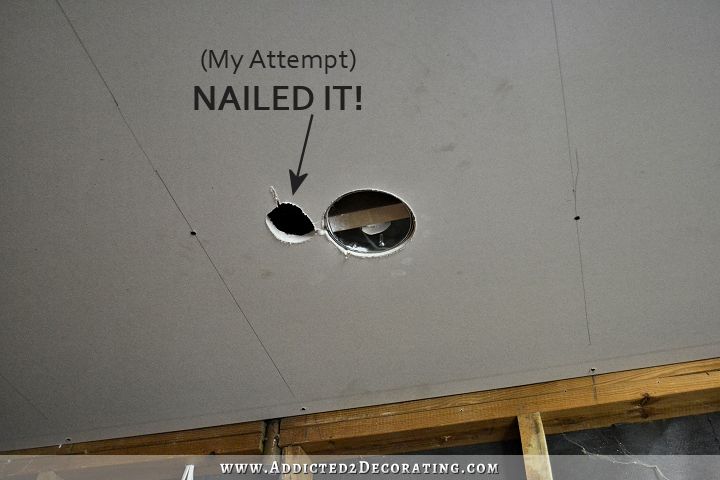 Ummm…not even close.  😀
In my defense, I think that had less to do with my lack of Roto Zipping skill, and more to do with our hastiness in measuring and marking the starting point for that particular light.  But still, making such a mess of my very first attempt with the Roto Zip was quite discouraging and really made me shy away from using that tool.
And then when I tried again to use it around the plastic light box in the center of the room, and ended up melting parts of the edge of the plastic box because I couldn't get the Roto Zip to move forward fast enough, I was ready to throw in the towel.
But I did try a third time.  In this case, the third time was not the charm.  I was using insulated recessed lights that have an inner metal lining and an outer metal lining, with about 1/8th of an inch in between.  Somehow I managed to get the Roto Zip blade perfectly in between the two layers of metal.  I did cut a beautiful round circle, but of course the drywall still wouldn't go up around the light since it didn't clear the outer layer.  So I tried a fourth time and finally got it.
Let's just say that the Roto Zip and I really don't get along that great.  People ask me quite often, "Kristi, is there anything you can't do?!"  Ummm….yes.  There are many things I can't do (I just don't generally publicize those things!), and Roto Zipping is evidently at the top of that list.
Anyway, we also did the hallway ceiling.  It has looked like this ever since I removed the closet back in August (with the exception of the debris on the floor), with part of the drywall completely exposed, cracking, and crumbling, and part of the ceiling still covered in polystyrene tiles and 1 x 4's.
So before Cathy and Bill got to the house on Saturday, I got up early and tore down this ceiling so that we could put up new drywall in there also.  And now I have a clean slate to work with.
I really was trying to avoid having to do any drywalling on the ceilings in this house, and hoping that I could salvage what was already there.  But in the end, I'll be so glad to have all of it replaced with new drywall.  The fact is that even if I could repair all of it (which is questionable), it's still only 1/2-inch drywall, and ceilings are supposed to have 5/8-inch drywall.
Sometimes it just doesn't pay off to try to salvage what you have.  There are definitely times when ripping out the old and starting over new is the best way to go.
Anyway, I still need drywall on the walls of the kitchen, but that can't be installed until after the house is leveled this Friday.  (Yayyyy!!!  Finally!!!)  In the meantime, I can work on the floor, sanding it and repairing holes so that I can paint it.  Right now, Friday seems so far away, but I'm sure this week will fly by, and before I know it, I'll have a level house and no more roadblocks in moving forward with my plans for this house.  I'm so stinkin' excited!  I feel like a kid anxiously awaiting Christmas morning.  🙂
Addicted 2 Decorating is where I share my DIY and decorating journey as I remodel and decorate the 1948 fixer upper that my husband, Matt, and I bought in 2013. Matt has M.S. and is unable to do physical work, so I do the majority of the work on the house by myself. You can learn more about me here.