After another week of working in a still-very-ugly kitchen and breakfast room, I needed a break from the long-term project stuff, and I needed to work on something fun, quick, and easy that I could start and finish in a day.  Plus, I also wanted to spend the day outside yesterday so that I could enjoy the gorgeous weather.  So I decided to make a cute little pieced wood hanging flower basket for my back yard.  I got this idea from my neighbor, who has a very similar basket hanging on her front porch.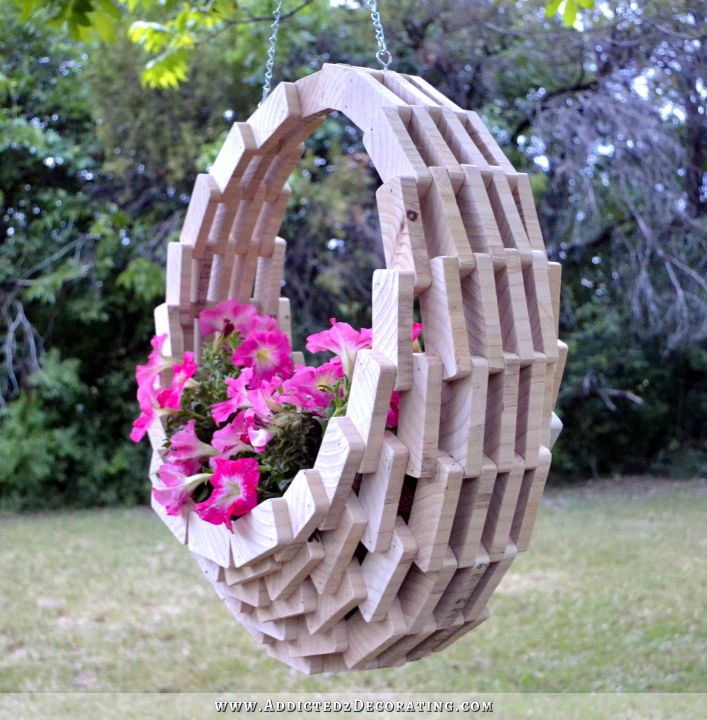 I made it out of scrap lumber, which I almost always have on hand, along with wood glue and brad nails for my nail gun.  So the only out-of-pocket cost for this was for the eye screws, S-hooks, chain, coco liner, and flowers.  I think in all, I spent about $17 on this basket, including the coco liner and the flowers.   If you don't happen to have scraps of 2 x 4 on hand, you'd also need one 9-foot 2 x 4, which would add about $4 to the total price of this project.
I also decided to leave my wood basket a natural color for now.  Once I decide if I want to paint it or not, I'll need to seal it somehow so that it can last longer being outside in the weather.  But as of right now, I still haven't decided if I just want to leave it natural and seal it with a clear sealer, or if I want to paint it.  I did actually buy some white spray paint for it, but then changed my mind at the last minute.
But here's how I made it:
I started by cutting 137 slices of 2 x 4 lumber to about 1/2-inch thick, and sanding them quickly around the edges to remove any splintered wood.
To put the pieces together, I started by drawing a 19-inch-diameter circle on my work surface (i.e., a scrap piece of plywood), and then I spaced 11 pieces of wood evenly around the circle.  And then on top of those original 11 pieces of wood, I placed 11 more pieces of wood to fill in the gaps.  Once I had everything spaced just right (I just eyeballed everything), I glued and nailed the pieces together using my nail gun and 3/4-inch brad nails.
Then I started on the third row, and I skipped one piece, so I only used 10 pieces on the third row.  This created a stair step effect on what would eventually be the "handle" of the basket.  I glued and nailed those pieces together.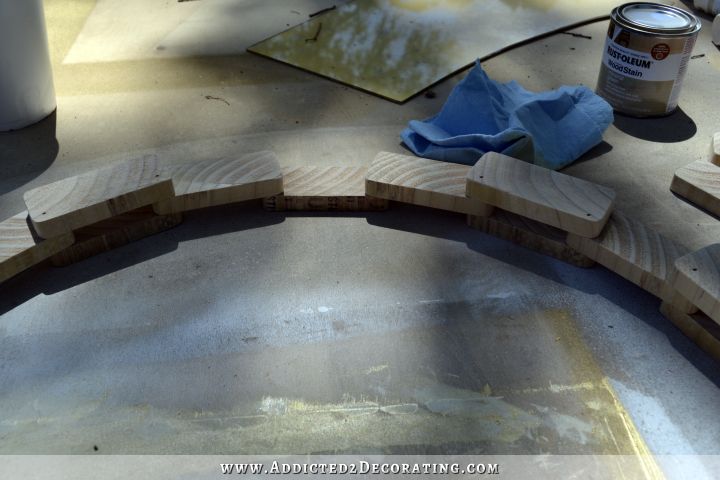 Here's a full view of the third row in place.  You can see the missing piece at the top that creates that stair step effect.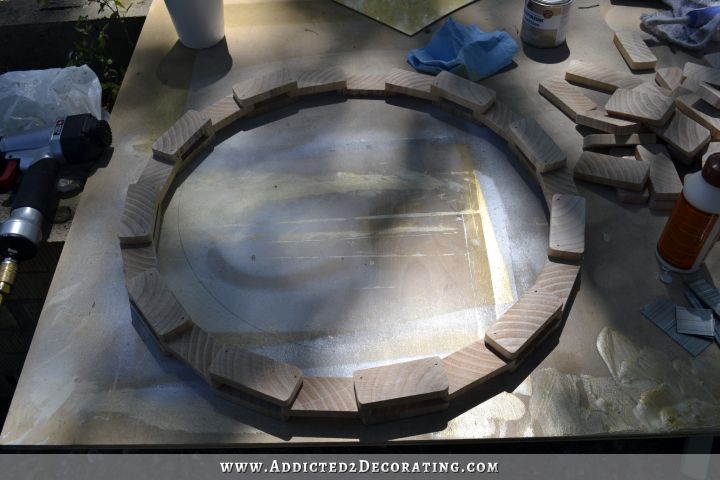 And then on the fourth row, I used only 9 pieces of wood, continuing with the stair step effect on what would be the top of the basket.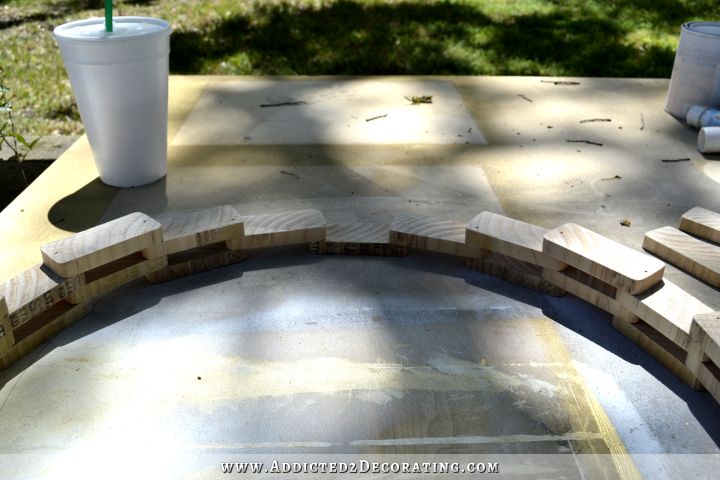 Starting on the fifth row, I changed things up a bit so that the shape would start creating the front side and back side of the basket.  The fifth row required eight wood pieces.  On the very first and very last piece of the fifth row, the end closest to the top stair step area of the basket is lined up just like all of the other pieces have been, but the end closest to the bottom of the basket is moved over so that half of the bottom width is hanging off of the piece that it's attached to below.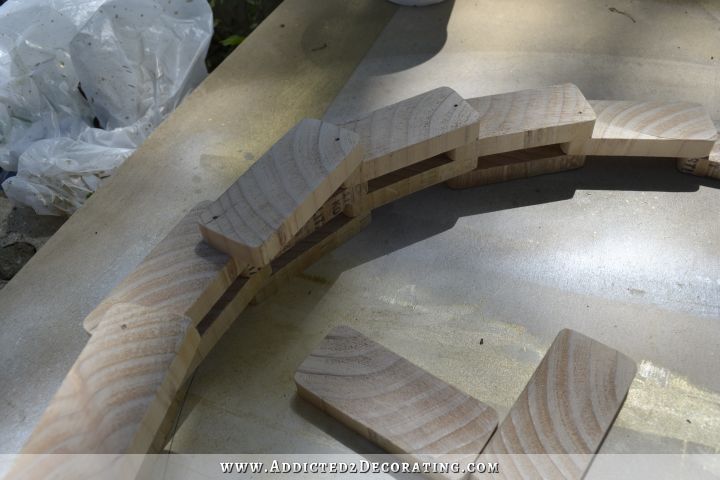 That's how I did the first and last pieces of the fifth row, but all of the other pieces in that row are moved over so that only half of the wood piece is resting on the pieces below.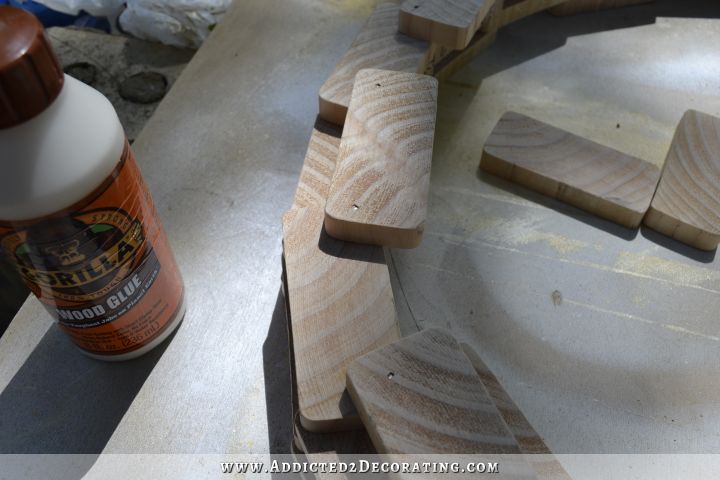 I did a total of 10 rows, with each subsequent row using one less wood piece that the row before it.  And rows 5 through 10 were all done in the way described above, where the first and last wood piece were sitting askew, and all of the tiles in between were moved over so that only half was resting on the wood beneath it.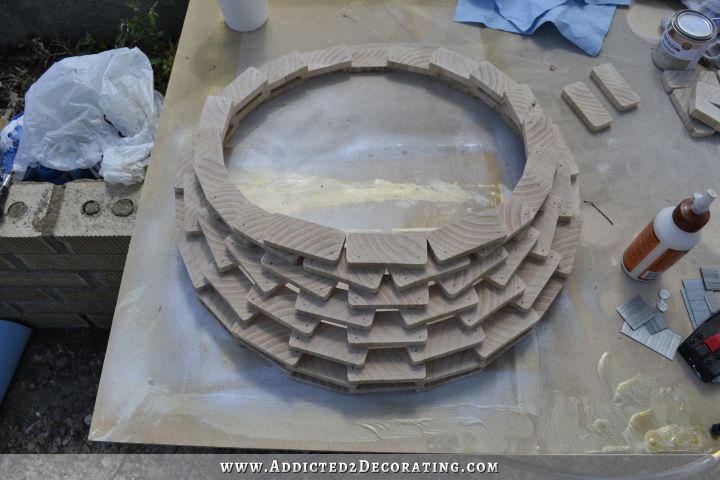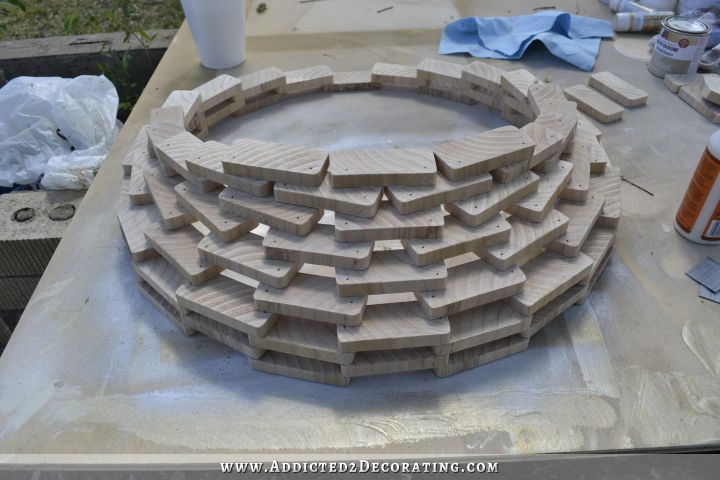 With that side of the basket finished, I flipped it over, and started work on the other side of the basket.  I did it in the very same way, and since the first row was already in place (both halves of the basket shared Row 1), that meant that I started with Row 2 and added a total of 9 rows to this side of the basket.
And with all of the pieces attached, and 19 rows in total, the basket looked like this…
I didn't want all of the hanging weight to be concentrated on the one single piece at the top, so I used eye screws, S-hooks and chain to distribute the weight to two areas that seemed a bit stronger.  (Really, all of it was strong since I used wood glue and brad nails, but I still didn't want to take the chance.)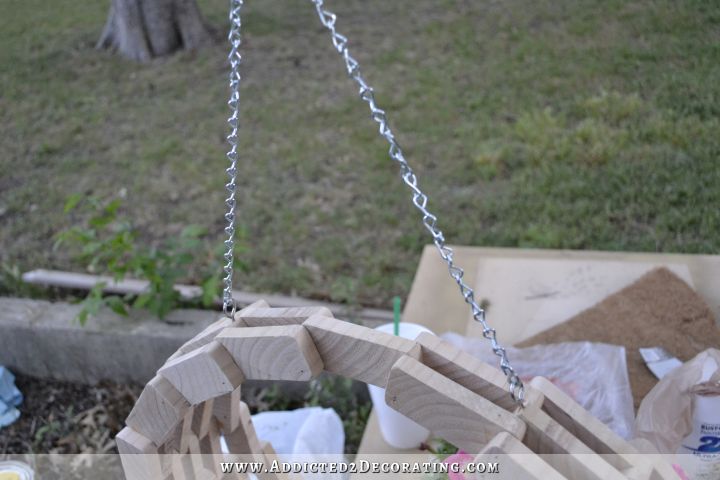 And then I was ready to add the coco liner (I bought one called a Replacement Coco Liner from Home Depot, which basically looked like a flat circle, and just cut it down to fit) and flowers, and then hang my basket in the tree.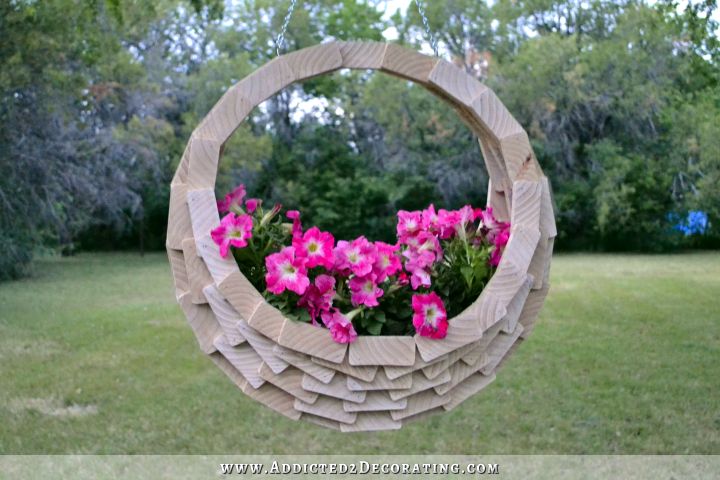 I'll probably end up just sealing the wood with a clear sealer because I really like the natural color of the wood with the colorful flowers.  I think the white paint that I had originally planned might look a bit stark.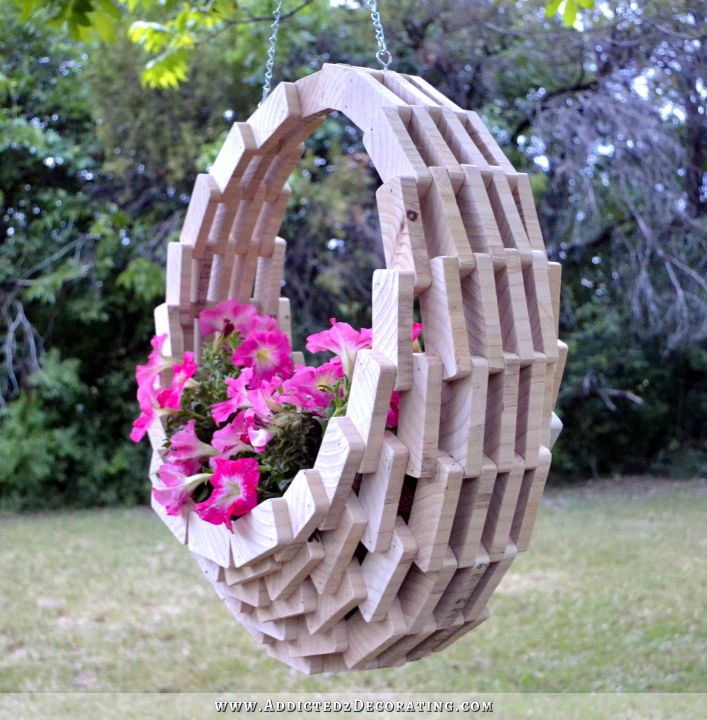 I love the way it looks from the side, with the hint of color from the flowers peeking through.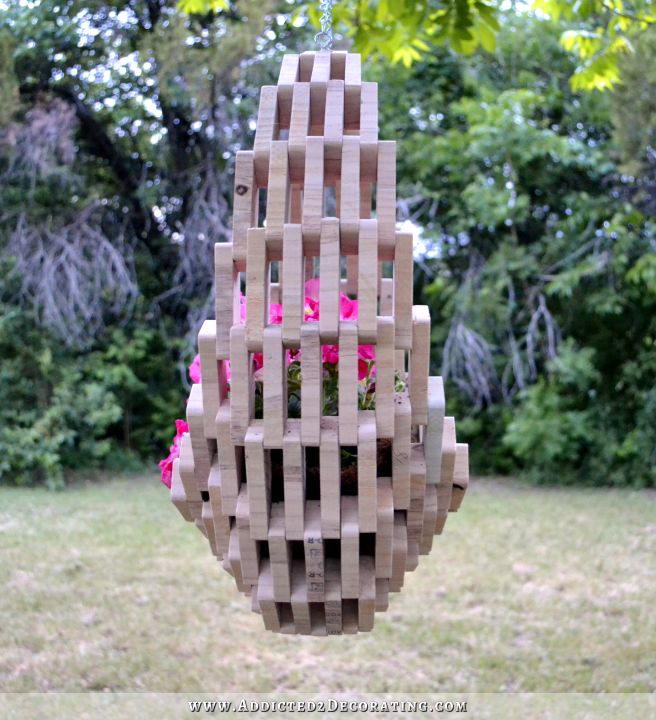 So easy!  And cheap!  And pretty darn fun to make.  Those are my favorite kinds of projects, especially when you can work on them outside in gorgeous weather.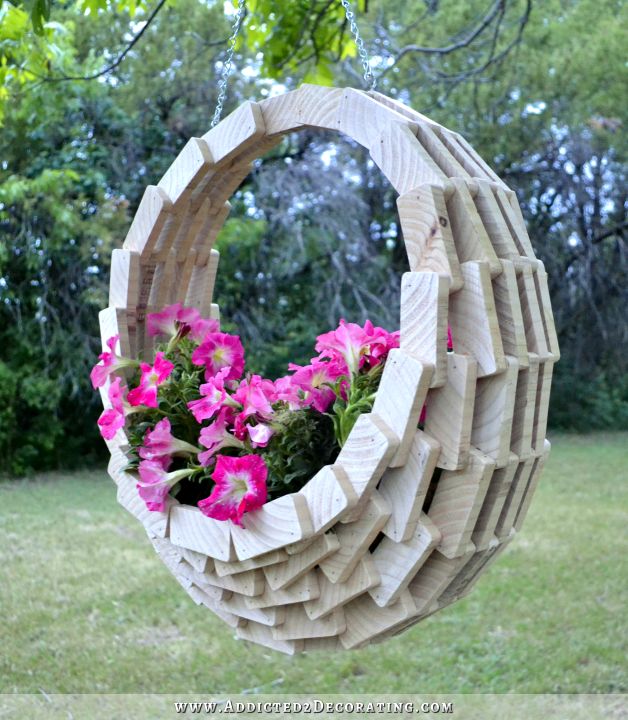 And now it's back to the kitchen for me.  I got some paint samples to try out some different painted floor ideas, and we'll be finishing up the rest of the electrical wiring and then drywalling the ceiling tomorrow.  Unfortunately, we won't be able to drywall the walls until the house is leveled, and that doesn't happen for another week (Friday, May 9th!).  But I'm sure I can find other ways to occupy my time until them.  🙂
Addicted 2 Decorating is where I share my DIY and decorating journey as I remodel and decorate the 1948 fixer upper that my husband, Matt, and I bought in 2013. Matt has M.S. and is unable to do physical work, so I do the majority of the work on the house by myself. You can learn more about me here.
I hope you'll join me on my DIY and decorating journey! If you want to follow my projects and progress, you can subscribe below and have each new post delivered to your email inbox. That way you'll never miss a thing!