Last Updated on December 24, 2015 by Kristi Linauer
Remember how last week, my father-in-law and I did some rearranging and removing of cabinets in my kitchen?
It went from this…
…to this…
…with the upper cabinets removed completely, and the lower cabinets moved from the wall opposite the sink wall to the wall perpendicular to the sink wall (and opposite the fridge and stove).
Now what some of you may have missed in that post (because I added it later in the day) is that originally, the plan was to eventually have this arrangement in the kitchen…
So that you can get your bearings, here's how that layout relates to the whole floor plan of the house…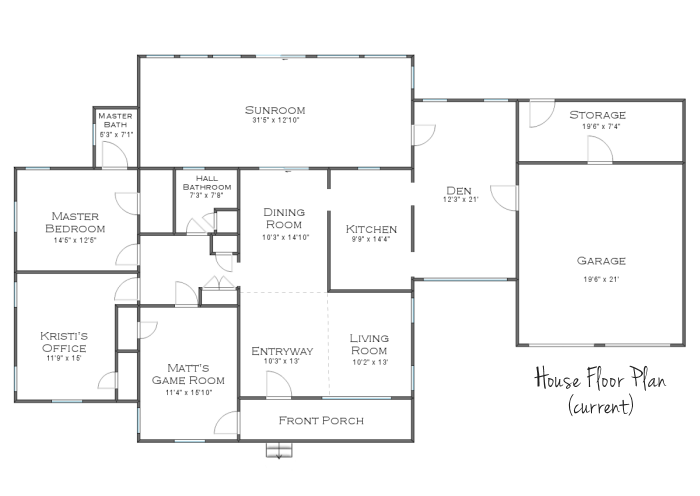 So I was planning on closing up that second doorway that leads to the den (which will eventually be our breakfast room/dining room), and having the stove and fridge against that wall.
Then some brilliant person (people?  I can't remember specifically, but thank you!!!) came along and suggested that I flip flop that design, and take out the upper wall between the kitchen and den, leaving more of a bar area between the two rooms.  That would allow the sunlight from the huge wall of windows in the den (future breakfast room) to pour into the kitchen, which has no exterior walls, and therefore no windows that allow light in.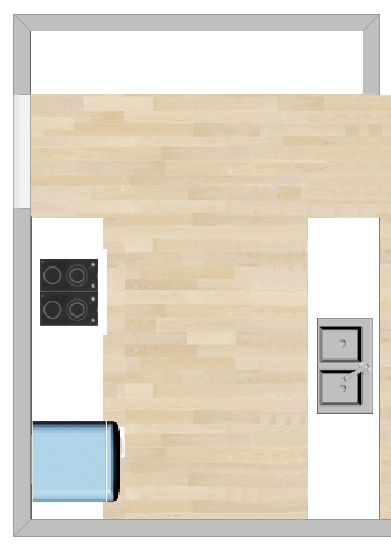 I absolutely LOVE that plan, and that has been the plan going forward.
Update:  I envision the finished wall between the kitchen and (future) dining room looking something like this:
Contemporary Kitchen by Providence Architects & Designers Union Studio, Architecture & Community Design
Only two problems.  First, some stuff needs to be moved around (obviously).  The water line for the sink needs to be moved, as does the gas line for the stove.
A couple of you mentioned that the cost of moving those things might be really high, and that I might consider keeping my sink right where it is.  But that would completely remove the efficient work triangle that I had planned for the kitchen (and a work triangle really is essential in a kitchen, IMO).  Plus, I didn't want to give up on the idea without at least asking.  There's no harm in asking, right?  🙂
So on Monday, I had my plumber come over and give me an estimate for moving the water line and the gas line.
The price?  $500.
FIVE HUNDRED DOLLARS!!!!!
Y'all, I honestly don't know how I restrained myself from doing a happy dance right there in my kitchen right at that moment.  And almost as quickly as that number rolled off his tongue, I was all, "AND WHEN CAN YOU START??!!"  😀
I swear to you, I feel like I struck gold the day I found this plumber.  And he really is a licensed plumber.  I promise, I'm not hiring some shady, non-licensed, non-skilled person just to get stuff done cheaply.  When he replaced all of our galvanized water lines a few months back for $1200 (I think that was the amount…or was it $1500?), and so many of y'all said that it would have been many times that cost in your area, I asked him how it is that he charges so little.  He said that it's because he has no overhead at all.  It's just him and his helper (the one who actually fits under my house).  He doesn't have an office, or a lot of employees.  He doesn't advertise because all of his business is through word-of-mouth.  So he can keep his prices low.
SCORE!
So he's coming back next week to get the work done.  I'm so stinking excited.  I'm like a kid in a candy store.  I spend an embarrassing amount of time each day just standing in my (for now) very ugly kitchen just dreaming of the beauty she will become.
Now here's another exciting (to me) part.
You see how the wall between the kitchen and living room is currently kind of short, and if you draw a draw a straight line from the end of it across to the other side of the living room, it doesn't even clear the window?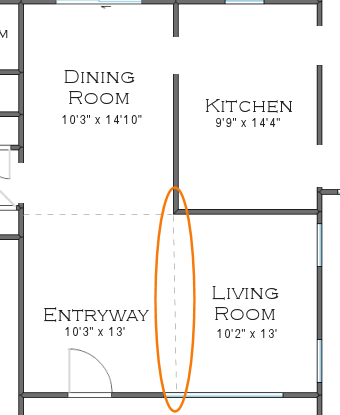 So my plan for quite some time has been to extend the one shared kitchen/living room wall about three feet to square up the living room a bit better.  (And because I don't need an entryway that's bigger than my living room!)
So that'll leave that area on the other side of that wall (because I'm not going to move that kitchen wall — I don't want or need a bigger kitchen).  I've been thinking that I could put some built-ins there, or a much needed storage closet.
But then I had a light bulb moment.
I could also recess my fridge into that wall a bit, and make my standard-depth refrigerator a counter-depth refrigerator.  Then I could hide that recessed area with some built-in cabinets/shelves or something like that on the other side.  (This picture isn't to scale, but it'll give you visual people an idea of what I'm talking about.)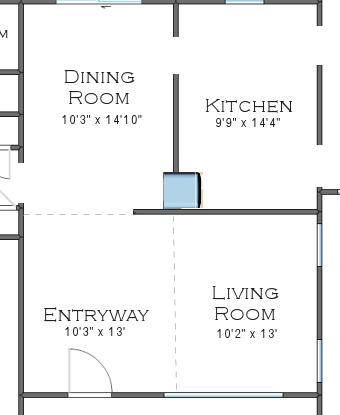 So it's all falling into place, and I couldn't be happier with it!
Just a few other things to mention:
1.  Several of you suggested a "U" configuration in the kitchen.  I promise, it won't work.  The "U" turns my spacious and open kitchen (which really does feel surprisingly big for its size) into a tiny and cramped kitchen that feels like it belongs in an apartment (or our condo).  Also, once the "U" is in place, the space for a sink and dishwasher becomes incredibly cramped.
2.  A couple of you suggested turning the one wall of cabinets (where the sink is currently) into a full floor-to-ceiling wall of cabinets, and removing the countertop.
That was actually my initial plan, but the more I got to thinking about it, the more I realized that this upper cabinet/lower cabinet with a countertop may actually be ideal.  For one, the long, uninterrupted countertop in that position is perfect for buffet-style meals (and rumor has it that I might be hosting my first Thanksgiving this year! Yikes!).  But also, since Matt (my hubby) is in a wheelchair, I have this idea that having a wall of lower pull-out pantry type cabinets will make access easier for him, rather than the tall wall of cabinets.  And since I'm short, having lower cabinets used as a pantry isn't a problem for me at all.  So that's my thinking on that.  🙂
3.  I won't be tackling the actual, long-term remodel at this point.  I do eventually want to save up for very nice, custom cabinets built specifically for my kitchen, but I have a feeling that's a ways down the road.
So in the interim, I'll be doing a low-cost makeover in here.  I went back and forth on whether or not I wanted to do that (lipstick on a pig?), and finally landed on a "YES!"  The more I think about it, the more excited I get about it.  I love the challenge of turning something ugly into something pretty, and I love it even more if I'm challenged to do it on a tight budget.
Plus, having a temporary, low-budget kitchen will give me the opportunity to step out of my comfort zone (and I do realize that my comfort zone would be considered daring for lots of people, considering that I had teal cabinets in the condo), and do some really fun, daring things that I might feel more reluctant to try if this were the final kitchen design.
My main inspiration?
Cameron Diaz's Manhattan apartment kitchen as featured in Elle Decor.
I won't be trying to replicate it exactly, but my kitchen will probably be very inspired by this kitchen.  I love it.  (And yes, it's dark.  You may have noticed that I'm not afraid of dark colors, or even dark rooms.   I think dark colors are rich and beautiful.)
So that's my news, and that's where I'm headed with this!  I have no goals of getting it done by a certain date.  I'll just work on it as I'm inspired, kind of like with everything else.
But there are a few things that are urgent, and need to be done before the plumber arrives next week.  I'm feeling just a tad bit lost and overwhelmed here (not too bad, though), but every night I watch an episode or two of Rehab Addict and it gives me the confidence that I can do this! 😀
Addicted 2 Decorating is where I share my DIY and decorating journey as I remodel and decorate the 1948 fixer upper that my husband, Matt, and I bought in 2013. Matt has M.S. and is unable to do physical work, so I do the majority of the work on the house by myself. You can learn more about me here.
I hope you'll join me on my DIY and decorating journey! If you want to follow my projects and progress, you can subscribe below and have each new post delivered to your email inbox. That way you'll never miss a thing!