DIY Pour In Place Concrete Countertops – Part 2
Disclosure: Concrete Countertop Solutions provided me with the materials to make my own concrete countertops using their products free of charge, but all opinions are my own.
My DIY pour-in-place concrete countertops are almost finished! If you missed Part 1 of this process (which included building the edge forms for the concrete), you can check that out here…
It was a long and exhausting weekend, but I have actual countertops now!!!  All of the countertops are poured, and I've removed the edge forms from three of the four countertops.  And oh my gosh, they are beautiful!!
I honest to goodness think that I might like this even more than the carrara marble I had hoped to use originally. I love the subtle "movement" in the appearance of the concrete, and the ogee edges are even more beautiful than I had imagined.
We poured the two small countertops, as well as the countertop on the wall of cabinets, on Saturday, and then we did the peninsula yesterday. So the peninsula still has the edge forms on it, but here's how it looked last night when I went to bed.
I can't wait to pull those edge forms off!!! 😀
I did vibrate the edges, but I still ended up with air bubbles.
To be honest, I was kind of hoping that would happen. 🙂
When this project was in the planning stages and I was talking to Ed at Concrete Countertop Solutions, I mentioned that I wanted to use the ogee edge form. He warned me that the ogee edge form has a tendency to trap air bubbles more than any of the other forms they have. I was actually okay with that because I personally think those little air bubbles are beautiful. It reminds me of tumbled travertine, and I've always loved the look of natural tumbled travertine.
But with concrete you have the benefit of a solid top surface, while the little bubbles remain just on the edges. And if you don't like the bubbles, they can be filled in so that you're left with a completely solid, smooth edge.
Overall, I'm so unbelievably excited about how my countertops turned out. I did make some mistakes, and I also learned a few things along the way, so I wanted to share those with you. But first, let's back up a bit.
When I left you on Friday, I still didn't even have my peninsula completely built.
So my mom came over on Friday and helped me install the other two cabinets…
…and then finish up the corner and end of the peninsula. That was more challenging than I expected, but we finally figured it out. Then I continued prepping for countertops while she started cleaning up the breakfast room. Finally at around 10:00pm, she encouraged me to call it a day, and consider postponing the countertops until Sunday. I was so tired that I agreed that was the best decision.
But then on Saturday morning, I woke up bright and early and headed into the kitchen at 7:30 to start working with a glimmer of hope that we could still pour the countertops that day. My brother told me he would be on standby just in case. 🙂
I finally had the forms ready to go, and my mom had our work space (the breakfast room) cleared out and the cabinets and floor covered. So my brother came over around 6:30 to start pouring the countertops.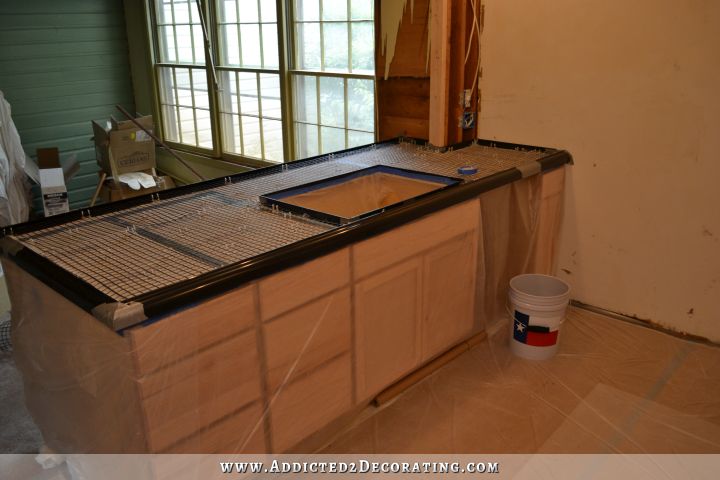 This was my first time ever to work with concrete, so quite honestly, I was a bit nervous. I had watched so many videos, had sent emails filled with questions to Ed at Concrete Countertop Solutions, and even had a conversation on the phone with Dario at Concrete Countertop Solutions, who was incredibly helpful and went through the entire process start to finish with me, and answered even more of my questions.
So I felt like I knew what to expect for the most part. But still, until you actually experience it yourself, there are still some "unknown" factors there. Watching a video, reading about the process, and having someone explain it to you is quite different from actually doing it yourself.
We decided to start with the two little countertops just to get a feel for what we were doing. The first batch mixed up and poured out just like the videos. We were working so quickly that I didn't stop to get a photo or video, but you can see on their website what the consistency of the mix is supposed to look like.
You can click here to see a video (cued to the right spot) of what it looks like as it's being poured out.
So the very first batch was perfect. But we were just getting started, so that nervousness/anxiousness of doing this big, somewhat overwhelming project and not quite feeling like we knew what we were doing still hadn't worn off, so when the second batch somehow didn't have nearly enough water added and was super thick, none of us realized it until it was too late and it had already been poured into the form.
I freaked out. As you can see, the mix is supposed to just flow freely through the mesh and begin to spread out on its own, and then you can use something to spread it where it needs to go. But on our second batch was so thick I was having to force it through the mesh with my hands. And it was poured close to the front ogee edge so that when the next properly mixed batch was added, the too-thick batch kind of stubbornly blocked the way of the liquidy mix flowing freely into the ogee edge.
That too-thick mix, followed by my freaking out and trying to "fix" the problem with one fix after another, and each one leading to more problems, resulted in that countertop having some rough spots on the top, as well as some large air bubbles along the decorative edge.
So I'll need to fill at least the four or five biggest holes.  And I'll possible end up having the rent a wet grinder for the top, although I'm still not sure if I want to bother.  There are only two spots on the top that are rough, so I'm not sure if it's worth it.
That frustrating experience kind of set the mood for the first two little countertops. Let's just say that my mood wasn't great. 🙂
So the main thing to take away from my mistake #1 is that you MUST mix until it's the proper consistency. Mixing concrete isn't like baking. Rather than following a specific "recipe", it's much more important to look at the consistency. If that means adding an additional 1/2 quart of water to one batch of concrete, then that's what you need to do.
After those, we kind of regrouped, recognized our mistake (following a "recipe" too strictly rather than only going by consistency), and felt much more confident in moving forward to the next countertop.
Next we did the countertop on the wall of cabinets. That pour went so smoothly and perfectly. I mean, quite honestly, when you mix the concrete properly, it's a dream to work with.
But there were some mistakes on this countertop as well. The first mistake was in trusting that my cat (the calico named Peeve) would stay out of the kitchen while we worked. 🙂
She had shown absolutely no interest in going in the kitchen all week long, even though I've been in there working every single day. And even on Friday, when my mom was over there, she still didn't bother us. So it didn't even dawn on me to lock her in a room while we worked. But as soon as we had poured the entire countertop, she came running. She ran into the kitchen, jumped up on the concrete, ran about 2/3 of the way down the concrete, jumped off, and ran out of the room.
So please learn from my mistake #2!! I don't care how well-behaved your animals are. Put them in a room behind a closed door while you're working. 🙂
We got that smoothed out with no problem, and this countertop was looking pretty perfect. But there was one more mistake to be made.
After the concrete is poured, you're supposed to vibrate the edges to remove the air bubbles. And to vibrate the edges, they suggest using a small rotary sander. You know…the kind of sander that every DIYer has, right? Well, this DIYer doesn't have one because mine stopped working about four months ago and since I have the six-inch variable speed sander (a real bear to work with compared to the 5-inch sanders) I just haven't felt the urgency to get a new 5-inch sander.
So I was using the behemoth sander to vibrate the edges. It was working fine, until I got to a spot where a really big air bubble came out. And then a couple of seconds later, another really big air bubble came out. Until then, I had only seen little tiny air bubble escaping as I vibrated the edges. So naturally I thought that area needed a bit more concentration with the sander. The problem is that I had that big sander turned up way too high, and I kept it in one place for far too long, and it messed up the form.
And let me tell you, when you're using a big variable speed sander turned up way too high, it really doesn't take long to do that to plastic — even thick, hard plastic like these forms, and even without a sanding disc on it. The friction alone is enough to cause that.
So that's mistake #3. And unfortunately, that dent shows on the finished edge of the countertop.
Mark my work…I will find a way to fix that. And I'll share the process and the results with you.
But of course, none of you will have that problem since you'll learn from my mistake. I highly recommend that you don't use anything more than a regular palm sander to do the vibrating. If your sander is big and heavy , requires two hands to hold, and has 10 speed settings (that of course, you always keep in the highest setting), it's too much. If your sander fits in one hand and has one or two speed settings, it's just right. But even then, keep the thing moving constantly.
That's as far as we got on Saturday. Then yesterday, my brother came over at about 11:00 so we could pour the peninsula. And let me tell ya…we knocked that thing out in one hour. We had ten bags of concrete mixed, poured, and had the peninsula screeded in one hour. We felt so much more confident in what we were doing, we knew what to expect, and we knew to watch for the proper consistency. And we were like total pros. 🙂
I also felt so much more confident with this one because by this point, I knew that the concrete would NOT look perfect after screeding it. On the first day, I kind of freaked out after screeding the wet concrete because I was expecting it to look smooth and close to perfect. But it doesn't. And that's okay. In fact, here's what the peninsula looked like after we poured and screeded it.
Can you see how rough that looks? And we kept having trouble with that end (because…well…let's just say that those corners aren't perfect 90-degree angles) so we kept getting a dip in the concrete just before the left edge. So I went back and filled in some of that using a trowel. That resulted in it being even a bit rougher.
But again, by this point I knew what to expect, and I knew not to freak out about rough concrete this early in the process. Why? Because the magnesium float works magic.
Here are the two tools I used. The magnesium float is on the left, and the steel finishing trowel is on the right. Both are available at Home Depot, and you can also order them through Concrete Countertop Solutions and just have them arrive with all of your other supplies.
As I was saying, that magnesium float works magic. I left the concrete in that state as you see it two pictures above for about an hour, and then I came back and used the magnesium float. Again, here's how it looked before (just after screeding, and after I hand troweled some additional concrete on the edge to fill in a dip).
And here's how it looked after using the magnesium float an hour later.
Amazing, right?!
Here's another look. The front section has been floated, while the back section is still rough.
Now here's the thing about this step that I learned the day before. When you wait an hour after pouring and screeding, and then you come back to do the floating, at first it'll feel like you've waited too long. If you have zero experience with concrete like me, you may even freak out a bit and panic (like I did) because you think you've waited too long.
Don't panic. If it's only been an hour, you're fine. It just takes some muscle, quite a bit of pressure, and many passes over the surface to see the texture change. And the process is pretty amazing.
At first, it'll sound like you're running a trowel over gravel. The sound is really harsh and…well…gravelly. And it'll feel really hard, and you'll think that there's no way this trowel is going to do any good. But then the more you trowel, you'll start to see the texture change right before your eyes. It's like the trowel pushes that rough granular sandy texture to the bottom, and brings the smooth "cream" to the top. And as that happens, the sound will change. It'll go from a rough, harsh, gravelly sound, to a smooth sound that reminds me of that smooth, icy sound that a Slurpee makes as it's being poured into a cup. 😀
About an hour or two after using the magnesium trowel, I followed up with the steel finishing trowel. And again, it takes quite a bit of muscle and force with the trowel to make any difference, but you'll see a difference. You just have to be very careful with the corners of the steel trowel because the concrete can still be gouged at this point.
One other thing is that you want to be sure that your movements are random and organic. You don't want to do straight lines from one end to another, because that's not natural. And there's no way to get those perfectly straight. And then it'll be glaringly obvious that it's not perfect. So stick with very random, very organic movements with the trowel. Here's a look at the countertop after it had been drying for about three or four hours. Since it's at varying stages of drying (the darker, grayer areas still have lots of moisture in them, while the whiter areas are much dryer), you can really see the randomness of the trowel strokes.
Of course, those become a lot more subtle as the whole thing dries more evenly. In fact, here's what it looked like last night right before I went to bed.
I think those are all of the mistakes and tips I wanted to share with you.
And because some of you have expressed your interest in doing your own concrete countertops, the good folks at Concrete Countertop Solutions are offering my readers a 15% discount!! Just enter coupon code A2D123 at checkout. That discount is good through July 31, 2014.
The Z Counterforms White Countertop Mix that I used on my countertops is a brand new product, and isn't yet available on their website. It will be available very soon, so if you're interested in that, just contact them directly and let them know and they'll help you out.
And here is my honest to goodness unsolicited opinion.  After using this product, I would never consider pouring a concrete countertop any other way.  The Liqui-Crete system (where you use the fiberglass mesh and the really liquid concrete mixture), when it's mixed correctly and to the right consistency, and when you have an understanding of what to expect out of concrete in general, is so unbelievably easy to use. 
After that one batch was mixed incorrectly and it came out so thick and difficult to work with, it made me fully realize how much more challenging and nerve-racking it would be to do a concrete countertop with just regular 'ole thick concrete.  I can't imagine being able to mix and pour ten bags of regular concrete, and having it remain completely and easily workable that entire time.  I can honestly say I wouldn't want to try it.
The Liqui-Crete remains so wet and so workable that even though it took us an hour to mix and pour enough concrete for the peninsula, we had absolutely no problem screeding it. It was a very simple process.
So there's more to come. Obviously this project isn't finished. I still need to figure out how to fix my one sander mishap (and I will find a fix for it), and how to fill in four or five of those big air pocket holes. I need to remove the forms from the peninsula and get that sanded down, and then all of the countertop still need to be sealed.
If you have any questions in the meantime, I'll do my best to answer them!
Update: I pulled the edge forms off of the peninsula and gave it a quick sanding. Here it is!
Now I just need to wait for them to cure, and then seal them.
Update:
The countertops are sealed and finished. You can see them here…
Addicted 2 Decorating is where I share my DIY and decorating journey as I remodel and decorate the 1948 fixer upper that my husband, Matt, and I bought in 2013. Matt has M.S. and is unable to do physical work, so I do the majority of the work on the house by myself. You can learn more about me here.