It has taken a while, but I finally have the stained red oak floor finished in my kitchen.  I say "almost" because it still needs three more coats of Waterlox, each applied 24 hours apart, so it won't officially be finished until Friday.  But the color won't change much, so what I have now is pretty much how it's going to look when it's finished, except that the finished floor will have a satin finish instead of a semi-gloss finish, and the color will probably be dulled just a bit once I add the satin finish on top.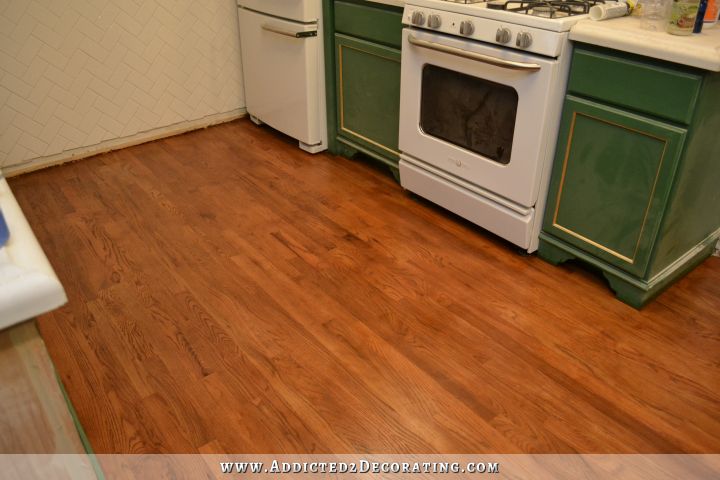 So let me back up a bit.  After I got the whole floor sanded…
…I was hopeful that I could just seal it with Waterlox to it to make it look like the other wood floors.  The kitchen floor is red oak, just like the rest of the house.  But evidently the age of the wood makes a huge difference in how the color will turn out, because the Waterlox turned the original red oak to a gorgeous rich brown color with the very first coat…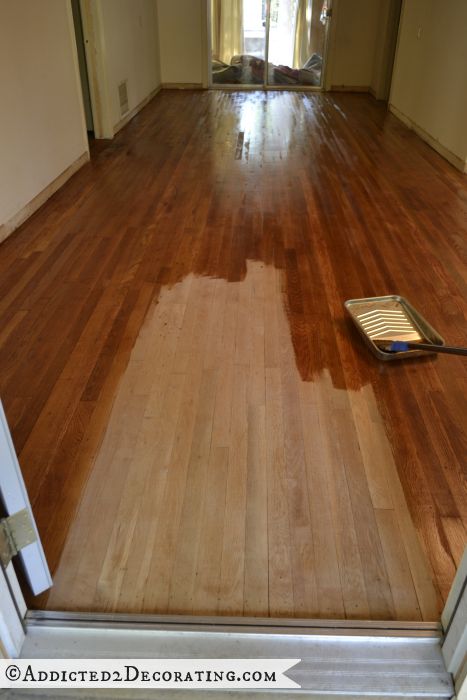 But with the kitchen floor, the first coat of Waterlox barely made a difference at all in the color.
So I knew that if I wanted the floor to look anywhere close in color to the original floor, I'd have to use stain.
I ended up having to mix my own color using two different shades of Rust-Oleum stain.  I used one part American Walnut to one part Wheat.  Before I stained the floor, I sanded the whole thing using 150-grit sandpaper.  Then I applied the stain with a rag.
It actually looked very close in color to the rest of the floor, but it's not exact.
I gave that a few hours to dry, and then applied the first coat of Waterlox right before I went to bed last night.
I've found that that's the easiest way to do Waterlox.  Apply it right before bed, be sure the animals are tucked away behind a closed door somewhere, and give it eight hours to dry.  By the morning, it's dry enough to walk on with bare feet or socks.  Then repeat the next night, and the next night, until it's finished.
So this morning, it looked like this…
And here you can see where the old red oak floor with Waterlox only meets the new stained red oak floor.
It's not a perfect match, as you can see.  The new floor has more red in it, while the old floor has more yellow in it.  But it's good enough.  🙂
I still need to do two more coats of the regular Waterlox (which has a semi-gloss sheen), and then I'll finish up on Thursday night with a final coat of Waterlox in a satin finish to take away that shine.  The satin will also dull the color just a little bit.
One interesting thing is that when I applied the Waterlox last night, I had three perfect little circles appear in the floor.  They didn't show up with the stain, but only with the Waterlox.
They're a little over an inch in diameter, and I can't even imagine what caused it.  I was so disappointed when they showed up, and sat there staring at them just wondering how in the world I was going to fix them.  But you know what?  I'm not.  I'm done with this floor.  Those three little circles will just stay there as a reminder to me that perfection is overrated, and sometimes we need to learn to accept and laugh at the imperfections.  After all that I've been through with this floor, I think it's an appropriate reminder.  🙂
What a journey this floor has been!  From a striped nightmare…
…to beautiful tan and white stripes (that I ruined by painting over Waterlox that hadn't cured yet) that no longer went with my cabinets once I decided to add the gold leaf (that gold leaf was a game changer)…
…and now just simple stained red oak floor…
Hopefully I won't have to refinish this floor again for many, many years.  🙂
EDIT:  You'll also notice that I made a mess of the decorative feet on the cabinets with the stain and the Waterlox.  Those will definitely need touching up, but it'll have to wait until this weekend after the floor is dry and can be taped with painters tape.
Addicted 2 Decorating is where I share my DIY and decorating journey as I remodel and decorate the 1948 fixer upper that my husband, Matt, and I bought in 2013. Matt has M.S. and is unable to do physical work, so I do the majority of the work on the house by myself. You can learn more about me here.