Large Textural Pixel Artwork (a.k.a., The Most Insane Project I've Done To Date)
This is officially the craziest project I've ever done. And that's saying a lot coming from someone who created a pinwheel made of 800 wood spoons. I wanted a large piece of artwork that was unique and out-of-the-box for the big wall in my music room, and I think this 46″ square, 6400-piece wood bead pixel artwork fits the bill.
So here's how this came about. 🙂
I had been thinking for a long time about what I wanted to put on that wall. I knew I wanted one large piece of artwork as opposed to several smaller things grouped together. And I wanted something dimensional using mixed media instead of something flat like a painting or photograph. So I had been stalking the social media accounts of several mixed media artists for inspiration, but nothing really stuck.
In the meantime, I was on Instagram one day, just minding my own business and scrolling through in my daily search for colorful room inspiration, when I was shown an advertisement for an app called Pixel Art. (You can find it here.) I generally pass right by those ads for games and activities, but this one caught my eye. It looked fun to me so I downloaded it, and quickly became addicted to it. I especially liked that even with the free version, you can upload your own images (or any image you find online) and turn it into pixel art.
So after playing around with this app for a couple of weeks, I started to think about how awesome it would be to use this idea for real, actual artwork created with something textural that I could frame and hang on my wall. Believe me, I tried to talk myself out of it, but after obsessing over this idea for a couple of weeks, I realized that my brain wasn't going to let go of the idea until I actually tried it. Even if it turned out to be a spectacular fail, I had to try it.
I searched for a picture that I wanted to use, and found a photo of a pink daisy with teal and green in the background. I uploaded it to the app and set it to the most detailed setting (which is still only 80 pixels square).
Only 80 pixels square. It's easy to say only 80 pixels square when you're dealing with a tiny image on a small handheld device. But when you're creating real, actual, in-person artwork out of it, you quickly realize that 80 pixels square is a whole lot of pixels.
Six thousand four hundred, to be exact. As in, 6,400 pixels.
My biggest challenge was finding the wood pieces to use for the project. I really wanted square wood pieces, but in order for this piece to fit on my music room wall, I needed the pieces to be no larger than 1/2 inch. I couldn't find any pre-cut square wood pieces that were the right size and that wouldn't cost a fortune, so I looked for round pieces.
I found that my only ready-made round option was wood plugs, which are the little things that you use to cover up screw holes on chairs and such. And the cheapest place I found was WidgetCo, where they offer bulk pricing. I purchased 6,500 of these 3/8″ maple button top wood plugs, (which I shall refer to as "buttons" in this post) which made the price $0.03 each. It still wasn't cheap, but I couldn't find a price even close to that anywhere else. And I guess anytime you purchase 6,500 pieces of a product, you should probably expect the price to add up a bit. 😀
I used a half sheet of plywood (48″ x 48″) as my backing, and actually wasted a whole lot of time doing a whitewash over the plywood because I thought more of it would show on the finished product. If I had it to do all over again, I would have painted the whole thing black and saved a lot of time and frustration.
I used any straight edge I could find (a piece of 1/4″ MDF, a framing square, 1/2″ trim boards, etc.) and clamped them to the plywood marking off one quadrant at a time. I decided to start with the center lines and work my way out rather than starting at one edge and working across the whole piece of plywood. So starting at the center point of the plywood, I glued 40 buttons in each direction…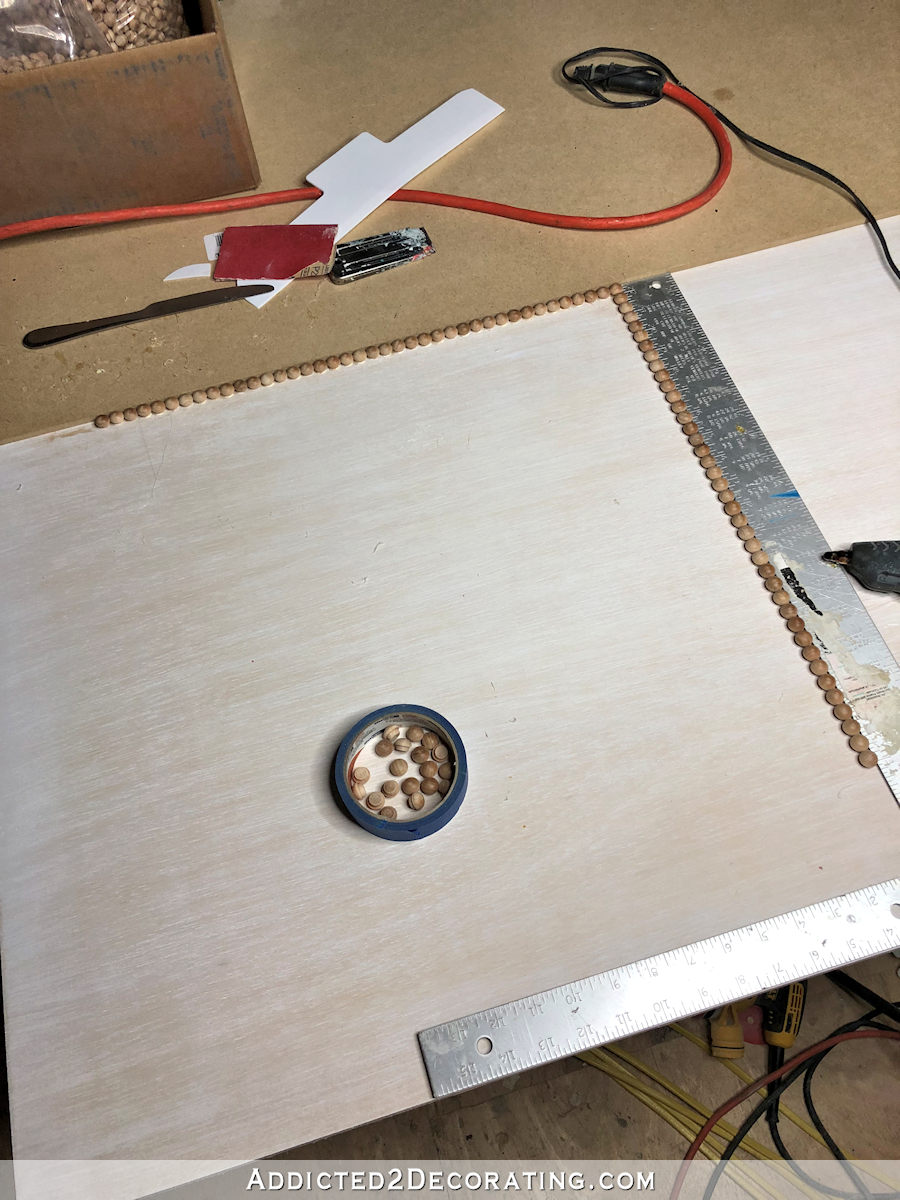 Then I measured very carefully, clamped on more straight edges, and glued on the outer edges of the first quadrant.
And then I glued, and glued, and glued, and glued until I filled in the whole thing.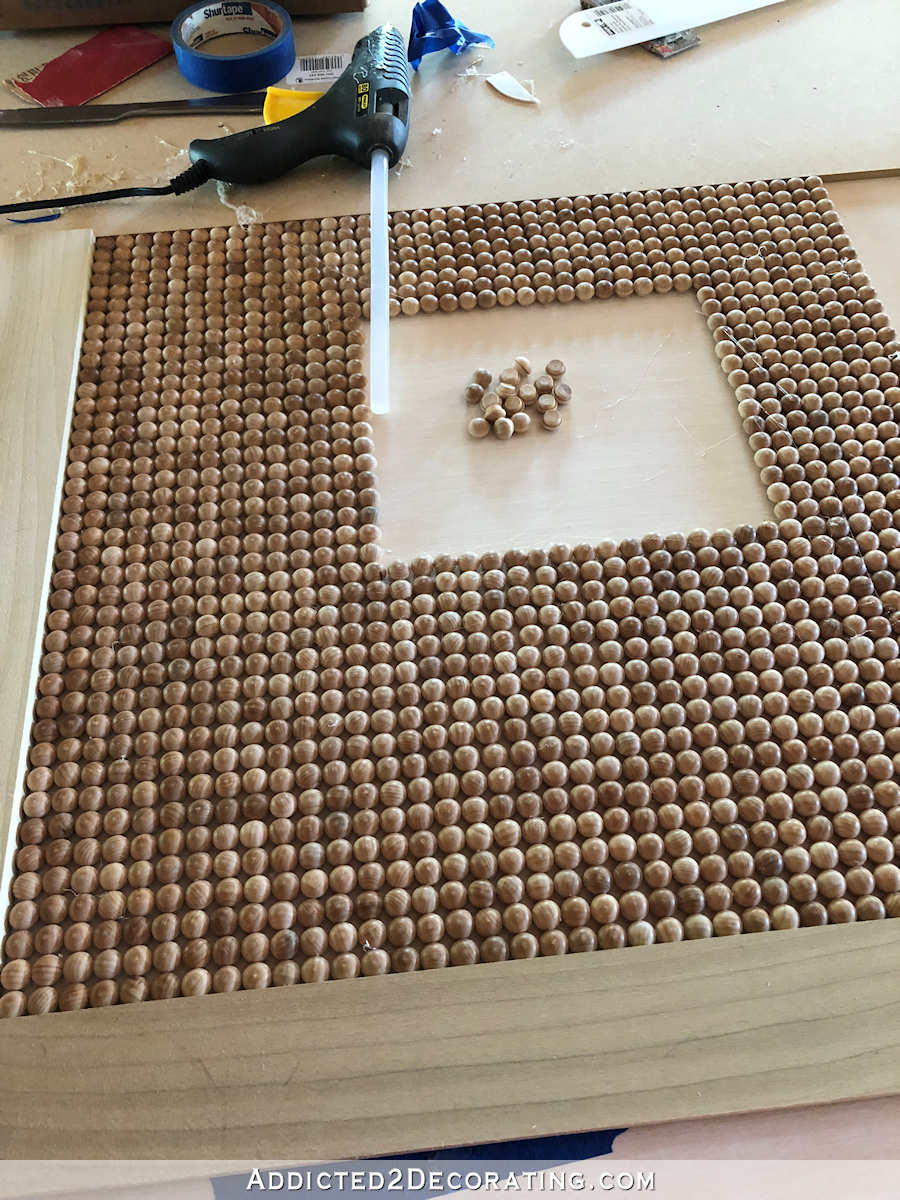 With the first quadrant finished, I move on to the second quadrant, and did it the same way.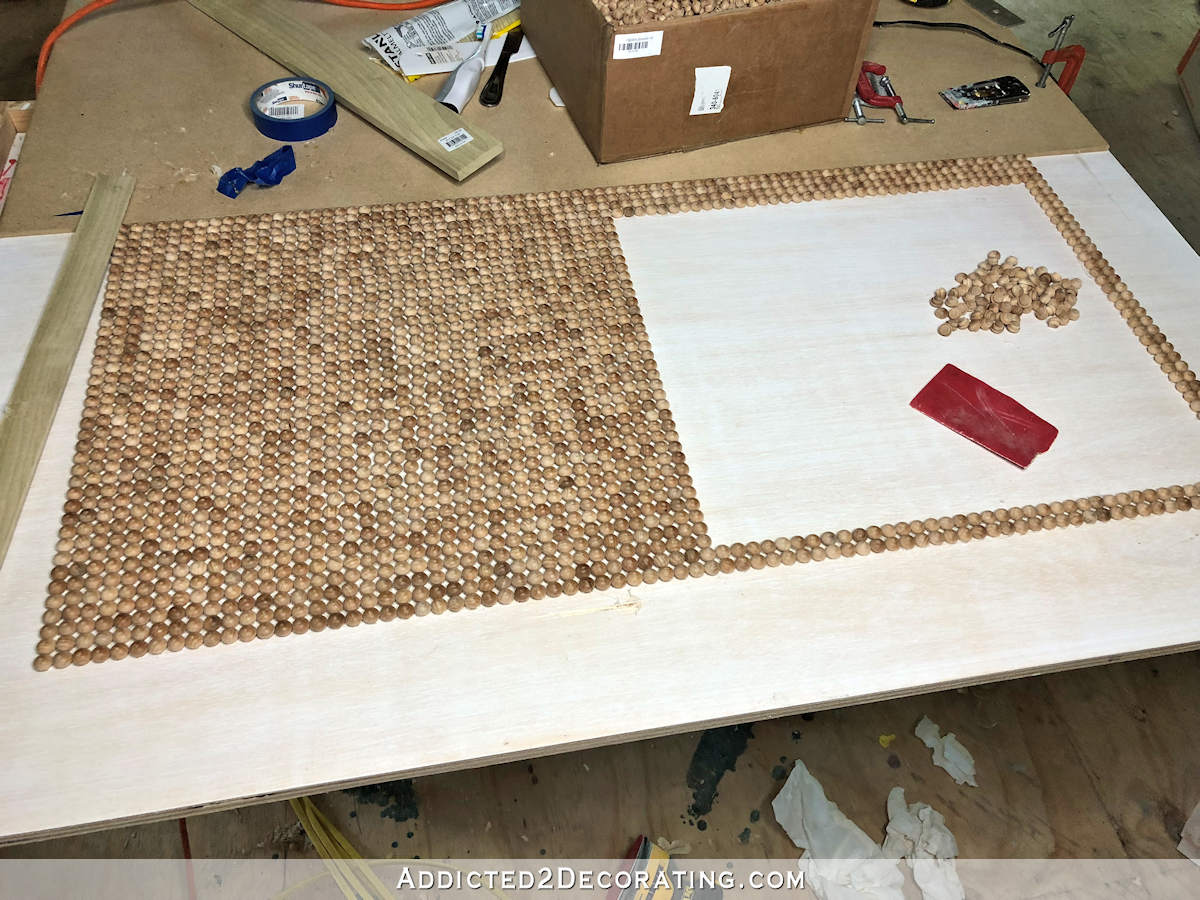 I continued with the other two quadrants in the same way until I had all four finished. All 6,400 wood buttons attached and ready for primer.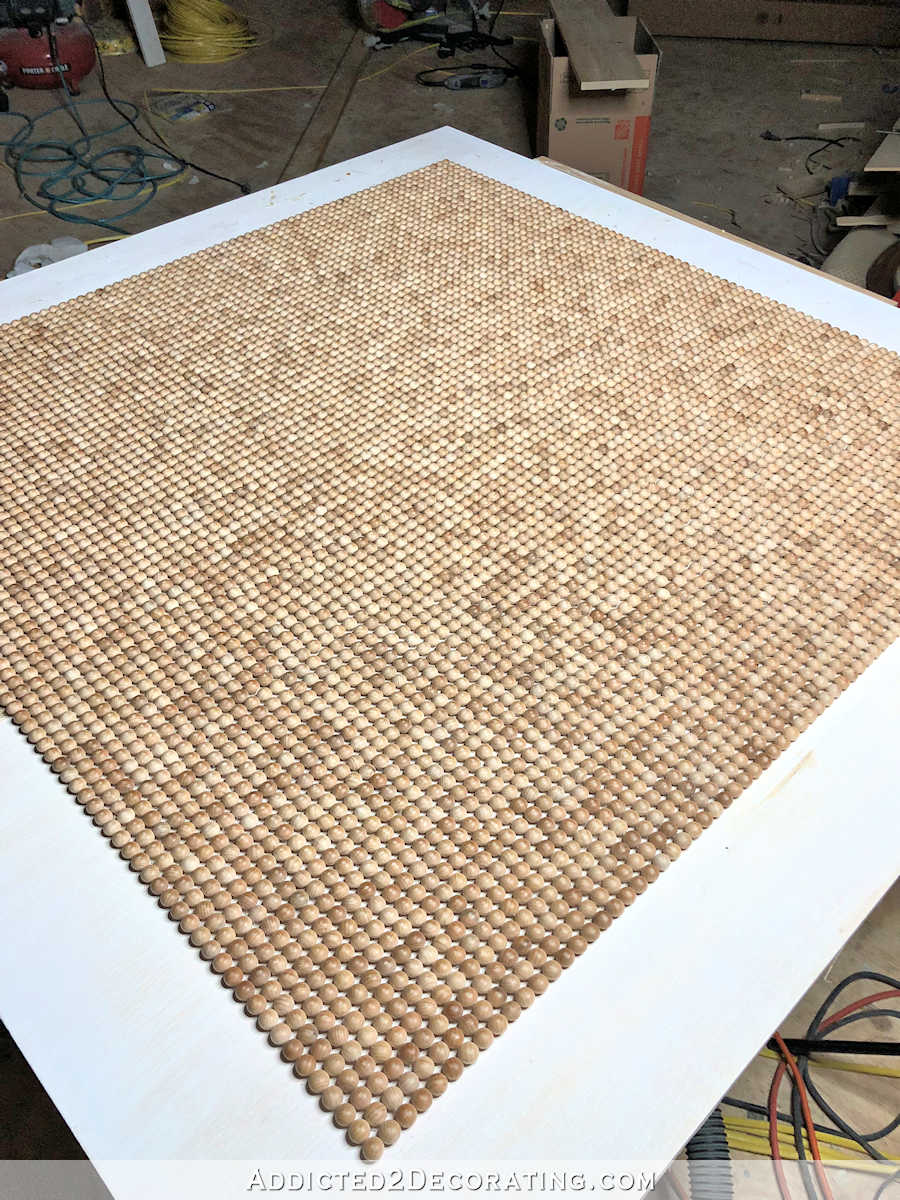 I sprayed the buttons with a Rust-Oleum spray primer in white, and let it dry thoroughly before painting.
While that was drying, I mixed my paints. The great thing about that Pixel Art app is that it shows you the colors that the picture will use, and exactly which pixels each color goes on. My picture required 48 colors, and I used acrylic craft paint from Michael's to mix all of the colors in little 3-ounce Solo cups. I numbered my Solo cups according to the chart so I knew exactly which color was in each cup.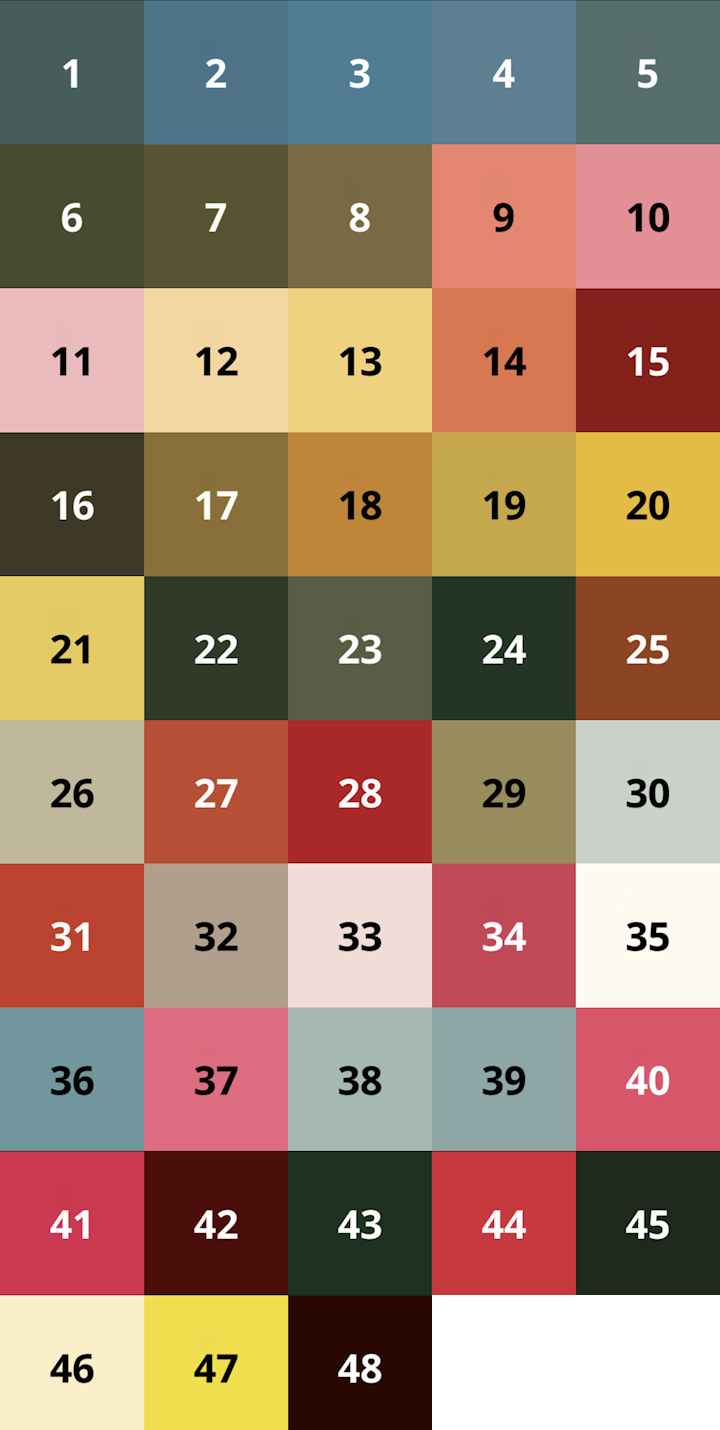 I ended up using more colors than that, but these were a great starting point.
And then I was ready to paint. I used a small flat craft paint brush (the cheap kind you find at Michael's or Hobby Lobby), and with my phone in hand with the Pixel Art app open and at the ready, I started painting.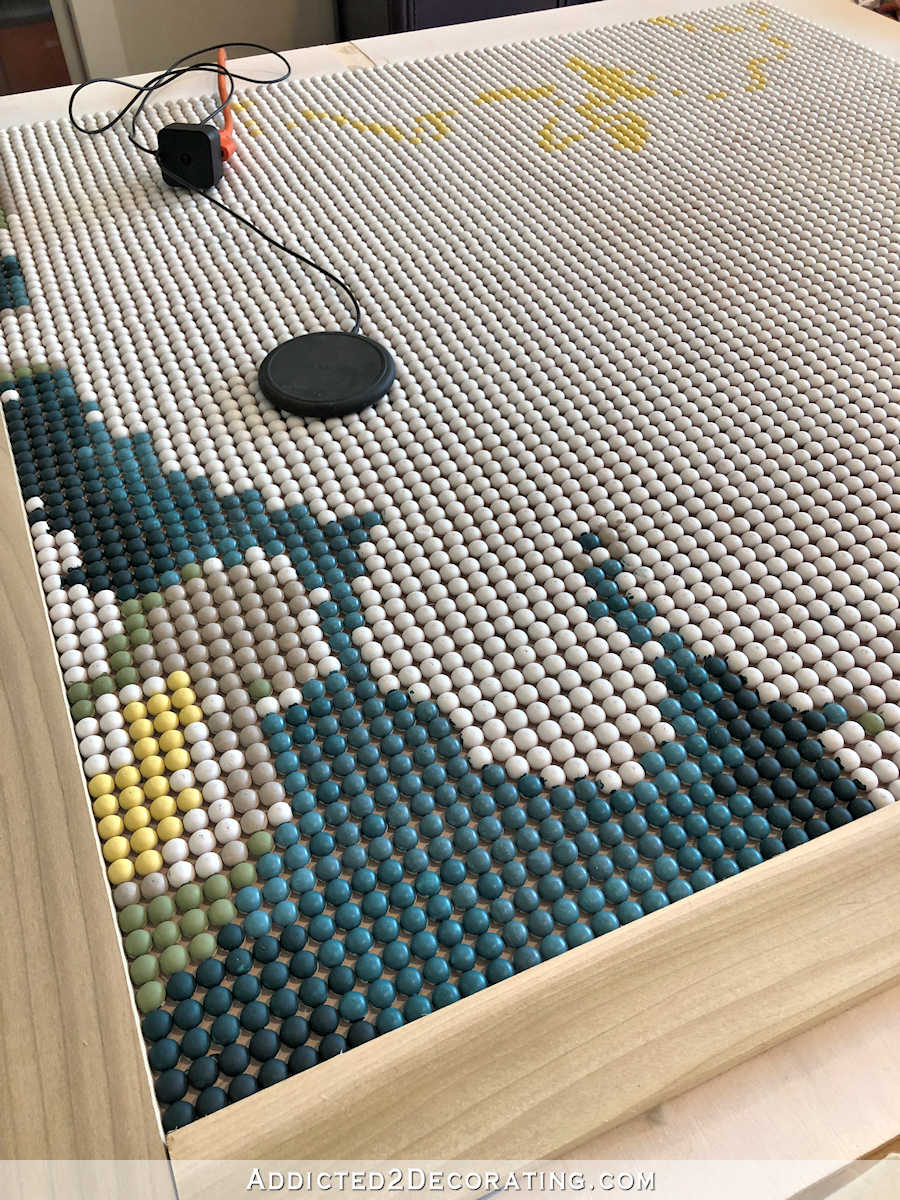 Obviously this was time-consuming, but it wasn't difficult at all. I mean, the app does all the work for you. It tells you exactly where to put what color. It's like a big paint-by-number, only instead of painting organic- and odd-shaped areas, you're painting dots, or pixels.
I did end up adding some colors and making some pretty significant changes to the picture after realizing that the photo I chose didn't translate 100% from a tiny pixel picture on my phone to a huge piece of artwork for my wall.
I sealed it with a few coats of Rust-Oleum clear spray. I tried a gloss finish first, and decided I didn't like, so I ended up spraying over it with a matte finish.
To finish off the piece, it needed a frame. I used my circular saw to trim the excess plywood around the edges to three inches. Then I used 1″ x 4″ lumber, ripped it to three inches on my table saw, and cut four pieces that were mitered on the corners to form a frame right around the buttons. Then I used pieces of 1″ x 3″ lumber, ripped to about two inches, and attached them around the sides to cover up the edges of the plywood.
Yes, I had unsightly gaps. 🙂 Clearly I didn't measure something correctly.
But not to worry, because I also added some decorative moulding to the mix. I used base cap moulding, and fit it along the edges of the face frame right up against the side pieces.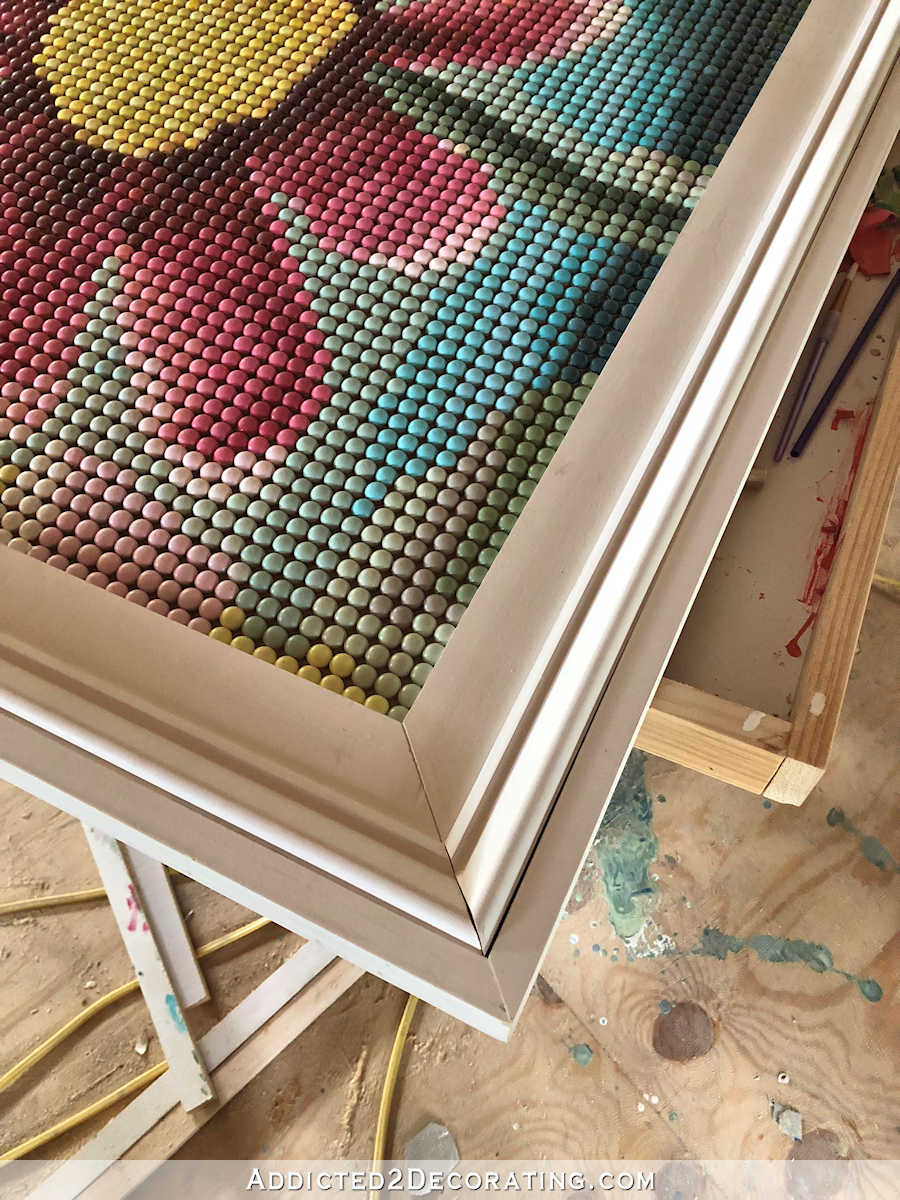 And after caulking and painting the frame, it was finally finished.
Cooper seemed to approve. 😀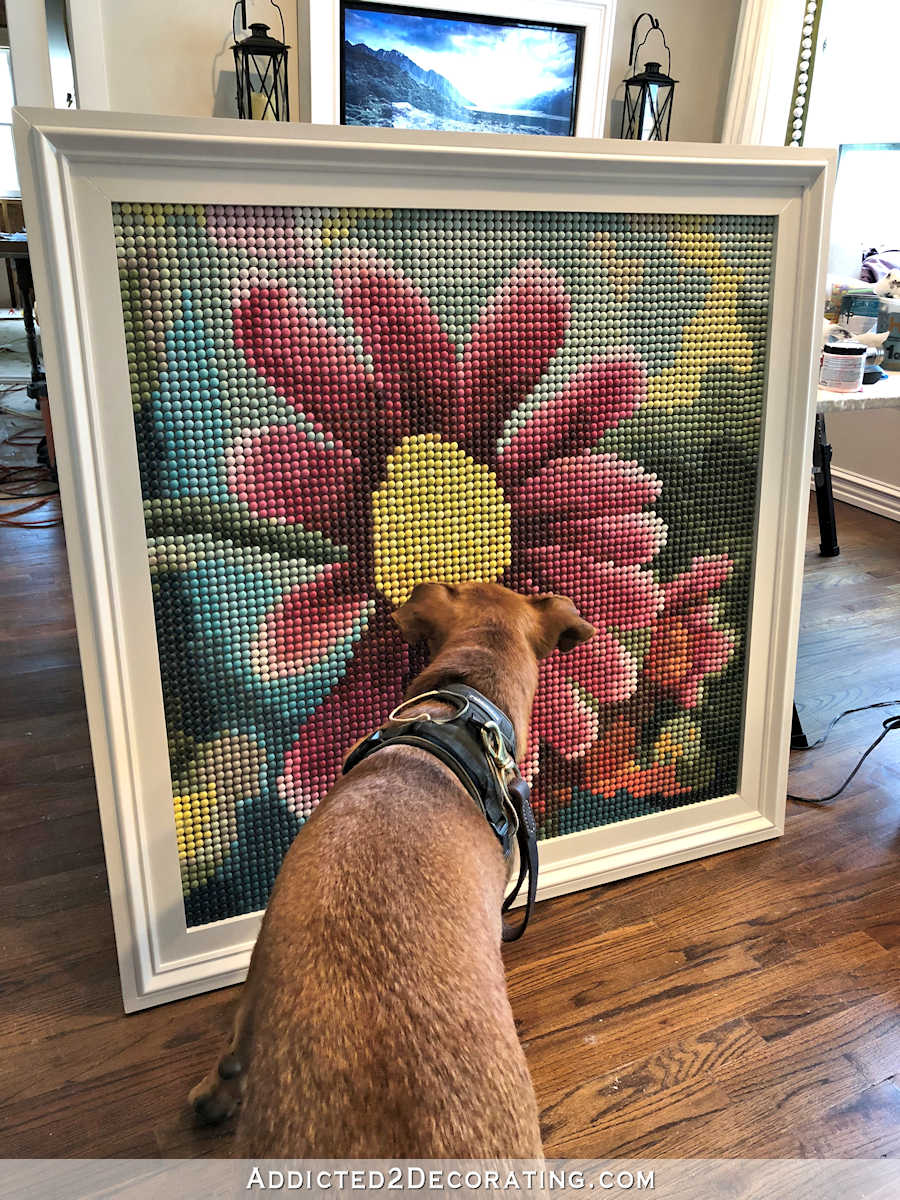 This thing is big and heavy, so I used an Ook Hangman French cleat (you can find them here) to hang it on the wall.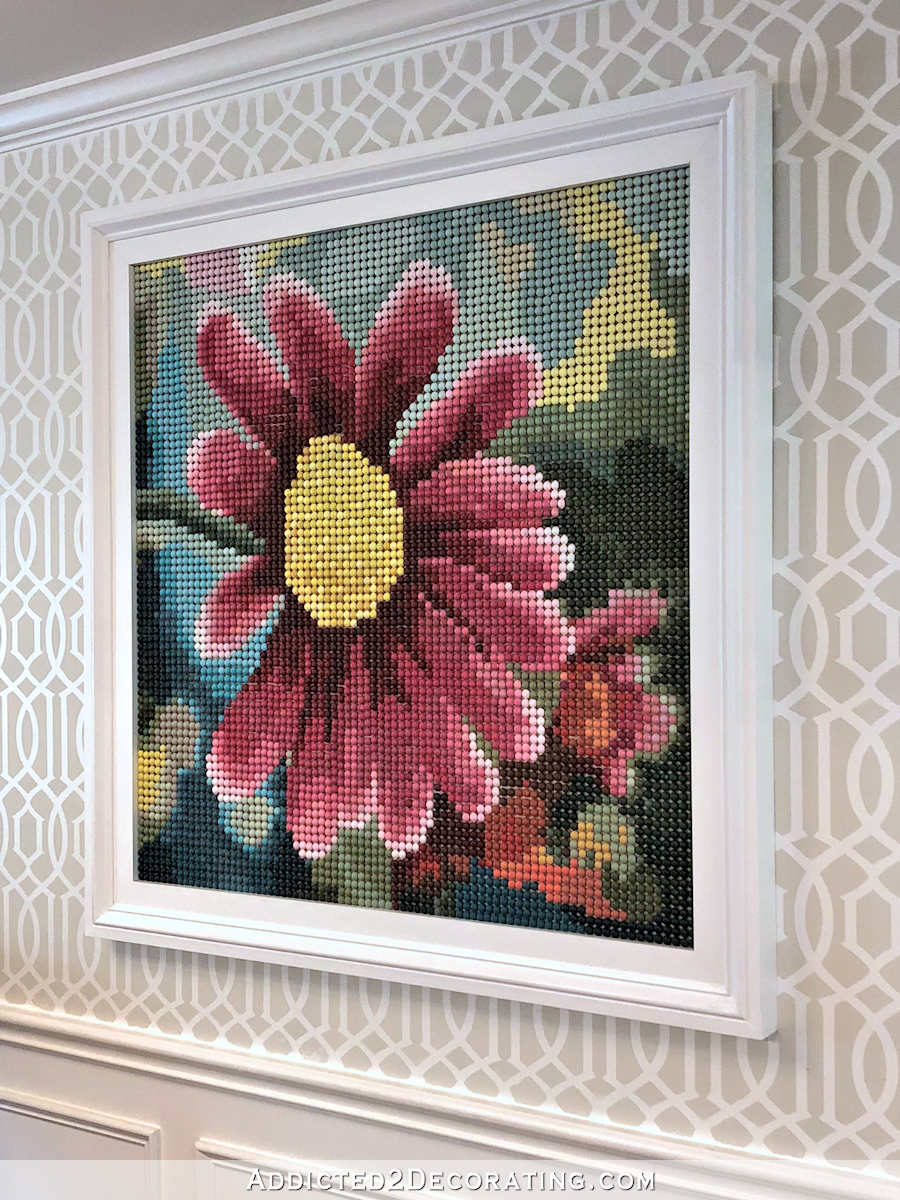 It's really hard to tell just how big this thing is in pictures. It's big. And it definitely added some much-needed color to my music room.
Now I can use this as a jumping off point for reupholstering the chairs and selecting a paint color for the table.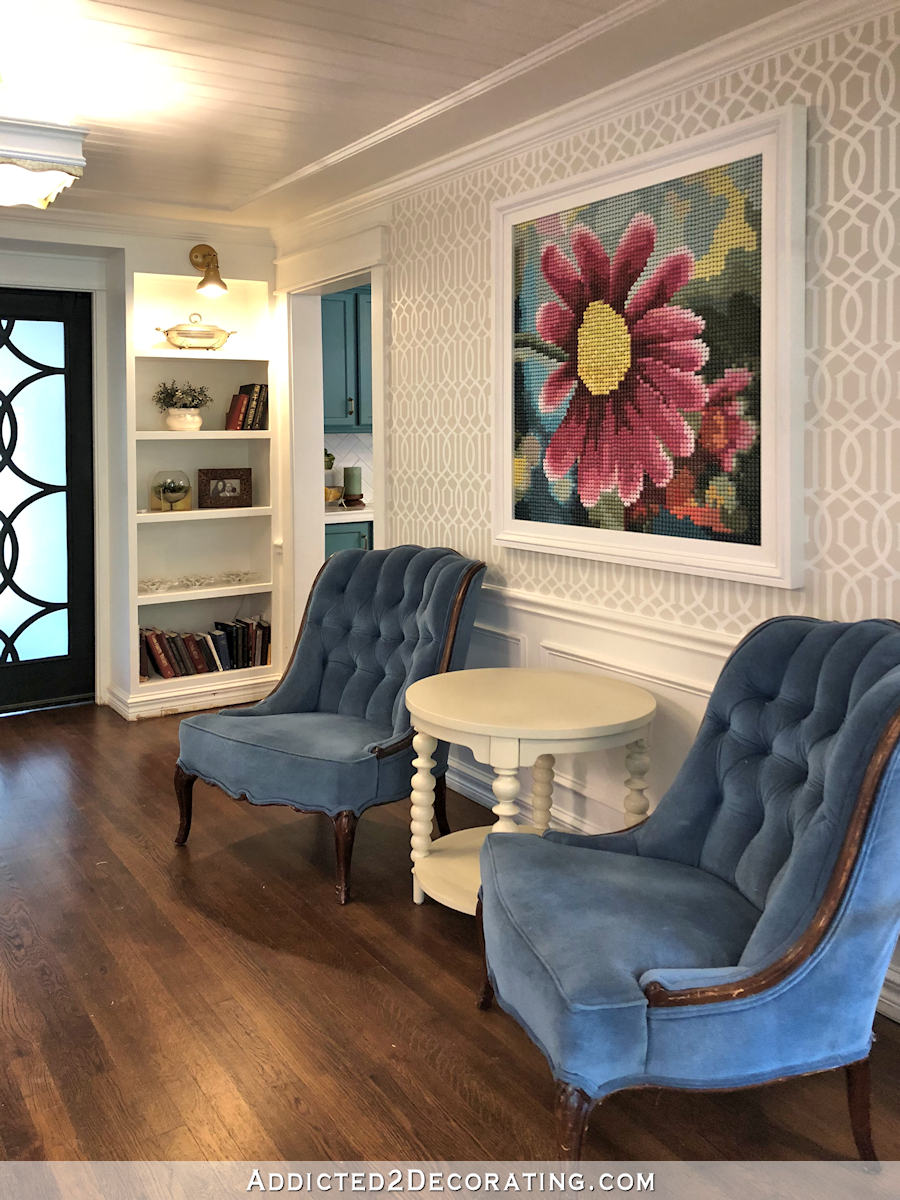 So it's done. And now I can stop obsessing and get busy with my half-finished project challenge.
UPDATE:
I ended up finishing this artwork with several layers of resin over the wood buttons. It was my first experience using resin. You can click here to see how that turned out.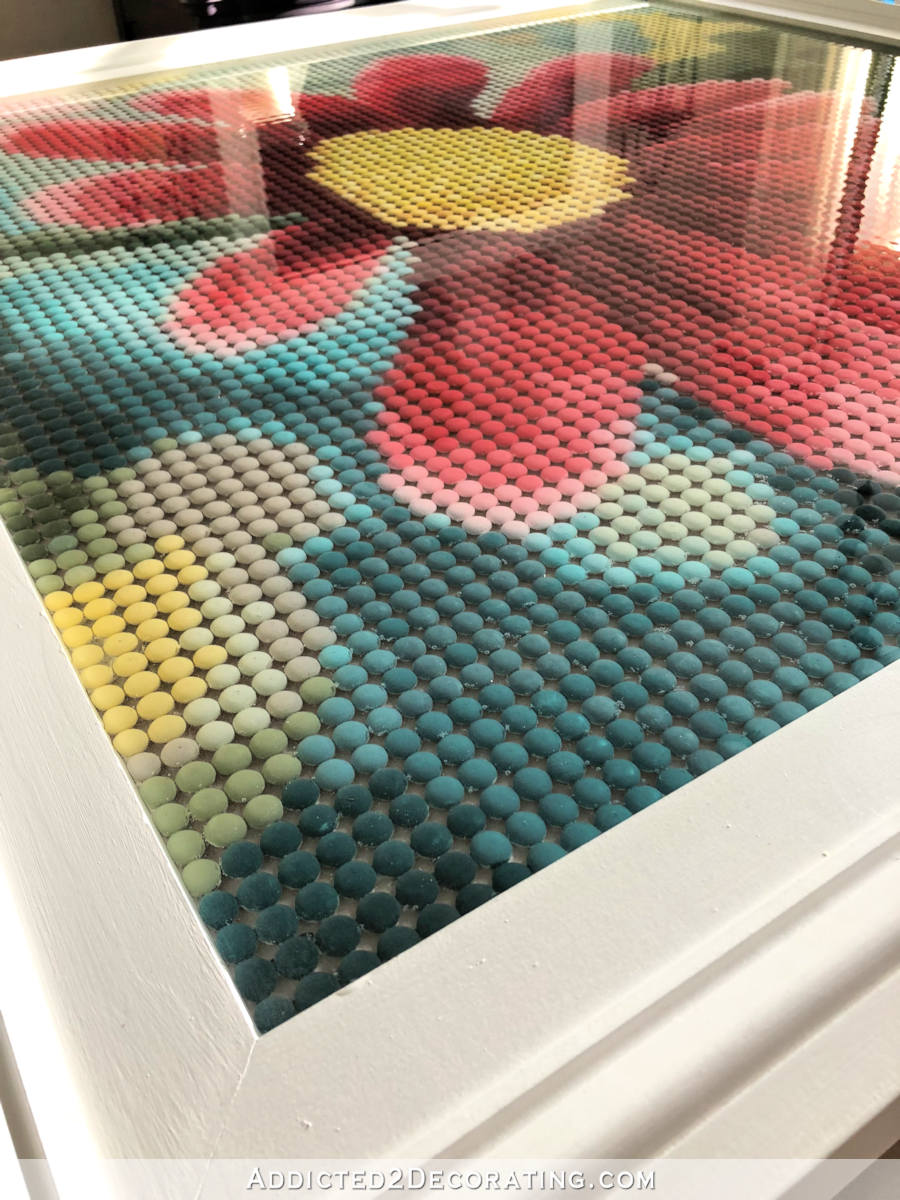 Addicted 2 Decorating is where I share my DIY and decorating journey as I remodel and decorate the 1948 fixer upper that my husband, Matt, and I bought in 2013. Matt has M.S. and is unable to do physical work, so I do the majority of the work on the house by myself. You can learn more about me here.