An Artwork Switcheroo and Haint Blue Revisited
Well, I asked for input on Monday's post, and y'all didn't disappoint! 😀 So which of the four fabrics did I choose for the music room chairs?
None of them. 😀
I remember one time I had a similar post with options that I was considering for a project (I can't remember what project, exactly), and after asking for input and getting hundreds of comments, I ended up abandoning the original options and heading in a completely different direction.
One person got really upset with me and asked something like, "Why do you bother asking for input if you're not going to listen to us?" But the thing is that when that happens, the new direction is almost always because someone (or a handful of people) made suggestions that got my wheels spinning in a different direction.
And that's what happened again this time. Out of 200+ comments, a handful of you had some very different ideas that got me thinking in a different direction. Those ideas are still percolating in my mind, so I'm not quite ready to share, but I tested out another change that I did want to share.
A common theme in the comments on Monday's post was how the colors in the pixel artwork are "subdued." I don't see that in person, but I do see it in the photos. So I wondered if it might be because the music room is the room with the least amount of light, which makes the colors look darker than they are.
So I decided to switch the entryway artwork and the music room artwork, and see if the pixel artwork placed by the front door with lots of natural light might make it look brighter.
I'm not sure if it does, but I have to say that I LOVE it there!
Don't get distracted by the orange lamp. 🙂 I use it every evening, so until I make my final decisions, it's staying put for practical purposes.
But the magenta color in the pixel art ties in beautifully with the magenta in the living room rug. And I just love how big and bold this is in the entryway.
I really like the abstract artwork in the music room as well.
And for some reason, when I made this switch, it made things come together more easily in my mind.
So I guess the lesson here is that if you're feeling stuck and you're having trouble making a room (or rooms) come together, try making just one big change or switch and see if that gets the creative juices flowing again. There might be something about the placement of a large item that's causing a creative block in your mind.
And in other news, I'm almost ready to paint the front porch ceiling, but settling on just the right blue is harder than I anticipated. Many of you warned that I needed to go with a blue that's much lighter than I think I'll need. I found that to be so true!
I didn't want the blue ceiling to clash with the blue shutters, so I decided to purchase a gallon of bright white (i.e., unmixed) Behr exterior paint right off the shelf, and then mix in a small amount of the blue shutter color (Benjamin Moore Gentleman's Gray) to get a coordinating light blue.
I didn't mix much blue into the white at all, and still when I put it on the ceiling, it looked like something that belonged in a little baby's room, and not in a good way, but in that awful, predictable "I'm painting my baby boy's room baby blue" kind of way that ends up looking way too bright and kind of cheap.
So I added a lot more white, plus a little black to tone it down. And then I repeated that about five times.
Here's the first color I mixed and tested, next to the second color, next to the fifth and final color that I mixed and tested. (The final one is the one with the arrow pointing to it.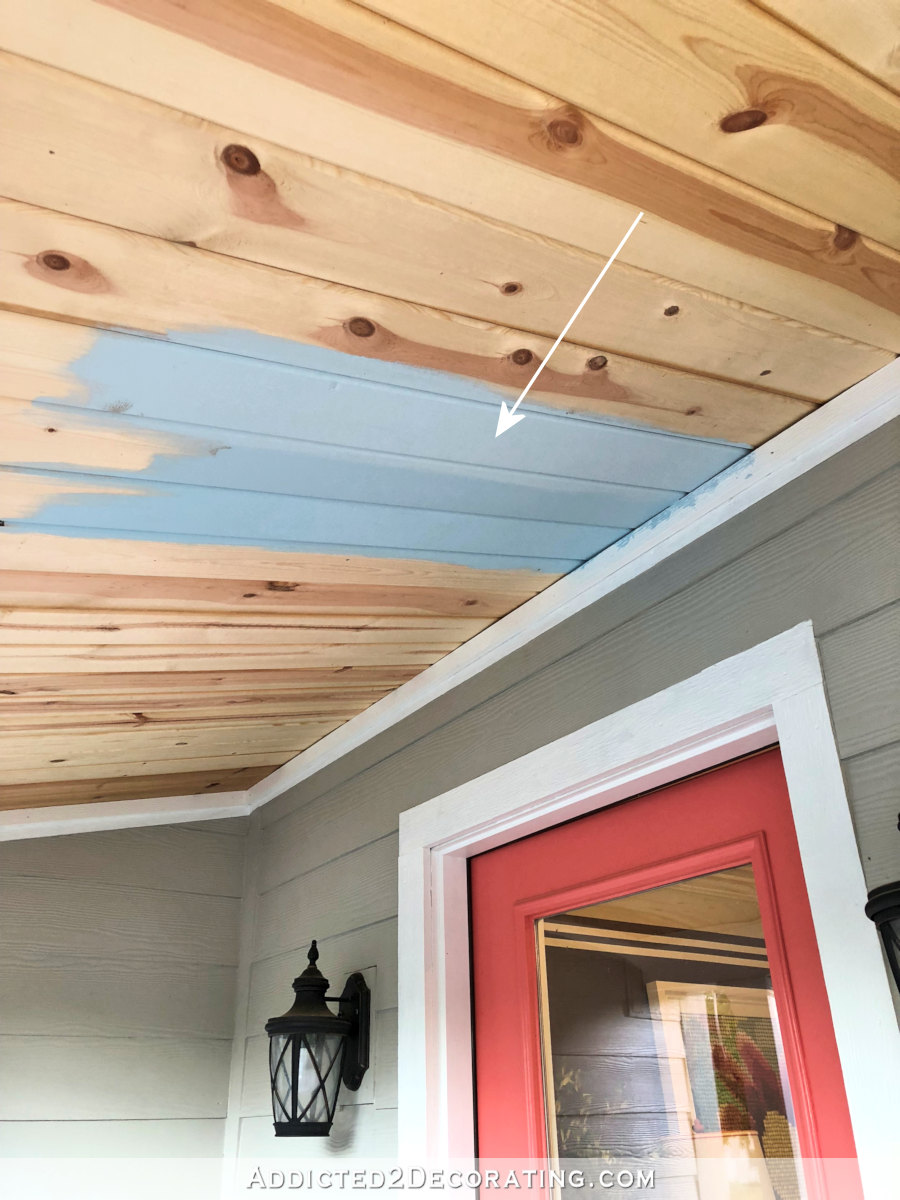 You can see how bright that first color was. The color next to it (the one in the middle) is toned down with black. I also lightened it with white, although that doesn't really show. I did two more in between that second color and the final color, but I painted over those with each new color test. The one with the arrow is where I finally stopped mixing paint.
It's really hard for me to tell if that color is actually going to work. I mean, in the bucket that I mixed it in, it looks barely blue at all. Here it is next to the white…
That's so light!! It's barely-there blue in the bucket. But when it's on the ceiling, I almost feel like it needs just a touch more of black to tone it down even more, and then more white to lighten it. Right?
Knowing what I know now about how "barely there" the blue needs to be for a light, subtle haint blue porch ceiling, I think if I were to actually pick a color swatch to have mixed, I'd go right to the "white with blue undertones" section of the paint swatches and steer clear of the actual colors. Just the tiniest touch of blue seems to be all that's needed for a light and subtle haint blue porch ceiling.
I think I'll keep mixing. I don't think I've found the right color just yet.
Addicted 2 Decorating is where I share my DIY and decorating journey as I remodel and decorate the 1948 fixer upper that my husband, Matt, and I bought in 2013. Matt has M.S. and is unable to do physical work, so I do the majority of the work on the house by myself. You can learn more about me here.