My First Experience With Pouring Resin (And A Few Tips I Learned Along The Way)
I follow quite a few resin artists on Instagram, and I've been chomping at the bit to give resin a try myself. One person I follow (whose name I can't remember for the life of me) uses a brand of resin that allows you to pour it as thick as you want in one pour. If you want it two inches thick, you can do it all in one pour. But after searching and searching, I couldn't find the name of the artist or the brand of the resin.
So I debated between the two brands that I see being used most often — ArtResin and EcoPoxy. I finally decided to give ArtResin a try simply because it seems to be the most popular among artists. I ordered mine directly from the company's website, but you can also find it on Amazon.
I decided to try it out on my pixel artwork. When I first made this picture, I had intended to do a resin coating on the top. Then I chickened out. But when I my resin arrived, I was anxious to try it and didn't want to take the time to make something else to try it out on, so I went back to the pixel picture.
For some reason, I found resin to be intimidating before I started, but as soon as I got started, I realized that it wasn't really that big of a deal. I just mixed 1:1 resin and hardener in a 64-ounce plastic mixing tub that I got at in the paint department at Home Depot, and I mixed it with a wood stir stick that they give you at the paint desk. After mixing for three minutes, I was ready to pour.
It took three layers to get it thick enough to completely cover the wood beads, but just look at this glossy, watery resin coating!
I'll admit that the first layer was a bear. The company says that each layer should be about 1/8 inch thick, which requires 4 ounces of mixed resin per square foot. But that's for flat items, and obviously, I was dealing with a very textured piece. So I didn't follow the directions, and I definitely regretted it. Instead of sticking with the 4 ounces per square foot rule of thumb, I instead mixed enough to come just to the tops of the wood beads on the first layer.
And oh my gosh, the bubbles!! There were so many bubbles. Of course, that was mainly due to the nature of this piece, since each wood plug is shaped like a mushroom and air easily gets trapped under the mushroom tops and then slowly leaks out. But I spent about an hour torching the thing with my Bernzomatic propane torch that I bought at Home Depot. I would torch the entire thing, wait about five minutes, and torch again. For an entire hour. And even then, I still didn't get all of the bubbles out.
In fact, I even made this one area worse…
There were so many bubbles in this one area that I lingered a little too long with the torch, which is a big no-no with resin. If you linger too long in one area, you risk actually scorching the resin. In my experience, that doesn't mean that it changes the color, but it means that in a matter of two seconds, it forms a ton of bubbles and then hardens the top, destroying any chance of actually getting rid of the bubbles.
So, lesson learned. When using the torch, you want to move very quickly over the top and never linger in an area with the flame.
The next two layers were very different since they were flat and didn't have to fill in between the wood beads. I mixed the resin according to the 4-ounces-per-square-foot suggestion, and it worked out beautifully. And on these flat layers, I just went over the whole thing once with the torch and was done. The flat layers didn't require repeated torching.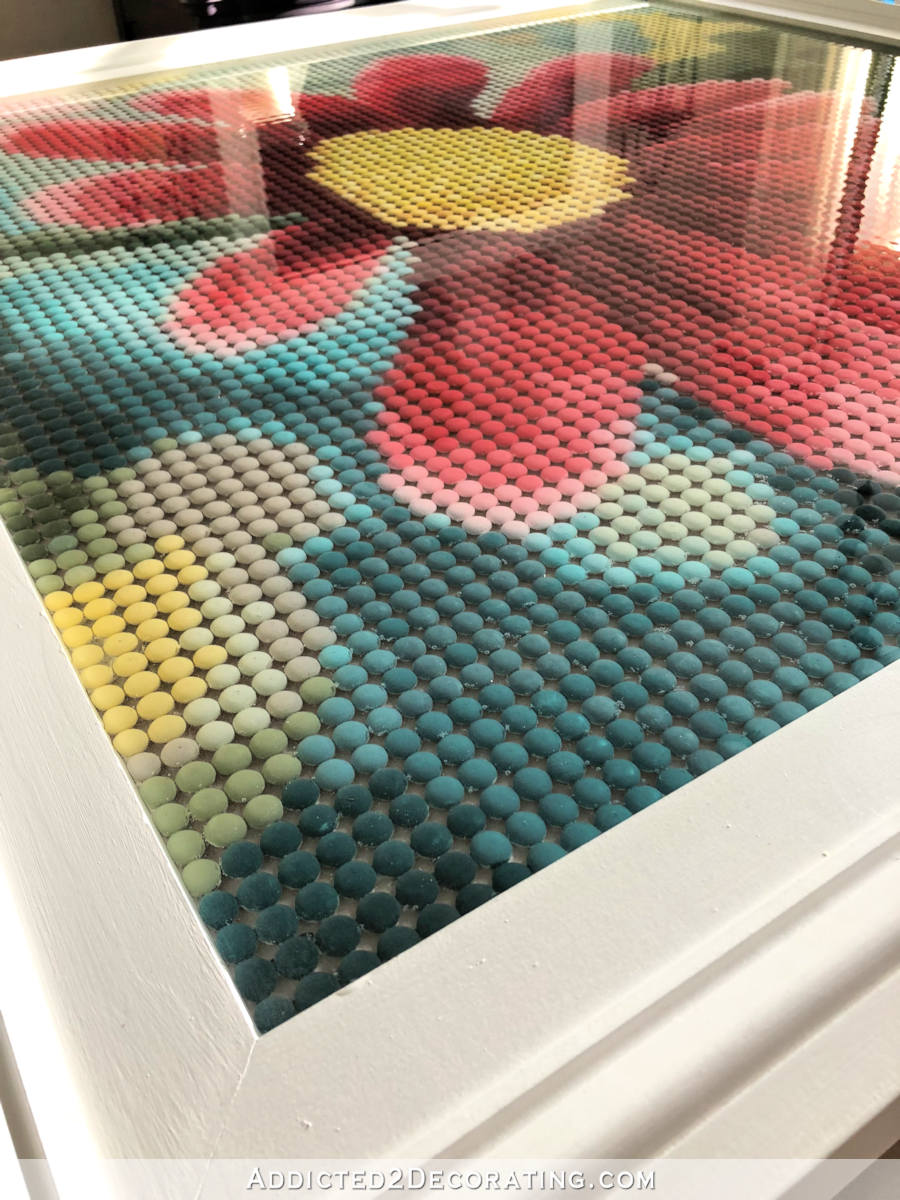 I did a total of three layers. After the first layer, I left it to dry overnight before doing another coat. But I waited about five hours between coats two and three, and then left that to dry about 12 hours. It's dry at this point, but I can tell that it's not cured. Kind of like latex paint when it's dry but not cured, it still has that slight tacky feeling like something would stick to the surface if I set something on it. On resin this thick, I think it'll take several days (up to 10, I think they say) to fully cure.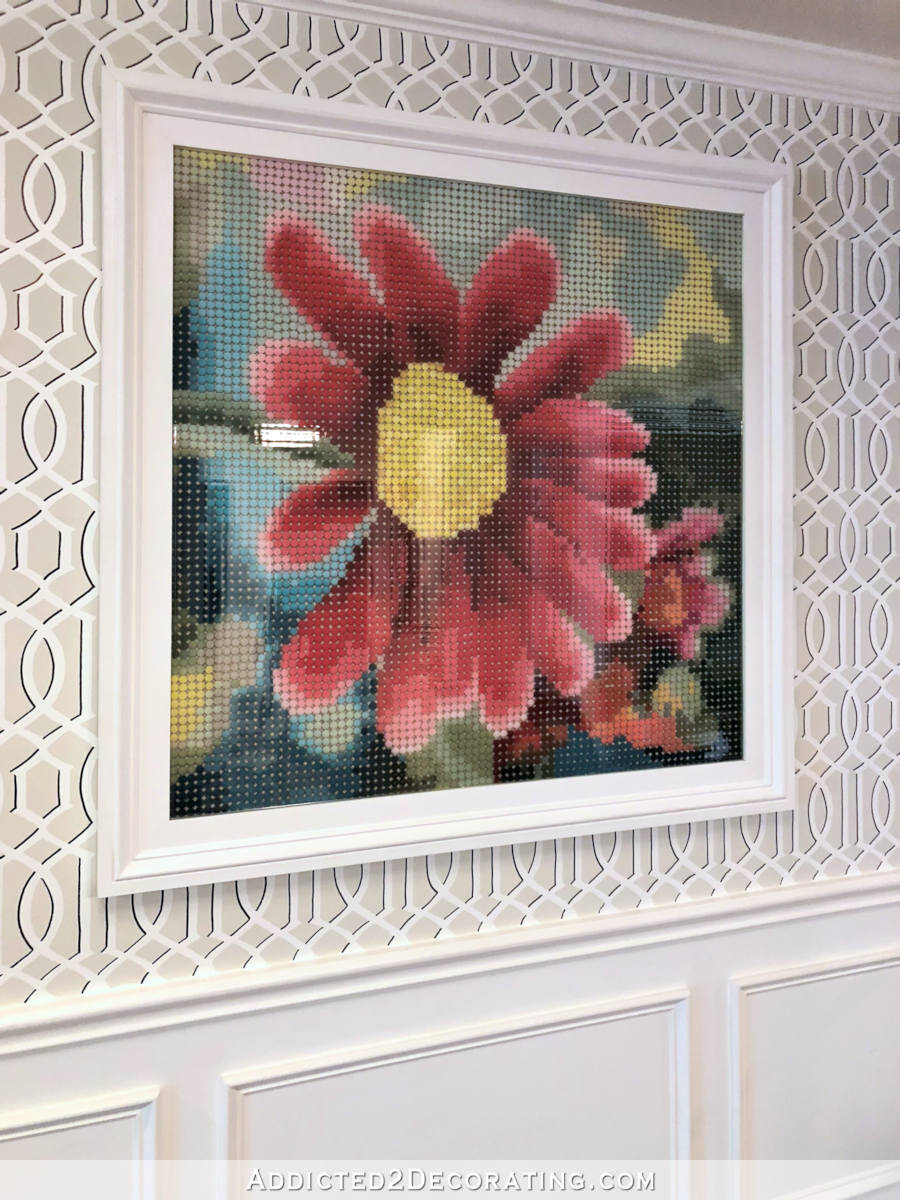 I just love this watery, glassy, glossy finish, and now I want to resin ALL the things! 😀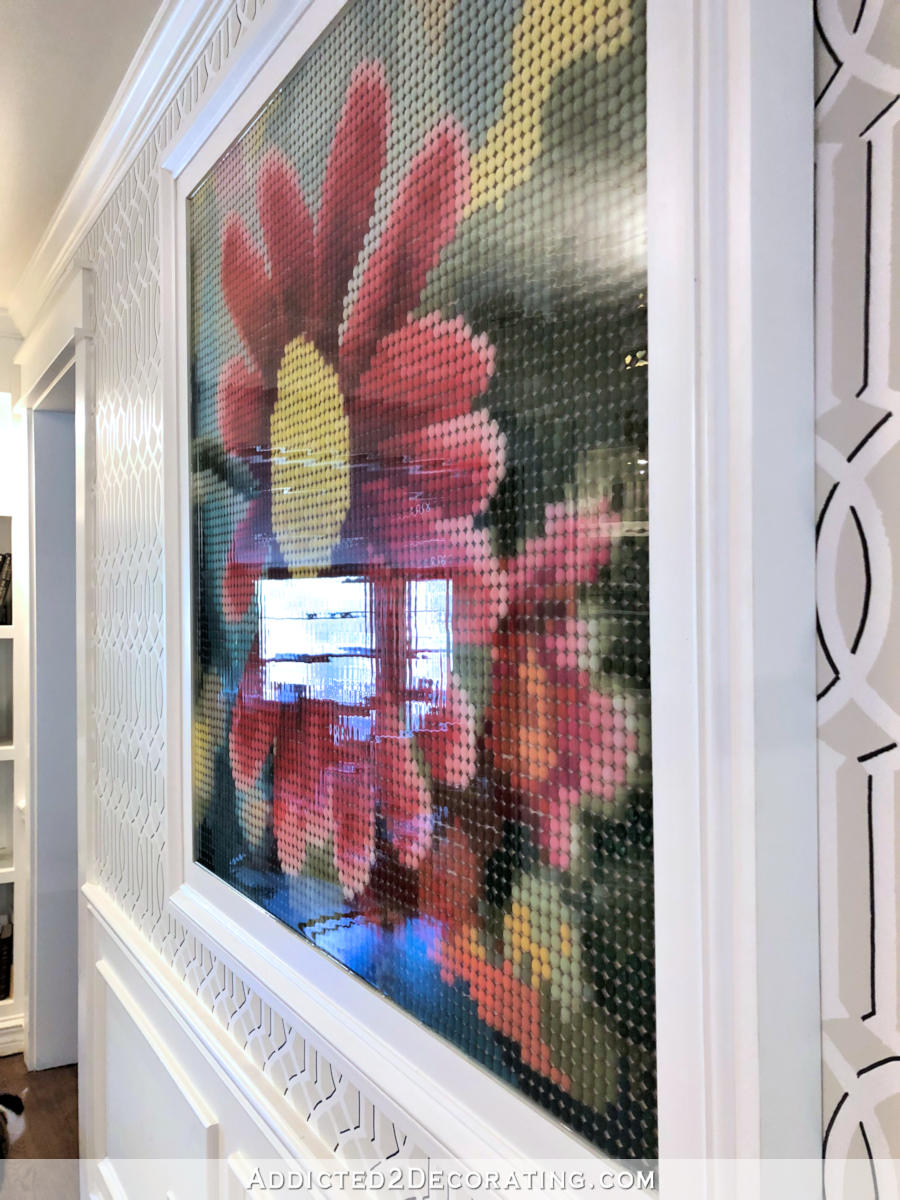 For beginners like myself, I definitely suggest starting out with a completely flat surface. That'll give you the best opportunity for success, and as long as you stick with the recommended thickness per coat (1/8 inch per coat for ArtResin) and very quickly torch the the surface to remove the bubbles, it's pretty much a no-fail project.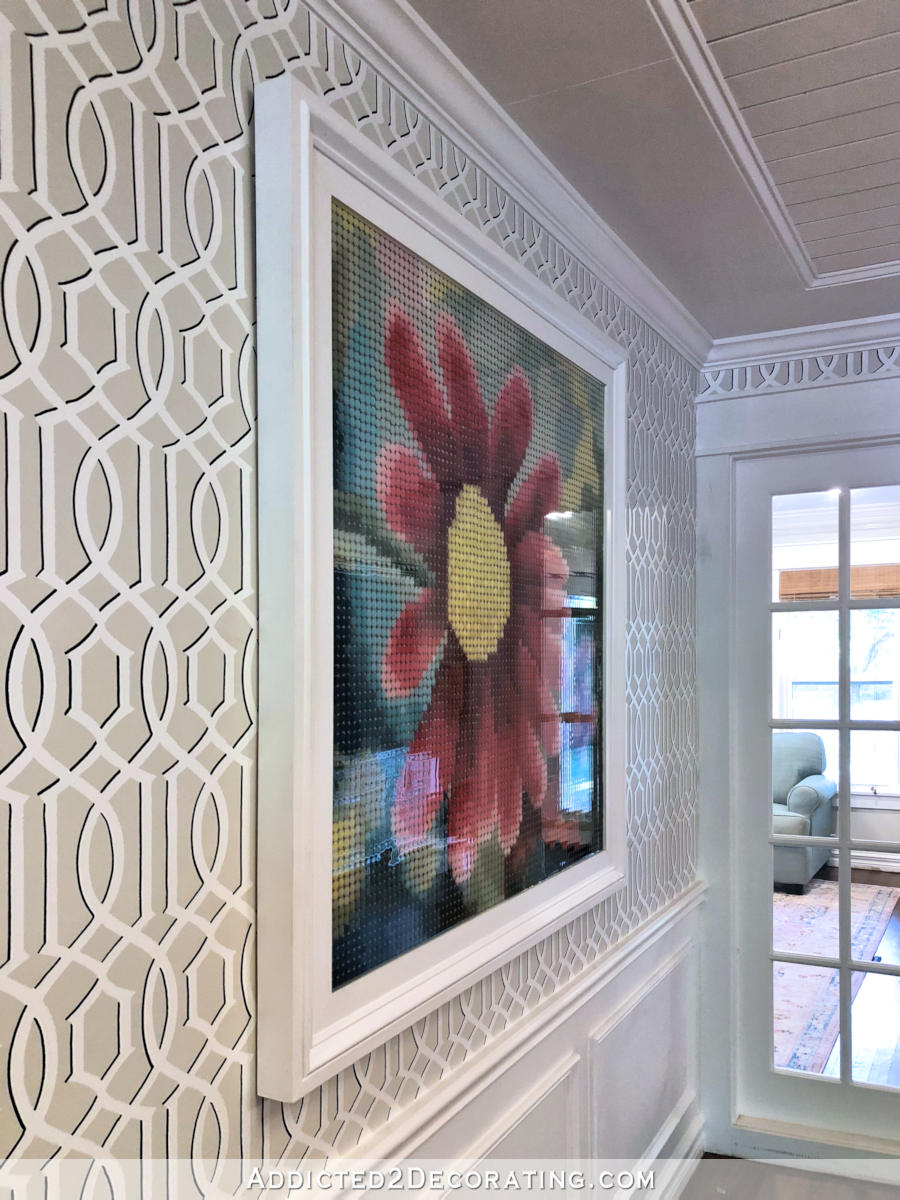 But of course, if you start out with something really textured like I did, then you'll probably face some frustration. So do as I say and not as I do. 😀 Start with something flat and easy, and work your way to the more challenging stuff.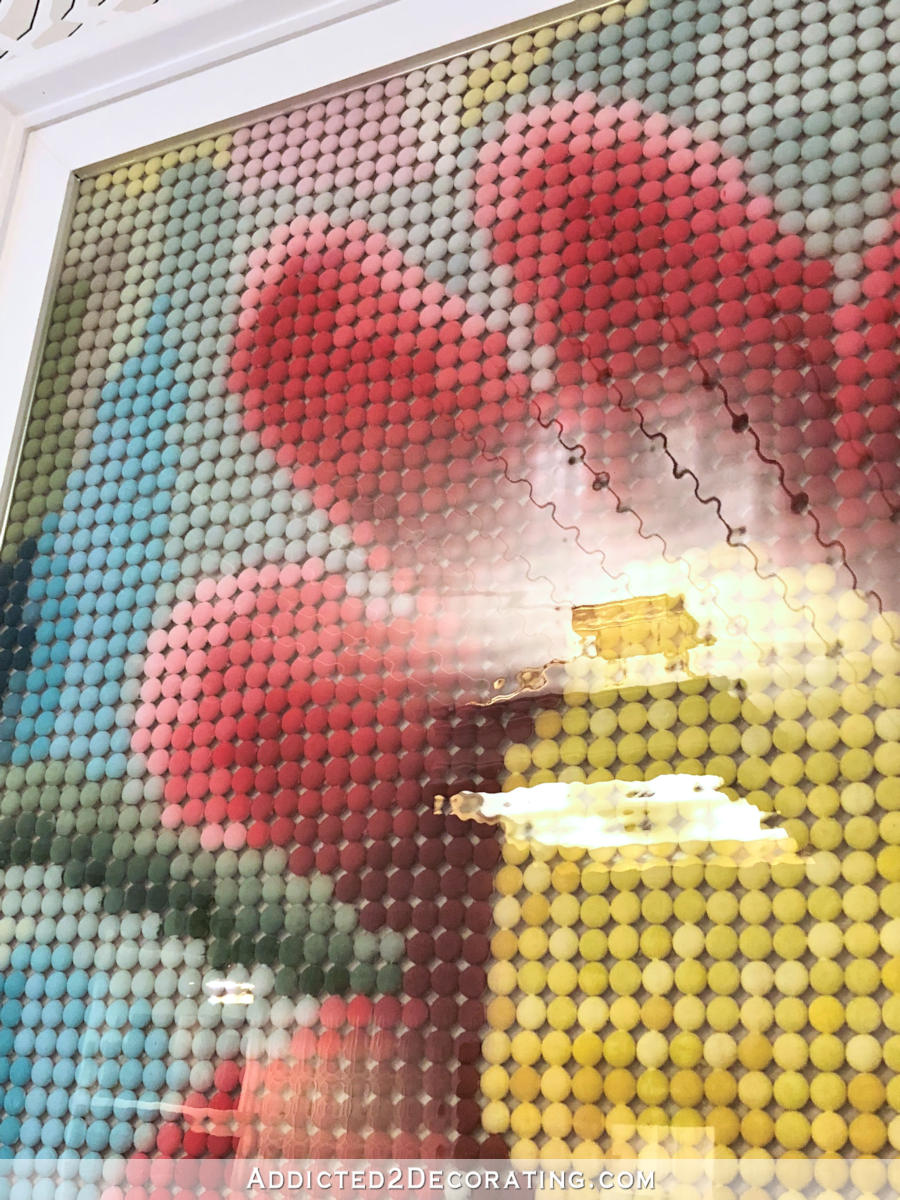 Like I said, I've been putting off resin projects because the product seemed intimidating to me. But now that I know how easy it is, I have about a hundred ideas I'd love to try out.
I can't wait to play around with it more. There are tons of resin ideas and inspiration on Instagram. Just search the hashtag #resinart and you'll get inspiration overload.
Update:
I ended up giving this resin-coated artwork a matte/satin finish. Want to see how to create a matte or satin finish on resin? You can find that here…
Addicted 2 Decorating is where I share my DIY and decorating journey as I remodel and decorate the 1948 fixer upper that my husband, Matt, and I bought in 2013. Matt has M.S. and is unable to do physical work, so I do the majority of the work on the house by myself. You can learn more about me here.