Last Updated on December 24, 2015 by Kristi Linauer
I'm having a very hard time wrapping my head around how to mix metal finishes in my house, and have it done in a way that it looks intentional and "designer" and not hodge podge.
I LOVE mixed metal finishes in a room. In fact, my all-time go-to room for proving how great this can look is this kitchen makeover from Urban Grace Interiors.
That kitchen and dining room have just about every metal finish you can think of — brass, oil-rubbed bronze, copper, nickel, stainless steel. And I think it looks fabulous.
In our house, the living room light fixture (which I'm assuming is original) is a shiny chrome art deco chandelier…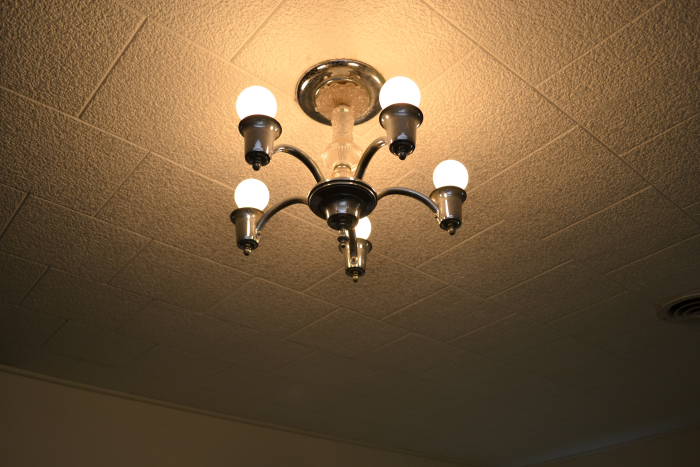 And the original bathroom fixtures are also chrome…
But the original door knobs are brass, which now have a very natural aged finish to them. (I love that finish!! Anyone know of any good tutorials on how to replicate that aged brass finish?)
So clearly, the whole idea of mixing metals was perfectly acceptable when this house as built. And it's perfectly acceptable to me also, if I can just figure out how to do it well.
Quite honestly, I'm not a huge fan of chrome, although I do love brushed nickel. So I decided to purchase a new light fixture for my living room. I really had my heart set on antiqued brass, but I just couldn't find anything that I really loved that (1) fit into my price range, and (2) fit the look that I'm going for in my house (which is kind of a mix of aged, antique, cottage, farmhouse, vintage, traditional).
I really liked this lantern…
…but I wasn't crazy about the finish.
I also really, really liked this drum shade chandelier…
At $315, the price was quite a bit more than what I wanted to pay for a living room light (since I'm used to paying thrift store prices), but I've promised myself that I won't be super cheap with this house. I want to spend money wisely, and be frugal when possible, but if I come across something that I really want and that I think will really add to the decor of the house, I'll allow myself to splurge.
But I wasn't sure if I liked that light quite enough for it to be one of my splurges. So I kept looking.
Then I came across this chandelier at Home Depot, and as soon as I saw it, it sent my little heart a-fluttering.
And as an added bonus, it has high customer review ratings AND it was less than $100! It has just the right antique look to it that I wanted, and I love the seeded glass.
Now that I've made my first lighting decision, and my first metal finish decision, I kind of feel like I need to stay with that "color family" for the rest of the lighting. And that means that the original chrome living room chandelier, which I had planned on moving to the hallway, seems a little out of place to me now. I considered spray painting it, but chrome seems more appropriate for the art deco design of the light.
I guess my rule of thumb in mixing metals has always been to be consistent on similar items. For example, if you're going to use oil-rubbed bronze on the hardware on one door, then use oil-rubbed bronze on all of the doors throughout the house. If you're going to use nickel pulls on your cabinet doors, then use nickel handles on the drawers. If you're going to use chrome in the shower, then use chrome on the sink faucet, bathroom light, and towel bars as well.
So what rules (if any) do you follow when using metal finishes in your house? Do you just mix and match randomly, simply selecting items that you like? Do you try to keep them all completely consistent? Do you try to keep all of the "permanent" finishes similar (door hardware, cabinet hardware, lighting), and bring in other finishes only with non-permanent decorative items?
Addicted 2 Decorating is where I share my DIY and decorating journey as I remodel and decorate the 1948 fixer upper that my husband, Matt, and I bought in 2013. Matt has M.S. and is unable to do physical work, so I do the majority of the work on the house by myself. You can learn more about me here.
I hope you'll join me on my DIY and decorating journey! If you want to follow my projects and progress, you can subscribe below and have each new post delivered to your email inbox. That way you'll never miss a thing!