Bedroom Decorating Indecision
Enough about trees. Let's get back to the decorating, shall we? 🙂
I'm hoping to order fabric for my bedroom this weekend, but in true Kristi fashion, every time I go to click that "Purchase" button, I start second-guessing myself.
I hate that I do that. That's why we lived in this condo for three years before I decided how I wanted to decorate it. I was paralyzed with fear that I'd make the wrong decision. I try to tell myself, "It's just decorating, Kristi! These are not life-altering decisions!" But that doesn't help. In the scheme of things, it's insignificant. That much is true. But it's still difficult for me to part with my hard-earned money when I'm not 100% sure of my decision. And I'm seldom 100% sure of my decisions.
First things first. I got the sample of the floral fabric that I'll be using in the room.
Here are the fabrics on Sherwin Williams Naval.
And here they are on Benjamin Moore Hale Havy.
The current antique white paint color in the room is really throwing off the other colors. It makes everything look so yellow and drab. But in person, there's honestly so little difference between the Hale Navy an Naval that I think I could flip a coin and be happy with the outcome.
The only difference I see is that the Naval has a slight touch more blue, where the Hale Navy is a bit more gray.
I'm going with Sherwin Williams Naval. That's the one decision I found to be easy.
My indecision is regarding how I want to use these fabrics.  And of course, they sent me the smallest fabric sample possible. It just happened to be a piece with the navy blue in it, which is good and really helped with the paint decision. Unfortunately, you can't really tell what the whole pattern looks like from that little sample. It looks like this:
My original plan was this:
White wainscoting on the walls that looks like this:
via Life On Virginia Street
With the navy blue above it.
Then on the big window wall, lots and lots of linen draperies. I don't want to do the entire wall from corner to corner, because I'd like at least some of the white wainscoting and navy blue wall color to show. But I do want at least double width drapery panels on each side of the window.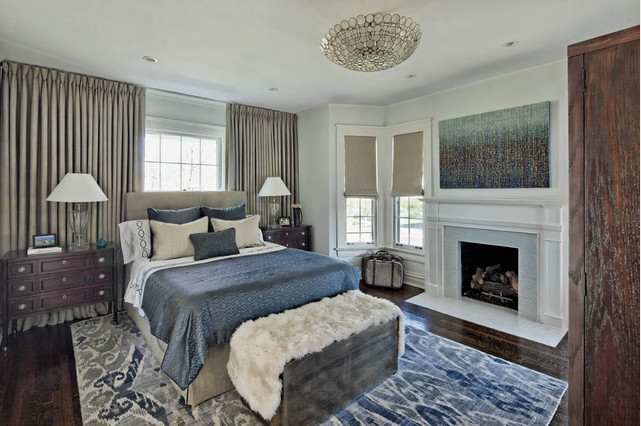 Room design by Buckingham Interiors + Design, via Houzz
And then in front of the window, the headboard. As I've said a thousand times, I want a combination of wood and upholstery. I found this headboard design on Houzz and absolutely love it. Obviously, I don't want these colors. The wood on mine would be stained, and I'm thinking of using navy blue linen for the upholstery. But I love the design, especially with the nailhead trim on the wood frame.
Headboard by Liz Williams Interiors, via Houzz
So I would use a medium stained wood frame with nailhead trim, and navy blue linen for the upholstered part. That would sit against the window with the oatmeal linen drapes.
Got it so far?
And then the floral fabric would be used for accent pillows on the bed and hopefully something else. It's to awesome to just use on a couple of pillows.
And in fact, that's where I'm having the difficulty. Is that floral fabric too awesome to relegate to just a couple of pillows on the bed? Should that fabric be more prominent, perhaps used as the draperies instead of the linen? And if I used that as the draperies, would I still use the navy blue linen on the headboard? Or the oatmeal linen? Or flax?
Or should I stop asking questions and second-guessing myself, and just move on with my original plan? 🙂
I want this room to look peaceful and relaxing, but I don't want it to be boring, which I fear may happen with a whole wall of oatmeal linen. But I also don't want it to look too colorful and vibrant with overwhelming pattern, which I'm afraid would happen with a wall full of floral draperies.
See what I do? It's a miracle I ever get any decorating done. The crazy thing is that I could come into your house, and have a very clear plan in place within an hour, and ever second-guess myself. But with my own home, it's a whole different story.
I think I need to just click those "Purchase" buttons and be done with it. 🙂
Addicted 2 Decorating is where I share my DIY and decorating journey as I remodel and decorate the 1948 fixer upper that my husband, Matt, and I bought in 2013. Matt has M.S. and is unable to do physical work, so I do the majority of the work on the house by myself. You can learn more about me here.