Hallway Lighting Catastrophe (Plus My Final Five Semi-Flush and Flush Mount Lighting Choices)
Y'all, I'm so frustrated.
If you have 8-foot ceilings like I do, then you know that finding nice, affordable, non-boob-shaped semi-flush or flush mount lighting options can be challenging. But I searched. I found a reasonably-priced one that I really liked. And the day after it arrived, I installed it. Then I made two trips to Home Depot to find just the right bulbs that put out just the right light. And then for two days, I admired my new light and patted myself on the back for my choice.
And then the light fell to the floor and shattered into a hundred little pieces.
*Sigh*
I had narrowed the choices down to five lights, and the one I finally decided on was this Safavieh Greta Veil Gold Ceiling Light.
.
It has stripes. Y'all know how much I love stripes.
I thought the picture was pretty, but it's prettier in person. It's not too shiny, and the color is a soft gold. But do you see that white globe/diffuser thing? It's glass, and it's pretty heavy. And evidently the third and final time I changed the bulbs (I finally learned that I hate daylight bulbs, by the way…100 watt equivalent LED soft white bulbs are my preference), I didn't tighten that little nut on the bottom enough. It held for two days and then came loose, with the glass diffuser crashing to the floor, breaking into a hundred pieces, and leaving scratches on my hardwood floor.
I looked it over thoroughly, and there was no problem with the threads on either part holding that diffuser up there, so it was completely user error. I just got in a hurry and didn't screw it on properly.
My heart sank. I threw a little temper tantrum, and Matt swooped in to save the day, as he often does. He said he'd buy me a new light (meaning I didn't have to spend more money out of my monthly allotted decorating/project money to replace the light, but instead he'd give me extra money to cover the cost). He's so good to me like that. 🙂
So I could buy the same light again, but I'm not sure if I want to. Even though I'm certain that it was user error on my part and not a product defect, I can't help but feel a bit…ummmm…oh, I don't know…betrayed? Okay, yes…I know how stupid that sounds. Perhaps that not exactly the word I'm looking for. I just don't want to look at that light several times a day and be reminded that I had to pay double the price because I'm the moron who can't screw on a nut properly. I don't need a light mocking me. Who needs that in their life? 😀
There are a few others I considered before purchasing the light above.
I really like this Safavieh 3-light Orb Gold Ceiling Light, but it's only 10 inches in diameter, which I think might be too small for my hallway.
This Conley 2-Light Semi Flush Mount is also a favorite of mine, though I hesitated to buy it because it's only a two-bulb light. My hallway is so dark that I really wanted a three- or even four-bulb light.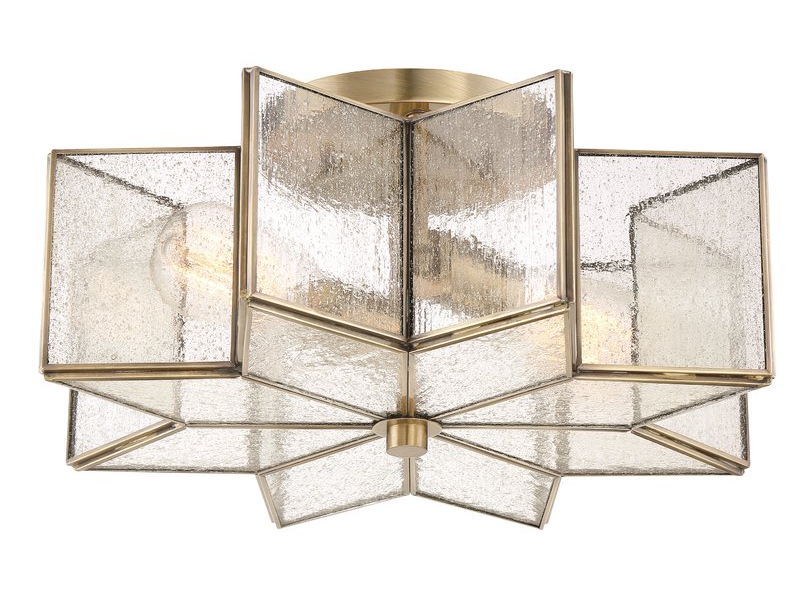 But the number of bulbs may be a non-issue once the solar tube is installed in the hallway. Once it's installed, I'll probably only turn the light on at night, or if I'm rummaging around in the cabinet and need extra light in the hallway. Two bulbs may be just enough, and I do really like that that light is 16 inches wide.
I generally prefer the look of semi-flush mounts over flush mounts, but I considered this one because I love the bold X-design of this Nil Cross Flush Mount. I also like the satin/matte finish on it, since I'm not particularly fond of really shiny finishes. Plus, it has a 5-star rating from all 10 people who reviewed the product, which is impressive.
I am confused about the number of bulbs this one requires, though. The name says 1-light, while the description says 2 bulbs. Hmmm…single bulb ceiling lights aren't something I'd ever buy.
And the last light that made it into my final five was this Shaw 3-Light Metal Semi Flush Mount, which also has really good reviews.
I can't even tell you how many times I've considered this light for various rooms and purposes. It seems like every time I need a semi-flush mount light, this one makes it into my final five or so, but I've never gone for it when making my final purchase.
So those were my final five. I really was pleased with the look of the one I bought, but I do think I'll give one of the other four a chance this time. Right now, I'm leaning towards that star-shaped light. I do think it's the prettiest of the five with the textured glass and interesting shape, and I'll just trust that the solar tube will make up for the extra light I want in the hallway.
Addicted 2 Decorating is where I share my DIY and decorating journey as I remodel and decorate the 1948 fixer upper that my husband, Matt, and I bought in 2013. Matt has M.S. and is unable to do physical work, so I do the majority of the work on the house by myself. You can learn more about me here.