Have you noticed the huge resurgence of the popularity of gold and brass in decorating these days? Of course you have. It's everywhere!
I'll admit, when I first started noticing it about 18 to 24 months ago, I cringed. I hated it. In my mind, gold and brass (mostly brass) represented everything that was wrong with 1980s and early 1990s decorating. So much of the gold and brass of the 80s and 90s was (and still is) so shiny, so harsh, so garish, so in-your-face, and worst of all, so "off" in color, generally either being way too yellow, or with some serious pink/red undertones. I still cringe a bit when I see some of it.
It sometimes takes me a while to embrace changes like this, but now I'm fully on board with this swing towards all things gold and brass. I love it now. It adds such a beautiful elegance to a room.
Enter, my metal and glass living room end tables:
I really love these end tables (although, I still haven't put the other one together), but with the current arrangement, the black just seemed way too heavy. It was competing with my hopefully-soon-to-be-restored antique dresser. So I decided they needed a much lighter look.
I've seen so many gold end tables that I like lately, so I decided to go for it and spray paint them gold. What's the harm, right? It's just paint! If they ended up really awful, I could just find another color and spray paint them again.
So I went for it, and I love the new look!
They no longer have that super heavy, overpowering look to them. Now they look light, airy, and elegant. (See how I keep saying "they"? I suppose I'm referring to what I'm seeing in my mind, because again, I still haven't even put the other one together, much less spray painted it. 😀 )
And the paint that I used!!! Ya'll, I absolutely LOVE it! It's my new favorite thing, and now I want to spray paint every single metal thing in my house gold.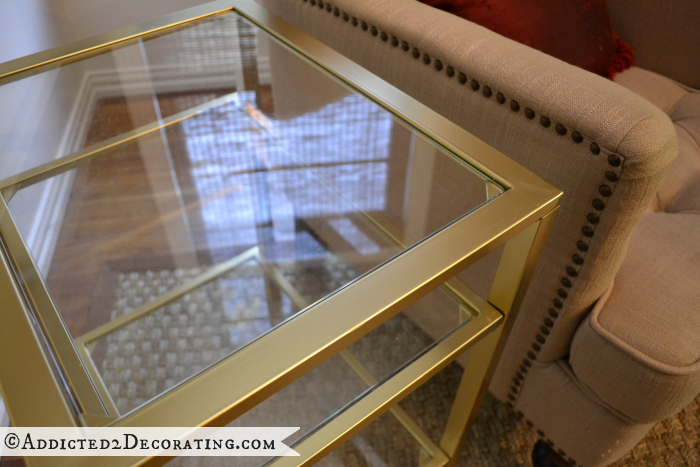 The finish is so soft looking — not garish at all. It's like a muted gold, with a gorgeous satin finish. And best of all, it's not too yellow, and there's not even a hint of that gross pinkish reddish undertone that I was so afraid of.
So what did I use?  Design Master Gold Medal spray paint.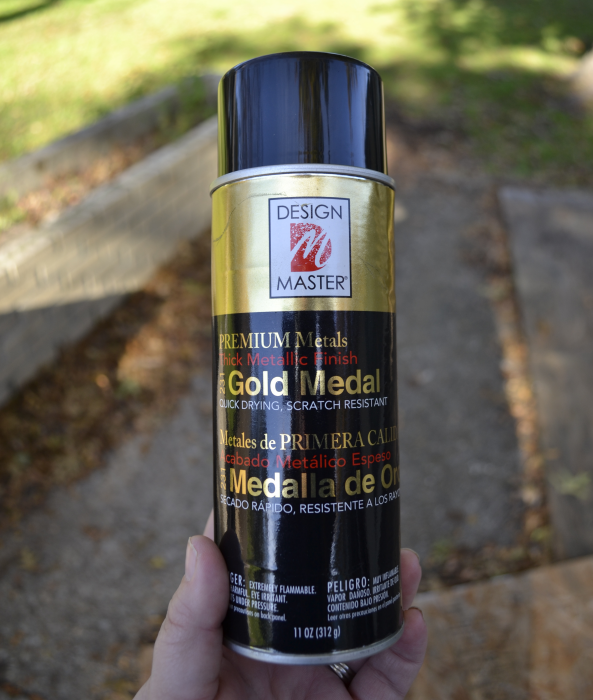 I found it at Michael's.  It was just over $7 per can, and I used a 40% off coupon, so it was actually pretty cheap.
I stood there in Michael's, with several different options in front of me, and I had no idea which one to choose.  Antique Gold?  Brilliant Gold?  Design Master?  Krylon?
So I got out my phone and Googled "best gold spray paint" to see if I could get some help with the decision.
I was thrilled to see Jenny from Little Green Notebook come up first on the list.  While she and I have vastly different decorating styles, I've come to trust her (non-sponsored) product recommendations.  And she declared Design Master Gold Medal spray paint to be the best gold spray paint.  She used it on the drawer and door hardware in her laundry room.
Next up was this gold spray paint comparison from Chris Loves Julia.
You can click over to see which pear is painted with which brand, but can you see the two that have the really red undertones?  That is precisely what I was hoping to avoid.  Seeing those reddish tones immediately transports me back to the 80s, filled with country blue and mauve.  So it was incredibly helpful to see these side-by-side.  (Spoiler alert:  The Design Master Gold Medal is the one on the far left.)
Anyway, I'm loving this new-to-me spray paint.  It'll definitely be my go-to gold spray paint from here on out. (And believe you me, that is something that I NEVER thought I'd say. Gold spray paint? On something in my house? For the last ten years, that thought would have made me cringe.)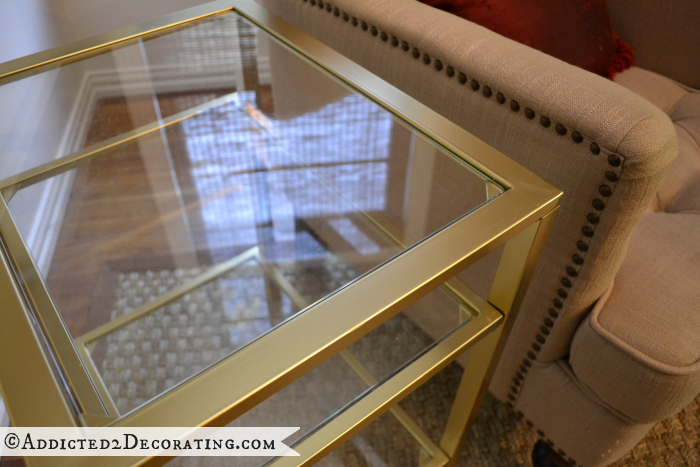 So what about you?  Have you gotten into this whole brass/gold resurgence?  Have you tried any gold spray paints that you like?  This is the only one I've tried so far, so I'd love to know about your experiences!
Addicted 2 Decorating is where I share my DIY and decorating journey as I remodel and decorate the 1948 fixer upper that my husband, Matt, and I bought in 2013. Matt has M.S. and is unable to do physical work, so I do the majority of the work on the house by myself. You can learn more about me here.
I hope you'll join me on my DIY and decorating journey! If you want to follow my projects and progress, you can subscribe below and have each new post delivered to your email inbox. That way you'll never miss a thing!