My Finished DIY Whitewashed Red Oak Hardwood Floors
My floors are done, and while whitewashing red oak hardwood floors is a huge job, I think it was very well worth the effort and hard work. My studio is so light and bright, and I don't think it would look like that with dark stained floors.
I finished the floors last night, so I couldn't walk on them to take pictures until this morning. Unfortunately, the early morning sun was pouring through the front windows and making it impossible to take pictures without glares on my floor, so I'll get better pictures at a later date. But for now, here's how my whitewashed red oak floors look…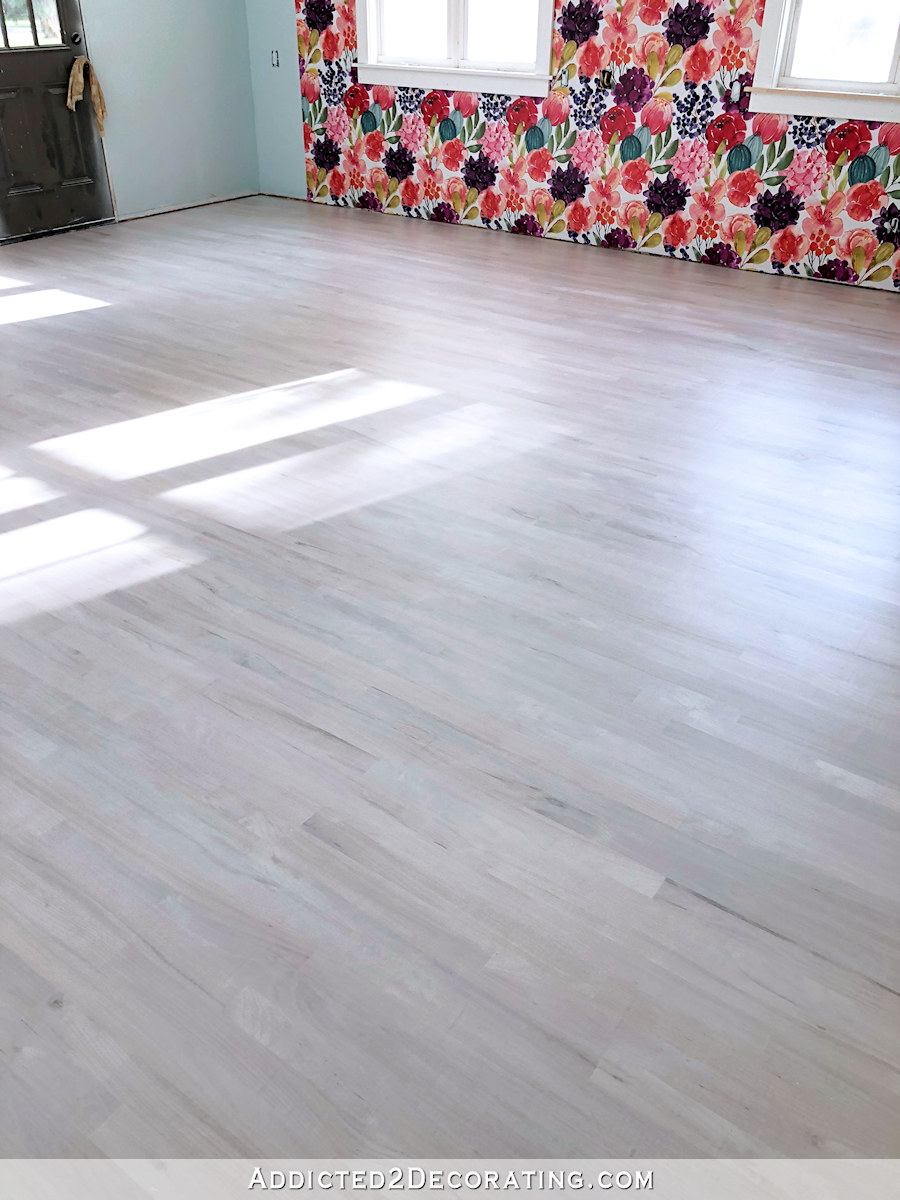 I'll have to admit that I was very unsure about this whole process. The whole thing was a guessing game for me — trial and error — and I was figuring it out as I went along. Fortunately, I didn't have much error, and the whole project went pretty smoothly. And in the end, the results far exceeded my expectations. I could not be happier with my whitewashed red oak floors!
I explained in a previous post how I did a custom stain mix for the floor, and how the whole staining process went. If you missed that post, you can find it here…
I gave the stain a couple of days to make sure it was really good and dry, and then I mixed up my custom white-tinted polyurethane to seal the floor.
I only used the white-tinted polyurethane for the first two coats, and I brushed on these two coats using a 5-inch stain and waterproofing brush. I attached the brush to the end of an extension pole so that I could stand while brushing it on.
The reason I brushed it on instead of using a T-bar or foam pad is because I tried several methods, and while the brush was more time-consuming, it gave a much more even and consistent coat without ridges and overlapping areas that were more opaque white than the rest of the floor. But because a brush also puts down a thinner coat than a T-bar or foam pad for polyurethane, I had to do two coats to equal what one regular coat would have been.
My White-Tinted Polyurethane Formula
The polyurethane I used is this Varathane Floor Finish in matte.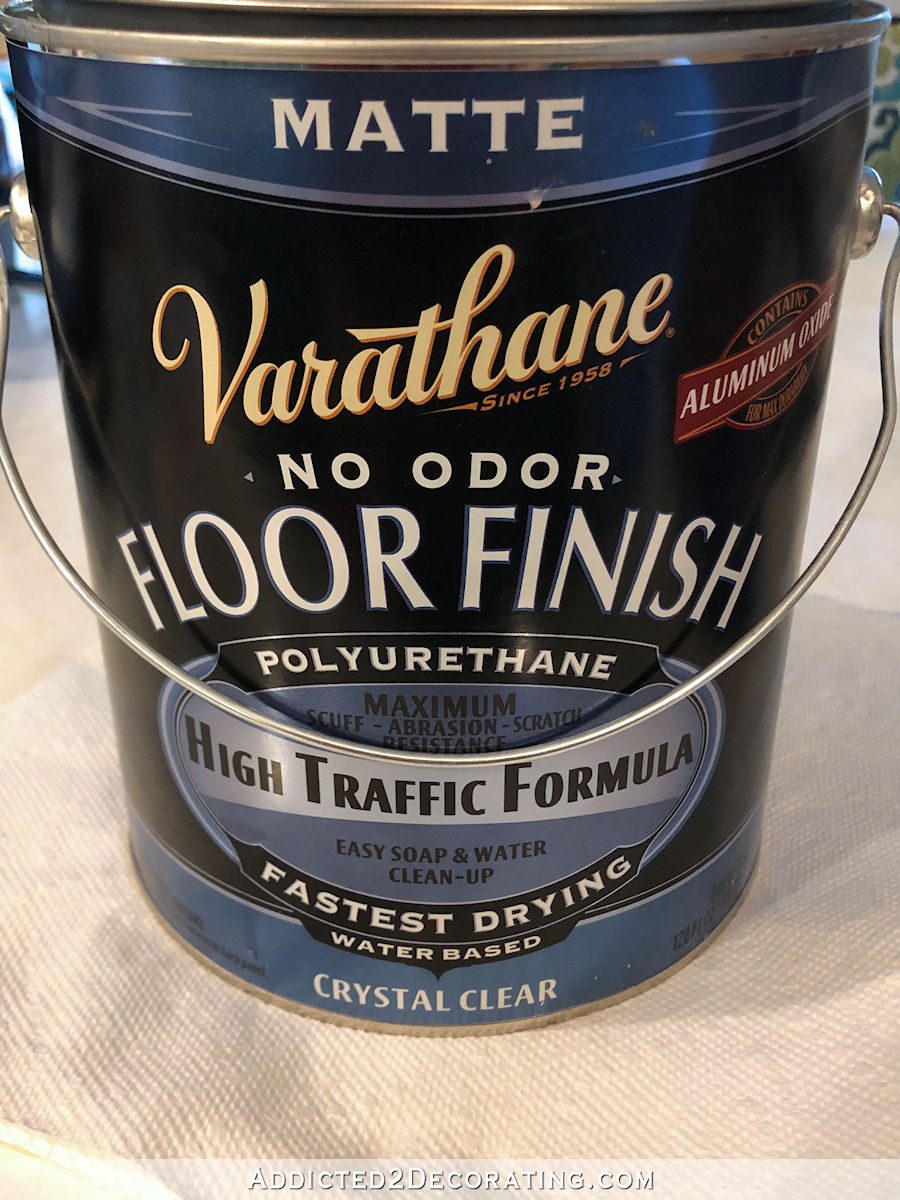 The only place I could find the matte finish is at Home Depot, and I had to purchase it online because they don't have the matte finish in the store. They only sell it in a two-packs, which I find to be irritating, but that's the only option.
And to give the polyurethane a white color, I used this universal tint.
It was challenging to figure out how much to use since water-based poly in the can looks milky white on its own, so this part was completely trial and error. But I finally landed on the perfect ratio 1.5 fluid ounces (that's three tablespoons 😀 ) of white universal tint per gallon of polyurethane.
After mixing really well in a 2-gallon bucket, I tried applying that mixture with the 5-inch brush. I applied the poly in about 18-inch rows, but I had a problem with the first row drying by the time I got back to do the next row, and if you don't have a wet working edge when you start the next row, it makes it very challenging (if not impossible) to get the two rows to blend.
So to the mixture, I added 8 ounces of Floetrol per gallon of poly, and mixed everything together really well. Then I tried again.
That worked perfectly. The Floetrol extended the drying time long enough that I could do an entire row (my room is about 20-feet wide), and then come back and start the next row while the previous row still had a wet working edge.
To be clear, I have no idea if Floetrol affects the durability of polyurethane, but it was a chance I decided to take in order to get the finish to look like I wanted it to look, and for ease of application.
Here you can see the difference that the white-tinted polyurethane made over the white stained floor.
Keep in mind that it looked much brighter white when it was wet (and it was wet when I took that picture). Water-based poly on its own looks milky white in the can, and also looks milky white when applied, but dries crystal clear. So as it dried, the white softened a bit.
After the first coat of white-tinted polyurethane dried, I sanded the entire floor by hand (sounds crazy, I know, but it only took about an hour for 550-square feet) using 220-grit sandpaper. I did this because water-based products raise the grain of wood, so I wanted to get it as smooth as possible before the second coat. But I also wanted to get the finish (i.e., the white color) as even as possible before applying the second coat. So being down close to the floor, and literally examining every inch of that floor as I sanded it by hand, gave me the opportunity to sand out any overlaps that may have gotten too white.
So I sanded, vacuumed really well, and then applied the second coat of white-tinted poly in exactly the same way with the 5-inch brush.
I mixed up a total of 1.5 gallons of white-tinted polyurethane for my 550-square feet, and that was plenty to do two coats. In fact, I had quite a bit left over.
After the two white-tinted coats, I applied three clear coats of the same polyurethane. I applied those coats using a foam pad for water-based polyurethane for floors, but I highly suggest getting a T-bar instead. I couldn't find one locally, and I didn't want to wait to order one online, so I went with the foam pads for polyurethaning floors that they have at Home Depot.
I'm so thrilled with how my floors turned out! So let me show you a few more pictures…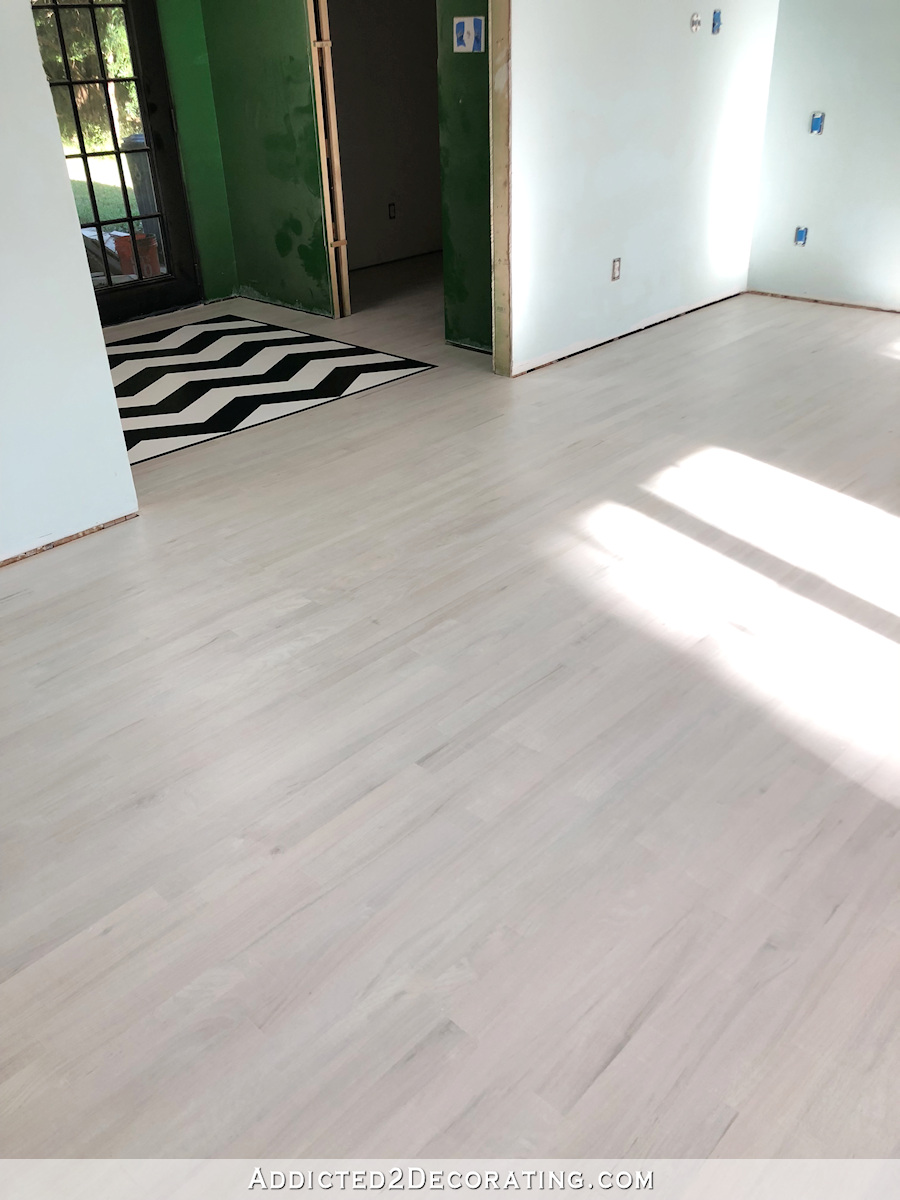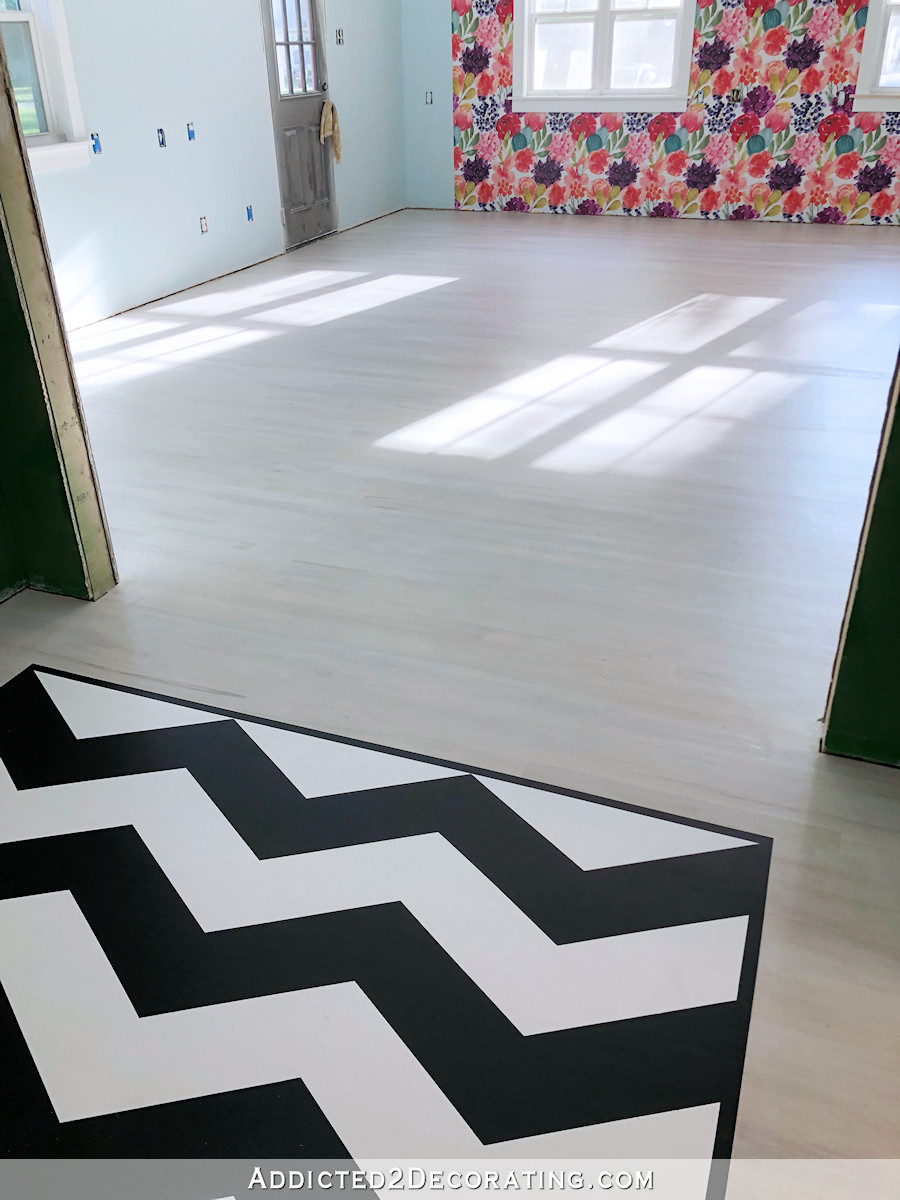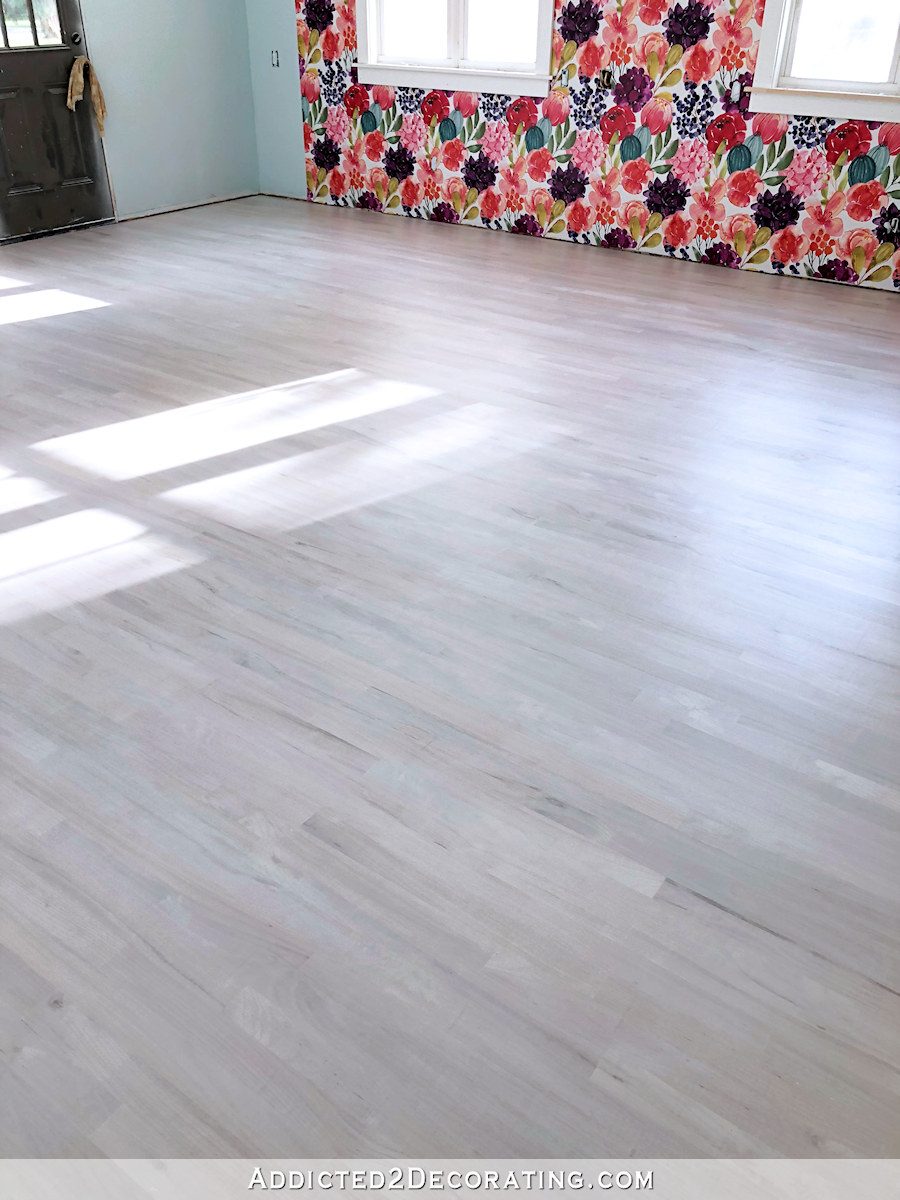 And again, I'll try to get better pictures later in the day when the sun isn't streaming through the front windows and glaring off of the floor. 🙂
Helpful sources and products:
5-Inch Stain & Waterproofing Brush – This is what I used to brush on the two coats of white-tinted polyurethane. I attached it to an extension pole so that I could stand while applying the poly. The threads on my extension pole didn't fit the threads on the end of the brush, but I just used wide painters tape to hold them together, which worked just fine.
Mixol Universal Tint, White – This is what I used to tint the polyurethane for the first two coats. It worked really and mixed in very easily. And this tint is pure white without any noticeable undertones that I could see.
Looking for info on my painted black and white chevron floor design in the back entry? You can find that here…
Addicted 2 Decorating is where I share my DIY and decorating journey as I remodel and decorate the 1948 fixer upper that my husband, Matt, and I bought in 2013. Matt has M.S. and is unable to do physical work, so I do the majority of the work on the house by myself. You can learn more about me here.