Window Treatment Indecision
Do you have a hard time figuring out what to do with your windows?
I generally have no problem at all deciding on window treatments, but I'll admit, I'm having a heck of a time with this house.
Example: Here's my living room…
(If you're new here, please know that this room is only about 20% complete. Right now, it looks like a hot mess, with a hodge podge of crazy furniture that clearly doesn't go together, but it'll get better!) 🙂
As you probably know by now, this is the fabric I purchased for my living room draperies…
That's P. Kaufmann Florabunda Sea Glass, in case you were wondering. And I purchased 18 glorious yards of it.
I never planned on dressing all three windows the same. I really want the big window to be the focus, so I plan on putting draperies only on the big window. And I bought a double rod, so it will actually have draperies and sheers.
The other two windows will have the wood Roman shades, but no draperies and no sheers.
But here's where I'm stumped. Do I need to put the wood Roman shades on the front big window as well, just to make them all coordinate?
And do I need to add some of the drapery fabric to the other two windows in some non-drapery way to make them all coordinate? Two ways I could do that are either…
(1) Make valances out of the drapery fabric for the smaller two windows, similar to this one that I made for the condo breakfast room (instructions here if you'd like to make your own)…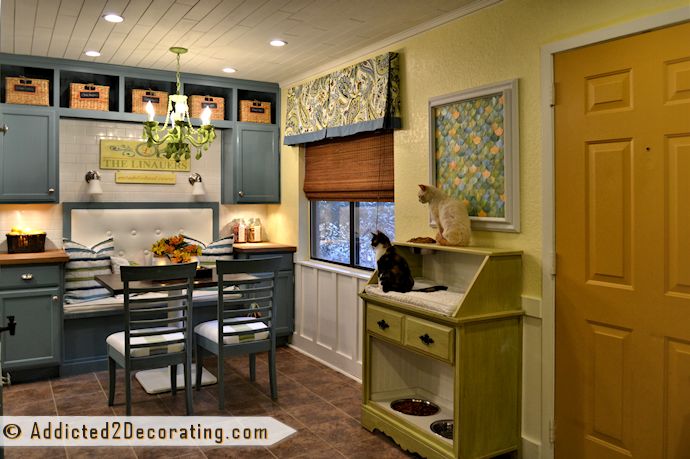 I really like valances (but please do not suggest a cornice…I can't stand cornices…they give me flashbacks to 1980s decorating kind of like my new gold table did for some of you 😀 ), but to me valances are kind of a kitchen, breakfast room, and bathroom thing, but not necessarily something I'd want in a room like a living room, bedroom, or dining room.
So that leaves option…
(2) Use the drapery fabric as an accent on the wood Roman shades, similar to the edge binding fabric on these Roman shades from Smith + Noble…
I like that idea, but I'm a bit afraid that the pattern on the fabric is way too big to make any kind of an impact.  The pattern repeat is 36 inches, and the flowers are huge.
(Awful iPhone pic…sorry about that.)
But maybe they don't need anything at all, and I'm just completely over-thinking the whole thing.
This isn't the only room that has me completely stumped.  My bedroom and office have similar window situations, with one main focal window, and then another window on the wall perpendicular to it.
Welcome to my mess.  🙂  Sorry, but I didn't even take time to clean up for you.  That's okay, though.  We're friends, right?  (And again, if you're new here, the only thing that's been done in this room are the floors.  You can click here to see how this room…and all the rooms…started out when we bought the house.)
Now I know you're probably thinking to yourself, "But Kristi, why do you need new window treatments in your office when you already have such beautiful, perfectly good curtains!"  😀  I know.  Please don't be jealous.  🙂
Okay, in all seriousness, you see what I'm talking about, right?  One main window that will be the star framed with beautiful draperies, and then an awkward little window to the side that's kind of jammed up in the corner.  Even if I wanted to put draperies on that window (which I don't), there's really not enough room in the corner for a drapery panel.
And then we have the same setup in the bedroom.  Main focal window, small window to the side jammed up in the corner.
*Sigh*  I'm almost certain I'm over-thinking it, but once I get started down this "over-thinking" road, I can't stop myself.
On a side note, I ordered my fabric for the ottoman I'll be making for the living room!  I'm so excited about that.  I had planned on getting a really dark teal blue velvet (basically the darkest blue color in the drapery fabric), but I couldn't find any I liked.  Then I came across this Robert Allen Tex Weave in the color Baltic, and it was perfect!
It's soft, yet thick and durable, and the texture and slight color variations are just gorgeous in person. I can't wait to get it in my little hands and start making my ottoman!!
I also purchased some accent fabric for my bedroom — this Robert Allen Cats Cradle in Papaya…
That image is actually from Etsy seller StudioPillow.  If you like the fabric but don't like sewing your own pillows, they have some very reasonably priced pillow covers available in this fabric as well as lots of other great fabrics.
But anyway, the Cats Cradle in Papaya looks so great with the P. Kaufmann Sea Breeze Patriot fabric that I already have for the bedroom.
My gosh, I love fabric.  Sometimes I feel like I could look at, and talk about, fabric all day long.
Anywhoo….my window treatment issues.  Any suggestions?
EDIT:
Several people have suggested just going ahead and making the draperies for the big window, and then deciding what I want to do with the other two.  The problem with that is that I bought 18 yards of fabric (and I don't want to have to purchase more).  My original plan, since that window is 10 feet wide, was to use three widths of fabric on each side.  (Remember my pet peeve with ready-made curtains and why I only use custom draperies?)
So if I go with my original plan and use three widths of fabric on each side of the big window, that'll use up all 18 yards of fabric.
That means that if I want to alter my plan any, and have any fabric left over for the two small windows for valances, or edge binding, or even single-width drapery panels, I need to decide now before I start making the draperies for the big window.
Addicted 2 Decorating is where I share my DIY and decorating journey as I remodel and decorate the 1948 fixer upper that my husband, Matt, and I bought in 2013. Matt has M.S. and is unable to do physical work, so I do the majority of the work on the house by myself. You can learn more about me here.