Master Bathroom Remodel — Installing A Wallpaper Wall Mural
Y'all, the wall mural is up! Since I ran out of waterproofing liquid membrane and I'm having to wait for my new order to arrive, which means that all tiling is on hold, I decided to go ahead and install the wallpaper wall mural in the bathroom. And, oh my gosh, I absolutely LOVE IT!! It's so fun to see the plan that I've had in my head, and have only seen in rough photoshopped pictures, actually come to life in the real room.
This is the photoshopped version we've all been seeing for a while now…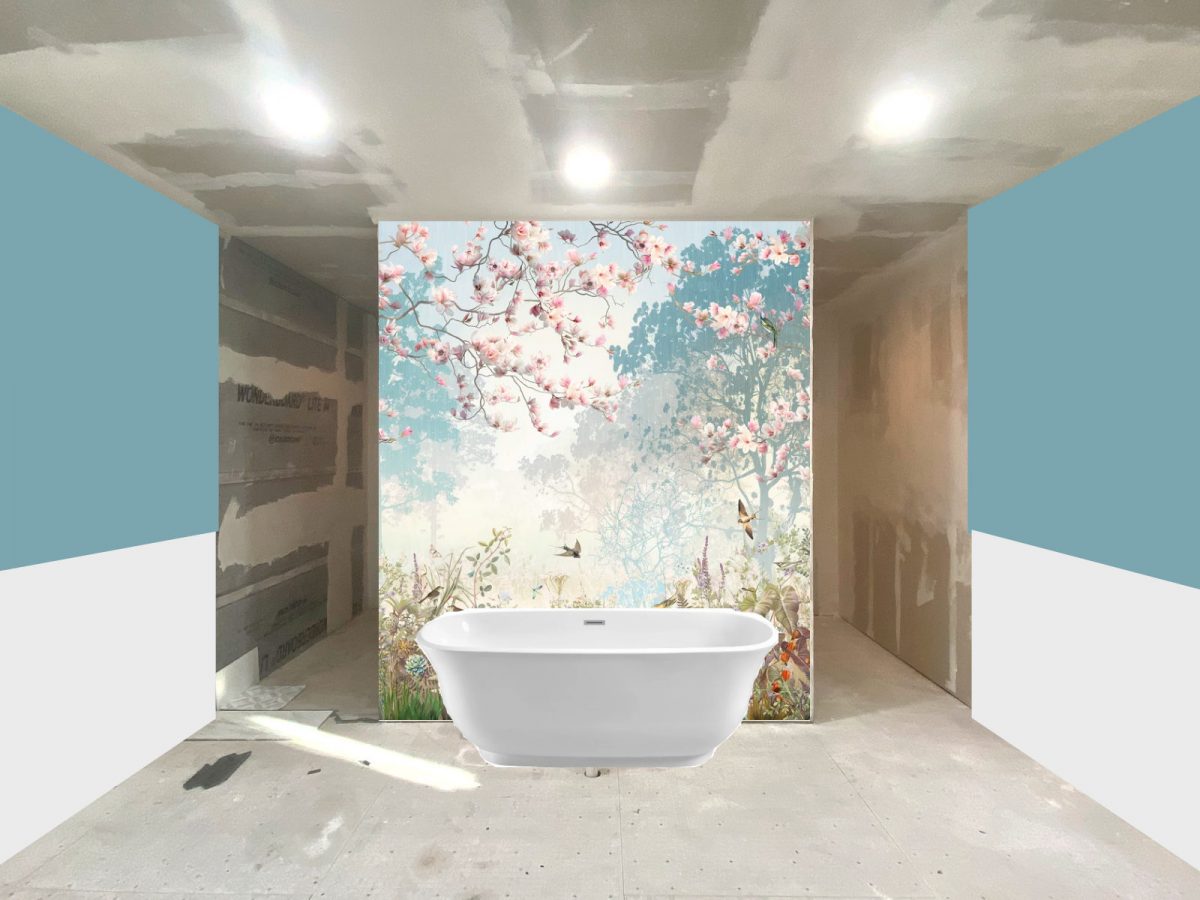 And now, here's the real deal!
I did pretty good on that photoshopped picture, huh? 😀 That placement and cropping look almost identical!
This was a very simple project with an incredibly rewarding ending. I got the wallpaper mural from Photowall, which is a Swedish company. What I love about this company is that they have hundreds of murals to choose from, and you can crop them to fit the exact width you need. They offer a lot more flexibility on customizing how the image is sized and cropped that most mural companies do.
The printing and shipping was also very fast. I got my order in a matter of just a few days, and that's with custom printing/sizing, and shipping from Sweden. I ordered their premium quality paper, and I'm very happy with the quality. It's thick and very durable. The description says that it will hold up to cleaning products, and I can see how that would be true.
Note: If you're reading this post on a website other than Addicted 2 Decorating, you're on a website that steals content from bloggers, and is using my content without my permission. I'd love for you to join me on my actual website! You can click here to find this post on Addicted 2 Decorating.
During installation, every inch of this paper was wiped down with a very wet cloth to remove any excess wallpaper paste that may have gotten on the surface, and it held up perfectly. It's not a vinyl wallpaper (at least I don't think it is), but the thickness and durability of this paper make me feel completely comfortable having it next to a bathtub. There's no way water will damage this paper. I can't speak for their standard quality paper since I've never used it, but I would highly recommend this premium quality paper.
My Photowall order came with a packet of powdered wallpaper adhesive with instructions on how to mix it, but I preferred to use a wallpaper paste that I've had experience with in the past and know to be excellent. So I headed to my local Sherwin Williams store and picked up this Roman Pro-555 Extreme Tack adhesive.
Before installing the first strip of the mural, I used my tape measure, pencil, and laser level to mark off a vertical line about 17 inches from the edge of the wall as a guide so that I would have a plumb line guide for placement of the first piece. The strips of wallpaper are 17 3/4 inches wide, and I had ordered a few extra inches of width for the mural.
With my plumb line marked on the wall, I was ready to start the install. Since the wallpaper mural was unpasted, that made the process so much easier. No dunking the roll in water, no bookending and rolling and waiting for the adhesive to be activated. I simply poured some of the wallpaper paste into a paint roller pan, and used a 6-inch roller to roll the adhesive directly onto the wall. And without waiting (I actually tried to work pretty quickly), I then placed the first strip onto the adhesive and used a flexible plastic scraper and a wet rag to smooth out the strip and make sure that there were no bubbles.
And after that first piece was up and my nervousness subsided, I was off to the races. The rest went really fast.
On each subsequent piece, I made sure to get the wallpaper paste right up next to the previous piece. In fact, since this wallpaper is so durable, I rolled the roller over the edge of the previous piece about 1/2 inch just to be sure there were no places along the edge that were missed. It wiped off of the front of the paper just fine.
With this brand, there is no overlap at all. The pieces line up perfectly right next to each other. (As compared to Spoonflower wallpaper, which is printed so that the pieces overlap about 3/4-inch.)
The only slightly challenging part of this wall was working around the plumbing rough-in for the faucet. But it wasn't really difficult at all. I rolled the adhesive from the top of the wall to the top of the plumbing valve, and then installed the paper from the ceiling to the valve. Then I used an X-acto knife to cut an "X" into the paper where the valves would fit through, and cut away any excess paper.
Once the holes were cut enough for the paper to lie flat (which took a few times since I didn't want to cut away too much at a time), I pasted the areas of the wall around the valves and under the valve to the floor, and then installed the rest of that strip.
And after that slight speed bump, the rest was a breeze.
And here's what the finished wall looked like yesterday morning after it had overnight to dry.
I love this so much! I can't tell you how many times I've stood in that room staring at this mural and taking in all of the details.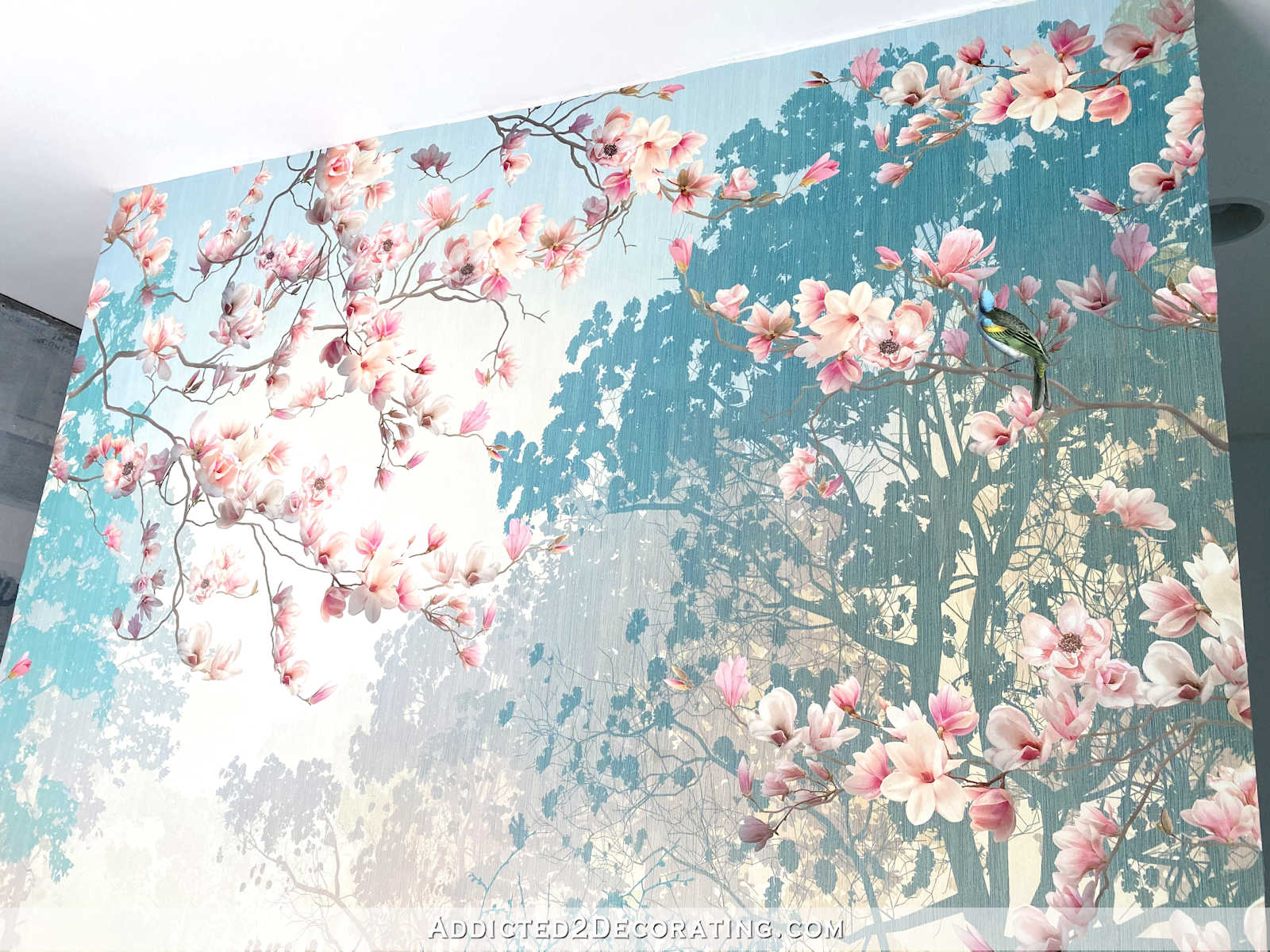 There are things on there that I didn't know were there, like cute little dragonflies and other details I couldn't see on the website pictures.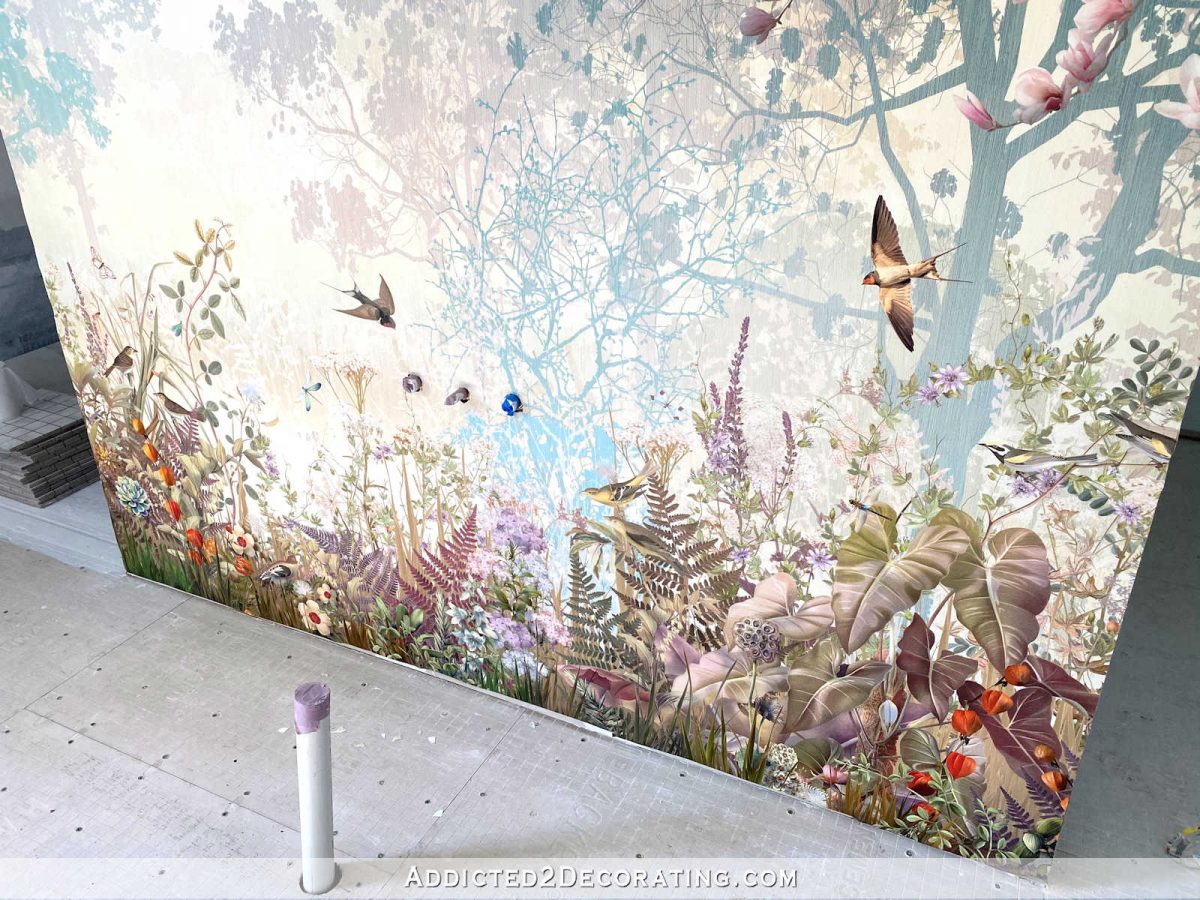 And of course, the birds are my absolute favorite. I wish there were more of them.
I know it was completely out of the "proper" order of doing things, but I'm glad that I went ahead and installed this so I can have this pretty wall to look at while I work on the other projects in here. And now that I know it's durable enough to withstand being wiped down with water, and even cleaned with cleaning products, I know it'll be just fine.
Now I'm wondering if I can start on the Venetian plaster finish on the rest of the walls. If not, I'm just in a holding pattern with this bathroom until I get my waterproofing stuff, and that won't be here until Wednesday.
I'd rather not waste time, so I'll probably go ahead and do at least the first coat. Or I could just sit and admire my beautiful wall for the next couple of days. 😀
Addicted 2 Decorating is where I share my DIY and decorating journey as I remodel and decorate the 1948 fixer upper that my husband, Matt, and I bought in 2013. Matt has M.S. and is unable to do physical work, so I do the majority of the work on the house by myself. You can learn more about me here.