I started on the Venetian plaster finish on the bathroom walls, and it's turning out so pretty! I won't be sharing about the products and process today. That will be in a future post that I'll share as soon as the walls are finished. But today, I want your input on the color. I've also run into a problem with the accent tile I ordered, so that has me rethinking the wainscoting as well. So let me know what you think on both things.
When I originally started thinking through the design of this bathroom, this is the color I had in mind for the Venetian plaster finish on the walls.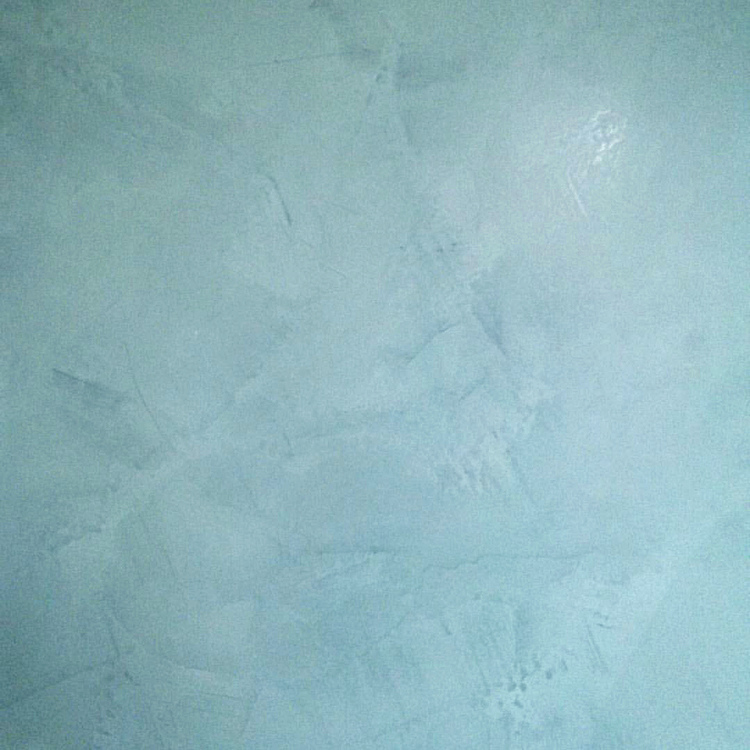 It's kind of a soft but light teal color. In fact, it's similar to the paint color I have on my kitchen cabinets.
When I did the mock ups of the walls with the wall mural, I used a similar light color…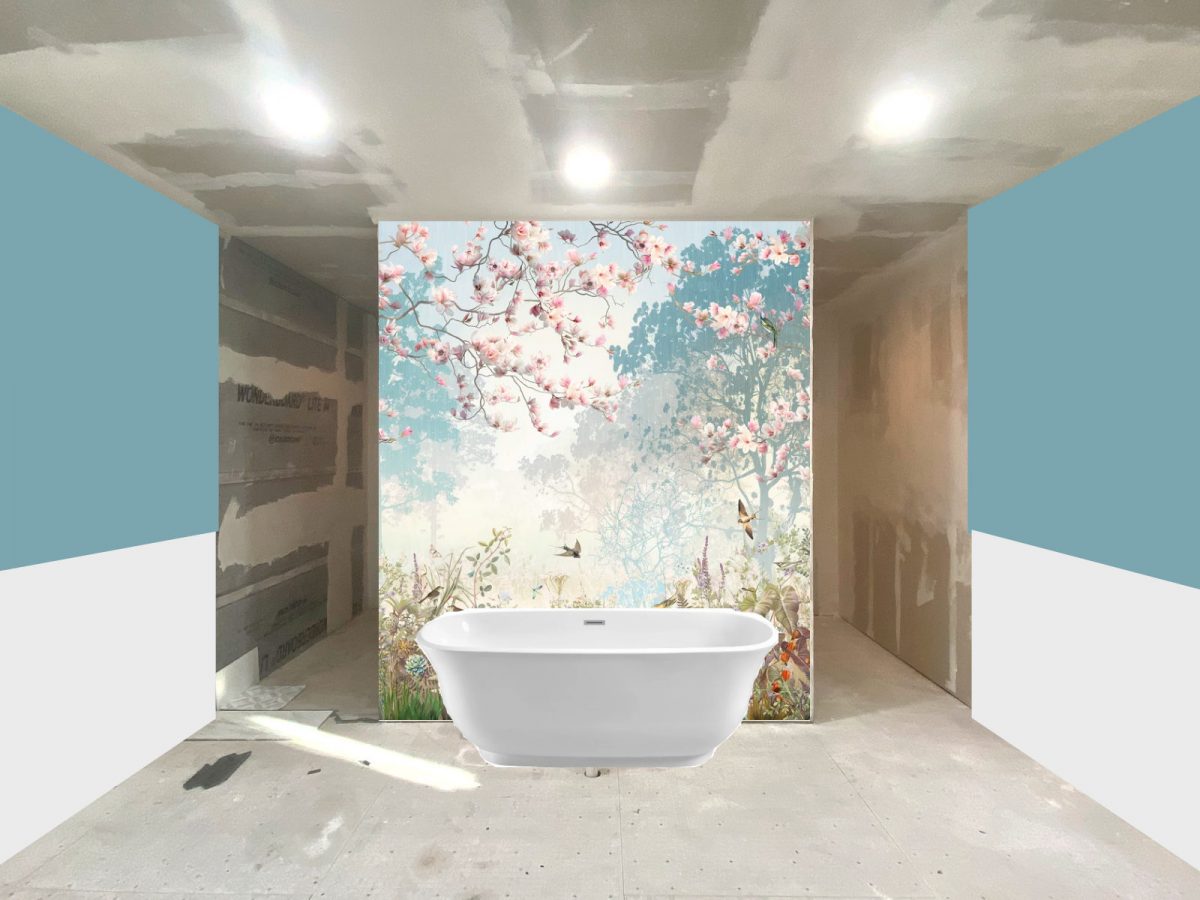 But when I went to the local Benjamin Moore store to get the Modern Masters Venetian plaster finish mixed, the girl mixed it considerably darker. I knew it was darker than what I had been envisioning, but my thought was that I could use the darker color for the first coat, and then take it back and have them lighten it up considerably, and do the second coat with the lighter color.
But after doing one coat with the darker color, now I'm unconvinced that it needs to go lighter. This color is gorgeous. It's so rich, and has such a velvety appearance. This is how it looked last night after it was dry.
Interestingly, this product lightens up a bit after it dries, which is the very opposite of what latex paint does. Right after I did this part of the wall and stood back to look at it, I was fully convinced that it was too dark for the final coat. But it dried just a little bit lighter.
And you can see the difference between the base paint color I used and the Venetian plaster finish. That base coat is Behr Aqua Rapids, and I told y'all that the final color would be deeper, richer, and bluer. I wasn't wrong.
And here's how that last area looked immediately after I finished. It was still very wet (and very dark) in this picture.
But as you can see, it all lightened up a bit when it was dry. I just can't decide if it's still too dark. Here are a couple of pictures of what the finish looked like last night before I went to bed…
Note: If you're reading this post on a website other than Addicted 2 Decorating, you're on a website that steals content from bloggers, and is using my content without my permission. I'd love for you to join me on my actual website! You can click here to find this post on Addicted 2 Decorating.
And then here's what it looked like early this morning. It was still pretty early, and I took these before the sun had risen above the trees. so it was still pretty dark in the room and I had to turn on the lights. So these aren't really what I would call daytime pictures, but they're not nighttime pictures, either. They're 30-minutes-after-dawn pictures. 😀
One thing that I had thought is that if I stick with the same color, the walls will get considerably darker after a second coat. So as a test for comparison, I did a second coat on part of this wall. Can you tell where it is?
It's the circled area in the picture below. It has more movement to it, but I don't really think it appears darker than the rest of the wall. If it is darker, it's not much darker at all.
So I'm completely torn. Should I stick with this darker, gorgeous, velvety color? Or should I lighten up the second (and possibly third) coat and aim more for the original color I had in mind?
And here's another problem that may affect that decision. Remember that beautiful shiny glass penny tile I ordered for the accents in the shower and in the wainscoting around the bathroom?
Well, the product page on the website where I ordered it said that it was in stock and ready to ship same day or next business day. I placed my order a week ago. On Monday, it still hadn't shipped, so I called. There was no answer, so I left a voice mail. I still hadn't heard back by late Monday afternoon, so I called again, and no answer. So I sent an email.
Then yesterday, I get auto-generated email stating that the status of my order had been changed, and that my money had been refunded. I never got an email from an actual person explaining the situation. No email. No phone call. No nothing from an actual human. Just an auto-generated email about a refund with no further explanation.
So I'm about ready to give up on the accent tile, and with no accent tile, I'm wondering if I should just forgo the whole wainscoting idea altogether.
I love wainscoting. And for some reason, I especially love it in bathrooms. I even love it in tiny bathrooms that don't have much wall space for wainscoting, like our hallway bathroom.
I also love how white wainscoting looks paired with bold colors and/or bold patterns. As much as I love color, I love it even more when it's contrasted with lots of white. The white makes the colors stand out even more to my eye.
But when using wainscoting in a bathroom, I also love to use an accent tile in the wainscoting that can continue around the vanity as a backsplash. It's just kind of my M.O. when doing wainscoting in bathrooms. And if I can't find an accent tile (which has proven to be more difficult than it should be), then I might consider not having any wainscoting at all. But this would drastically change the look of this bathroom that I've had in my mind for moths now.
The white wainscoting would provide a beautiful bright contrast to the rich wall color above…
But it would also be really pretty having the Venetian plaster finish on the entire wall from floor to ceiling. And I would still have white trim (crown molding and beefy baseboards) up against the wall color.
So I'm stuck once again. I might take one more trip to the big box stores and the local stores to see if I can find a replacement accent tile that doesn't break the bank. I just can't bring myself to pay $37/square foot for a tile. But if I can find something in the $20/square foot or less range, I'd like to stick with my original plan for the walls. But if I can't find a replacement accent tile, what do you think about the whole wall being the Venetian plaster finish? And in either case, what do you think about this wall color? Perfectly rich and velvety? Too dark? Should I stick with this one, or head back towards the original plan with the subsequent coat(s) of Venetian plaster finish?
Addicted 2 Decorating is where I share my DIY and decorating journey as I remodel and decorate the 1948 fixer upper that my husband, Matt, and I bought in 2013. Matt has M.S. and is unable to do physical work, so I do the majority of the work on the house by myself. You can learn more about me here.
I hope you'll join me on my DIY and decorating journey! If you want to follow my projects and progress, you can subscribe below and have each new post delivered to your email inbox. That way you'll never miss a thing!